People often forget their passcode after resetting it. This is a common problem, and you cannot use your device if you don't remember the passcode. You will be stuck at the lock screen. If you are facing such a problem, don't worry; we are going to explain various methods that you can use to unlock the device. We will explain the step-by-step methods and guide you in every possible way. You will be able to unlock your device on your own. Let's start the discussion.
Quick Answer: What to do if I forgot my iPhone passcode?
We understand that you are in a miserable situation when you forget the passcode; however, there is nothing to worry about. You can easily get rid of the problem without any hassle.
If you want to solve the problem and bypass the passcode without any worries, you should use WooTechy iDelock. It is a third-party tool, and it works perfectly well. It works on all iOS versions including the newly released iOS 15, so you can use it on all models of iPhones without thinking about what iOS versions the iPhone has. It has an excellent success rate; however, this method removes the data of your device and updates the iOS version to the latest.
Another solution is iTunes. It is an official solution, so you can use it to restore the device. But this method does not work on all devices. There can be some problems and errors, such as the old software of the iPhone. Moreover, this method also removes your data. But if you have ever created a backup, you restore the backup using iTunes.
If iTunes does not work well, you can also try it after putting your device in the DFU/Recovery mode. There are more chances of its success. But if it does not work, you can use iDelock.
Method 1: iPhone is locked and disabled? Can't connect to iTunes? Try WooTechy iDelock(iOS 15 Supported)
iTunes can be used to restore iPhones, but often you cannot connect to it and solve your problems. Sometimes, the software in the iPhone is too old that iTunes cannot restore it unless you update the software. Moreover, there can be different errors or problems, such as the OS system of the computer and iTunes version, in which the iPhone does not connect to iTunes. In these situations, you can WooTechy iDelock.
Why you should choose iDelock:
1. iDelock can remove the passcode in no time. Within a few steps and clicks, you will get rid of the problem. It takes only a few minutes.

2. It can also help you bypass the Face ID and Touch ID.

3. It works perfectly well on locked, disabled, cracked iPhones. It can help you get rid of the screen lock.

4. iDelock can also be used for different purposes, such as unlocking Apple ID, removing screen-time passcode, unlocking iTunes backup, removing backup encryption settings, and bypassing MDM. So, it is a multipurpose tool.
Steps to Unlock iPhone Using iDelock:
Step 1: Launch iDelock on your computer. There will be six options on the screen. Click on Unlock Screen Passcode.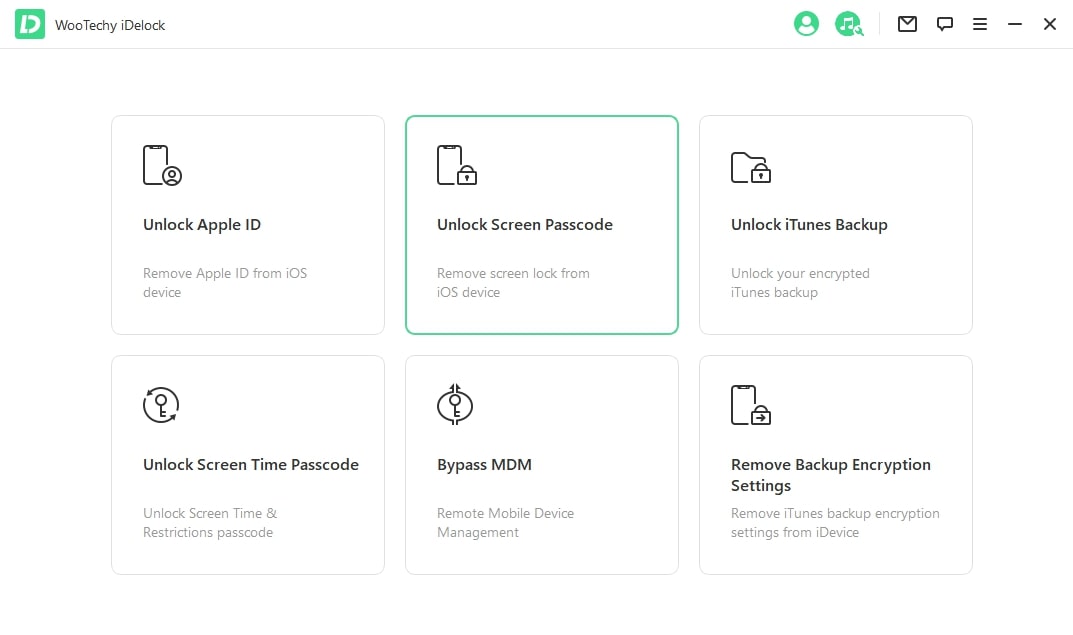 Step 2: You will see the Unlock iPhone Screen Passcode screen; click on Start.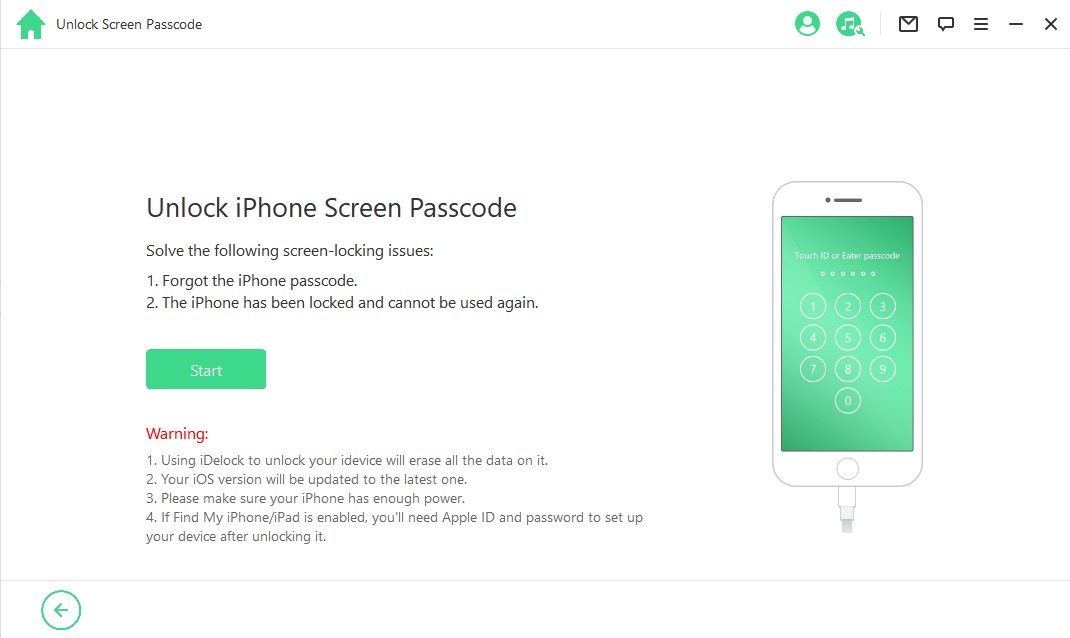 Step 3: Connect your device to your computer via USB cable. Make sure the cable is working; otherwise, your device will not connect. Click on Next.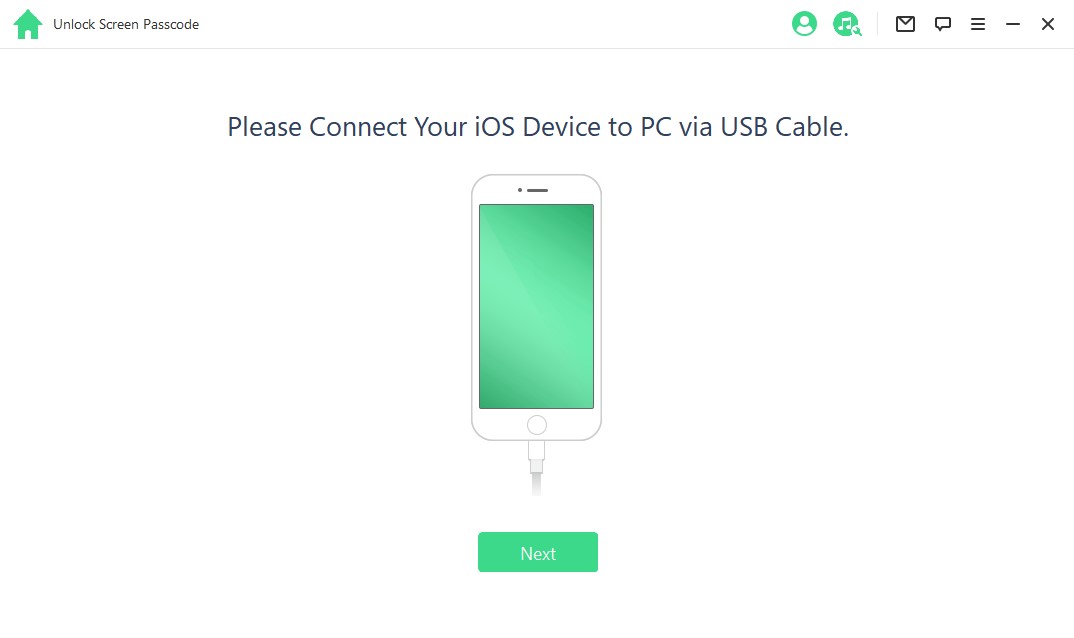 If your cable is fine, but your phone is not recognized by iDelock, you need to put your phone in Recovery mode. You will see the instructions on the screen.
Step 4: iDelock can download the firmware of the device automatically. You need to confirm whether your device is detected correctly or not. You can click on Doesn't match? Please tell us if the device is not detected correctly. After that, you need to select the iOS version and click on Download. The download will start automatically, but if it does not start, you need to click on Copy and download the firmware using a browser. Then, click on Select to open the downloaded file.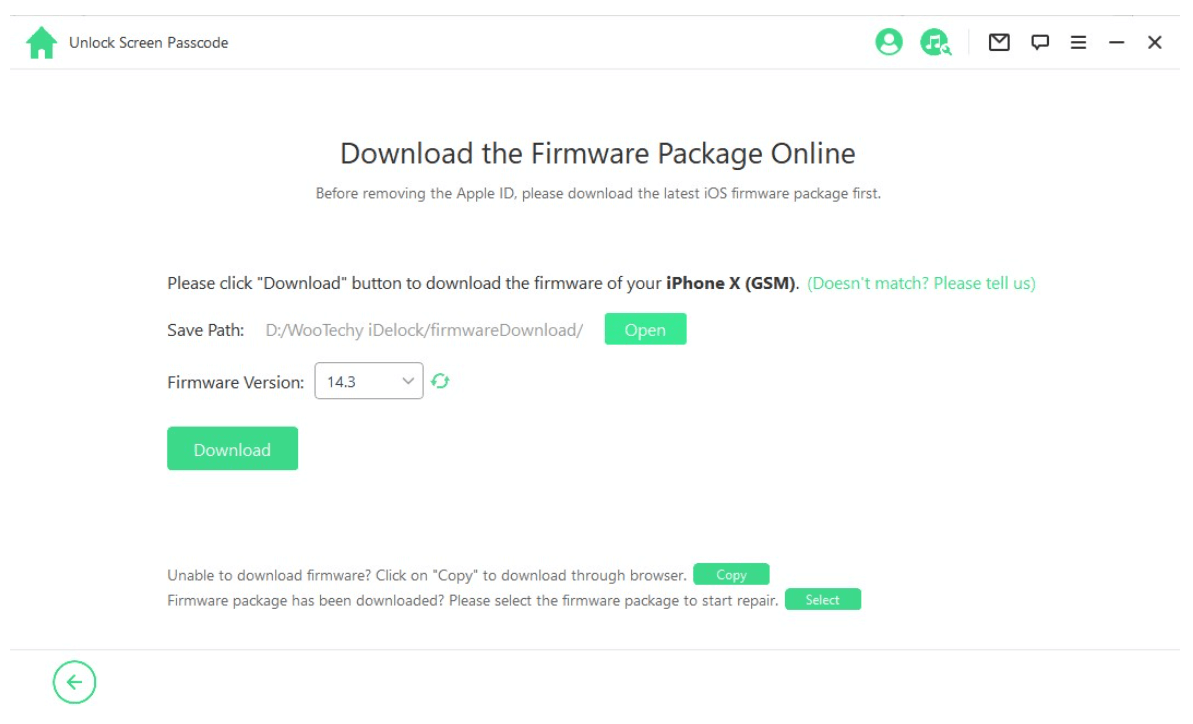 Step 5: Click on Start to Extract. iDelock will extract the file on its own.
Step 6: After extraction, you can start the unlocking process. Click on Start Unlock. iDelock will ask you to confirm, and you need to enter "000000". Click on Unlock.
Step 7: You need to wait for a few minutes. iDelock will bypass the passcode and restart the device. You can set up the device and use it without any passcode.
Method 2: Official Solution-Restore Your Locked iPhone via iTunes
This is an official method that can be used to restore an iPhone. It is suitable for all iOS versions, but it has some prerequisites.
Prerequisites:
1. You can only use this method if you have ever synced your device with iTunes.

2. The software of the device should be updated before using this method.
Steps to Use iTunes to Restore a Locked iPhone
Step 1: Open iTunes and check its versions. You must update it if it is not up to date. Close iTunes after updating it.
Step 2: Connect your device to the computer via USB cable and open iTunes. You will see the device on name and model.
Step 3: Go to the summary tab in the left menu. You will see the Restore iPhone… option in iTunes. Click on the button.
Step 4: iTunes will ask you to confirm. Click on Restore.
Step 5: In the next step, you will see the iPhone Update window. Click on Next.
Step 6: You need to agree to terms and conditions. Click on Agree.
Step 7: Now, you need to wait because iTunes will do everything on its own. It will download the required firmware first, and then it will install it on the device.
Method 3: Get into Locked iPhone via Recovery Mode
If method 2 fails and you are unable to restore your device using iTunes, you need to unlock the iPhone via Recovery mode. Often the iTunes does not work when you are on the normal mode, so you can put the device in recovery mode first.
Step 1: Make sure you have the updated version of iTunes on your computer. If not, update it first. Close the iTunes after this step. (Keep in mind that your iPhone should not be connected to your computer at this stage.)
Step 2: Now, you need to put your device in recovery mode manually. The method differs according to the model of iPhone you are using.
For iPhone X or Later, iPhone SE (2nd Generation, iPhone 8 or iPhone 8 Plus): Press the side button and any one of the volume buttons and hold them until you see the power off slider. Turn off the phone by dragging the slider. Press the side button and hold it. While holding the button, connect the device to the computer. Once you see the recovery mode screen, leave the button.
For iPhone 7 and iPhone 7 Plus: Press the side button and volume down button and hold them until you see the power off slider. Turn off the phone. Press the volume down button and hold it. Connect your device to the computer and leave the button once you see the recovery mode.
For iPhone SE (1st Generation) and iPhone 6s or Earlier: Press the side button and hold it until you see the power off slider. Turn off the phone. Press and hold the home key and connect the device to your computer. Release the key when you see the recovery mode.
Step 3: Open iTunes on your computer. It will recognize the device; click on the device in the menu.
Step 4: You will see a message to restore the device. Click on Restore.
Tips: How to Prevent Yourself from Forgetting Passcode Again
Use the Combination You can Remember
The first thing that you can do is setting an easy passcode. The passcode should be what you can easily remember. It can be a part of your ID or phone number, birth date, special date, or anything else that you will never forget.
Note Your Passcode
People forget the passcode after resetting it. So, when you reset the passcode, you must write it down once you are done. This will help you remember, and after memorizing the passcode, you can remove the passcode that you have noted.
Use Face ID or Touch ID & Notes
It is better to use Face ID or Touch ID on the device. It will be an alternative way if you forget the passcode. You can enter the device using Touch ID, and if you have saved your passcode in Notes, you can see it. Notes can be very helpful in this case.
Summary
If you are struggling with a locked iPhone after forgetting the passcode or your device is now disabled, you can use any of the suitable solutions that we have discussed. Forgetting the iPhone passcode is not a big deal; however, you will lose your data if you reset or restore the device.
We have explained step-by-step methods, and you will surely be able to unlock the device. We recommend WooTechy iDelock for this problem because it is a simple and easy tool. It will work on all iPhones and iPads without any restriction of the iOS version, even if the one your device running is iOS 15. It will remove the passcode within a few minutes.