Supervision mode is commonly set up over devices operated by colleges, organizations, companies, or businesses. Removing device supervision from iPhone will also make it easier for administrators to track the device's compatibility with the rules and policies of the company.
In this article, we have discussed some of the best ways to remove supervision from the iPhone that can help you get better controls over your device. Keep scrolling to catch more on how to remove the iPhone supervision easily.
Part 1: How to know if your iPhone is supervised?
If you want to know if your iPhone, iPad, or iPod is supervised by your company you may turn to the following methods:
1. If you have been using iOS 9.3 or later, there will be a message at the end of your lock screen to notify you that your organization is managing your device. OR you can move to the "Settings" and tap on "General". Now select "About" to see this message under the name of your device.
2. The iOS 7 to iOS 9.2 users can move to the "Settings" of their device and select "General". Go to "About" to find this message under the name of the device.
3. The users of iOS 6 or later will have to contact their Mobile Device Management vendor to find it out if their iPhone is supervised. You can ask for particular information to know more about your device.
4. If you have been using iOS 5 and iOS 6, you can simply move to the settings> General > Profiles and find a specific profile of your supervising organization.
Part 2: Risks of iPhone supervision you should know
If you're not vigilant, iPhone supervision may raise a range of security threats. Before introducing it, here are some security issues of this supervision.
Date leakage
The major reason organizations are cautious of adopting the supervision approach is that they will make the company's infrastructure exposed to security breaches. Mobile devices are not one of the Software networks of the organization which ensures that such gadgets are not covered by business firewalls.
Modules Lost
A threat the business needs to contend with is the chance that individuals can lose their company equipment. If gadgets containing confidential business records are misplaced and end up in the wrong hands, anybody can obtain unrestricted access to important company underlying data in that specific computer. Therefore, you can suggest counter-measures and procedures for missing phones, such as automatic removal of the data as soon as the worker declares it lost or missing.
Likely to hack
Your gadgets appear to lack sufficient data protection to prevent anyone from intruding on confidential information. Also, your workers can not upgrade their computer programs regularly leaving their computers and your IT networks vulnerable to attack.
Threat of malware
Viruses have been a significant concern when applying Information governance methods. If your workers use their own machines, they can visit websites or update smartphone applications that your company would usually limit to secure your network.
Part 3: Remove iPhone supervision by yourself - WooTechy iDelock(iOS 15 Supported)
It is easy to remove the iPhone supervision to maintain your privacy. You can do this removal by using a reliable tool. WooTechy iDelock is one of the most reliable ways to remove iPhone supervision with only a few clicks. This is the most secure tool to bypass MDM activation on iOS devices screen without any assistance of professionals.
This easy to use tool doesn't even require your username and password. It can be used for different purposes like bypassing the MDM activation screen and removing MDM Profile.
Features of iDelock:
You can remove the MDM activation screen by using WooTechy iDelock in only 3 clicks.

It also allows you to remove the MDM restriction on different devices including iPad, iPhone, and iPad touch.

iDelock makes the whole process easier as there is no need to add a username and password to bypass MDM restriction.

It can be used for removing screen lock, Apple ID, and screen restriction.

It is compatible with almost all iOS versions including the latest iOS 15.
Steps of removing iPhone supervision with iDelock
Step 1: Launch WooTechy iDelock
You will have to launch iDelock on your device. Now, go to the mode of "Bypass MDM".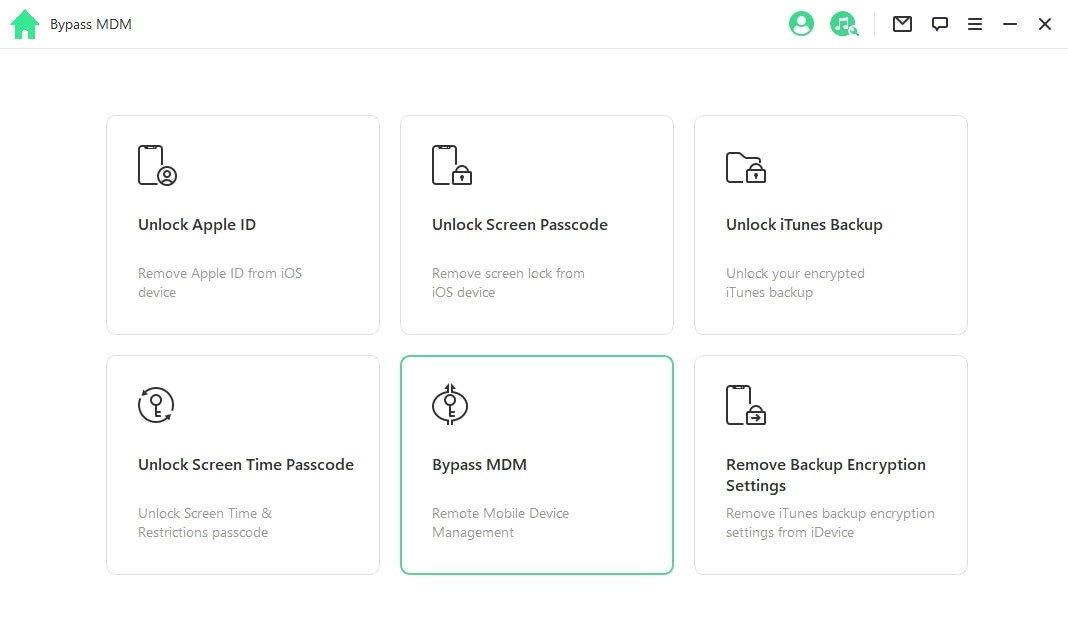 Step 2: Connect your iPhone to your PC
A connection is required between your computer and iPhone/iPad/iPod by using a USB cable. It is essential to ensure that you have been connected to a secure PC.
Your iOS could be locked out of the MDM lock screen. In that case, you can tap on the "Start to Bypass" button to delete iPhone organization supervision. Before removing iPhone supervision, you have to check that your iPhone is on the MDM lock screen.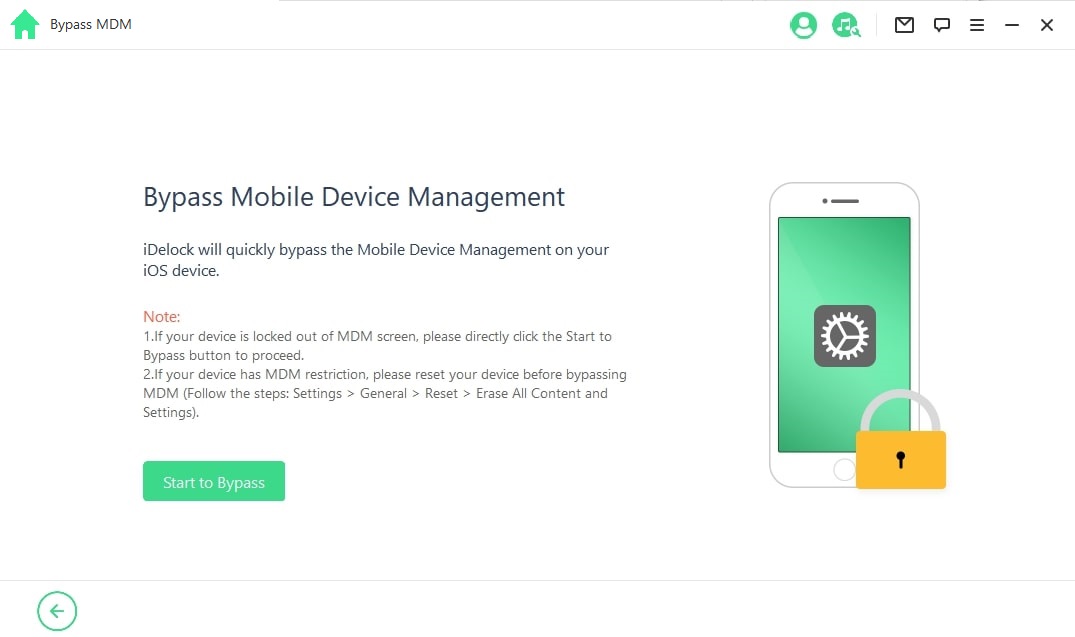 The device could be not on the MDM lock screen, so you have to turn off the "Find My iPhone" feature. Now move to the "Settings" of your iPhone and select "General". Go to "Reset" and find the option of "Erase all Content and Settings". Tap on it for resetting and restarting your iPhone.
You will find the option of MDM lock screen after setting language, Wi-Fi, and region on your device. Tap on the "Already Done Button" to complete the process.
Step 3: Bypass MDM
Your iPhone will take some time to start the procedure. WooTechy iDelock will start bypassing the MDM supervision on your iPhone and you will be notified about the removal of MDM supervision immediately.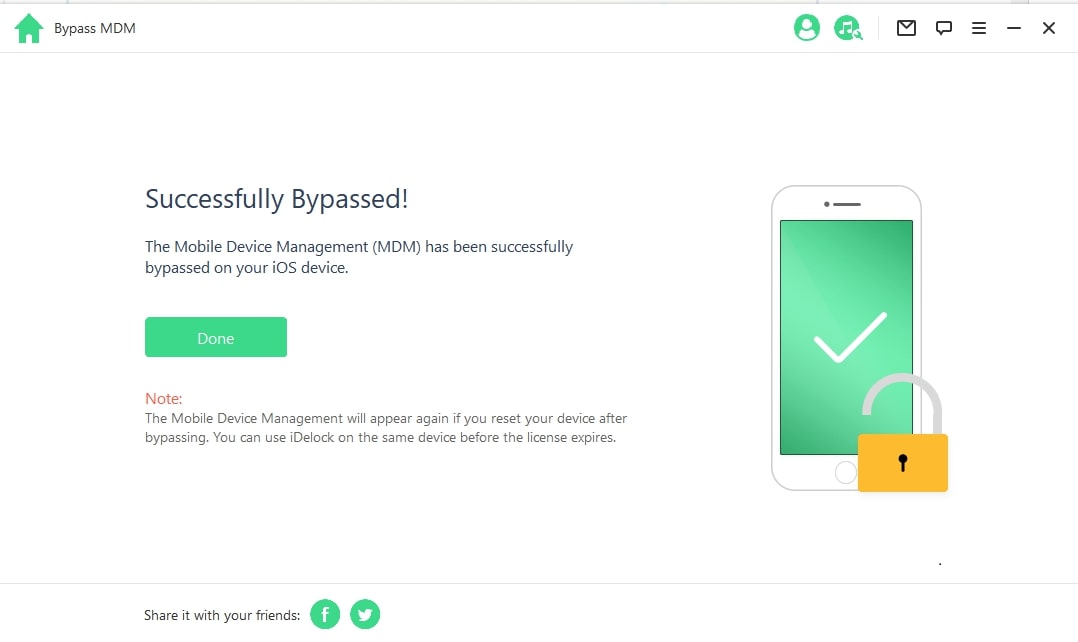 Note: you cannot reset your device after bypassing the supervision. iDelock can be used on a single iOS device before the license expires.
Part 4: Remove iPhone supervision with Configurator 2
There is another method to remove the iPhone supervision by using Apple Configurator 2. This tool allows you to customize several devices at a time. This resource is used by IT managers to customize configurations on Apple devices before delivering these to end clients. IT managers can upgrade applications, download software, and user profiles, modify color schemes, export system specifics, and many more with Configurator 2.
The iPhone supervision is easy to remove using this tool but it will delete all the content on your device. Your applications, media content, and settings will be erased. But you can save this data by making a backup of this data by copying it to another device.
Please note that you can only restore the data from supervised devices to another supervised device.
How to remove supervision from an iPhone with Configurator 2
You will have to launch Configurator 2 and select your iPhone.

Now tap on "Actions' and go to the "Advanced".

Select "Erase all content and settings".
Configurator 2 allows you to delete supervision in your iPhone and reset the default factory settings. However, only IT administrators can use this tool so you will have to contact the IT officials before starting the procedure.
Cons of

This tool is only available on Mac

You will need the permission of IT officials to complete the process.
Summary
The iPhone supervision on your device can raise a lot of security threats. In this article, we have discussed different ways of knowing if your iPhone is supervised and how to bypass this supervision using WooTechy iDelock. We have been focused on providing the best guidelines to our visitors to help them resolve issues regarding their iOS devices without any inconvenience. Now this tool supports iOS 15. Why not download and give it a try!