Supervision mode is commonly set up over devices operated by colleges, companies, or businesses, which will restrict you from getting full access to your iPhone.
For people worrying about privacy, choosing secure tools to remove supervision from the iPhone can help you get better control over your device. Keep scrolling to catch more on how to remove supervision from iPhone easily.
Part 1: How to Know if Your iPhone Is Supervised
If your iPhone is supervised by other organizations, it might raise a range of security threats like privacy invasion. Follow the steps below to check if your iPhone is supervised by your company.
1. If you have been using iOS 9.3 or later, there will be a message at the end of your lock screen to notify you that your organization is managing your device. OR you can move to the "Settings" and tap on "General". Now select "About" to see this message under the name of your device.
2. The iOS 7 to iOS 9.2 users can move to the "Settings" of their device and select "General". Go to "About" to find if you have the message under the name of the device saying your device is managed by organization.
3. The users of iOS 6 or later will have to contact their Mobile Device Management vendor to find it out if their iPhone is supervised. You can ask for particular information to know more about your device.
4. If you have been using iOS 5 and iOS 6, you can simply move to the Settings > General > Profiles and find a specific profile of your supervising organization.
Part 2: Remove iPhone Supervision by yourself Using iDelock
It is easy to remove the iPhone supervision to maintain your privacy. You can do this removal by using a reliable tool. WooTechy iDelock is one of the most reliable applications to remove iPhone supervision with only a few clicks. It is secure to bypass MDM activation without any assistance of professionals.
This straightforward tool doesn't require your username and password. It can be used for different purposes like bypassing the MDM activation screen and removing MDM Profile.
Features of iDelock:
You can remove the MDM activation screen in only 3 clicks.

No need of a username and password to bypass MDM restriction.

It can also remove screen lock, Apple ID, and Screen Time.

It is effective to different devices including iPad, iPhone, and iPad touch.

It is compatible with all iOS versions including the latest iOS 15.
Steps of Removing iPhone Supervision with iDelock
Step 1: Launch iDelock
You will have to launch iDelock on your device. Now, go to the "Bypass MDM" mode. Then, connect your iPhone to your PC as prompted.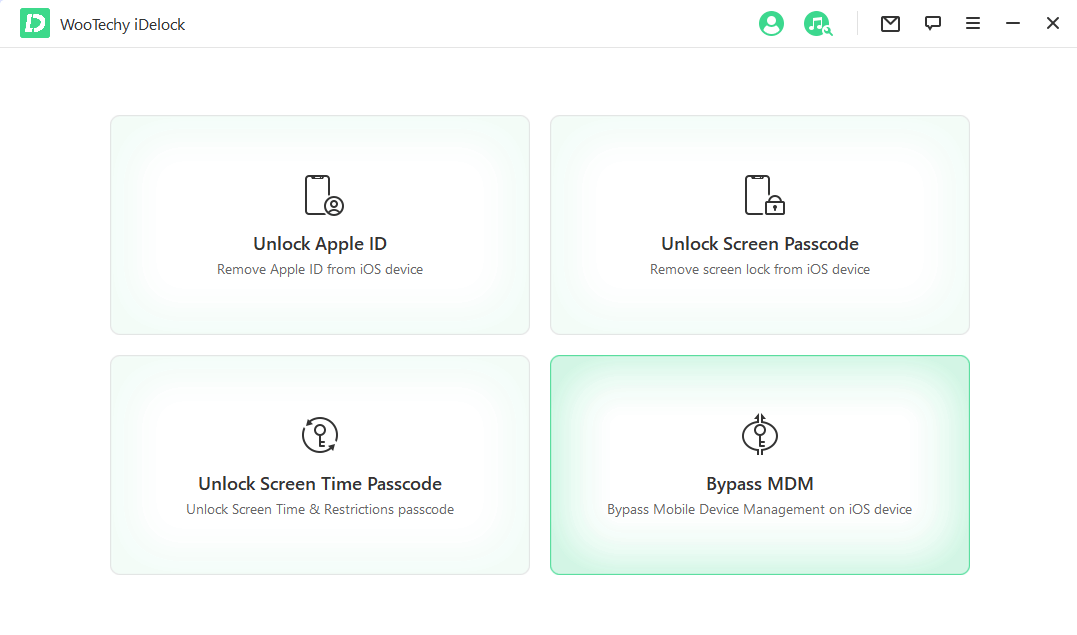 Step 2: Start to Remove MDM
In this case, your device is supervised and managed by other organization, select "Remove MDM". (If your device is locked out of the MDM lock screen, click on "Bypass MDM" instead.)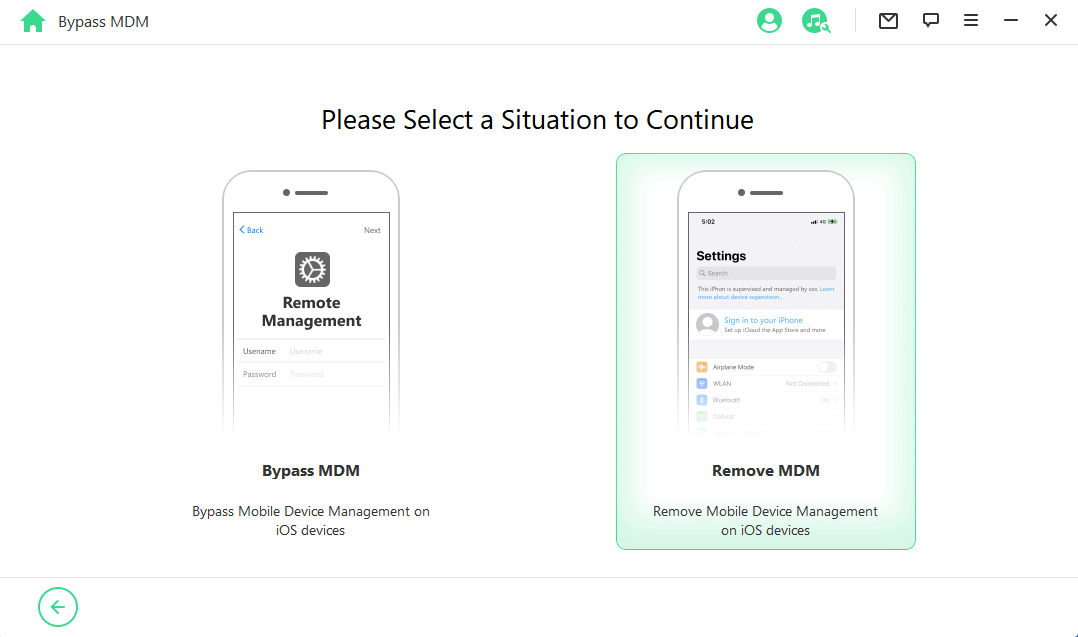 Step 3: Remove MDM
Click Start to continue. iDelock will start bypassing the MDM supervision on your iPhone immediately.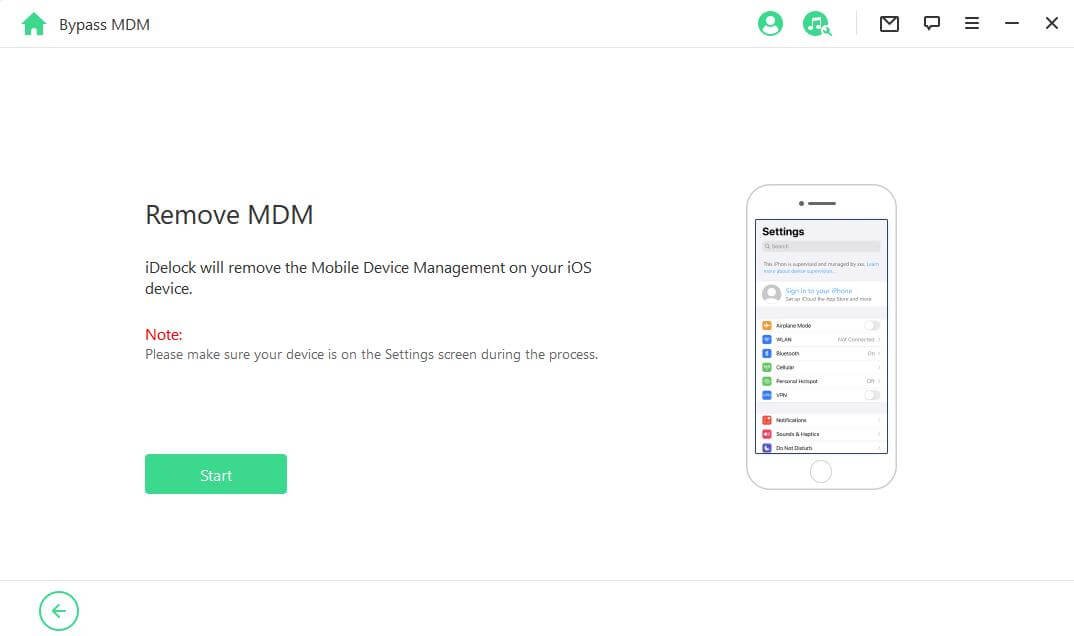 Wait for a few minutes, and the removal will be successful.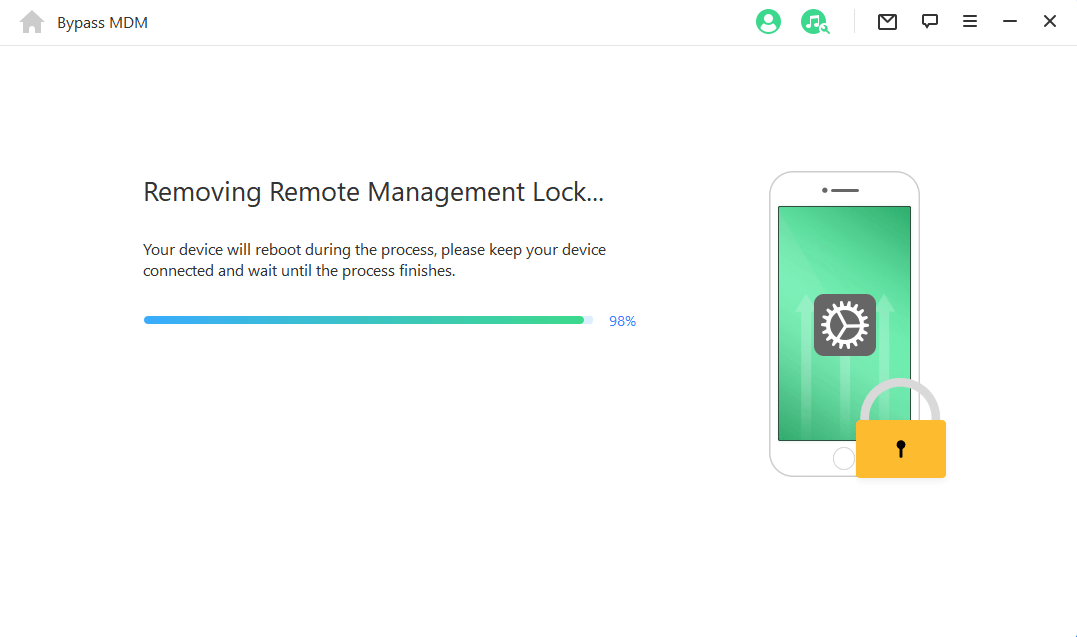 Part 3: Remove iPhone Supervision with Configurator 2
Another method to remove the iPhone supervision is using Apple Configurator 2. IT managers can upgrade applications, download software and user profiles, modify color schemes, export system specifics, and more with Configurator 2.
Configurator 2 allows you to delete supervision in your iPhone and reset to the default factory settings. However, only IT administrators can use this tool so you will have to contact the IT officials before starting the procedure.
Note that using this tool to remove supervision but will delete all the content on your device. And your former backup cannot be restored after you removing the supervision.
How to Remove Supervision from an iPhone with Configurator 2
Launch Configurator 2 and select the target iPhone.

Now tap on "Actions" and go to the "Advanced".

Select "Erase all content and settings".
Cons of

This tool is only available on Mac.

You will need the permission of IT officials to complete the process.
Must Read: Risks of iPhone Supervision
Data Leakage
Once an MDM Policy is installed on your phone, the administrators will have the highest privileges on your phone. They can track your phone's GPS and even check your browsing history. If you have synced your messages with iClouds, they will be supervised as well.
Modules Lost
Your administrator can apply extra restrictions if you iPhone is supervised, like turning off AirDrop or preventing access to the App Store, which might casue malfunction. It also provides additional device configurations and features, like filtering web usage or installing apps.
Threat of Malware
iOS devices might be infected with virus, malware or spyware, if someone (or superviser) has intentionally installed spurious softwares or unauthorised apps on your device through Apple Configurator.
Hack Attack
If the administrators can not regularly upgrade their computers, leaving your IT networks vulnerable to attack, your iPhone will be exposed to threats. As your device is a member of the whole system, your personal data will also be affected once your company's network gets hacked.
Summary
The iPhone supervision on your device can raise a lot of security threats. This article has discussed different ways of how to remove supervision from iPhone using WooTechy iDelock. We have been focused on providing the best guidelines to our visitors to help them resolve issues regarding their iOS devices without any inconvenience. Now this tool supports iOS 15. Why not download and give it a try!