Voicemod is one of today's most renowned AI voice-changing applications adored by gamers, content creators, and Discordians around the globe. Despite its ever-increasing popularity and customer base, Voicemod's credibility has come into question.
Many users are asking, "is Voicemod safe?".
Now, Voicemod's website claims that the official version of the app is safe. However, many users faced issues that led them to believe Voicemod may be a virus. Further investigation revealed that almost all problems were caused by incorrect usage or a corrupt app downloaded from an unreliable source.
This article will elaborate on these issues, and their causes and, in this way, clarify this "is Voicemod safe?" confusion.
But before we begin, let's first look at Voicemod and its features.
Part 1. What is Voicemod and What Are Its Key Features?
Voicemod is a soundboard software and a real-time voice changer available on Windows. It builds audio tools that help users create a distinctive audio identity in the metaverse.
Voicemod is simple to use and powerful enough to transform your voice into that of a girl, pirate, astronaut, robot, or whatnot.
Voicemods popularity is due to its fantastic set of features and functionalities. A cherry on top is Voicemod's compatibility with a vast arsenal of platforms such as Discord, Zoom, Minecraft, World of Warcraft, Fortnite, Skype, WhatsApp Desktop, and much more.
Now, let's take a look at some of the most impressive features of Voicemod.
Real-time AI voice changer.

Perfect integration with Elgato Stream Deck, Streamlabs OBS software, Twitch, TikTok Live Studio, Audacity, Gamecaster, Omegle, and more.

Create voice skins and voice avatars.

110+ voices are available that can completely change your voice to that of anything.

Use the Soundboard to add instantaneous sound effects to your stream, vlog, voice chat, etc.

Create your custom voice filters using the Voicelab feature.

Voicemods effects and integrations do not affect your game's/app's performance.
Now that we've gone over all the fantastic features of Voicemod, let's get back to our main concern: Is Voicemod safe?
Part 2. Is Voicemod Safe?
As we have stated before, the official version of Voicemod is completely safe for usage. Then why are so many users claiming that Voicemod is a virus? Let's find out.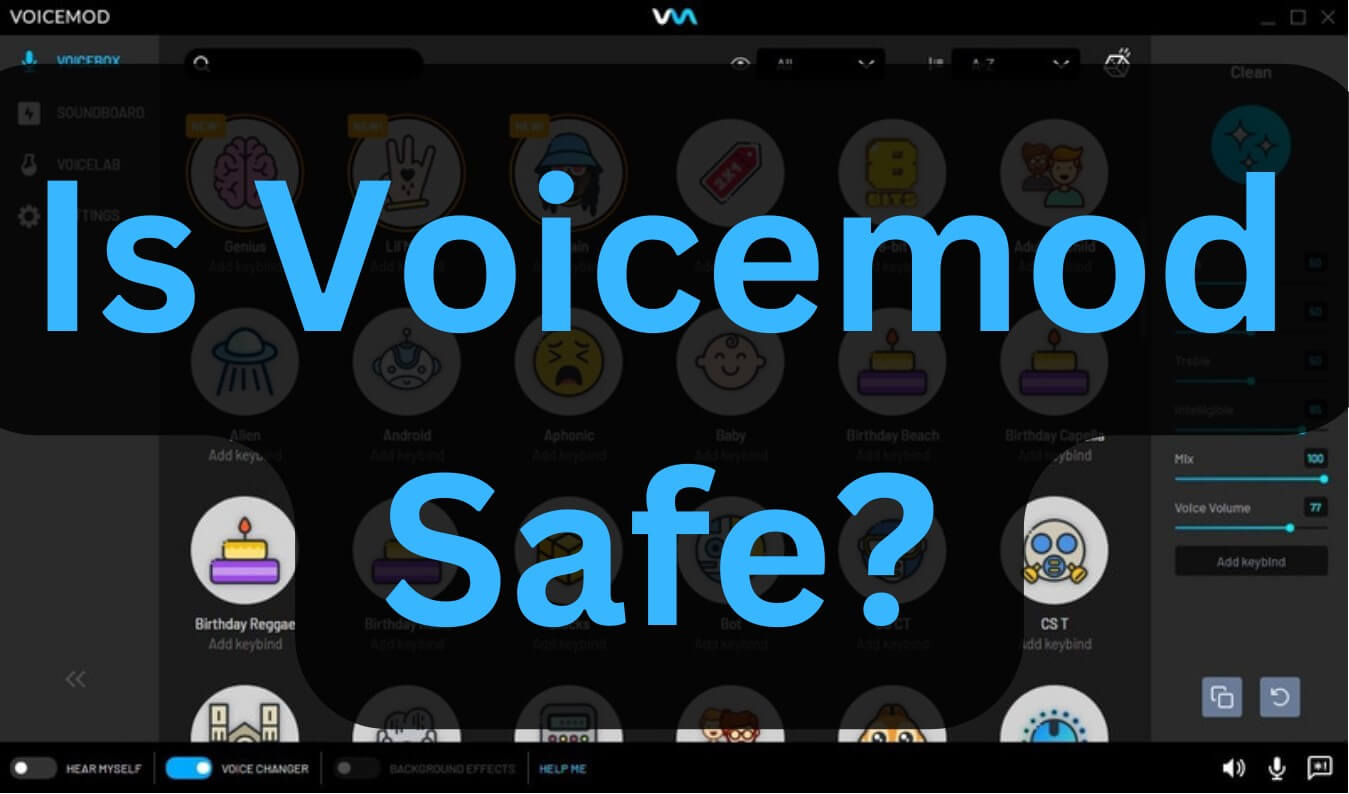 Reasons why people think Voicemod is a virus
Many users stated that antivirus softwares block updates and even installation of Voicemod and recognize it as harmful malware. Users have faced problems with audio drivers where they had to reinstall and troubleshoot them. Also, since Voicemod runs in the background and remains in the taskbar, many users feel Voicemod might be a virus.
What's the real deal?
So is Voicemod really a virus? This was cleared up by Voicemod's official Reddit page, where they stated that the official version has no such issues and that these users are probably using a cracked/ pirated version. The post further advised users to download Voicemod from the official website or discord server to avoid malware or viruses.
Another critical thing to remember is that Voicemod is an application for windows 10, 7, and 8 and only the 64-bit versions. Using cracked Voicemod versions on unsupported platforms will definitely lead to problems. Now due to this whole dilemma, people feel that the paid version, Voicemod Pro, Isn't safe to buy. Let's see if this is true.
Part 3. Is Voicemod Pro Safe to Buy?
Voicemod Pro is the paid version of Voicemod that offers additional features and capabilities than the free version. Like the free version, Voicemod Pro may have some bugs and errors, but it is safe to use.
Due to this "Voicemod is a virus" conspiracy, many users wonder whether the Pro version is safe to buy. You should be fine if you buy Voicemod Pro from their official website.
A member of the stream community best clarified this issue. The member raised a valid justification that Voicemod has no reason to destroy its users' computers because this would lead to it losing paying customers.
Now let's go over some additional safety measurements we can take to keep our devices and data safe.
Part 4. How to Use Voicemod Safely
The official app from the official website/server should give you no problems except rare minor bugs. However, you can still take the following precautions to ensure your device's safety.
Back up your data
This is not just a contingency for Voicemod but will help keep your data safe from malware, theft, physical damage, or anything else. Keeping a backup of crucial data is a brilliant move and the best way to keep it safe. You can save your data by using external hard drives, USBs, or online backup storage platforms.
Regular usage of Antivirus softwares
Regularly scanning your device with antivirus software is the best way to eliminate any harmful programs you may pick up. Users should also use firewalls when downloading anything from the internet to ensure it's not malicious.
Always use the official websites/ servers
Users should always use the official channels to download applications especially paid applications instead of use Voicemod crack. All patches and updates should also be downloaded from their official websites or servers. Unofficial third-party platforms may provide you with the program, but you risk getting your device infected.
Part 5. Pros and Cons of Voicemod Voice Changer
Like all other applications, Voicedmod has some good features and some limitations as well. Let's look at both to see if Voicemod is worth it.
Pros
Change the voice in real-time or of recorded audio.

Transform your voice into a male, female, cartoon character, creature, and more.

A free version is available with several essential features.

Adjust tune, pitch, frequency, and more.

Create your personal sound effects.
Cons
The free version has limited resources, and users must get the paid version to access all features properly.

Only available for windows (Windows 10, Windows 7/8).

Ads can be annoying.

Even the official paid version can face bugs and not working errors.

There are users complain that the sound quality is low.

It always crashes during the process of changing voice.
You may still feel that Voicemod is not the app for you. If that's the case, we have the perfect replacement for you.
Part 6. The Best Alternative to Voicemod: WooTechy SoundBot
If you are still unsatisfied with Voicemod and are looking for a better alternative, WooTechy SoundBot is hands down the best option available. SoundBot by WooTechy is another tremendous real-time AI voice changer. It is effortless to use and has virtually all functionalities you would need. Let's look at some of WooTechy SoundBot's most compelling features.
SoundBot – Powerful Real-Time Voice Changer
75.000.000+
Downloads
Has over 125 voice filters that help you mimic virtually any sound possible and 400+ sound effects as well as 200+ voice memes.

Support changing voice of recordings and audio/video files; the VoiceStudio feature can create personal effects and filters.

Support changing voice of recordings and audio/video files; the VoiceStudio feature can create personal effects and filters.

Applicable in various scenarios like entertaining prank, live video, voice over, real-time communication, gang up in games, online education and more.
Pros
Has more voice filters than Voicemod and there are more voices on the way.

100%, SoundBot won't invade your privacy and cause danger to your data as well as your computer system.

Easy to use, it never crashes.

Simpler to install than Voicemos.
Steps to use SoundBot to change your voice:
Step 1 Download, install and launch SoundBot on your computer. Set up your microphone as input while your headphone as the output.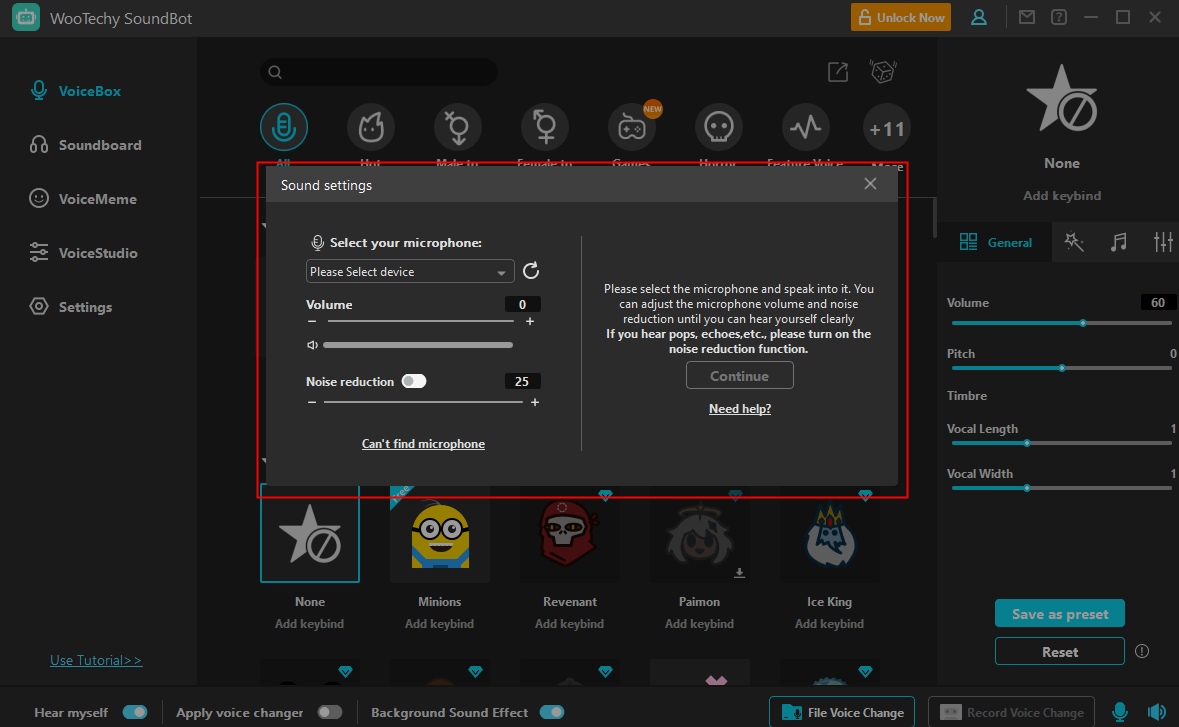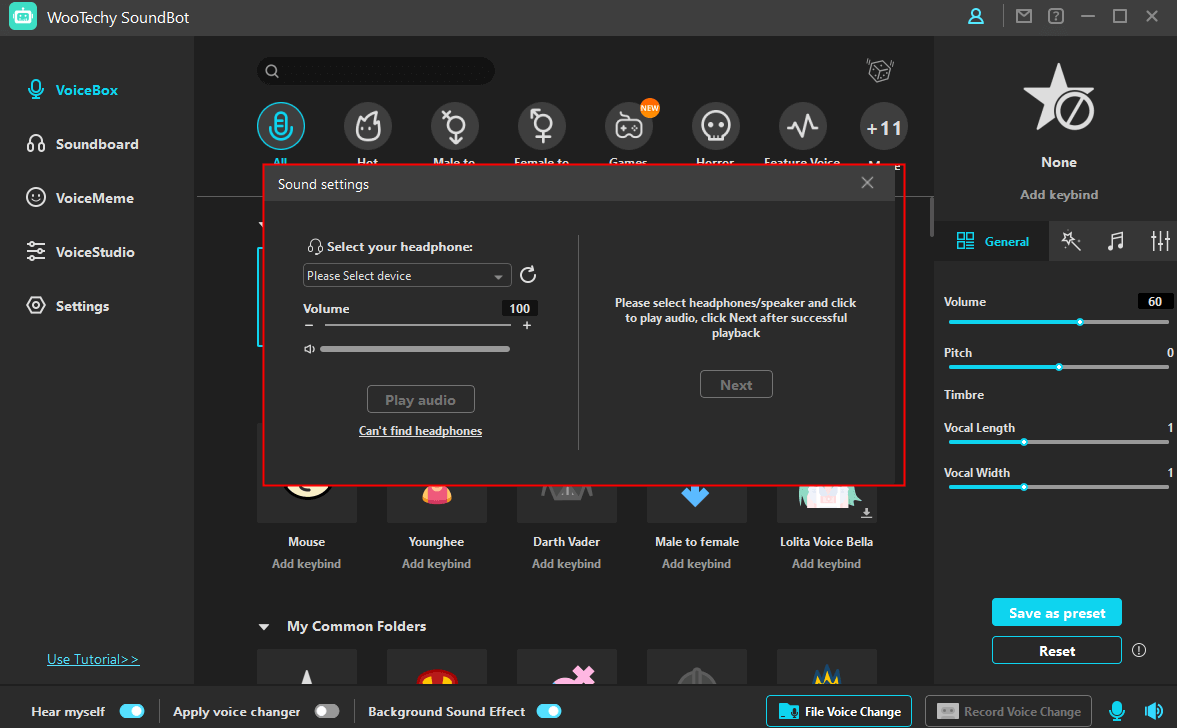 Step 2 Head to VoiceBox tab and select any voices you like. Speak into your microphone and the voice is automatically modified to the voice chosen.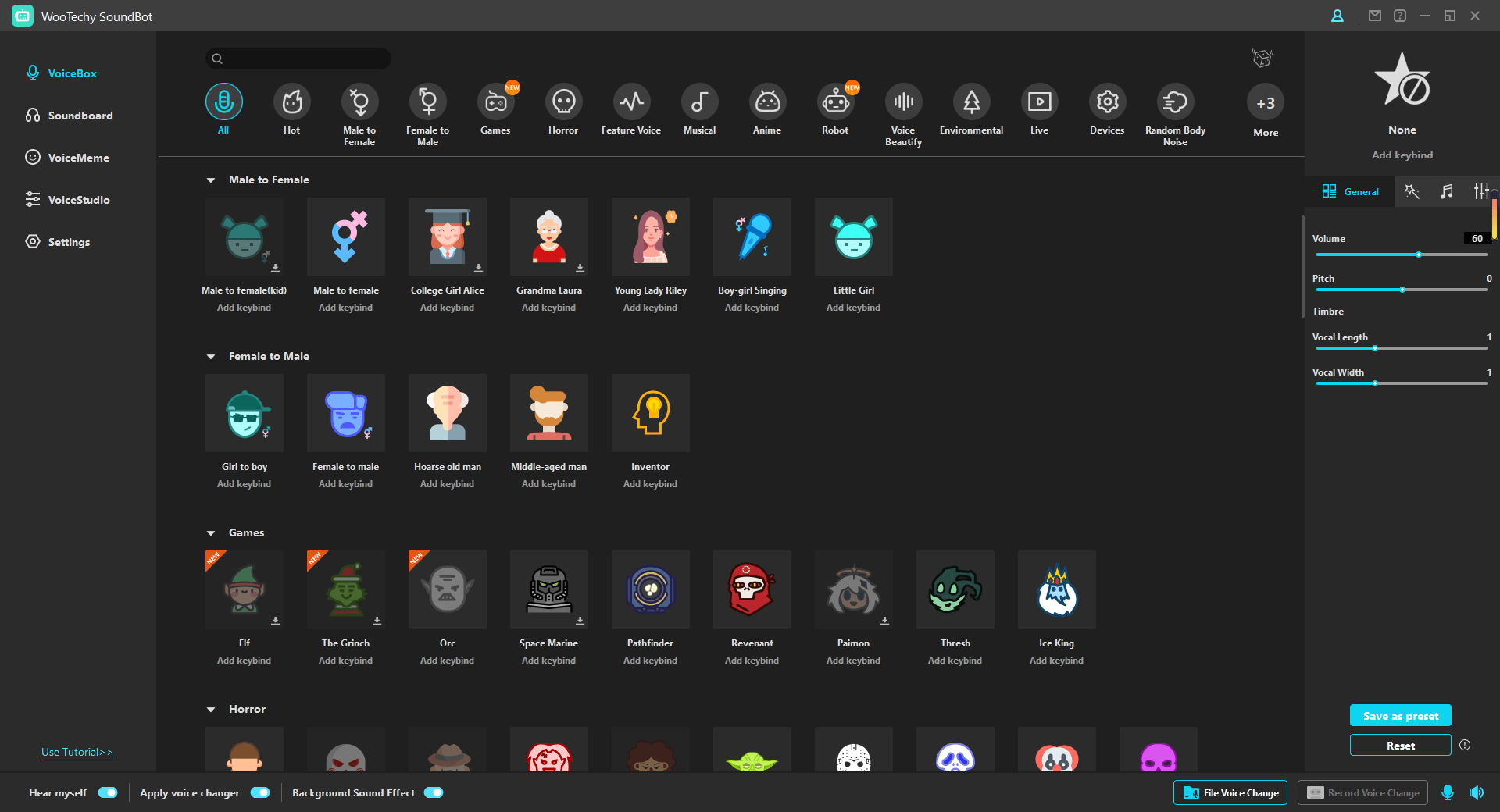 Step 3 To use SoundBot in a platform, just make sure it is running in the background and the platform's audio input is set to Voice Changer Virtual Audio Device. In this way, you can change voice in real-time.
Conclusion
To sum it up, Voicemod is a safe-to-use program and should always be downloaded from the official channels. This will help avoid the issues faced by users who downloaded a cracked or pirated version. The pro version available on the official website is also completely safe to purchase and use.
The best alternative to Voicemod available in today's market is WooTechy SoundBot. Whatever software you use, it won't cause any safety issues and has more voice filters than Voicemod. Download and have a try for free.