As you use WhatsApp on your Xiaomi phone, you send and receive more and more messages in your daily life. Eventually, you will get to the point where you have tons of valuable information on your WhatsApp chats, and you want to back up them. In this case, you need to back up WhatsApp chat to protect your precious data never from getting lost.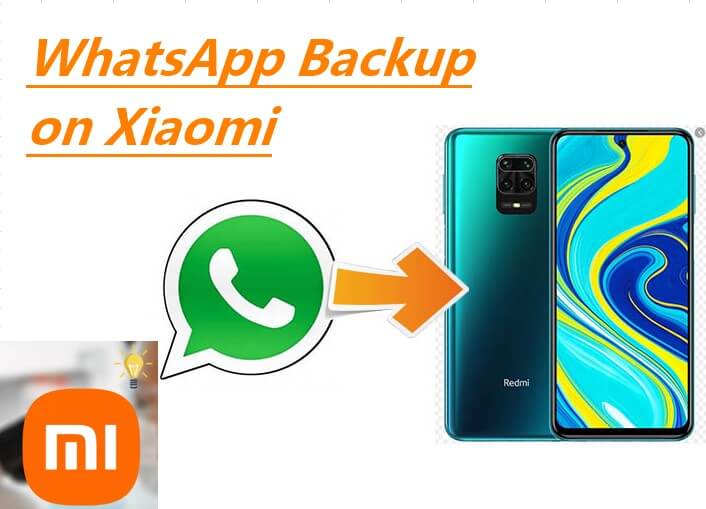 However, it may not be completely obvious to do so, especially on your Xiaomi, as there are just few articles covering this. Look no further than this article. We will go into the full guide about backup WhatsApp Xiaomi, all series of Xiaomi can be supported, including Xiaomi Note 4 to Xiao Xiaomi Note 10 Pro, brings you more convenience.
Part 1. Can I Back Up WhatsApp Data on My Xiaomi Device?
Yes! You can backup WhatsApp on your Xiaomi. It is straightforward, and there are several different ways of getting this done. With an increasing number of people using Xiaomi device, the demands of Xiaomi backup also grow quickly, especially backup WhatsApp Xiaomi issue is becoming one of the diffculty-to-fix problems among the users.
But There's Great News
It's not that complex and difficult as you imagine to back up WhatsApp on Xiaomi Device, on the contrary, there are several available alternatives to help you reach the aim.
For example, you can back up your WhatsApp data to Google drive and access and read the Google Drive backup on PC. Besides, a few great WhatsApp backup tools certianly can help to complete your backup WhatsApp Xiaomi, such as WooTechy WhatsMover, which will extremely meet your needs.
Part 2. How Do I Back Up WhatsApp on Xiaomi?
The following will give a full explanation about backing up WhatsApp chats on Xiaomi device. Keep reading, you can find a surprise to solve all the WhatsApp issues you are facing with.
2.1 [100% Free] Back Up WhatsApp on Xiaomi via the Easiest Method
First, I would like to highly recommend the most convenient methods to back up WhatsApp on Xiaomi, that's to use WooTechy WhatsMover, which is an official and professional WhatsApp Backup software that can easily back up all your WhatsApp data to computer at one time at once.
Most importantly, this software allows you to finish all your Xiaomi WhatsApp backup without costing a cent, which is totally free to use, giving you a great benefit. Moreover, it also has a great UI to help beginners navigate the complicated backup process.
WooTechy WhatsMover—the Most Popular Backup Tool:
100.000+
Downloads
Free Backup: Allow any user to freely back up all the data including chats, images, videos and all formats of documents.

Compatibility: Work with both WhatsApp Messenger and WhatsApp Business, and also support both all brands of iPhone and Android devices such as Huawei, Xiaomi, LG, Samsung and more.

100% Security: Ensure your data privacy without overwriting or deleting the previous backup during the whole backup process.

Unlimitation: Support to back up WhatsApp chat on Android & iPhone to your computer without any Storage or OS limitation.
Here are 3 easy steps to complete backup WhatsApp Xiaomi:
Step 1: Install WooTechy WhatsMover to Your PC
Open up this tool and use a stable USB cable to connect your Xiaomi phone to your computer. Then click on Back Up WhatsApp on Devices on the left menu and tap Allow this device on your phone to let the computer detect your Xiaomi device.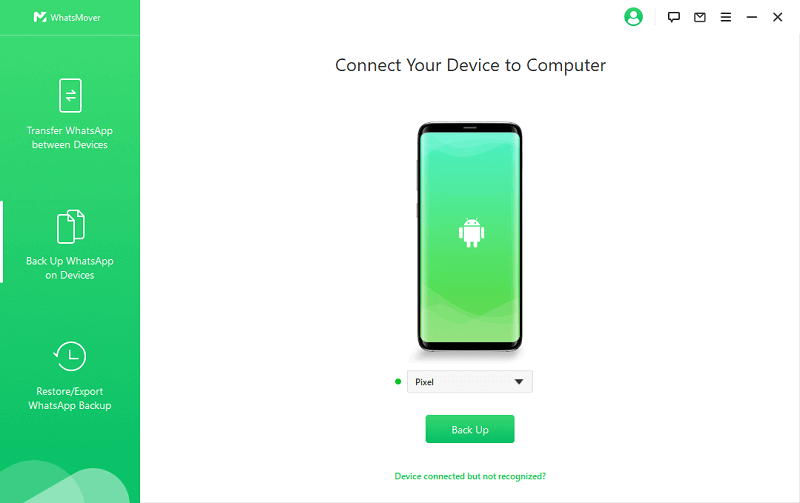 Step 2: Start to Back up WhatsApp Chat
Tap on Back Up on the middle of screen to start the WhatsApp backup process. Wait for a while, it'll be finished at once.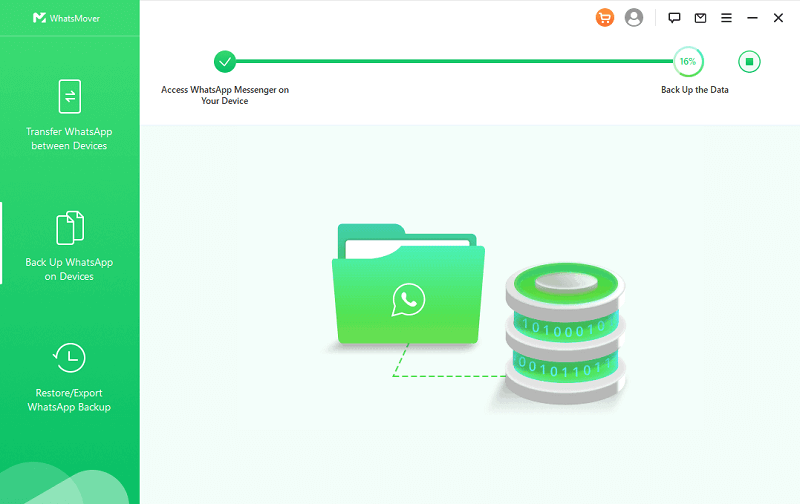 Step 3: Complete WhatsApp Backup Xiaomi Successfully
When you are prompted by Done icon, you have backed up all your WhatsApp data from your Xiaomi phone to the computer. If in need, you can also restore all the backup to your another iphone or android devices.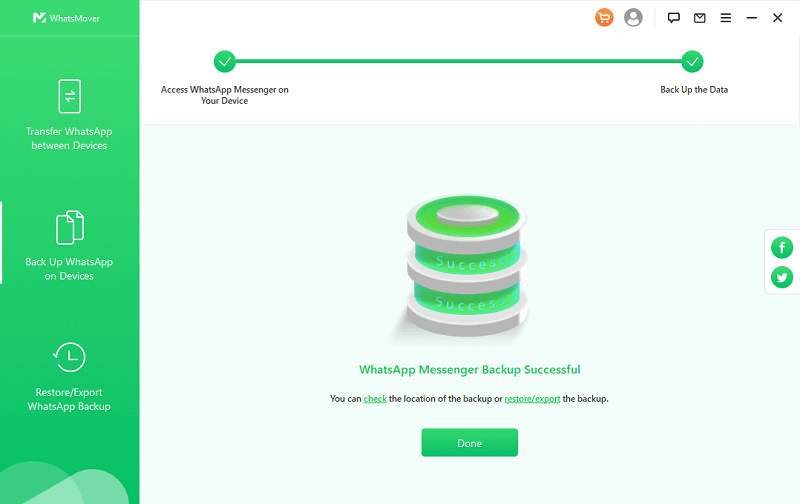 2.2 Back Up WhatsApp on Xiaomi via Email
Another straightforward way to backup WhatsApp Data on Xiaomi is through email. However, this may not work on how many messages/content you have, as there is a limit to how much you can send through email. You will also have a hard time viewing the messages, but it can be a convenient way to backup if you just want it stored somewhere safe.
To back up WhatsApp Data on Xiaomi using email, do the following:
Open up your Xiaomi and load WhatsApp. Proceed to the contact you want to export chats, click three verticla dots> More > Export Chat.

Now you want to select the chat that you want to backup. A pop-up that allows you to select WITHOU MEDIA or ATTACH MEDIA. We recommend not backing up your media as it can be very storage-intensive.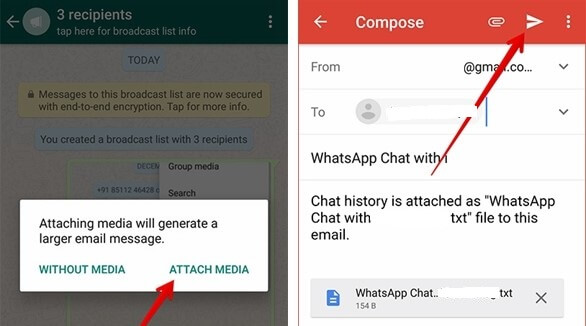 After choosing your media backup preferences, there will be a menu of options for how you want to back up your data. Select Email icon. Enter your email address as the recipient, and after a while, it will be sent to the recipient.
If you wonder to read the backup on your computer, you can log in the recipient email account on your computer, download the backup file from the email, then you can read then any time you need.
Cons
You can just export the messages of one chat at a time, so you need to repeat the operations if you want to export more chats.

There is a storage limitation: you can just export less than 40000 messages under WITHOUT MEDIA mode, and not more than 10000 messages under ATTACH MEDIA MODE.
2.3 Back Up WhatsApp on Xiaomi via Google Drive
Another convenient way to back up your WhatsApp Data on Xiaomi is through Google Drive. This is a better option than email if you want to view your messages. However, there is also a limit on how large your backup can be. To back up WhatsApp Data on Xiaomi using Google Drive:
Open up your Xiaomi and go to WhatsApp. Click on Settings > Chats > Chat backup.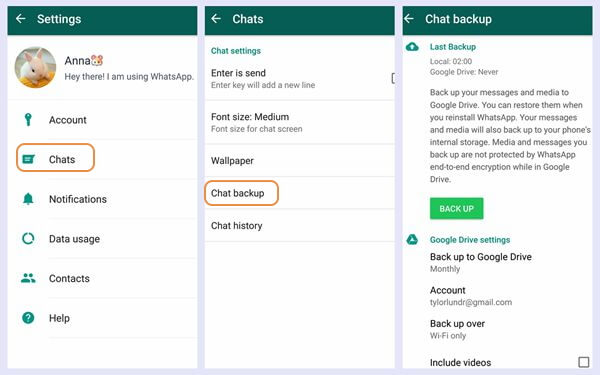 Click Back up to Google Drive, select a mode except Never, then click BACK UP to wait the backup process to be complete. You may need to sign in to your Google Drive account if you are signed out.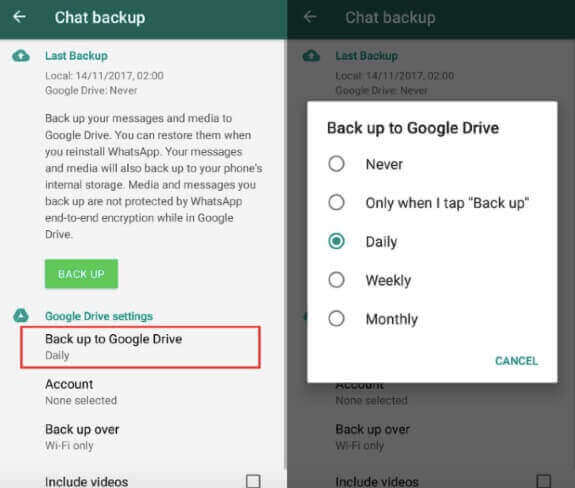 Open up Google Drive on your phone or your computer and log in it to make sure it is there and star it so you won't lose it.
Cons
It costs tons of time with several complex steps.

Cannot ensure the security of all the WhatsApp backup completely.

The speed of backup process is very slow and need to be under good Wifi environment.
2.4 Back Up WhatsApp on Xiaomi via SD Card
Using a SD card to backup your WhatsApp data won't have the same limitations of storage as email or Google Drive. However it may be a little more complicated if you aren't tech-savvy and you don't know what you are doing. This method will only work if you have an active SD card in your Xiaomi.
Open up WhatsApp and proceed to Menu > Settings > Chats > Chat backup. You can select all your messages and include media since you have ample space.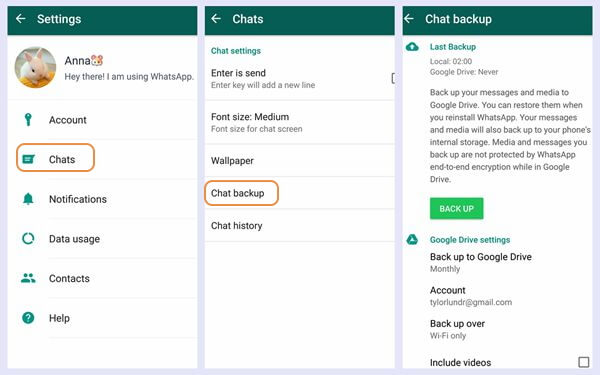 Click on Backup on Google Drive and then select Never so the backup will skip Google Drive and go directly to your SD card.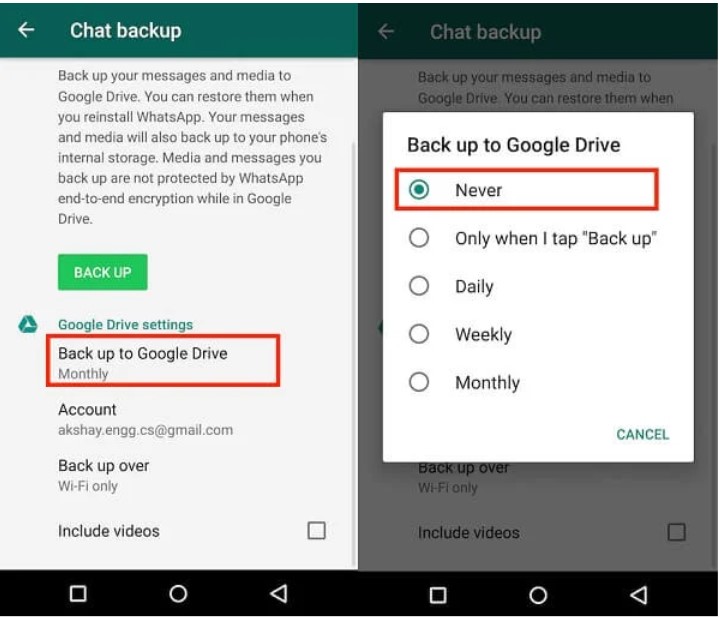 You can now remove the SD card from your Xiaomi and plug it in somewhere else to store, or just leave it in a safe place to make sure your data is safe.
FAQs About WhatsApp Backup on Xiaomi
Q1. Are There Any Dangers to Backing up WhatsApp Data on Xiaomi?
Not necessarily. All of these methods listed in this article are 100% safe and will not result in any data loss or malware being installed. However, if you download sketchy apps from other websites, it may come with some unintended consequences.
Q2. How Do I Transfer WhatsApp Messages iPhone to Xiaomi?
Actually, it's pretty easy to transfer WhatsApp messages from Xiao to iPhone. Previously, this article has introduced how to back up WhatsApp data in Xiaomi with WooTechy WhatsMover.
The good news is that this tool also allows you to transfer WhatsApp from iPhone to Xiaomi. Therefore, WhatsMover is certainly a practical and valuable tool for all WhatsApp users.
Q3. Why Should I Get Wootechy WhatsMover?
Wootechy WhatsMover is very convenient for backing up your WhatsApp data, especially if you have multiple phones and need to transfer data or back up several instances for further use. It can also help you restore your WhatsApp backup, a feature that few software have.
Q4. Why Do You Not Recommend Backing up Through Email and Google Drive?
It is not recommended to back up through email and Google Drive because there is a limit to how much you can back up through those mediums. It is also challenging because media takes up a lot of space, and these two options limit how much data you can backup.
Conclusion
In this article, we explained the 4 available ways to back up WhatsApp data on Xiaomi, among which WooTechy WhatsMover is the most beneficial and effective method to help your Xiaomi backup.We recommend you keep the app on your computer as it may come in handy later down the line.
Just click the Download Now button below, you can freely get this tool and freely use it to back up all your WhatsApp data on Xiaomi phone.