I'm moving from an iPhone 7 to iPhone 13 and have 20GB of media on WhatsApp, which isn't backed up on the cloud. Can I move these data to my new iPhone?
With the hype around the newly released iPhone 13, it comes as no surprise that users are starting to flood the internet with such a question: How to transfer WhatsApp messages to new iPhone?
If you are reading this guide, it certainly means you also want to transfer WhatsApp from an old iPhone to a new iPhone 13 or other models too. Thankfully, this article contains everything you need to know to get this done without breaking a sweat. Just follow the instructions to the letter and you are good to go.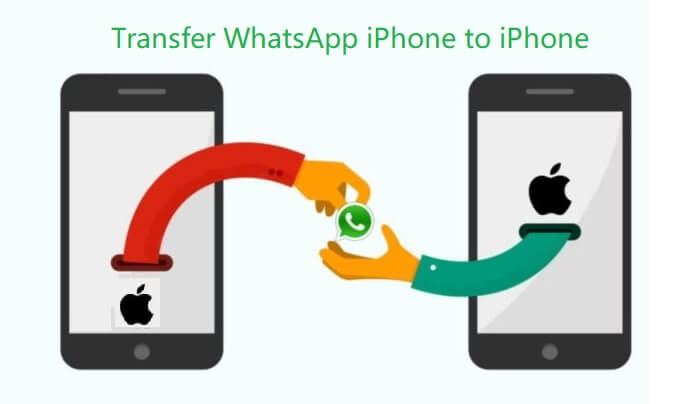 Transfer WhatsApp from iPhone to iPhone using iCloud
The iCloud is the iPhone and all other Apple products' official cloud backup platform. It can be used to back up the whole of your phone's data, including text messages, calendars, contacts, and apps like WhatsApp.
Also, it is the default cloud platform for WhatsApp backup on iPhone. Hence, with iCloud, you can choose to restore your WhatsApp data alone or the whole of your iPhone data when you change devices.
1. Transfer Only WhatsApp Backup
Before transferring your WhatsApp from iPhone to iPhone using iCloud, you need to create a latest WhatsApp backup on your old device first. Else, you might end up losing some important data.
Below are the steps to transfer WhatsApp backup only from your old iPhone to iPhone 13.
Launch WhatsApp on your old iPhone and navigate to Settings > Chats > Chat Backup. Then, tap the Back Up Now option, and WhatsApp starts saving your backup on iCloud.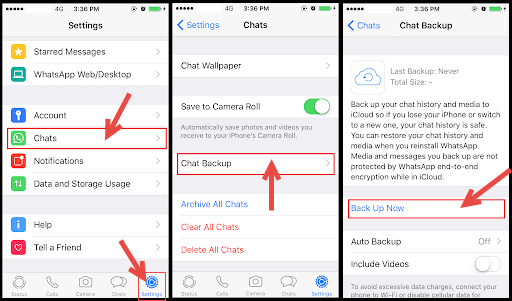 Download and install WhatsApp on your new iPhone. Ensure that you sign in to iCloud with the same Apple ID on your old phone.
Launch WhatsApp on the new iPhone 13 and log in with the same WhatsApp phone number.
After the setup is completed, tap Restore Chat History and you will have your WhatsApp data waiting for access on your new iPhone.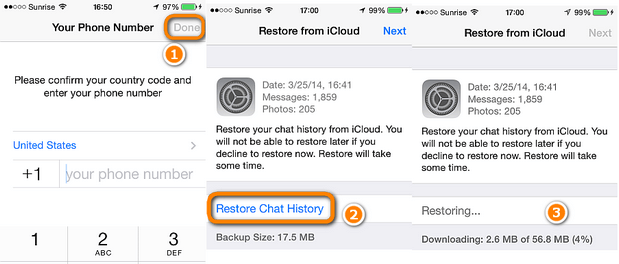 2. Transfer the Whole iCloud Backup to New iPhone
This method involves transferring the whole iCloud backup (WhatsApp data included) from old iPhone to your new iPhone. Just as with the WhatsApp-only option, you have to make sure you have properly backed up your iPhone data before you try to transfer the backup to your new device.
Here is the process of how to transfer WhatsApp data from iPhone to iPhone using the whole iCloud backup option.
Go to Settings and tap your Apple ID at the top of the screen. Now, select iCloud and ensure the WhatsApp option is turned on.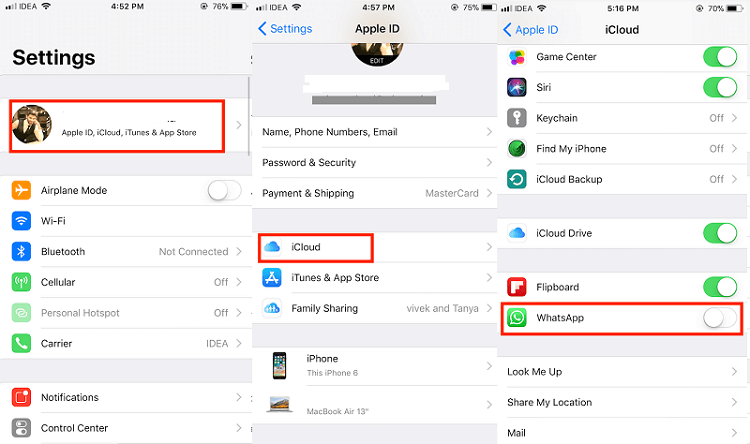 Find the iCloud Backup option and turn it on. Lastly, tap the Back Up Now option, and a complete backup of your iPhone data will be saved on iCloud.
Note
Ensure that you have enough space – at least 2.01 times more than the actual size of this backup – on iCloud. Else, the backup process will fail.
Turn on your new iPhone and complete the setup process. To do this, go to Settings > General > Reset > Erase All Content and Settings.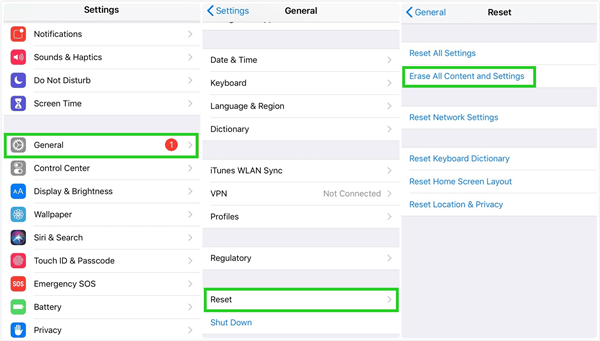 From the Apps & Data screen, select the Restore from iCloud Backup option and sign in with the same Apple ID on your old device.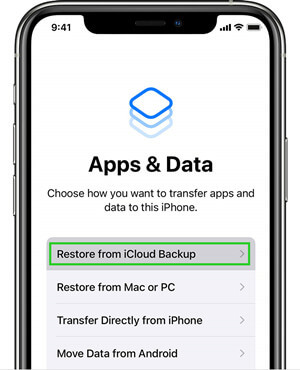 Lastly, choose the most recent backup from the list of backups shown, and you will have all your old iPhone data, including your WhatsApp backup, restored to your new iPhone.
Transfer WhatsApp Chats from iPhone to iPhone without iCloud
The use of iCloud for transferring WhatsApp backup from iPhone to iPhone is not without its cons. An obvious one is the limited storage of iCloud and the risk of data loss due to network failure. This is why it is essential to know how to transfer WhatsApp chats from iPhone to iPhone without iCloud.
So, in this section, we will be discussing three highly effective methods of getting this done.
1. Using a WhatsApp Transfer Tool [Easiest]
If your iCloud doesn't have enough space to backup all WhatsApp data, or you are tired of the complicated process, then a powerful WhatsApp transfer tool is what you need.
The WooTechy WhatsMover software is an easy-to-use tool that helps transfer your WhatsApp chats from one iPhone to another in just a few clicks. Unlike all other methods that involve multiple operations on the old and new devices, this software gets the job done quickly and without any fuss.
Furthermore, WhatsMover is compatible with all modelss of the iPhone, even iPhone 13. There is no memory or data size limitation as the transfer is direct between the two devices. What's more, you can also use this tool for cross-platform (iPhone to Android and vice versa) WhatsApp transfer.
WhatsMover – Swift WhatsApp Transfer Solution
100.000+
Downloads
Compatible with all iPhone models from iPhone 4 to the latest iPhone 13.

Transfer WhatsApp messages, contacts, photos, and other attachments at once.

All WhatsApp data is transferred directly, 100% safe and simple.

Back up WhatsApp to computer without storage limitation.
Follow the simple steps below to transfer your WhatsApp data after installing the WhatsMover software on your PC.
Launch the WhatsMover tool and connect the old and new iPhones to your PC via USB cables.
After the two devices have been recognized, click on the Transfer button and the process will start immediately.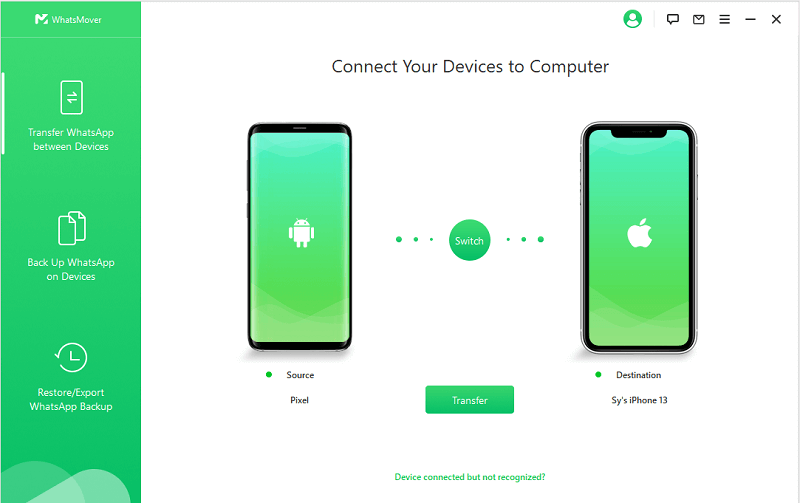 Once the WhatsApp transfer process is completed, you will get a prompt. And you have your WhatsApp messages transferred to your new iPhone in no time!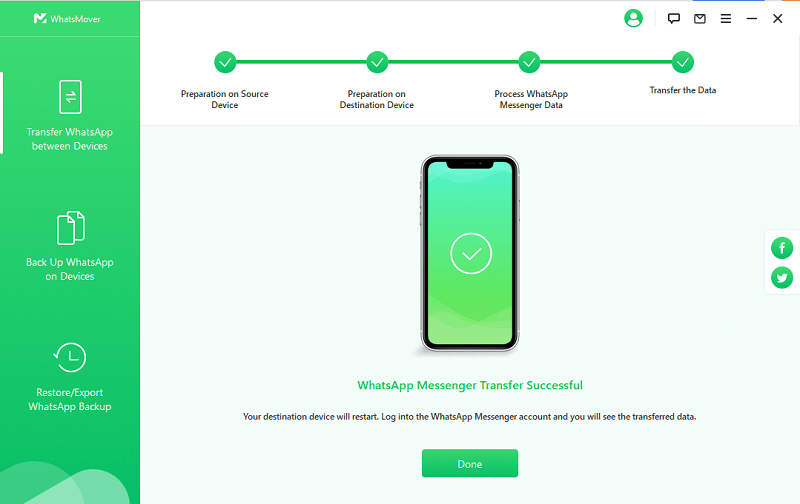 2. Transfer WhatsApp to New iPhone via iTunes Backup
Another effective way is using iTunes to transfer WhatsApp from an old iPhone to iPhone 13. iTunes is Apple's PC app for carrying out administrative tasks on iPhone. It can also be used to take backups from one iPhone and restore it to another.
Note
The major drawback of this method is that iTunes cannot take only WhatsApp backup. Instead, it takes a full backup of your iPhone data, thus consuming lots of time. Besides, you need to restore the whole backup instead of just WhatsApp data.
Here are the steps involved in transferring WhatsApp chats from iPhone to iPhone without iCloud via iTunes.
Connect your old iPhone to your PC and launch iTunes. Click on the iPhone icon at the top of the screen immediately after iTunes detects your device.
Choose Summary on the left plane, then click This Computer > Back Up Now. This will create a complete backup of your iPhone data, including your WhatsApp data.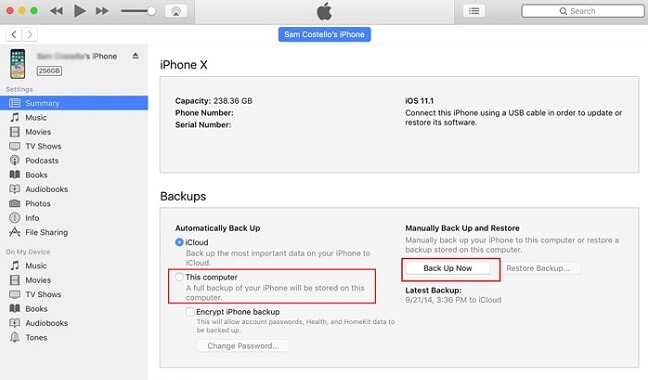 Now, remove your old iPhone and connect the new one to your PC. Wait until the device is detected.
Click on the Summary option, then go to the Backups section and click on the Restore Backup button.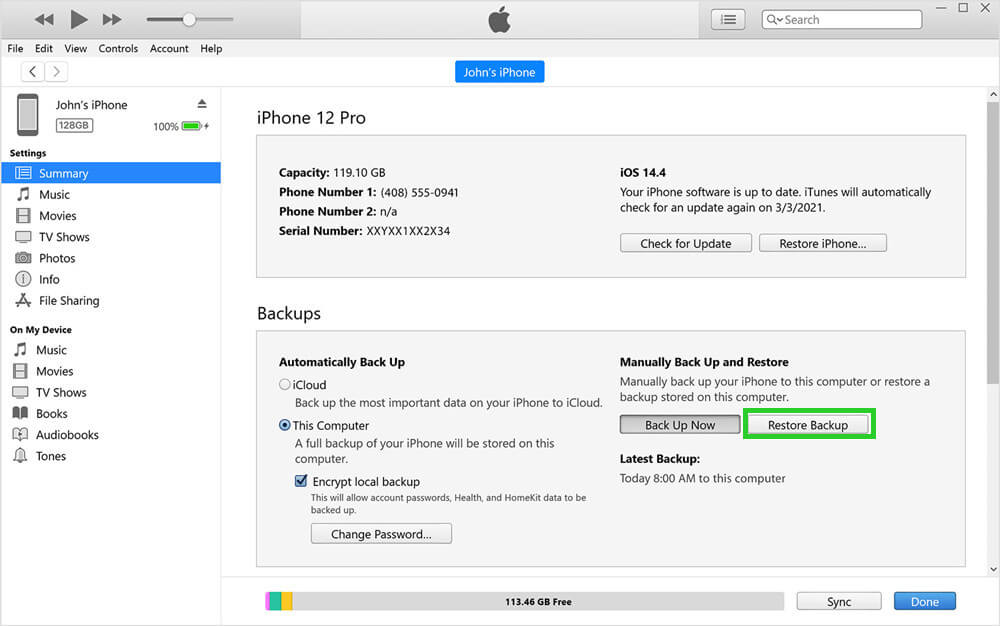 Select the recent backup you created from the list of backups shown. Lastly, click the Restore option to begin the transfer. Wait for the process to finish, and you have your WhatsApp transferred to the new iPhone, along with the remaining old iPhone backup.
3. Transfer WhatsApp Messages to New iPhone via Email
Email is the official in-app option of exporting WhatsApp chat from one device to another. This option works very well and is simple. The major downside is that you will not be able to restore the WhatsApp messages to your new iPhone. Instead, you will only be able to read it as a text file inside the email box.
Open WhatsApp on your old iPhone and tap on the contact with the chat you want to transfer.
Tap on contact name > Export Chat option. Select whether to attach media files or not when prompted.
Tap the Email icon from the list of apps and enter your Email as the recipient email. Now, tap the send icon, and you have your WhatsApp chat sent as a .txt file to your Email.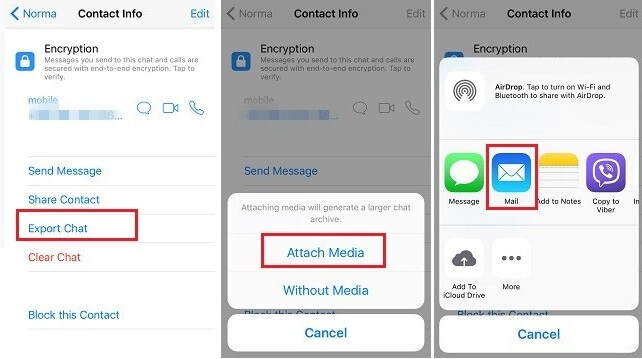 Open the Email on your new iPhone and download the chat from your inbox. Lastly, you can open the file with any text editor to read your chat.
Note
The email option only allows you to export one chat at a time, you will have to repeat the steps above to transfer more chats.
Final Words
You can always change your iPhone to a newer model now and then. The transition is supposed to be straightforward and fun-filled, but the mood can change pretty quickly if you don't know how to transfer WhatsApp from iPhone to iPhone.
This article shows this transfer to be pretty easy by providing you with many quality options.And among these simple options, we will recommend using the WhatsMover WhatsApp Transfer. This is due to its excellent all-round qualities, ease of use, and exceptional data security. It just about ticks all the right boxes.