WhatsApp "Export Chat" is a beneficial feature that lets you back up chat history on an external platform. It's useful when you want to transfer your chat history to a new device or import the data to a new app like Telegram.
Many people search phrases like Export Chat Meaning or export WhatsApp chats. Based on that information, it is apparent that Facebook is doing a terrible job explaining the basic features of their acquired apps. Hence we shall take it upon ourselves to explain everything to you.
Part 1. About Export Chat in WhatsApp
Before we start exporting WhatsApp chat, you must learn more about the feature. There are also some privacy-related issues. So, you need to know what you're getting into.
1. What Does Export Chat Mean on WhatsApp?
WhatsApp automatically saves your chat history on your Devices memory. A copy of it also exists on the cloud network of WhatsApp, but not in a format that you can view whenever you want. People have also reported having lost their chat history entirely. However, the credibility of such claims can be hard to verify.
As it stands, people need a more reliable method of saving important chat history. The export chat function lets you do just that. You can export WhatsApp chats into other formats and keep them on an external platform like Google Drive or iCloud.
Other apps can also utilize this exported file in various ways. For example, Telegram and Signal can use that file to migrate your chat history on their platform. Many people have done it recently. However, doing so has some risks.
2. Is Exporting Chat In WhatsApp Safe?
We know many of you had this question. These days, a little caution here and there is essential. Yes, exporting a chat can pose certain risks.
WhatsApp chat is end-to-end encrypted, at least that's what Mark Zuckerberg claims. That means only you and the person you are chatting with have access to any information in that chat. However, if you export the chat file, you lose this safety feature.
The file must then follow the privacy policy of whichever platform you exported.
3. Where Do WhatsApp Exported Chats Go?
The exported WhatsApp chat goes wherever you export it. For instance, you can export WhatsApp chat to pc, Google Drive, iTunes, or other external platforms. You can also upload it as a zip file to your phone. However, that only works for Android users.
Similarly, you can export WhatsApp chat to pdf or other formats. Many people also want to export WhatsApp chat from Android to iPhone, but that process is tricky.
Part 2. How Do You Export an Entire WhatsApp Conversation?
You should now have sufficient information about what you are getting yourself into. There are quite a few ways you can export WhatsApp chats.
1. Export WhatsApp Chats via Export Chat Function
The easiest way of exporting your chat history is through the Export Chat option.
Open your WhatsApp on your phone. Open the conversation you'd like to export.
Hit on the three dots on the top of your screen. Select More, and finally Export Chat.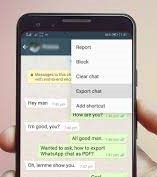 Now several options will be provided to export the chats a TXT files.
Note
You can select either an individual chat or a group chat. But not multiple ones in the meantime. You will need to use other apps like
WooTechy WhatsMover
or something similar to export them in bulk.
2. Export WhatsApp Chats via Email
You can export the chats via email, but first, you need a working email address.
For iPhone users:
Open your WhatsApp. Select the chat or chat group you want to export.
Tap the three dots on the top right. Select More Options > Export Chat.
You would need to choose whether you want to attach the media files or not.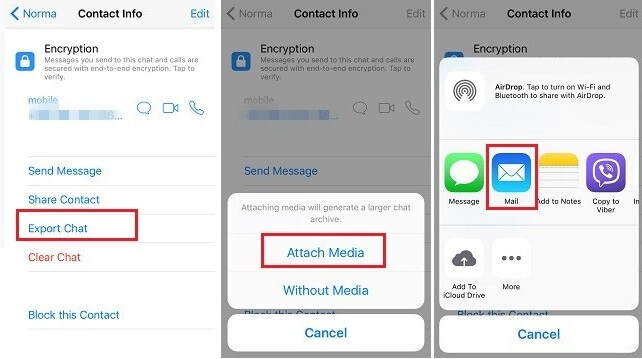 A popup will show you where you can upload. Select the mail icon from this list.
For Android users:
Open your WhatsApp. Select the chat or chat group you want to export.
Tap the three dots on the top right. Select More > Export Chat/Email Chat.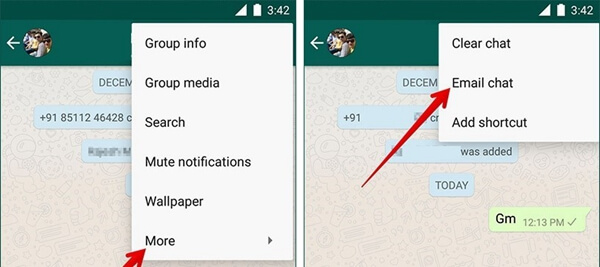 You would need to choose whether you want to attach the media files or not.
A popup will show you where you can upload. Select "Email" or "Gmail" from this list.
Cons
This method has some clear limitations for both Android and iPhone users. You can only upload 10,000 most recent messages if you want to do it with all the media files and four times more if you ditch the media.
3. Export and Read WhatsApp Chats via WhatsApp Viewer
WhatsApp Viewer will let you export and read the chat files on computer. But this only works for Android 4.0-7.0 and for users who back up data locally.
Firstly, you have to locate your WhatsApp database on your file manager app.
Rename the files to msgstore.db.crypt12 and transfer them to your computer by hooking up your Android device with the computer.
Open WhatsApp Viewer on the computer. Tap on File > Open.
Select the encrypted chat file. Now you can read or view that file like a regular chat. You can then choose to Export this file again in a different format.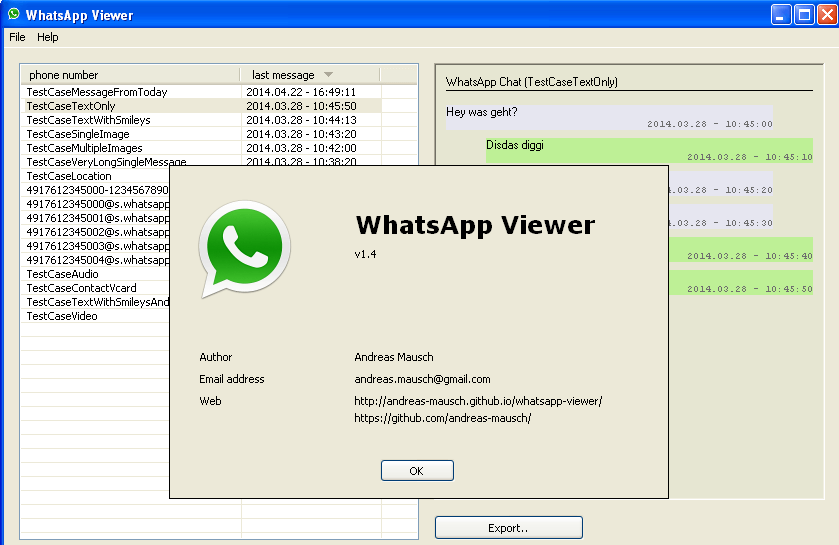 Part 3. An Easier Way -- Export WhatsApp Chats in One Click
The methods above only allow you to upload a single chat at a time. That is highly inefficient if you run a business and need to back up your transaction data. You can use WooTechy WhatsMover to solve this issue with just a few clicks. It is a professional WhatsApp data management tool that help you transfer, back up, restore and export WhatsApp or WhatsApp Business. It's safe to use and ensures a 100% success rate.
WhatsMover – Powerful WhatsApp Chats Exporter
100.000+
Downloads
You can use it to export WhatsApp chats with over 40000 messages, export WhatsApp stickers and contacts.

It can export WhatsApp chats to HTML/PDF/CVS/XLS formats and further read them.

Supports all iPhones and Android devices as well as all types of WhatsApp data.

It can help you export WhatsApp chat from Android to iPhone without OS restrictions.

You can also use it to transfer and back up WhatsApp as well as restore various backups.
Install and open the app on your PC or Mac. Connect your phone via USB. First back up your WhatsApp data by clicking Back Up WhatsApp on Devices. Then click Back Up to complete the backup process.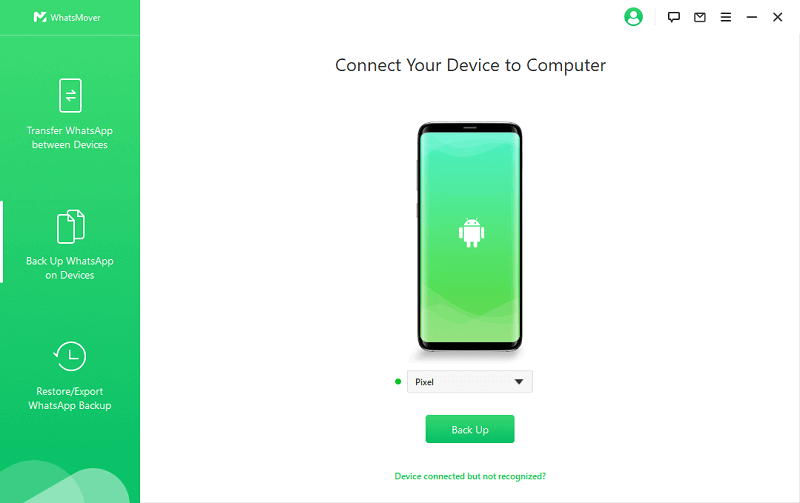 At this time, your WhatsApp backup data is displayed and you can click Export WhatsApp Backp after choosing the chats you want to export.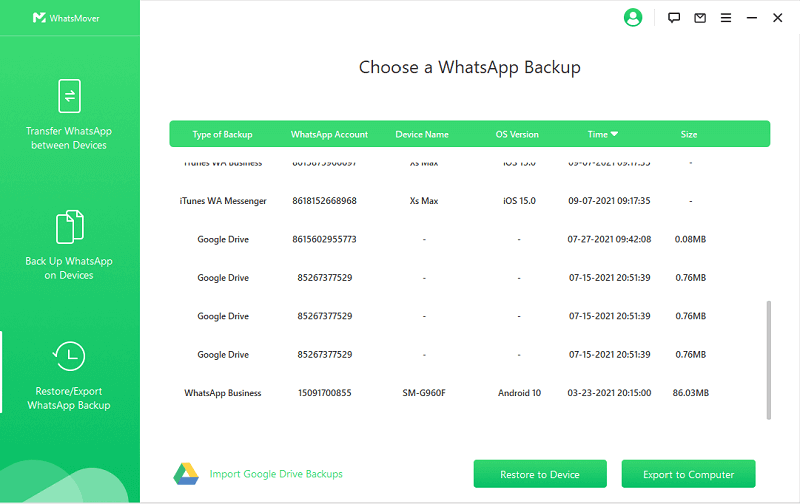 Finally click Export to Computer and choose the location. You can export WhatsApp chats in different formats like HTML and PDF.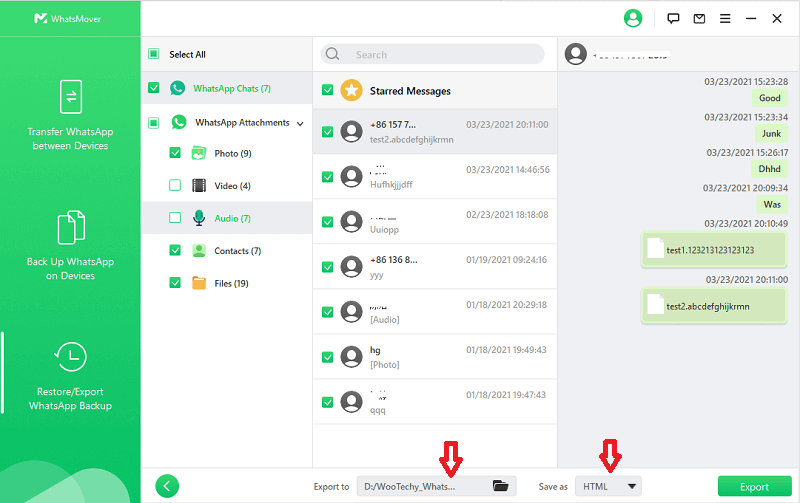 Conclusion
We hope this article has helped you understand WhatsApp export chat meaning. We also explain you 4 useful ways to export WhatsApp chats. If you want to export chat in WhatsApp with the fastest speed, you can't miss WooTechy WhatsMover.