While you continue to use WhatsApp daily and connect with more people, your WhatsApp home screen can often get cluttered with chats, some of which you even won't need or won't need to talk.
This can cause confusion for you when you need to navigate the chats or groups that you desire. What's worse, WhatsApp doesn't show its users how to hide WhatsApp messages in a simple manner.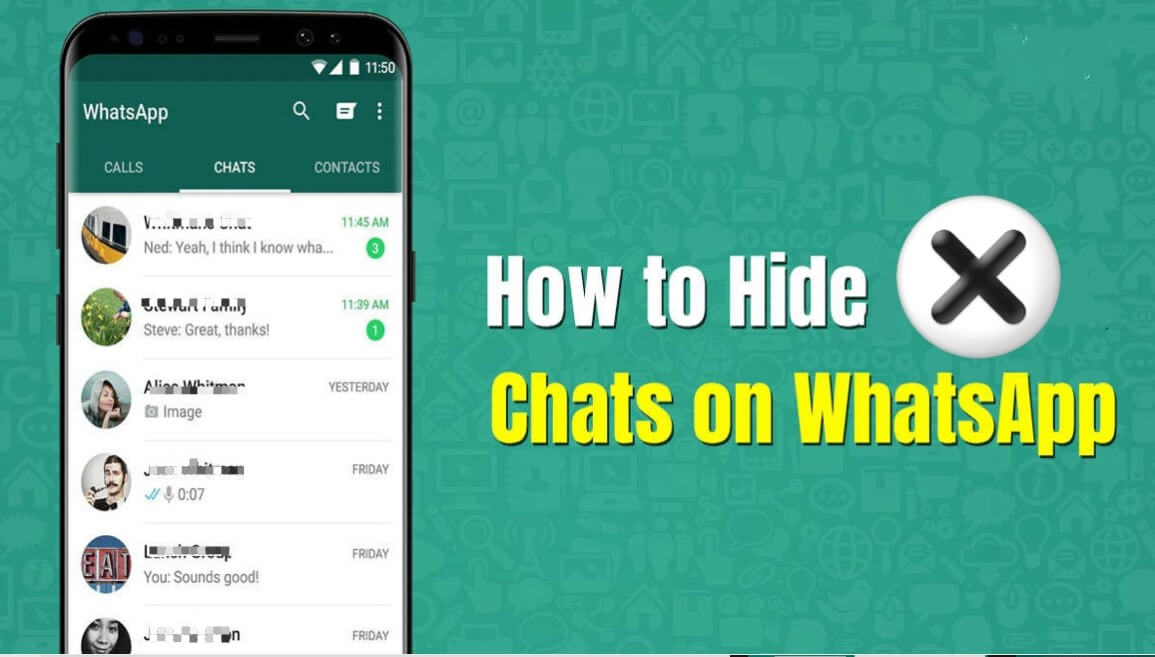 Don't worry, this article will clearly explain several ways to troubleshoot how to hide chats in WhatsApp and how to hide whatsapp chats without archive as well as puting forward to a wonderful idea to make sure that your WhatsApp data will not be lost in any way and also you can access and read the WhatsApp backup data.
Part 1. How to Hide Chats in WhatsApp with Archive?
This method of hiding chats in WhatsApp with archive is hands down the most accessible and convenient. All it takes is a few steps. There are also a few different ways to slove this issue on Android & iPhone.
1.1 How to Hide Chats in WhatsApp on iPhone Device with Archive?
Hide WhatsApp chats or group:
Step 1 Open your WhatsApp, and navigate to the chats or group you want to archive.
Step 2 Swipe left on the chat or group, Archive button will appear, just click it.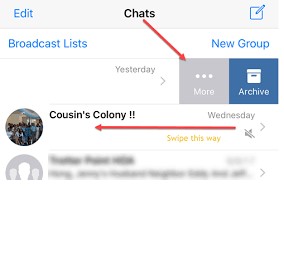 Hide all the WhatsApp chats at a time:
WhatsApp >Settings >Chats > Archive all chats.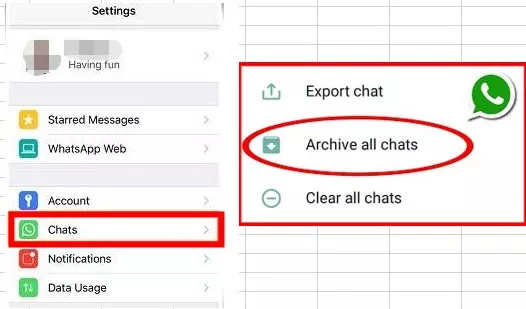 1.2 How to Hide Chats in WhatsApp on Android Device with Archive?
Hide WhatsApp chats or group:
Step 1 Open your WhatsApp, go to the chats or group you want to archive.
Step 2 Long press the chats or groups, then a icon the square-shaped with an arrow appears, just tap on it.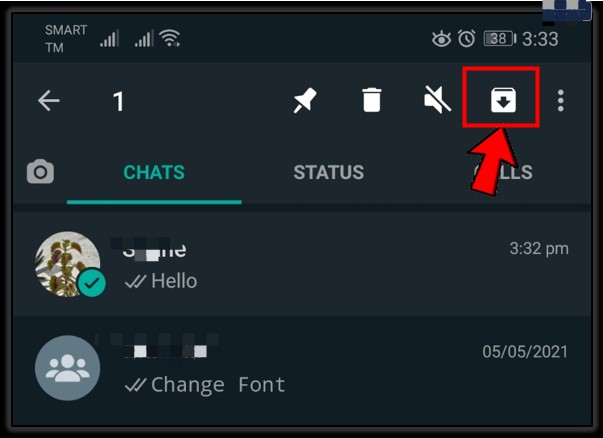 Hide all the WhatsApp chats at a time:
WhatsApp > Settings >Chats >Chat history >Archive all chats.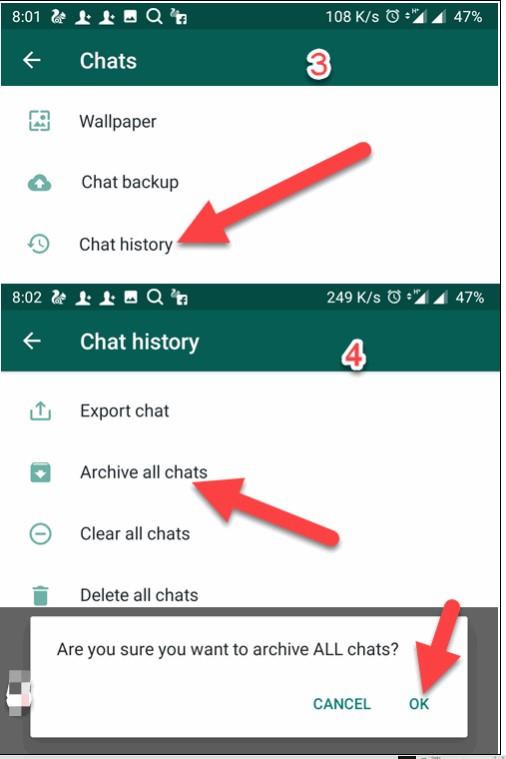 1.3 How to Unhide Chats in WhatsApp with Archive on Android & iPhone Devices?
Now that you have successfully archived all the chats you wanted, you may wonder how to unarchive them since you will need them for future use. This is a straightforward process that anyone can perform just as quickly as in the previous steps. This process is the same for both iPhone and Android.
Step 1 Open up WhatsApp and navigate to the Chats section. Scroll all the way up until you see a button Archived above all of your chats that states.
Step 2 You will now see all of the archived chats. Click the Edit button on the top right and select all the chats you wish to unarchive.
Step 3 Lastly, click the Unarchive button on the bottom left of your screen. Your chats will now be back on the main page and unarchived.
Part 2. How Can I Hide WhatsApp Chat Without Archive?
There is another good method to hide chats in WhatsApp without archive -- using GB WhatsApp, which is a kind of mop version of WhatsApp. Although there may be something different from the official WhatsApp, it still enjoys an increasing popularity among WhatsApp users for its some useful functions, such as hiding or unhiding WhatsApp data.
2.1 How to Hide Whatsapp Chats Without Archive Using GB WhatsApp?
With the aid of GB WhatsApp, you are able to hide your WhatsApp chats without Archive. Please keeping that in mind, this is several simple steps about how to hide chats in WhatsApp without Archive in detail:
Step 1 Make sure you have GB WhatsApp installed with the latest version, log in and all your data is showing correctly.
Step 2 Open the app and select all the chats that you would like to hide.
Step 3 Click on the three dots icon on the top right and create a password to hide the chats. Your conversations are now hidden and safely secured with the password you created.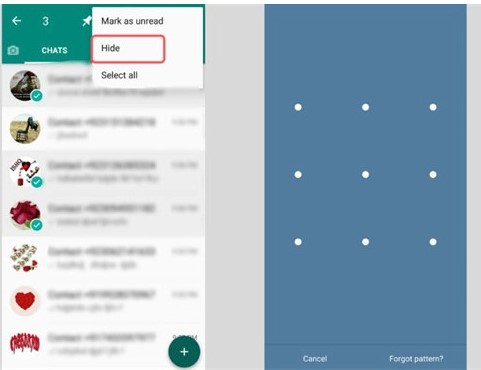 2.2 How to Unhide Chat in GB WhatsApp Without Archive?
Now that your chats are hidden, you may want to know how to unhide them if you sometimes need to access and read those messages. This process is just as straightforward as hiding them. To unhide the chats, simply follow these steps:
Step 1 Tap on the WhatsApp icon in the top left corner.
Step 2 Enter the password that you have created for these chats. You will now see all the chats you have previously hidden.
Step 3 You can now select the chats you want to unhide. Tap on the three dots icon in the top right corner.
Step 4 Click on Mark as unread or Mark Chat as Visible to unhide the chat.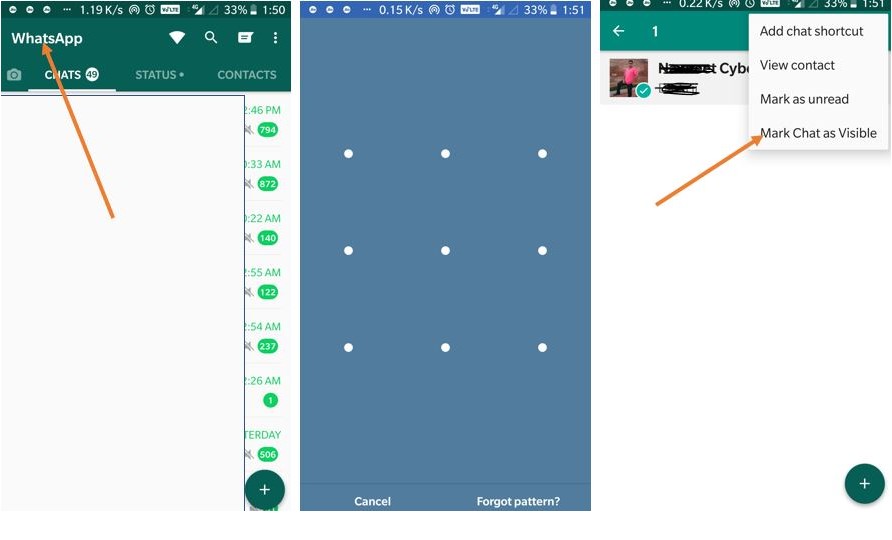 [100% Free] WooTechy WhatsMover -- WhatsApp Backup to PC Video Guide:
Part 3. [100% Success Rate] How to Restore the Hidden WhatsApp Chats to Check Them Often?
To fix this question, you need to answer a simple question: have you backed up your hidden WhatsApp chats before you hid them?
Believe that most of you have done. But if you haven't already done it, terrible thing may happen: All your WhatsApp data will be wiped if something wrong including your hidden chats. Therefore, you must back up all the WhatsApp data you want to hide first to stop that terrible thing from damaging your WhatsApp data.
WhatsApp data backup is not as complex as you imagine, there is a quick fix to help you out via using WooTechy WhatsMover. Please take it easy, this tool is Totally Free to back up all your WhatsApp data. In addition, it is a highly convenient and user-friendly tool that allows you to back up all your WhatsApp data effortlessly and in only a few clicks, more details you can check Back up WhatsApp data with WhatsMover.
How to restore the hidden WhatsApp Chats:
Well, sometimes there an idea hitting on you, you would like to access and read those data you hid on WhatsApp, so what can you do you remove this worry?
If you are reading this article, you must can to the right place. The following will introduce an useful method to help you out.
As we referred previously, WooTechy WhatsMover is a wise idea for your WhatsApp backup. But this tool doesn't only have this one good function, restoring WhatsApp data is its another popular and efficient function, which will never let you down.
WooTechy WhatsMover – One in A Million WhatsApp Restoration Tool
100.000+
Downloads
Support to restore WhatsApp backup without any limitation to both Android & iPhone devices,including all major brands like Samsung, LG, Huawei, Motorola, Xiaomi, and more.

Allow to restore any backup created by WhatsMover to your Android or iOS device with an ablity to preview the data backup in detail.

Available to restore all your WhatsApp chats from the Google Drive backup to your iPhone or Android devices on the WhatsApp account with a high success rate and just a few clicks.

Ensure protect the privacy of all the WhatsApp backup with 100% security during the whole process..
3 Simple steps to restore WhatsApp chats:
Step 1 Install WooTechy WhatsMover to your computer and open this tool. Make sure your phone is connected to your computer with a cable. Wait this tool to detect your phone automatically, and then click Backup WhatsApp between Devices.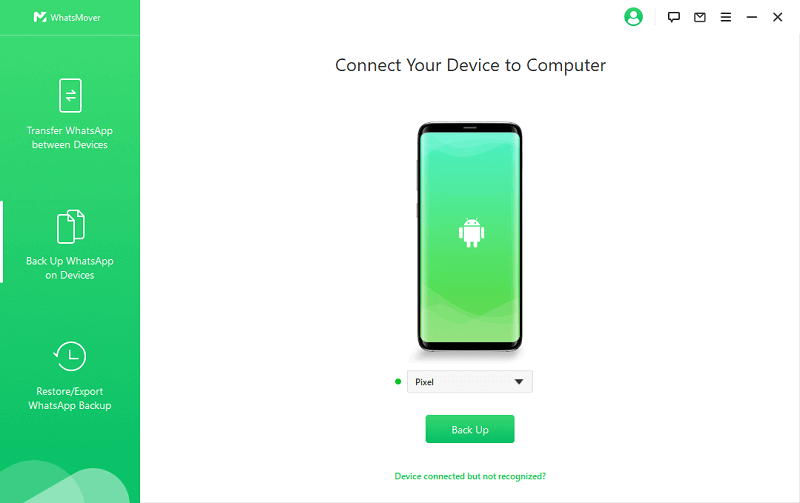 Step 2 After the backup is complete, tap on Restore/Export WhatsApp Backup on the left plane and select the backup that you want to restore. Connect your Android phone or iPhone with a USB cable.
Click on Restore to Device, now you can see a list of WhatsApp data you just backed up, select which WhatsApp data you need. Tap on Restore button to start the process.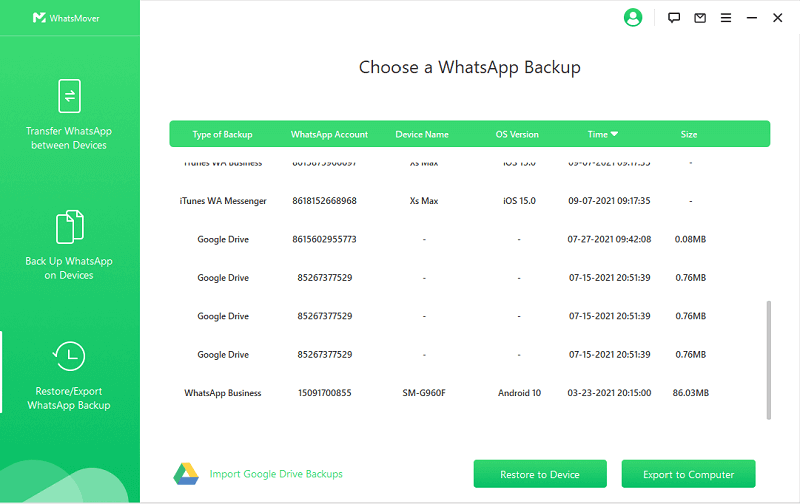 Step 3 Just wait a minute. Then click Done. Now your backup has now been restored successfully.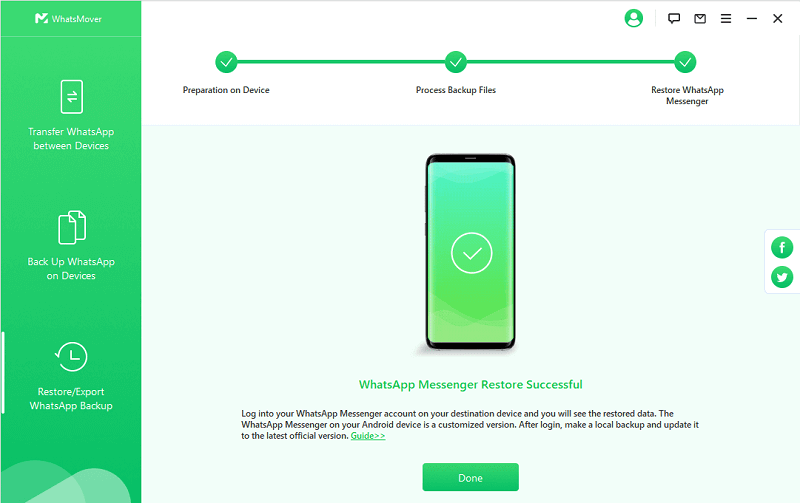 FAQs About Hiding WhatsApp Chats or Group
Q1. What Is the Best Way to Hide WhatsApp Messages?
A. The best way to hide WhatsApp chats would be to use the archive feature built into WhatsApp. This feature is also the simplest to use and will take you the least amount of time, so you can move on with your day. However, you should definitely back up your chats using WooTechy WhatsMover to ensure that your data will never be lost.
Q2. What Will Happen If I Hide Chats or Groups WhatsApp?
A. After you hid chats or group in WhatsApp, the chats or group you hid will not appear on your chat screen. When there are new messages from the same chat or group, you cannot get any notification. And also the hidden chats or groups are not deleted, they are still existed in your WhatsApp.
Q3. Why Can I Not Just Delete the WhatsApp Chats Instead Of Archiving Them?
A.You shouldn't delete WhatsApp chats instead of archiving them because if you delete the chat, all your messages with that contact will be lost. On top of that, if you don't have that particular contact saved, you won't be able to get that contact back. This is why we recommend archiving them and always having a current backup installed to secure your data.
Conclusion
In this article, we showed you how to hide and unhide your contacts in WhatsApp in several pratical ways, using the archive feature on WhatsApp and another alternative, GBWhatsApp. More over, this article also shared with you a terrific tool (WooTechy WhatsMover) to back up and restore your WhatsApp data in case anything unexpected happens.
From now on, you can freely clear up your WhatsApp with unnecessary chats without worrying any data loss. Just give it a light click on Download Now button below, you can have this unique tool, which is worth to trying.