Tired of spam calls on WhatsApp too? This new feature of WhatsApp can help you block spam calls with one click! Check it out!
Part 1: What Is the WhatsApp Silence Unknown Callers Feature?
Recently, WhatsApp has launched a useful new feature - Silence Unknown Callers.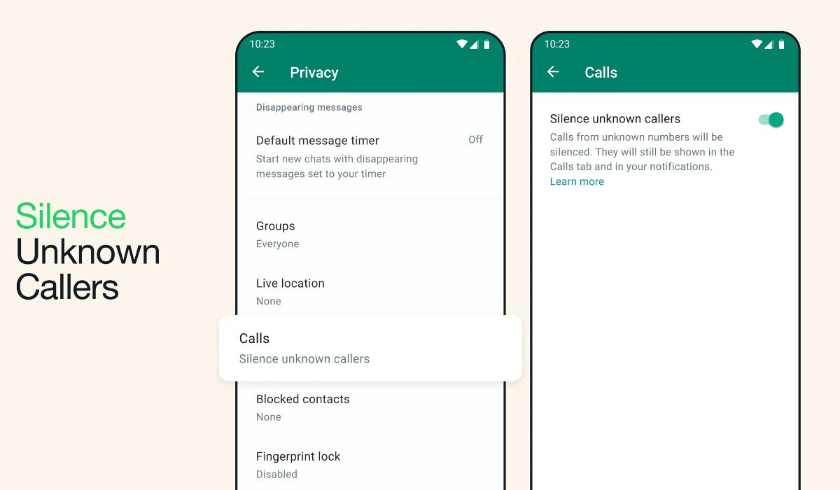 This new "Silence Unknown Callers" feature automatically screens unknown calls, spam calls and scam calls, and automatically mutes all calls from unknown numbers.
Once the feature is enabled, these unknown callers will not ring your phone, helping you filter unnecessary calls and reduce phone harassment.
However, the muted unknown calls will show up in your call list in case you miss an important call.
WhatsApp for Android and WhatsApp for iOS have now launched the Silence Unknown Callers feature, and all WhatsApp users can now use this new feature to block the harassment of spam callers.
In addition to the Silence Unknown Callers feature, WhatsApp has also introduced a "Privacy Checkup" feature that helps users to check all their privacy options on WhatsApp. Users can check their privacy settings by selecting "Start Checking" in the "Privacy" settings and add privacy and security to messages, calls, and personal information as needed.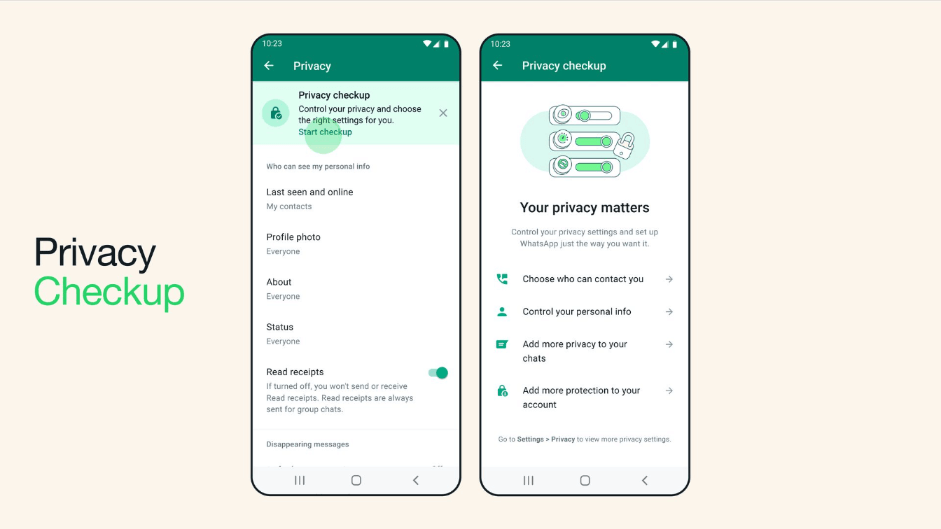 Earlier WhatsApp also released several features to enhance privacy protection:
1. Conversation Lock: Allows users to protect sensitive chat conversations by setting an access password.
2. Time-limited Messages: Messages will automatically disappear after a specified period of time.
3. View Once: Recipients can only view media content once and screenshots are disabled.
4. Online Status Confidential: Allow users to freely choose their online status.
Part 2: What Are the Benefits of Turning on WhatsApp Silence Unknown Callers?
Block Spam Calls
By enabling this feature, you can put an end to those annoying spam calls that interrupt your daily life. WhatsApp intelligently identifies and filters out calls from unknown numbers, saving you from wasting time with spam calls.
Avoid Potential Scams
With the rise of fraudulent schemes and scam calls, the "Mute unknown callers" feature acts as a barrier to prevent potential scammers from contacting you on WhatsApp calls and preventing you from becoming a victim of such scam calls.
Protecting Privacy
This feature allows you to maintain a degree of anonymity by limiting calls to known contacts only, controlling access to who can contact you through WhatsApp and preventing unwanted strangers from harassing you.
Truecaller reports that with the rise of scam calls, WhatsApp users in India are the most affected, receiving an average of about 17 spam calls per month.
Announcing the new privacy feature, Meta founder and CEO Mark Zuckerberg said, "You can now automatically mute calls from unknown contacts on WhatsApp for even more privacy and control."
Part 3: How to Use WhatsApp Silence Unknown Callers to Block Spam Calls?
iPhone: How to mute unknown callers on WhatsApp?
Step 1. Open WhatsApp and click on "Settings".
Step 2. Go to the "Privacy" option and click on "Calls".
Step 3. Find the "Mute unknown callers" option and turn it on.
Android: How do I mute unknown callers on WhatsApp?
Step 1. Open WhatsApp, click on "..." in the upper right corner, and select "Settings".
Step 2. Go to the "Privacy" option and click on "Calls".
Step 3. Find and turn on the "Mute unknown callers" option.
Part 4: [Tips] How to Transfer WhatsApp from Android to iPhone?
Got a new iPhone but don't know how to transfer WhatsApp from Android to iPhone? The fastest and easiest way to transfer WhatsApp to new phone is using the professional WhatsApp transfer software WooTechy WhatsMover!
This tool can seamlessly transfer WhatsApp data between Android and iPhone, allowing you to transfer WhatsApp from Android to iPhone or from iPhone to Android without any restrictions on phone system or phone model. As a popular WhatsApp transfer software, WooTechy WhatsMover makes transferring WhatsApp data easy and fast and now has a large number of WhatsApp users from different countries!
WooTechy WhatsMover – The Best Tool to Transfer WhatsApp
5,000,000+
Download
Support transfer WhatsApp/WhatsApp Business data between iPhone and Android devices, including Android to iPhone, iPhone to Android, Android to Android, iPhone to iPhone

Support transfer all WhatsApp data from old phone to new phone, including WhatsApp chats, messages, photos, videos, contacts, emojis and other media files

Support free backup of all WhatsApp data on Android and iPhone to PC with no storage limit

Easy to use, simple steps, WhatsApp transfer in minutes
How to Transfer WhatsApp to New Phone by WooTechy WhatsMover?
Step 1: Download and install WooTechy WhatsMover on your computer. Launch it and click on Transfer WhatsApp between Devices.
Step 2: Connect your devices to computer with USB cable, then tap Transfer button to let the transfer process start.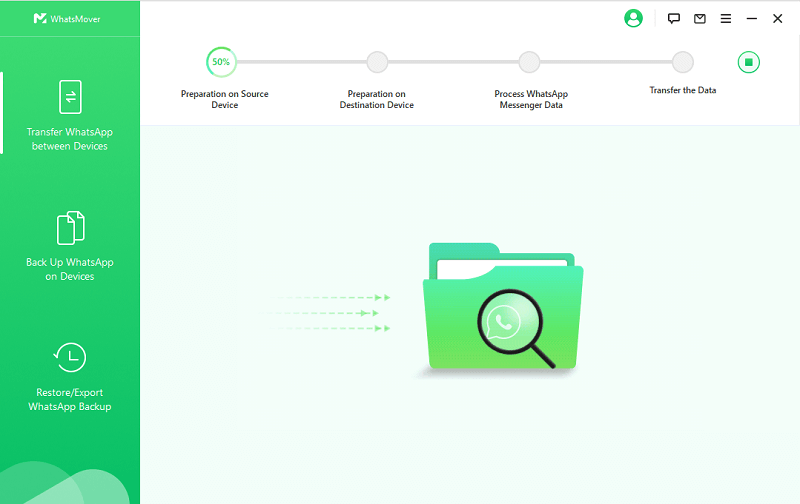 Step 3: Once the transfer process is completed, click Done. Now your entire WhatsApp data has been transferred from Android to iPhone.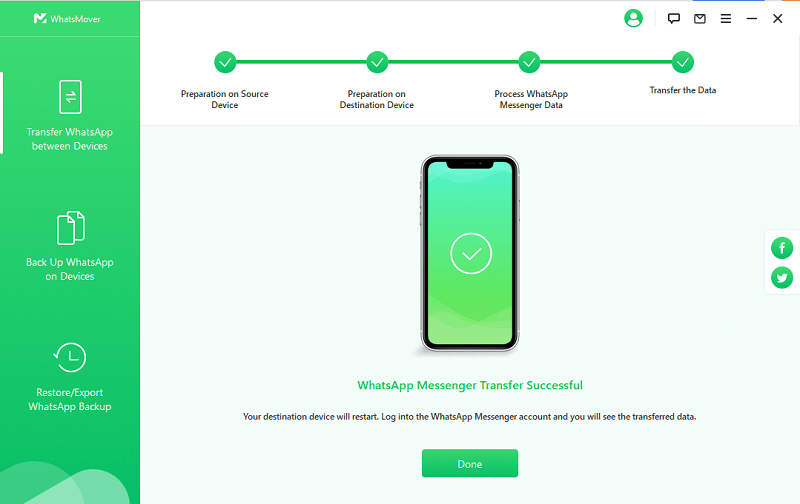 Conclusion
Well, now you surely know how to use the WhatsApp Silent Unknown Caller feature to block spam calls! If you got a new phone or are planning to get a new one, don't forget another useful tip - transfer your WhatsApp data with WooTechy WhatsMover! This tool is really fast and easy on WhatsApp transfer and WhatsApp backup! Try it out now!