While most of the world uses WhatsApp to communicate, nowadays, an increasing number of business people tend to use WhatsApp Business to reap the benefits of free messaging and their business cooperation.
Unfortunately, sometimes there are some stucks on WhatsApp Business, causing to your WhatsApp Business not working. In case you are going to develop an important business cooperation, the error that WhatsApp business keeps stopping will ruin your cooperation with others.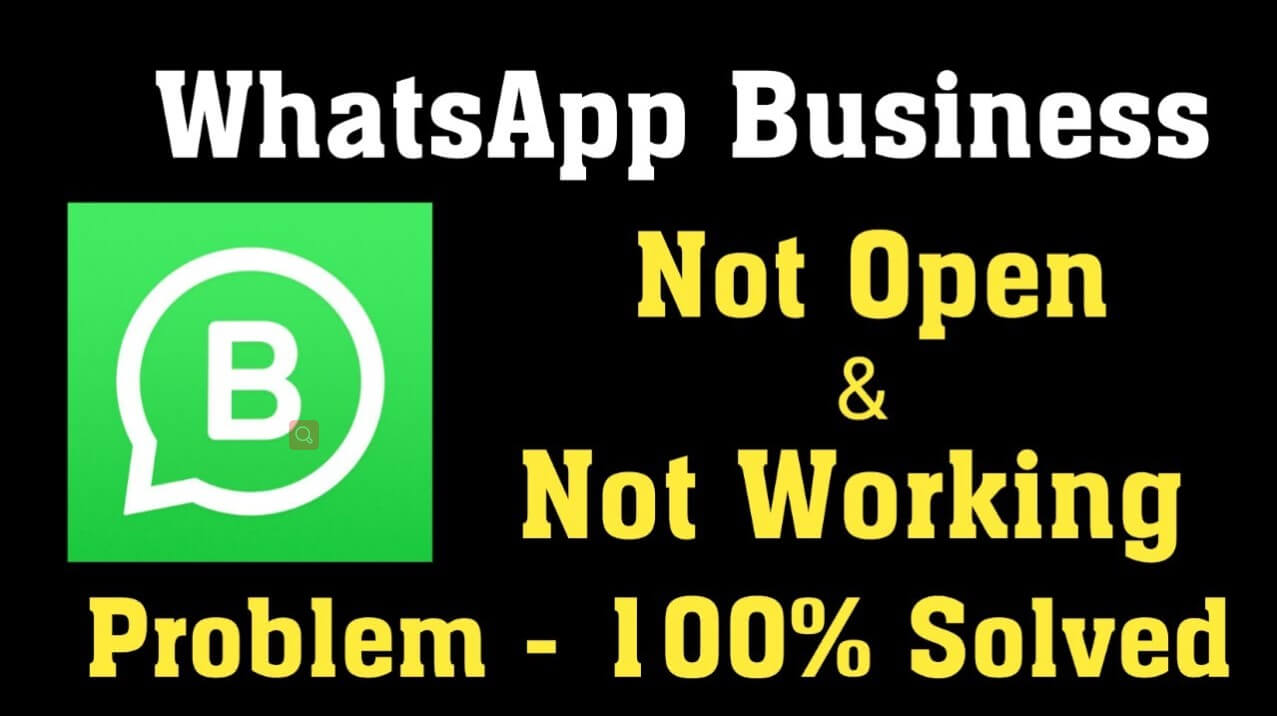 So how can you solve your WhatsApp Business not working on iPhone or Android device in time with the quickest efficiency? Don't worry, this article will explain how to fix WhatsApp Business not working on iPhone and Android in detial.
WooTechy WhatsMover -- [100% Free] WhatsApp Backup Video Guide:
Part 1. Will I Lose My Data When WhatsApp Business isn't Working?
The answer is "No". Chances are, your data is completely safe from getting deleted when your WhatsApp Business is not working. However, it is always better to ensure that you always have a recent backup on your computer. If you require software that will easily backup your WhatsApp data, scroll down to the Bonus Tip below.
Part 2. Why Is WhatsApp Business Not Working on My iPhone and Android?
There is a plethora of reasons why your WhatsApp Business is not working. Most of the time, it comes down to either a corrupted or missing file or possibly the wrong settings on your phone. There can also be a problem with your phone's compatibility on WhatsApp Business.
Unstable or poor network connection.

Older version of your WhatsApp.

Too overwhelming WhatsApp cache.

Your WhatsApp buissness account has been deleted.

Some stucks on your Android and iPhone device
Part 3. 8 Practical Methods to Fix WhatsApp Business Not Working
To be honest, it's not as difficult as you image to sovle your WhatsApp Buisness not working issue only if you use the correct methods. Suppose you must be desirous to troubleshoot this problem, now the following fully explain 8 quick fixs to help you out. Let's find them out.
1. Restart Your Phone
First of all , try starting your phone is the easiest fix, restarting your phone can solve the issue most of the time and will fix any errors for most users. This method works for any application that is not working and will work in this case.
To do this, you can just press and hold the Power button for 5-10 seconds to reveal the power menu. then select Restart to shut down the device and power it back on .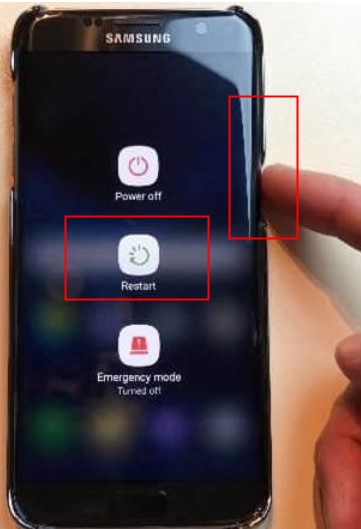 2. Check for Stable Internet Connection
Sometimes, your internet connection is not stable enough to run WhatsApp. There are a few ways you can fix this.
Try turning on and off your Wi-Fi or cellular data.

Switch Wi-Fi networks.

Restart your router.
All these methods are a great way to ensure that the connection from your Wi-Fi to your phone is not an issue and that it has something to do with your phone and the app itself.
3. Uninstall and Reinstall WhatsApp Business App
This is another simple way to troubleshoot your WhatsApp Business not working. However, we warn you that uninstalling and reinstalling WhatsApp Business may result in losing your WhatsApp data, so make sure you have a recent backup just in case things go south.
To uninstall and reinstall your WhatsApp Business:
Step 1 Go to your Play Store ( App Store for iPhone users ) and search WhatsApp Business for Android deivce, then click the UNINSATLL button.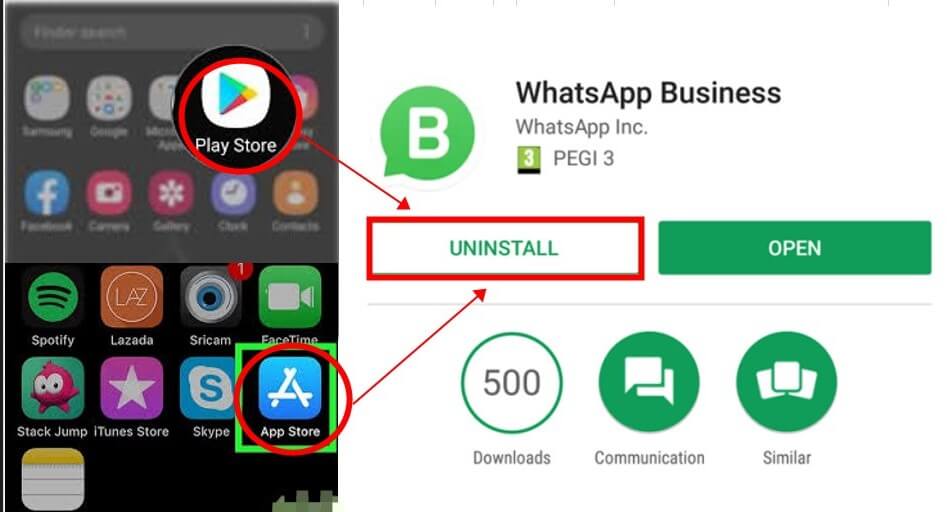 Step 2 Search WhatsApp Business app in your Play Store or App Store again, and tap on INSTALL button and wait for the process to complete. And then sign into WhatsApp Business with your phone number and restore the backup you saved locally on your phone. Then check whether your WhatsApp Business can back up to Google Drive successfully.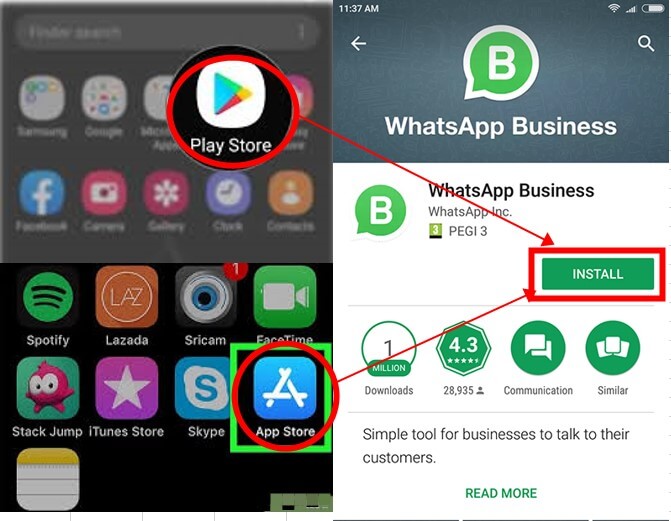 4. Clear WhatsApp Business App Cache
If you don't know what cache is, WhatsApp uses temporary storage to run its processes and operations on the backend. Sometimes, this can clog up your storage and the app if you leave it open too long. To clear your cache:
● iPhone: Settings > General > Storage > WhatsApp Business > Offload App.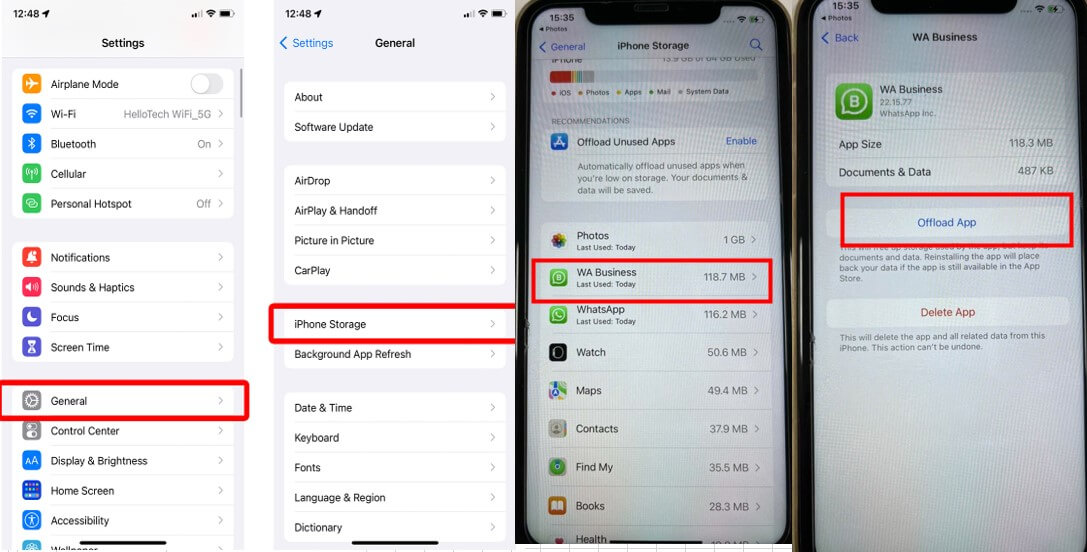 ● Android: Settings > Apps >WhatsApp Business > Storage> Clear Cache. This should help your WhatsApp Business run smoother and fix any issues with it.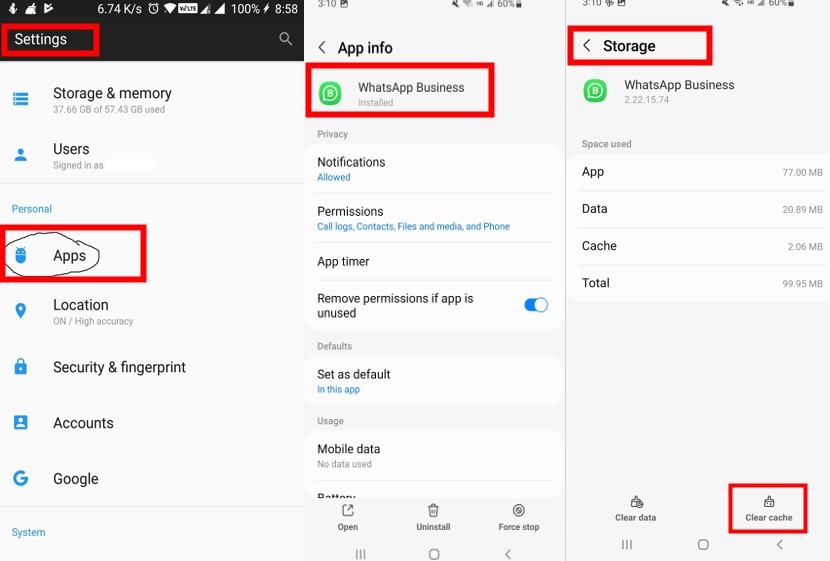 5. Install the Old Version of the WhatsApp Business App
On the contrary, a new update may sometimes ruin your phone's and WhatsApp Business's compatibility. This can be fixed by going back to a more stable version. While there is no official way to roll back an update, it is a very common feature many websites offer.
Simply search "older version of WhatsApp Business [Your Phone Name]," and you will find many websites that give you that option. However, be careful if you are installing any software, as there could be malware that would infect your phone.
6. Sync Date & Time Settings
WhatsApp requires the correctly synced date & time for it to operate with its servers. This is a simple fix as most of the time. People don't have their times automatically synced with their region.
For Android deivce: Go to your Settings > Date & Time > Set Time Automatically.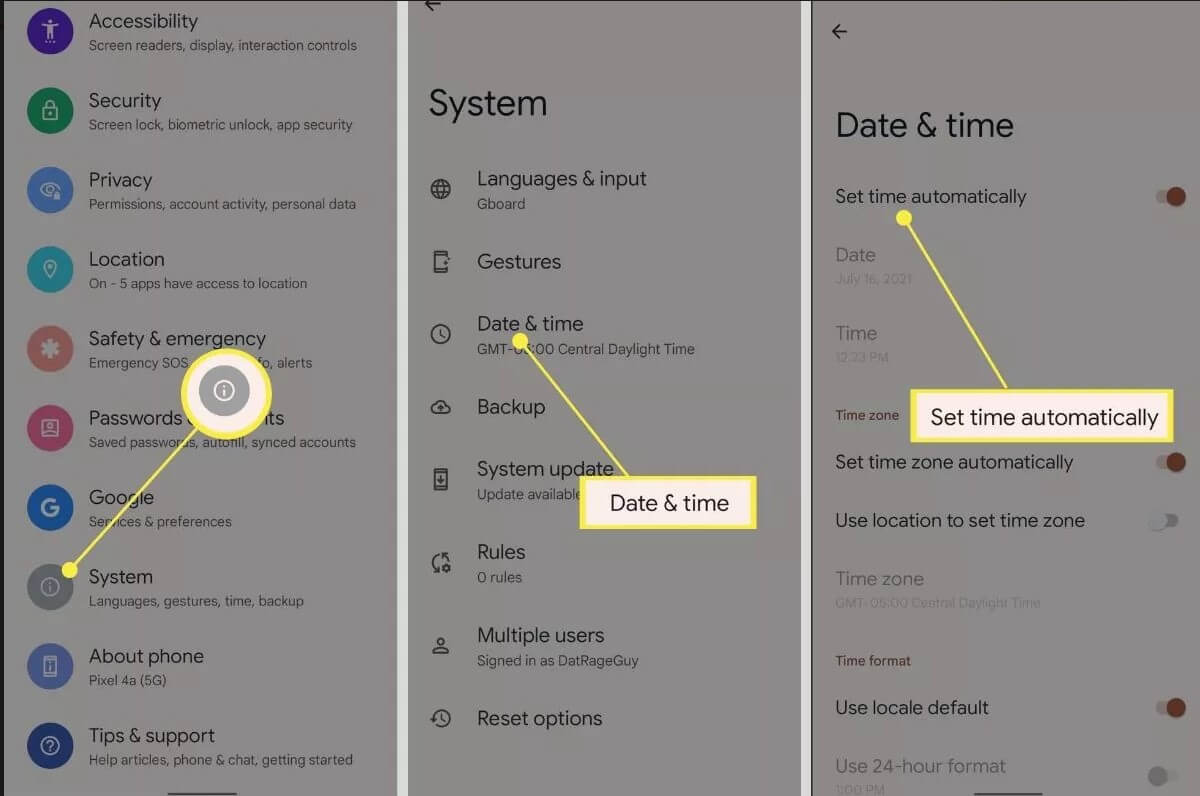 For iPhone deivce: Go to your Settings > General> Date & Time > Set Automatically.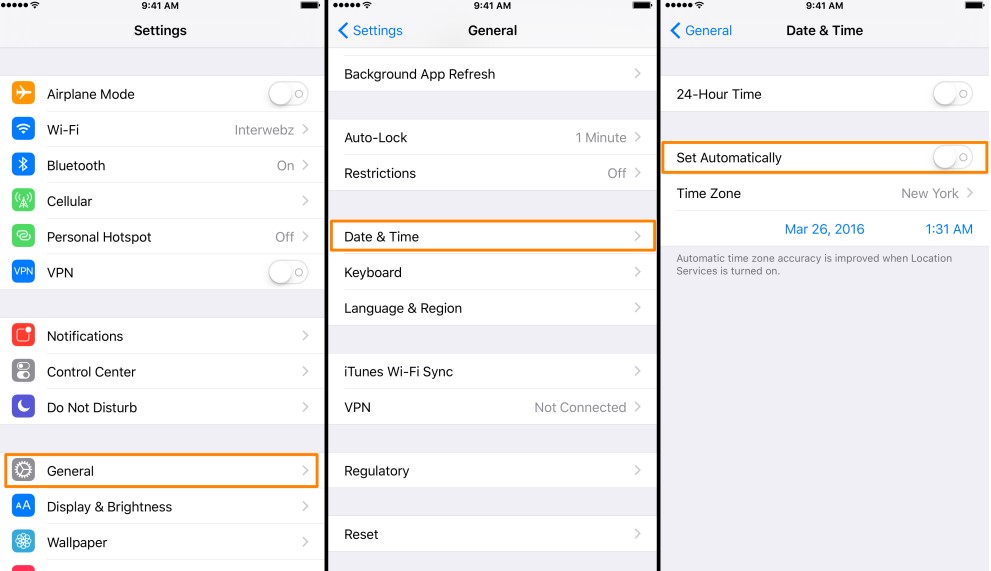 7. Check Compatibility of Your Phone with WhatsApp Business
There is an extremely long list of phones that won't work with WhatsApp Business to how old the phone is. For iOS, anything from the iPhone 6s and earlier won't work. For Android, all phones 7-8 years or older will not be able to work with WhatsApp Business.
8. Did WhatsApp Delete Your Account?
This will only apply to a few people because WhatsApp only deletes accounts that violate their Terms of Service. To check if WhatsApp has deleted your account, attempt to log in to WhatsApp on another device or your computer. Another alternative is to talk to customer support to see if they have deleted your account.
Bonus Tip: [100% Free] How Do I Back Up WhatsApp Business on Android & iPhone?
Now that your WhatsApp Business is working again, you should use your WhatsApp Business app normally as before. However, you must worry about similiar thing like this will happen again.
So What can you do you prevent this unfortunate stuck on your WhatsApp Business to affect your business cooperation with your clients?
Honestly, you should know the best way to back up all your important WhatsApp Business data. Accidently, WooTechy WhatsMover is the most suitable tool for you, which is an offical and professional WhatsApp backup tool with an increasing popularity among WhatsApp Business and WhatsApp users.
With this tool, on one hand, you can back up all your WhatsApp Business data for totally free; on the other hand, all your valuable WhatsApp Business data can be protected safely without any data loss. Moreover, it's really easy to complete the whole WhatsApp Business data to save tons of time for you.
WooTechy WhatsMover – the Best Tool to Back up WhatsApp Business Data
100.000+
Downloads
Allow to work with WhatsApp & WhatsApp Business on iPhone and Android tablets/phones, including all major brands like Samsung, LG, Huawei, Motorola, Xiaomi, and more.

Ensure your valuable data always safe, and the backup files are kept in seperate folders and won't be overwritten or automatically deleted.

Support you to further restore the backup created by WhatsMover back to your Android or iPhone device.

Available to back up all the WhatsApp data from your phone to the computer without any storage or OS limitation.

Ensure to back up all your WhatsApp data successfully with just few clicks and with the fastest speed.
Back up WhatsApp Data with WhatsMover Software in 3 easy steps:
Step 1 Install WooTechy WhatsMover and connect your phone to computer with a USB cable. Open up this software.