"Is there a way to delete WhatsApp backup files from Google Drive? The storage space is limited and I don't want to use it for storing WhatsApp backups."
WhatsApp for Android comes with a convenient feature to automatically back up chats on Google Drive by default. However, this also comes with a problem - the cloud storage is limited and sometimes we have to delete WhatsApp backup from Google Drive for storing other data.
If you are facing this issue and wondering how to delete WhatsApp backup in Google Drive, just go through this article to learn the steps.
Part 1: Disconnect WhatsApp from Google Drive First
Before deleting the WhatsApp backup, we must disconnect the app from Google Drive so that the drive will not store new backup files.
Step 1 Open a web browser and visit drive.google.com
Step 2 Now, sign in to your Google Drive account and navigate to Settings.
Step 3 Go to Manage Apps and locate WhatsApp Messenger.
Step 4 Click on Options and select Disconnect from Drive. Choose Disconnect when the prompt appears on the screen.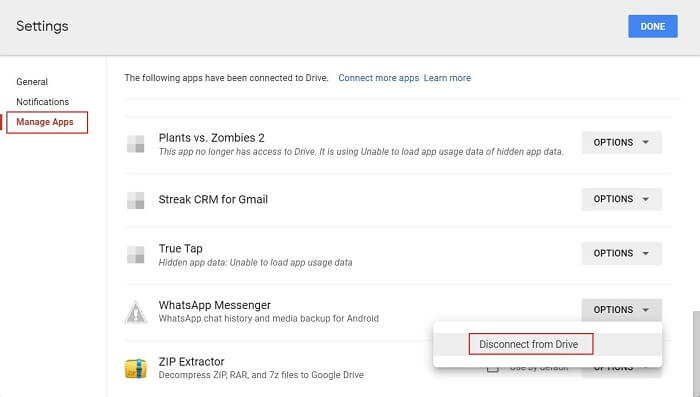 Now, WhatsApp won't be backing up chat data to Google Drive anymore. If you are also looking to delete existing WhatsApp backup from Google Drive, proceed through the article.
Part 2: Delete WhatsApp Backup from Google Drive Quickly
WhatsApp won't be storing new backups on Google Drive after you have disconnected the app from it. But if you want to free up more space, you need to delete the backups that are already stored there.
If you are using a smartphone, then you will have access to the app version of Google Drive and there is also the web version for desktop users. You can use any one of them to delete WhatsApp backup from Google Drive. So, let's check out the steps.
Note
By removing the WhatsApp backups from Google Drive, you won't be able to restore that backup chats to your phone any more.
If You Are Using the Google Drive Mobile App
Step 1 Run the Google Drive mobile application on your phone and tap on the three horizontal lines visible in the top-left corner.
Step 2 Select Backups from the visible option. All the backups saved on Google Drive will be listed here.
Step 3 Locate the WhatsApp backup file and tap on the Three Dots beside it.
Step 4 Among the listed options, choose Delete backup and it is done.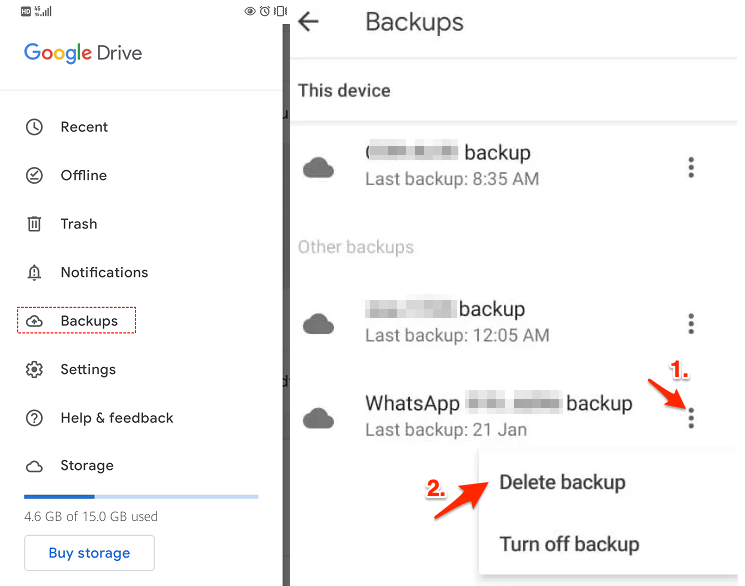 If You Are Using the Web Version
The steps for deleting WhatsApp backup from the Google Drive web version will be a bit different.
Step 1 Open Google Drive on a web browser.
Step 2 Click on the gear icon at the top-right corner and select Settings.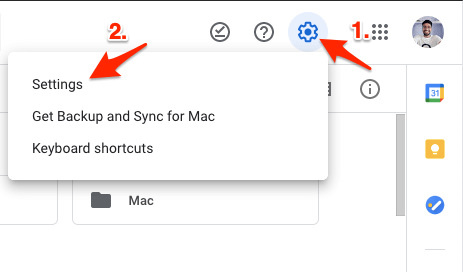 Step 3 Select Manage Apps from the list of options and locate WhatsApp Messenger.
Step 4 Navigate to the Options button right beside WhatsApp and select Delete hidden app data.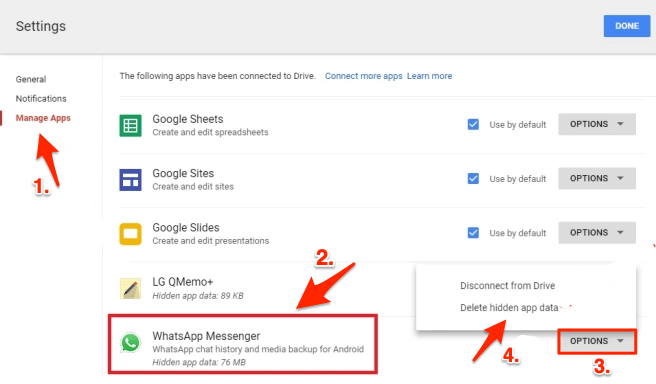 All the WhatsApp backup files will be deleted from Google Drive, just be sure that you have disconnected WhatsApp from Google Drive. Otherwise, this procedure won't be finished.
Part 3: How to Delete WhatsApp Chat Backup Permanently
Just removing the backup files from Google Drive isn't enough. WhatsApp has a feature to backup WhatsApp data on your mobile phone's local storage every day at 2 AM, so you also need to remove these data if you want to delete WhatsApp chat backup permanently.
Step 1 Launch the Files Manager app on your smartphone.
Step 2 You have to sort through files and folders on the Phone Storage of your device. If you have installed WhatsApp on the SD Card, then look for it inside the SD Card Storage.
Step 3 Now, locate the WhatsApp folder > Database.
Step 4 All WhatsApp backups are here, select them delete as you need.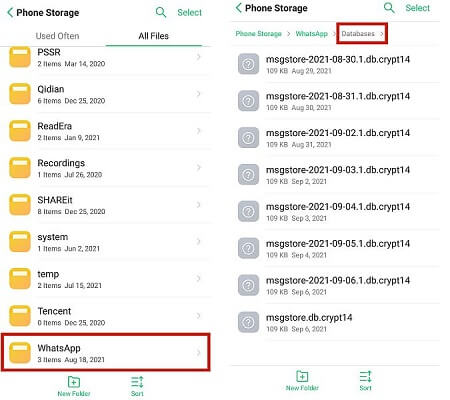 This will delete WhatsApp backup from your smartphone's local storage. Just remember, this is permanent. There is no way to get the files back after hitting the delete button.
Better WhatsApp Backup Solution than Google Drive [Free]
Storing WhatsApp backup files on Google drive is the default option but it comes with several limitations like limited space, backup getting stuck while uploading, and security concerns.
So if you are looking for a better alternative that can bypass these limits, do consider WhatsMover by WooTechy. This WhatsApp backup tool is compatible with both WhatsApp Messenger and WhatsApp Business.
Moreover, there is no size limitation, you can back up all your WhatsApp data at once. WhatsMover can also export the WhatsApp backups to HTML, PDF, CSV, or XLS format, so you can view the data directly.
Why Using WhatsMover for WhatsApp Backup
750.000+
Downloads
Supports various data types like chats, contacts, photos, and other attachments.

Unlimited storage. Your backup data is stored on computer with enough space.

Easy to operate. The backup process is completed in a only few clicks.

Data is secure. No risk of data being overwritten or automatically deleted.
Quick Steps to Create WhatsApp Backup with WhatsMover
Step 1: Connect Your Device
Launching the WhatsMover software on your computer and select the Back Up WhatsApp on Devices option on the left pane. Then connect your iPhone or Android to it.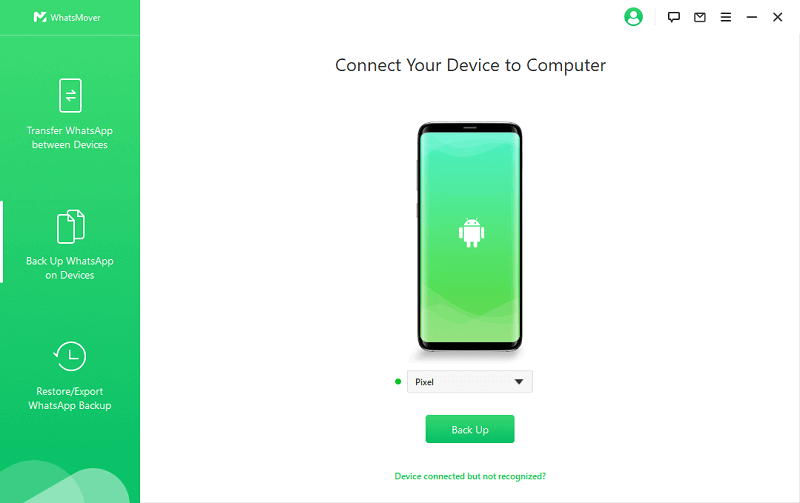 Step 2: Start Backing Up WhatsApp
WhatsMover will immediately start backing up WhatsApp data, the speed is relatively fast.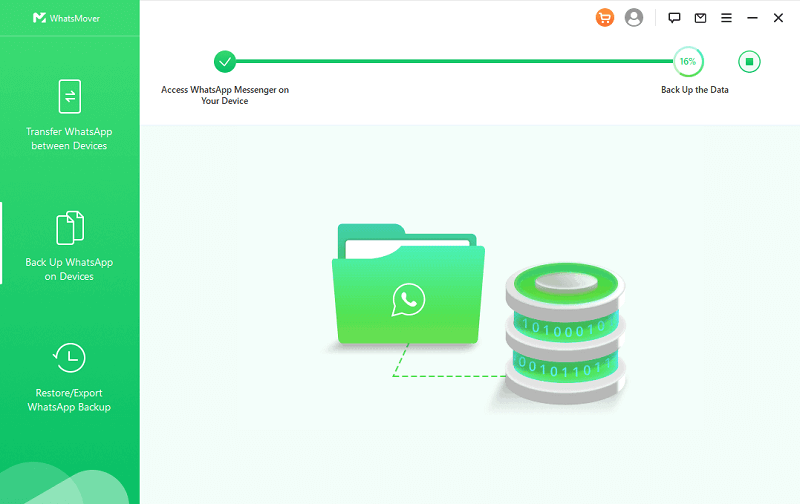 Step 3: Backup Completed
Once the process is finished, all the backed-up WhatsMover content will be available on your PC.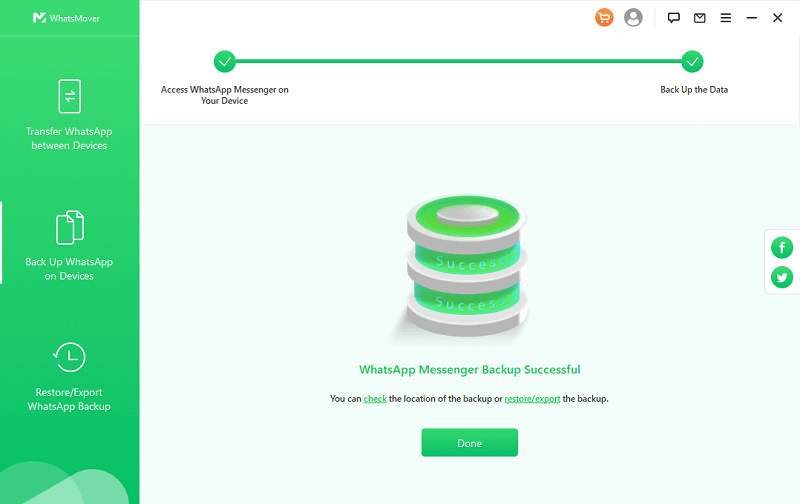 Wrapping Up
By now, I guess you already know how to delete WhatsApp backups from Google Drive, right?
If you are also considering backing up the WhatsApp data to computer safely, WooTechy WhatsMover is your best choice. It is FREE available for free on both Windows and Mac and has no storage limitation as long as there is enough space on your computer. Be sure to give it a try!