iPhone activation lock is no doubt a great feature to safeguard your device, but it can be frustrating when you're locked out for one reason or another. For example, you are a second-hand iPhone buyer or you have simply forgotten your Apple ID and password. In that case, it will be impossible to use the device before bypassing the iPhone activation lock.
You may have haerd of activation lock removal with hardware, but does this really work? In this article, we'll examine the possibily and provide you with the best solutions to bypass activation lock without hardware. So, keep reading.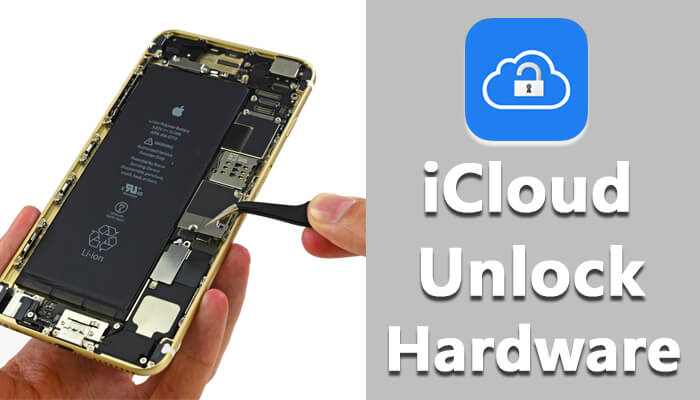 Is It Possible to Bypass iPhone Activation Lock by Hardware? How?
In theory, iClould lock bypass may be possible for some tech-savvy persons by removing the iPhone's CPU that is housed in the Logic Board and then reprogramming it. But as I have said, this is in theory because in practical it's hard to do so.
The Disadvantage of Hardware Replacement

It is evidently labor-intensive and therefore EXPENSIVE if you ask a professional to do so.

It requires a lot of technical knowledge and specialized tools.

This may only be possibile for a few iPhone models.

To be honest, the success rate is not very high and may cause serious damage to your device if not done correctly.
How to Bypass Activation Lock with Hardware (iPhone 6S)
If you are confident with yourself and want to have a try despite the disadvantages, below are the steps to alter the device's hardware and bypass iPhone Activitation Lock without computer.
Step 1: Make sure you have a new iPhone motherboard that doesn't have iCloud lock.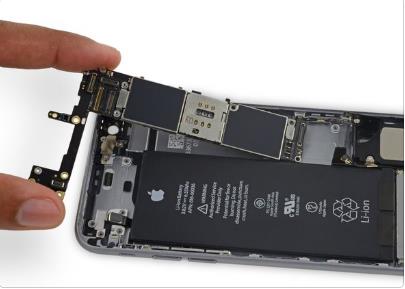 Step 2: Power off the iPhone, remove the case carefully, then dismantle the iPhone piece by piece.
Step 3: Remove the chips on the NEW motherboard that you have prepared.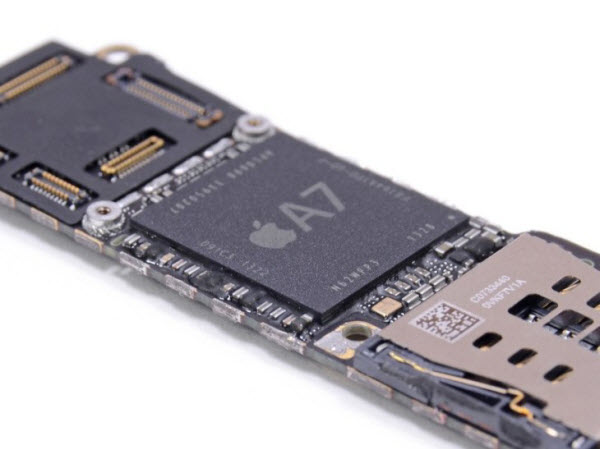 Step 4: Bond the chips onto the oroginal motherboard.
Step 5: Install the motherboard to the rear iPhone case, then put all pieces back in their right places.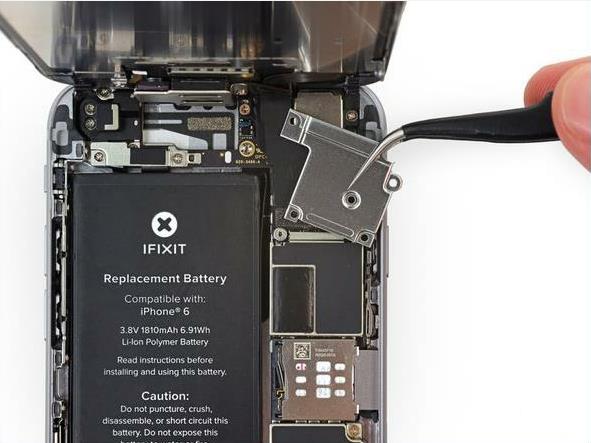 Step 6: Your iPhone is now as good as new. You will not be asked for the previous Apple ID and password when restarting the iPhone.
You can also learn how to bypass iPhone activation lock in hardware from this detailed video tutorial.
Can You Bypass iPhone Activation Lock by Hardware Replacement Only?
Hardware replacement is a way to bypass activation lock without computer. But many people believe that the activation lock CANNOT be bypassed by simply changing some chips in the motherboard. This is because there would be rampant iPhone thefts and a massive drop in price if it were as simple as replacing some chips.
Besides, the hardware replacement method was only successful in bypassing activation lock for iPhone 6S. Once the iOS is updated to the latest version, some previously bypassed iPhones reverted to the locked state.
Best Way to Bypass Activation Lock Easily (iPhone 5/6/7/8/X)
If you don't want to risk damaging your iPhone, or want to remove iPhone activitation lock for iPhone 7 or above models, then WooTechy iSalvor is your best and reliable choice.
iSalvor is a proven software used to bypass activation lock on iPhone/iPad/iPad touch. The software has demonstrated great success to unlock devices in a number of scenarios, including but not limited to:
Forgotten iCloud activation lock password

Hacked Apple ID

Second-hand iPhone without Apple ID login details

Broken or disabled iPhone screen
It is also highly recommended by numerous users due to its high success rate and easy-to-use feature.
Why Should We Choose iSalvor
Support iPhone 5S to iPhone X running on iOS 12.0 and later versions, including iOS 14.7.

Bypass iPhone activation lock without hardware, SIM card, Apple ID, iTunes, or passwords.

The bypassed device will not be tracked or erased through the previous Apple ID credentials.

You may enter a new Apple ID to log in the iPhone and use it normally.

Unlock your device in easy steps, there are no technical skills needed.
Steps to Bypass iPhone Activation Lock with WooTechy iSalvor
The software has a user-friendly interface with strightforward on-screen instructions, so the steps should be simple to follow even if you have never used such software before.
Step 1: Download and install iSalvor activation lock bypass tool on your computer, then launch it. Click Start when the app window appears.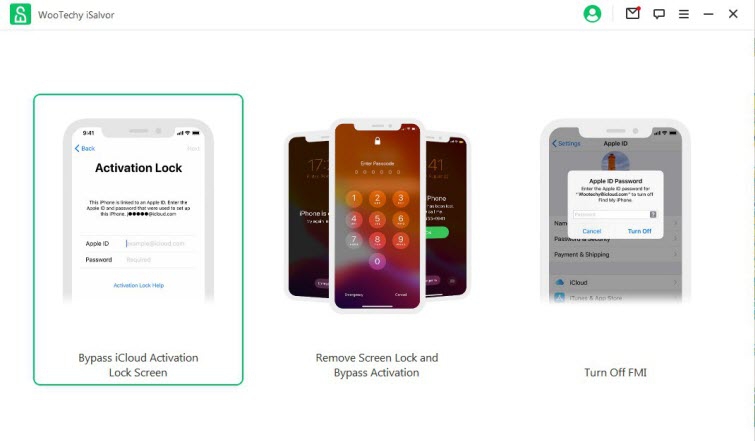 Step 2: Connect your iPhone to the computer using a USB cable.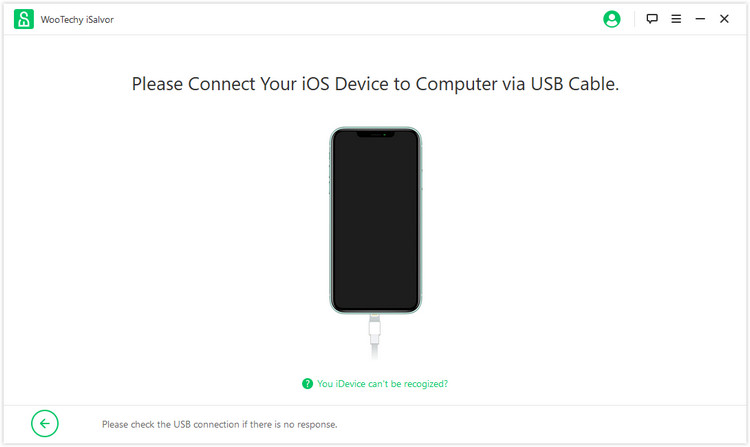 Step 3: Click Jailbreak Tutorial to jailbreak your device first; or click Finished Jailbreak if you have already jailbroken your device.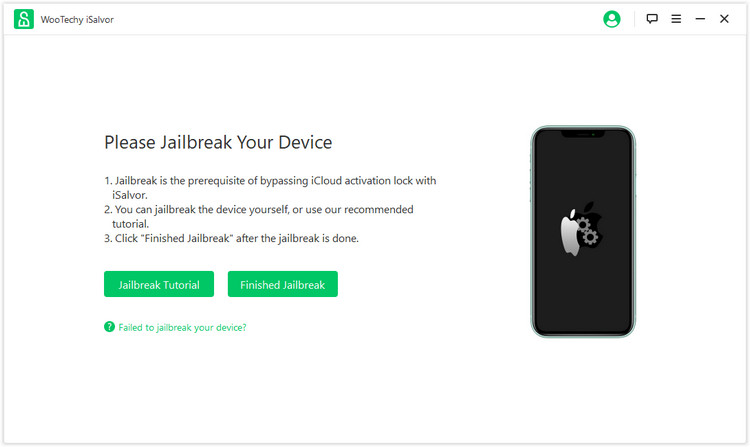 Step 4: Once the jailbreak process completes, a new window asking you to confirm your device information will appear. Click on Start Bypass.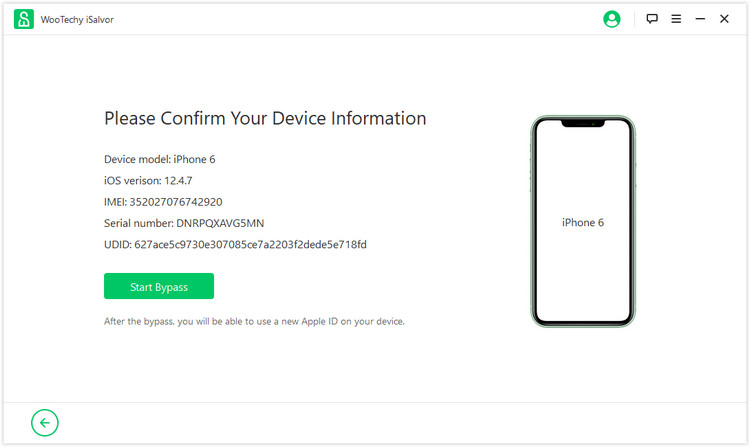 Step 5: The activation lock bypass process will only take a few minutes. You will then get a notification saying "Successfully Bypassed!" You can now access your iPhone by a new Apple ID.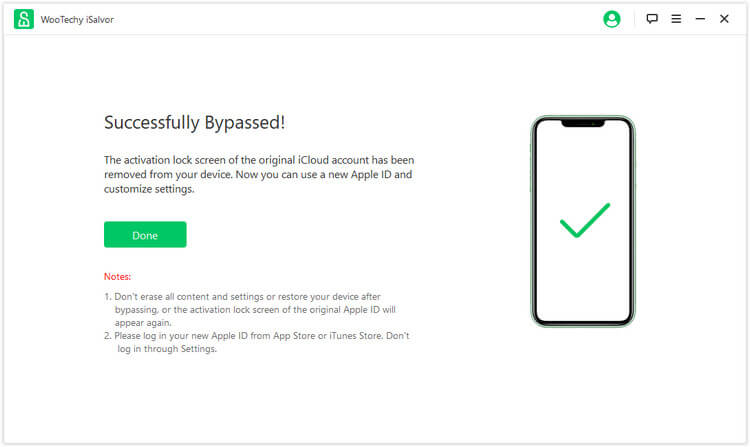 If you are using a Mac computer, click here to bypass activation lock on iPhone.
You can also watch a Video Turtoial to learn how to bypass iCloud locked iPhone/iPad.
Other Options to Remove iCloud Lock without Hardware
1

DoulCi

When you searched online for iCloud lock removal tool, you might have heard of DoulCi. It is also a tool used to bypass iPhone activation lock online, though the exact process of how it works is not fully understood. To use the software, you need to submit an online form containing details about your iPhone and contact information, which might cause infomation disclosure. The bypass will take a few days, and then user will be notified.

Until now, it sounds good, right? However, there are some hard truths about DoulCi you should know before trying it out.

Cons of DoulCi

Doulci had taken advantage of the vulnerabilities of iCloud that has been fixed now, so this tool is actually not available anymore.

Since the tool hasn't been updated for a long time, it only supports iOS 7.1.2 and older versions.

The real Doulci website was officialy shut down in 2014; its sole purpose is to prevent scamming from third-party sites.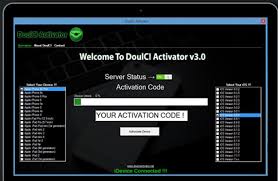 With all these being said, we want to remind you that be careful if you still want to try and have downloaded the tool from third-paty website, the "Doulci" brand has been used by scammers with malicious intensions. We recommend WooTechy iSalvor if you want a secure and reliable way to bypass iPhone activation lock.
2

GadgetWide

GadgetWide is another iPhone activation lock bypass tool that is free to download and use. According to some user feedback, it truly worked to remove the iCloud lock. You just downloaded the software (if you are lucky enough to find the actual link) and allow it to run. However, the so called "free tool" comes with a price, and there are some disadvantages of the software you must know.

Cons of GadgetWide

The authentic link of GadgetWide tool is almost impossible to find now, almost all websites that claim to have the link are scams, which might steal your personal info and cause finanacial loss, so watch out.

It does not have dedicated servers, instead, it uses third-party servers, which might harm your privacy if you connect your iPhone to it.

It only supports iOS 7 to iOS 9 versions, and the steps are complicated.
More Information about Activation Lock
How Does Activation Lock Work
Apple activation lock is a security feature that prevents unauthorized people from accessing data stored in your iPhone (or iPad or iPod touch) or using the device. Activation lock automatically turns on when Find My iPhone is activated.
In the event you lose your iPhone, the activation lock feature will help you trace it and/or recover stored data. Additionally, you can wipe your device remotely and still keep on deterring any attempted unauthorized reactivation of your iPhone.
Once the user turns on Find My iPhone, their Apple ID is stored in Apple's activation servers. Therefore, any time the user (or any person) tries to erase the device, reactivate the device, or turn off Find My iPhone, they will be asked to provide the Apple ID and password.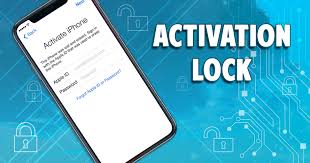 How to Remove Activation Lock If You've Forgotten Apple ID/iCloud Password
You can recover your Apple ID and reset your password by following these steps.
Steps to Recover Forgotten Apple ID
Check if you are already signed in to iCloud.
For iOS 10.2 and earlier: Navigate the path: Settings > iCloud




For later iOS versions: Navigate the path: Settings > [your name]



Steps to Recover Forgotten Apple ID
Check if you are already signed in to iTunes & App Store.
For iOS 10.2 and earlier: Navigate the path: Settings > iTunes & App Stores




For later iOS versions: Navigate the path: Settings > [your name] > iTunes & App Stores



Steps to Recover Forgotten iCloud Password
1. Navigate the following path on your device:
Settings > [your name] > Password & Security > Change Password > (Provide Passcode)



2. Follow the on-screen instructions to reset your password.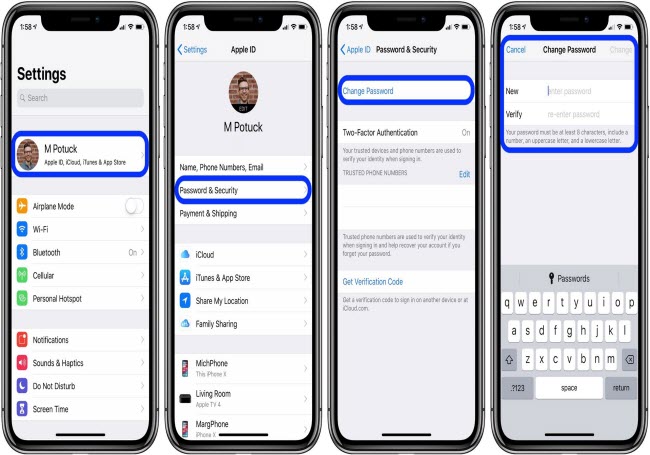 Conclusion
If you are concerned about the security of your data and need a reliable tool, WooTechy iSalvor is surely what you should go for instead of bypassing iPhone activation lock with hardware. It supports iPhone 5/6/7/8/X. Not only will the software protect your data, but also make sure you have an easy time bypassing your iPhone. There is a free trial available for everyone at the WooTechy website. You are welcome to try it.