If you discover an iPhone but find it's been locked up, you may be tempted to throw it out. Before you give up, here are some of the best methods to unlock found iPhone with screen lock and help you use your new iPhone fast!
Official Ways to Unlock Found iPhone
1. Unlock Found iPhone Using Recovery Mode
The first - and most common - method that iPhone owners will attempt to try and unlock a found iPhone is by utilizing Recovery Mode. To try this method, follow these three simple steps:
Step 1. Connect the found iPhone to your desktop or laptop computer with the USB or lightning cable, and open the iTunes program.
Step 2. Once connected, force a restart of the device by pressing and holding the correct restart buttons for your device. This will force the device to reset and start up in a "Recovery Mode" - allowing you to utilize the necessary options in iTunes to wipe and reset the locked device for use.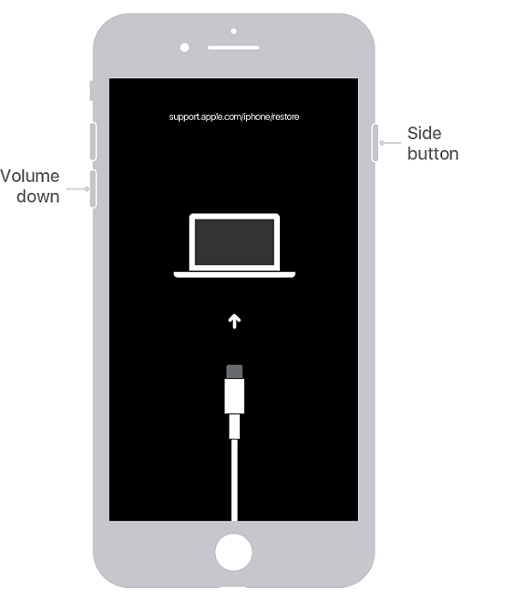 Step 3. Finally, you will receive a prompt through iTunes that will offer you two options: "Restore" your device or "Update." To restore the device back to accessibility, click "Restore." This will unlock the device. It is essential that the device remain plugged into the computer for the duration of the process!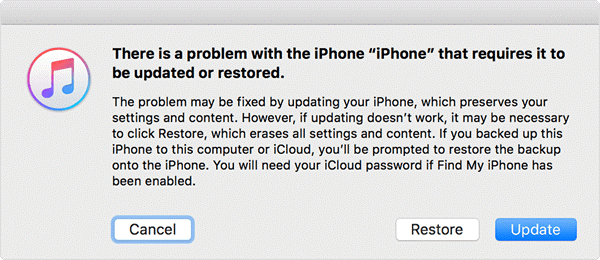 ---
2. Unlock Found iPhone with iTunes

Finding an iPhone in the bottom of a drawer can be suprising for an iPhone owner. But if the owner don't remember the passcode of it, it can also be painful. However, there is a method built into the Apple iTunes process that can help an iPhone owner regain control of their found iPhone quickly.
If certain requirements are met on the device and your iTunes account, you may be able to access your device through your desktop or laptop computer and begin using your device once more. Here are the steps to unlocking your found iPhone with iTunes:
Step 1. Click and launch the iTunes program on your computer.
Step 2. Connect the found iPhone to the computer via a lightning cable.
Step 3. Once iTunes detects that the device has been plugged into the system and is recognized, you will see the phone icon appear in the upper-left bar of the iTunes navigation. Select the device and click "Restore iPhone."

Step 4. As long as Find My iPhone on the device is disabled, you will be able to erase all of the data and settings on the disabled iPhone and restore it to the factory default settings.
Step 5. You can now set up the phone from a saved backup, or restart clean with a fresh new iPhone setup.
---
3. Unlock Found iPhone via Find My iPhone

The iPhone's Find My iPhone feature is a handy security feature that allows you to locate a lost or misplaced iPhone quickly. It can also be utilized to clock and wipe your phone if it is lost and may be potentially stolen.
Fortunately, in the same way you can use Find My iPhone to lock your phone, it can also be used to unlock a found iPhone!
Step 1. Navigate to the Find My iPhone website on a desktop or laptop computer
Step 2. Once you log in, you should be able to locate the iPhone through the list of your currently attributed devices. Once you find the device, click it, and open the settings options.
Step 3. Next, click the "Erase iPhone'' option, and confirm by clicking "Erase" once more. Enter your Apple ID to confirm the erasing of the contents and settings on the device.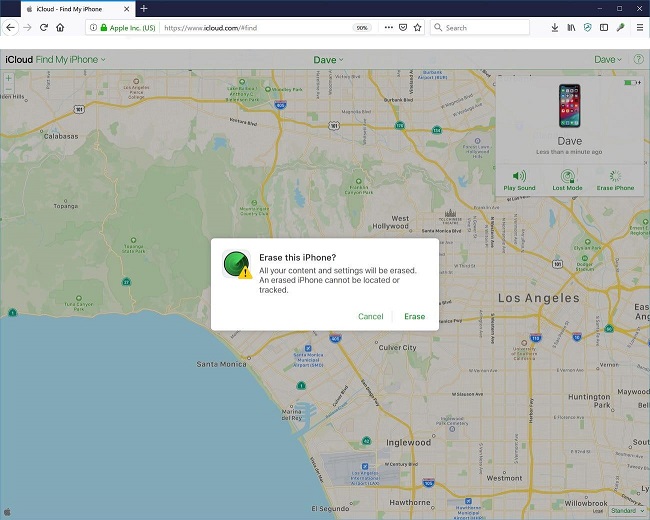 Step 4. Should the device be erased, you can return it to the original factory settings. This will allow you to follow the necessary steps to restore the iPhone from a recent backup or from scratch as a brand new device.
Step 5. You can now set up the phone from a saved backup, or restart clean with a fresh new iPhone setup.
Trouble Unlocking a Found iPhone? Try WooTechy iSalvor
While many of the methods listed above could work on a found iPhone, there may be times when you simply cannot get the device to respond, because all those official methods require user to know its Apple ID and password. In this case, WooTechy iSalvor will offer a fast and easy bypass solution that will have your iPhone working again in no time.
Top Features of WooTechy iSalvor
Won't get an activation lock screen after removing screen locks.

Bypass screen lock on devices in record speed regardless of the iOS that is running on the device.

Prevent the device from being tracked using the old iCloud credentials.

Offer a trial version to test your device supported or not.
Check the video here to learn quickly on how to unlock found iPhone:
Here are some steps for unlocking found iPhone with WooTechy iSalvor:
Step 1. Head over to iSalvor online and download the program from the web. Once downloaded, install and launch the program. Once you see "Remove Screen Lock and Bypass Activation" as an option on the main interface, you will want to connect your disabled iPhone via the USB or lightning cord to your computer.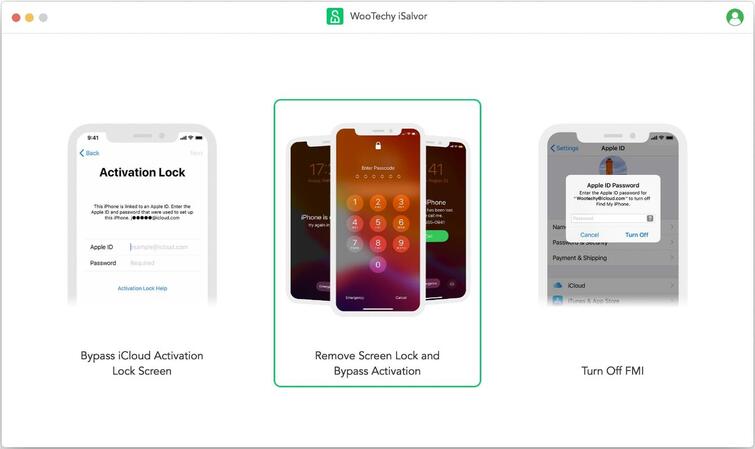 Step 2. Force the iPhone into recovery mode. To help you do this safely, iSalvor will guide you step-by-step through the process. You will then confirm your device information, select the FMI status of your iPhone, and finally select "Next" to continue with the process.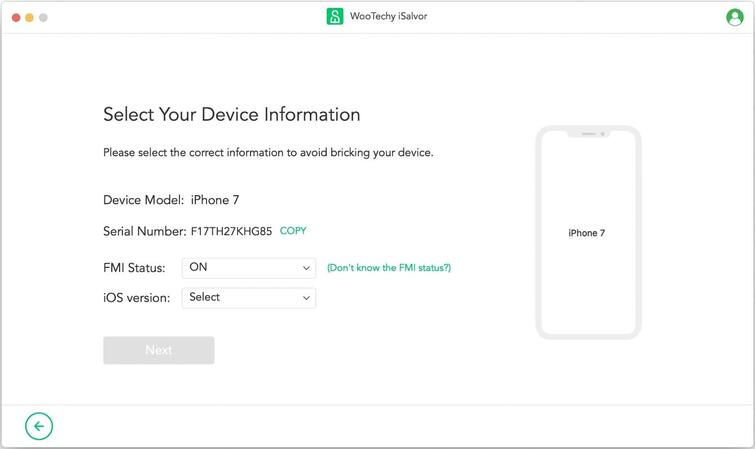 Step 3. Now it's time to jailbreak your device. One of the best parts of iSalvor is that the program will carry the weight for you by downloading the required package that corresponds to your unique iPhone. To continue, simply select "Start Jailbreak." Follow the steps as shown on the screen, and then select "Next" once the device is jailbroken.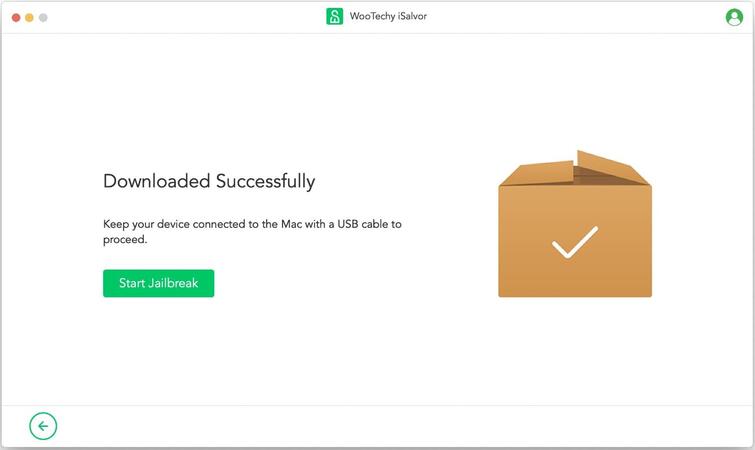 Step 4. Finally, follow the on-screen instructions to finish the process and bypass the screen lock on the iPhone. Depending on the iOS that is currently running on the disabled or found iPhone, iSalvor will download the required files and remove the screen lock.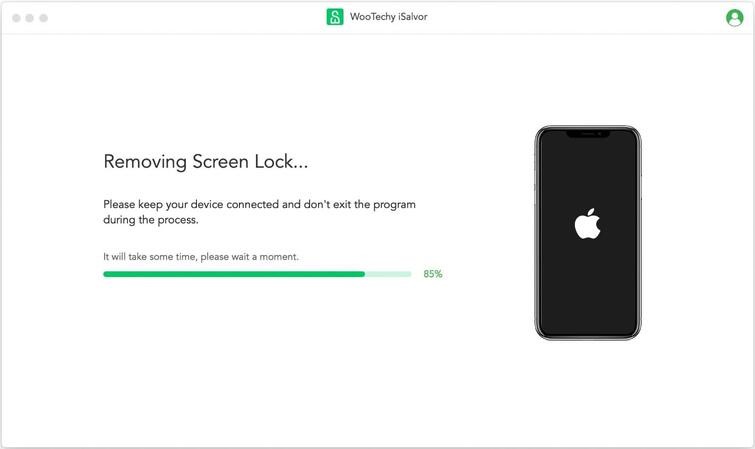 Step 5. Once the bypass process has successfully completed, simply select "Done." Your once-locked device will now be accessible for use just like a brand new iPhone!
FAQs about Unlocking Found iPhone
When it comes to using a found iPhone that can be potentially unlocked, there are many questions that surround the process of accessing the phone as well as the ethics of using a phone that may not belong to you. Here are the answers to some commonly asked questions:
1. Can a Stolen iPhone Be Used?
A stolen iPhone can be used if successfully unlocked or activated, but the latest security features tied to most iPhone user's iCloud accounts allows them to quickly lock their lost phones and prevent data from falling into unwanted hands.
2. What Should I Do If I Find a Lost iPhone?
The answer depends on your intentions! If you find a lost iPhone, the best step to take will be to attempt to unlock the phone and discover the original owner. There may be information listed in the contacts - such as an in case of emergency contact - where the phone can be traced to the original owner.
3. Is It Possible to Unlock an iCloud Locked iPhone?
If you are the original owner of an iCloud locked iPhone, you can utilize the Find My iPhone feature to access the device. If the device is not connected to your iCloud account credentials, you can still use WooTechy iSalvor to unlock it.
4. Can I Sell a Locked iPhone?
In this case, you might be able to find a buyer in private market. But in public market, that might be difficult for most vendors require iPhone activation lock to be disabled.
Wrapping Up
Discovering that an iPhone is disabled or locked can be a stressful experience. However, before you run out to buy a replacement, save yourself the money and headache by downloading the WooTechy iSalvor unlocking program. In a few short clicks, you can bypass any screen lock and be back to using your found iPhone in no time! 
To learn more and try a free trial of WooTechy iSalvor, head online today and download the program. Discover why so many iPhone users are choosing WooTechy iSalvor as the leading third party iPhone access application - and unlock your device quickly today!