It is often heard from cellphone users that they have lost their important browsing history while clearing up or making storage space for other operations. Browsing history on Google comes in handy when you want instant access to a certain website and you haven't bookmarked or saved the page.
But how to recover deleted internet history on android when you accidentally cleared it up? Luckily, we have gathered the methods that most certainly will bring your deleted browsing history back to your device.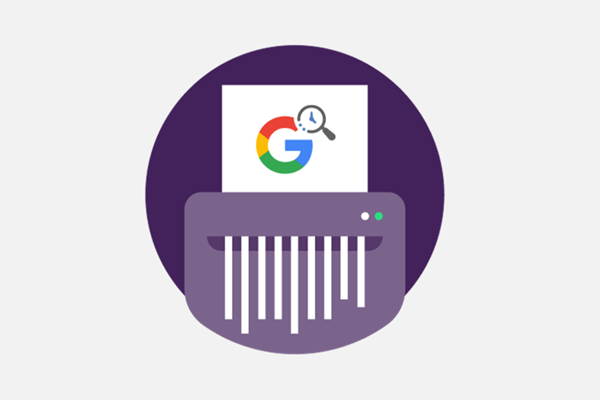 Part 1. Can Google History Be Retrieved Once It Is Deleted?
Yes. If you accidentally deleted the browsing history from Google, it could be recovered in multiple different ways.
Now with the advancement in the field of technology, you are able to synchronize your data over multiple devices using a single Google account. There are services provided by Google such as Google Drive which make it effortless to recover any file or data which got lost.
Now, as you are quite satisfied, a question arises how to recover deleted history on chrome mobile? For that, we have 2 methods explained in depth below which will surely be helpful.
Part 2. How Do I Retrieve Deleted Google History?
In this part, you will get to find out some efficient ways to recover your deleted Google history on your Android device. So, without any further ado, let's start discussing these methods one by one.
1. Best Tool to Recover Deleted Google History on Android
Must be wondering how to recover deleted history on Google Chrome Android when you have not synced your data to your Google account? If that's the case, then you need to look for Android recovery software and we recommend you WooTechy iSeeker for Android.
It is one of the most efficient tools of its kind available on the internet. This tool can smoothly recover any lost data from various mobile phone brands and models operating on Android. Whether your data got accidentally deleted or a virus attacked your device, it can bring all of your data in a matter of a few clicks.
Highlight Points of WooTechy iSeeker(Android)
100.000+
Downloads
Recover WhatsApp messages on Android without backup and without root.

Support 10+ Android OS (including Android 13) and 6000+ Android phones and tablets.

Get back your valuable data from various data scenarios.

Provide a free trial to all users.
Follow the below steps to use iSeeker(Android) to recover deleted Google history on Android:
Step 1. Install and launch iSeeker Android on your computer and then connect your phone to the computer. Afterward, select Recover Phone Data.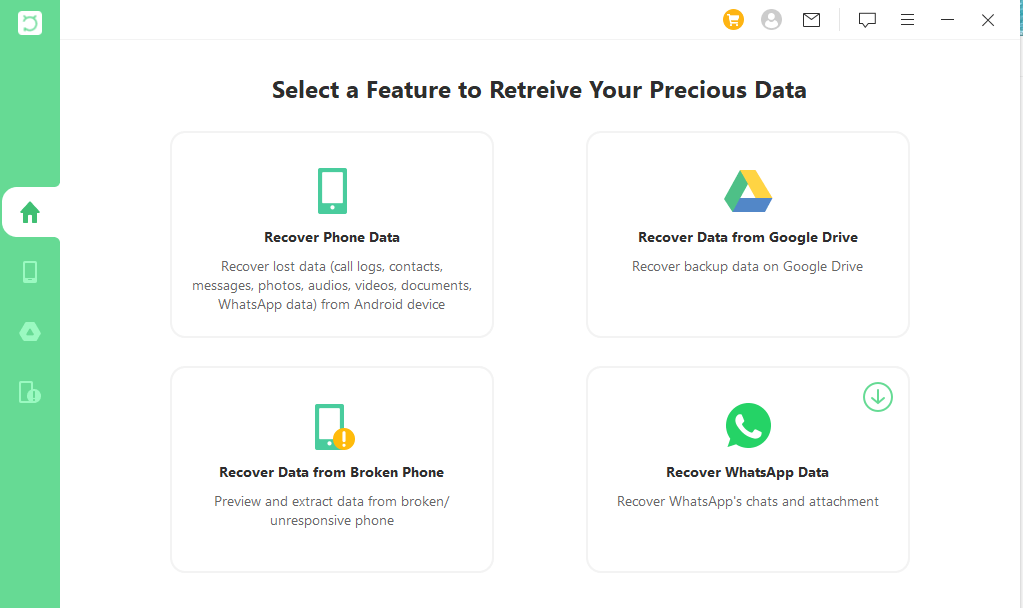 Step 2. Choose Quick Scan or Full Scan according to your need.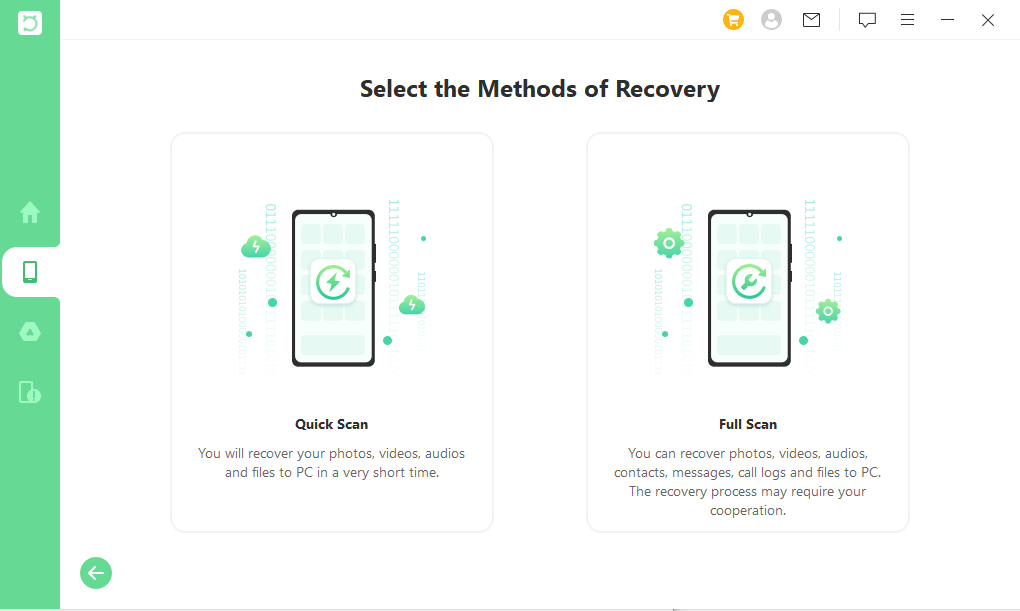 Step 3. Once the scan is completed, preview and select the data you want to recover and click Recover.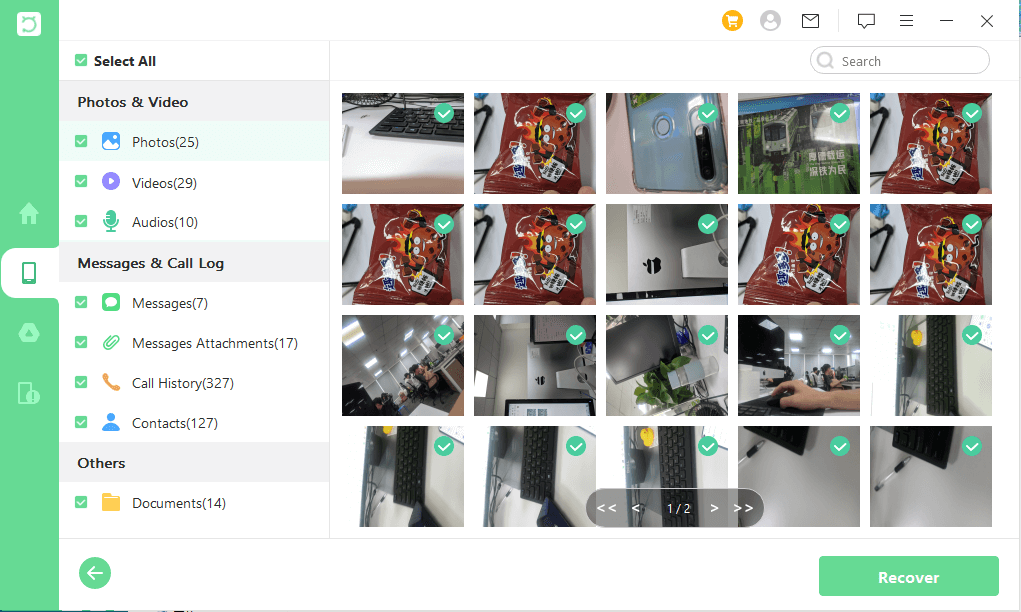 2. Recover from Google Account
Another way you can recover your Google history is through a Google account. Well, this method is only efficient if you have turned on Google sync on your android device prior to the accidental deletion of your browser history. This will ensure you have data synced to all the devices using the same Google account if Web & App activity is enabled.
You can follow the steps below to find deleted history on Google Chrome Android
Firstly, open the Chrome browser on your Android device. Then open Settings.
Then, enter the credentials of your Google account.
Tap on Data & Personalization.
Under the things you create and do section, tap View all.
Next, tap on the Google Chrome icon and then tap on download data to recover history and bookmarks.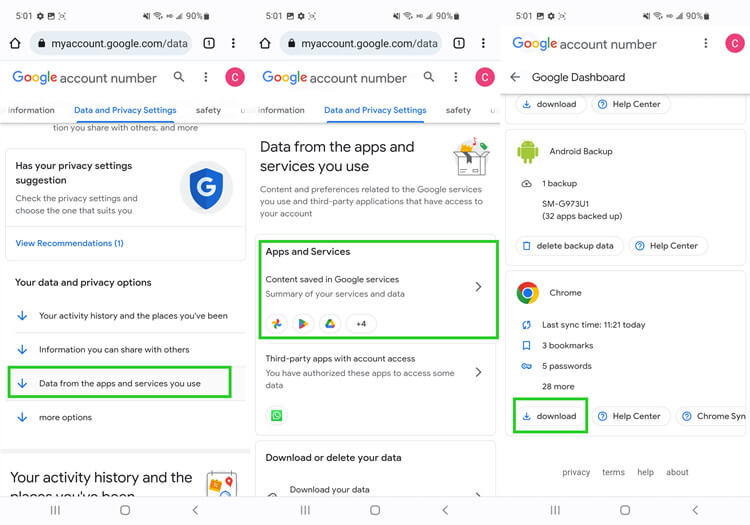 Bonus: How to Sync Browsing History Through Google Account
Syncing can help you see your browsing history and bookmarks on all of your devices using the same Google account and can also help you keep the browsing history in case you accidentally deleted it.
Steps to sync browsing history to Google account:
In the first step, open Chrome on your Android device.
Now, hit More, and then, tap on Settings.
Next, simply tap on the Sync option.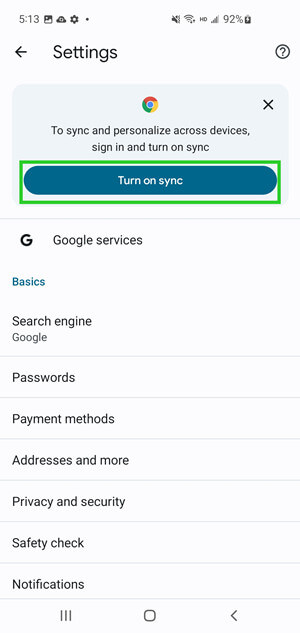 To Sum Up
You have to be careful and keep a backup of your files and browsing history on your Android device but if you accidentally deleted your history while creating storage space and now want to access a particular website and important data. Then here we have presented you with two methods to help you get out of this problem.
What if you didn't sync your browsing history to the Google account? The answer to how to recover deleted history on android surely is WooTechy iSeeker for Android. It can recover more than you want. Click the free download link and try it for free now.