Our GPS location is incredibly valuable to companies, and they exploit it to try and extract as much money as they can from us. Therefore, to help protect your GPS location, we have written this article to provide you with some of the most popular fake GPS location apk you can find for your Android device.
As a bonus, at the end, we have included a software that provides the most reliable service when it comes to spoofing your GPS location on both Android and iOS devices. Without further ado, let's take a look at some of the most highly used location changer apks you can find today.
Part 1. What is Fake GPS APK?
If you are an Android user, the chances are that you have come across the term APK. While not knowing what it means won't negatively affect you, it is good to have some general knowledge when it comes to your phone. APK stands for Android Package Kit. This is Android's file format that it uses to distribute apps to all Android devices. Therefore, the APK package has everything an app needs to be properly installed onto your device.
Fake GPS APK is the most popular fake GPS location apk you can find for your Android device. It provides you with an easy way to change your location to anywhere in the world within a few steps. While the app setup is complicated and has a tendency to fail at times, it does allow you to set fake locations to trick most third-party apps, and it also provides users with the ability to monitor multiple GPS locations.
Besides Fake GPS APK, there is a huge selection of fake location apks to choose from. Here is our list of 5 apps to consider when looking for ways to spoof your GPS location.
Part 2. Top 5 Fake GPS APK
1

Fake GPS by Lexa

If you are looking for a well-used and easily configurable fake GPS apk, Fake GPS by Lexa is a popular choice for users with Android devices. This fake location apk has really useful features that have been in-built into the app, such as being able to bookmark a GPS location and running once the program is started.

You are also able to mimic real movement in your location on the app, which allows you to change the location you have spoofed periodically. With over a million downloads, it has a very high rating on the Google Play Store.

Some of Lexa's Fake GPS location features are:

Teleport your location to ay place in the world.

Save locations to revisit in the future.

Supports searching coordinates for precise location picking.

It doesn't require root.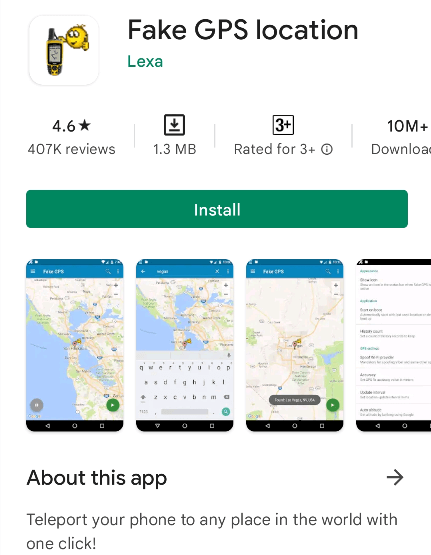 Pros
Easy to teleport to new locations

Compatible with most Androids

Easy-to-use UI
Cons
Might cause errors when trying to restore the original location. Even after uninstalling the app, the location stuck in the fake location.

The app hasn't been updated since 2018.

App build for older version of Android. Can't work with Android 12 or above.

Sometimes the map will stuck at loading or you can't find an existing location.
2

Fake GPS Free

For our second fake GPS apk, we have Fake GPS Free. It can spoof your GPS location and make it real enough to be accepted by several third-party apps. You can manage your map data and spoof your GPS location for a period of time. While the free version is good, it has a lot of ads. You can choose to upgrade to the premium version to have an ad-free app.

Some of the app's features are:

The app changes your precise GPS location using a 4-step method.

You can share a fake location with others as well.

Users can easily set the map type in the app.

You can start and stop a fake location with a single tap of a button.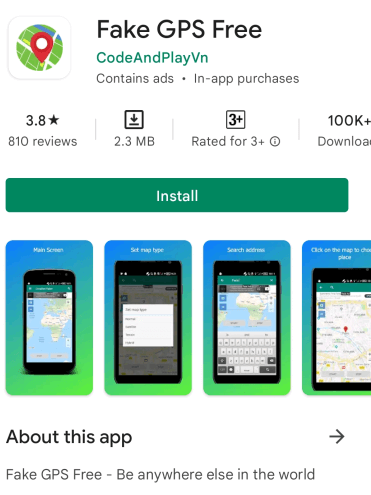 Pros
Simple and easy to use.

Easy to deploy to a device.

Spoof your GPS location for a period of time
Cons
The app comes with basic features and doesn't contain any advanced features like simulate GPS movemnt.

It only works with part of the apps.

It doesn't work with Pokemon GO.

Too much ads. And you must pay to remove the ads.

After turning it off, the app will show everywhere you've been on family tracking app like life360.
3

Fake Location (Mock GPS)

Fake Location (Mock GPS) is third on our list of fake GPS location changer apks. With over a million downloads, this app is very trusted amongst users who are looking to spoof their GPS location. LKR Studio created it, and it is very easy to use. The app has a compass feature that accurately shows all locations and keeps your real location hidden while displaying your fake GPS location to other applications. It has a 4-star rating.

Some of its useful features are:

Being able to instantly cancel or apply a new location.

Has an easy-to-use UI.

The app allows you to save your favourite locations to reuse when needed.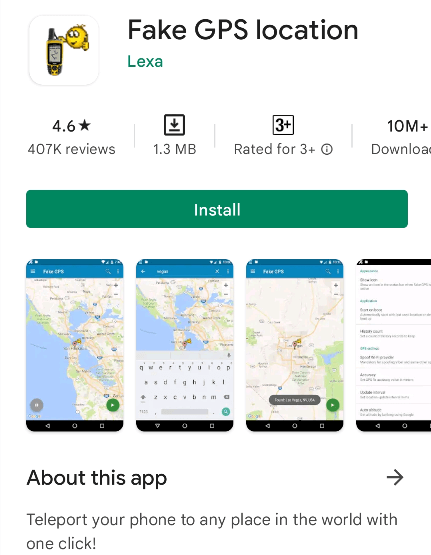 Pros
Easy for users to understand.

Works very fast.

Appealing UI.
Cons
Free version has very limited features.

Can sometimes fail to assign fake locations.

Only allows fake fixed location.

It doesn't work with games like Pokemon GO.
4

Fake GPS GO Location Spoofer

The fourth fake GPS apk on our list is the Fake GPS GO Location spoofer app. This app has two methods to look for a new location. You can either type in the name of a place or type in the GPS coordinates for more accuracy.

When searching through a location, you simply have to press play to start spoofing. It has a free version that comes with a lot of restrictions compared to the premium service.

Some of its features are:

User can pick a location by typing in the name of the place.

User can use GPS coordinates to set the location as well.

The premium option has a lot more compatibility.

The app provides an expert mode that gives users a deeper level of control.

Can adjust the speed of movement in a journey on the app.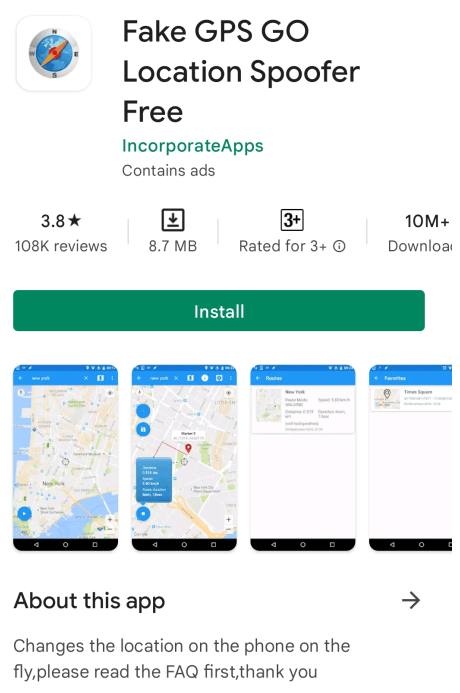 Pros
Has a joystick feature to set new locations.

Stores history for later user.

Use the official and virus-free unzip software for the extraction of the content, this will prevent your zip files from damage and problems.

Use the official and virus-free unzip software for the extraction of the content, this will prevent your zip files from damage and problems.
Cons
Easliy get discovered by gaming apps like Pokemon GO.

Free version is very restricted

The user has to deal with a lot of in-app adds

It flashes the screen very quickly and lags.
5

Fake Location with Joystick by Ninja toolkit

The last fake location changer apk is Fake GPS Joystick. This has over 500k downloads from the app store and overwrites the user's real GPS location with a fake one that is provided to all external third-party apps, websites, and services.

It has a fun joystick feature that users love and is the app's main selling point. And it s a rating of 4.5 stars.

Some of the app's features are:

The app provides several customization options for the joystick feature.

Good customer support when the user faces any issues.

The app gives the user the ability to set a fake location using latitude and longtitude.

Notifications can be hidden while using a fake GPS location on the app.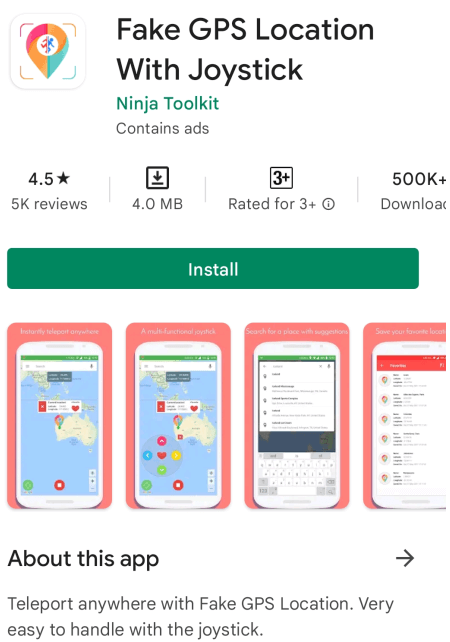 Pros
Can be used on unrooted devices as well.

The app keeps updating and supports new Android system.

You can use the multi-functional joystick to control your movement.

You can see the history and manage the history count.
Cons
The success rate of the app is low as users tend to get discovered when they use this app to fake their location.

User has to deal with several in-app adds.

Games can't detect your location while you using the app. It can't work with Pokemon GO smoothly.
We have selected the most popular Fake GPS APKs for you to choose. However, mobile apps are not so powerful as desktop applications. If you need to spoof your location frequently, simulate your GPS movement or even add a joystick in Pokemon GO, you should try out the desktop location spoofer iMoveGo.
Part 3. The Best Tool to Fake GPS for both iOS and Android
As you can see, most of the mobile apps are not so reliable for long-term usage. Your account will easily get banned while using clunky apps. The best tool currently available on the market to fake GPS locations for both Android and iOS is iMoveGo.
This software is trusted and used by countless Pokemon GO trainers. The app is easy to use, easy to install, and easy to implement. Your device and location are both safe when you use iMoveGo to spoof your GPS location. Plus, the software comes with all the incredible features of the apps mentioned above while providing a reliable service. Some of the features are:
Video Guide of Best Location Spoofer iphone:
Key Features of iMoveGo
75.000.000+
Downloads
Teleport your GPS location to anywhere in the world.

Control your movement freely in Pokemon GO using GPS joystick.

Works well on a full range of location-based apps, such as Life360, Snapchat and Find My.

Spoof location on up to 5 devices at one time.

Compatible with both iOS and Android devices. (Including iOS 15)

Free trial is available for every user.
Conclusion
We might have personal reasons as to why we would like to hide our GPS location. Maybe there is online internet content that you cannot access at your location, or maybe you are using dating apps and don't like any of the matches you have gotten in your immediate area so far. Either way you could use the fake GPS apk mentioned above. For the best experience or long-term usagge, go straight to using the secure location changer iMoveGo.
This software will protect your phone while allowing you to easily spoof your GPS location for what purpose you need. With quick installation, easy-to-use user interface and being compatible with most apps and websites, iMoveGo is one of the leading GPS location spoof software available today for both Android and iOS devices.