DoorDash aims to bring meals as fast as possible, making this a fantastic option! However, there may be occasions when DoorDash cannot deliver in the area you specified. And many have complained that when they utilize Door Dash, the house on the map does not correspond to the house in the app.
No matter what situations you are in, having a proper tool will help. Continue reading to find out more about GPS Spoofing on DoorDash.

How to Fake GPS On Doordash
To receive more ride requests and earn more money, DoorDash drivers worldwide have begun using Fake GPS software on their smartphones to expedite the process. Here we will introduce the 2 popular ways to spoof location on DoorDash.
1. Use location spoofer iMoveGo [iOS & Android]
Having a proper tool can help you achieve Fake GPS on DoorDash without hassle. We recommend a top-class location changer WooTechy iMoveGo that works well on iOS and Android without any jailbreaking. It is the most effective spoofing program available, and it has various features including GPS Joystick, Realistic mode, Save favourite spots.
Key Features of iMoveGo
75.000.000+
Downloads
Teleport your location to anywhere in the world.

Simulate GPS movement with a customized speed.

Works well on all location-based apps, such as DoorDash, Snapchat, Find My and even Pokémon GO.

Spoof location on up to 5 devices at one time.

Free trial is available for every user.
How to use iMoveGo
Open iMoveGo and connect your device to your computer using the USB cord. Then, you can connect you phone to the software via WiFi without using USB cables.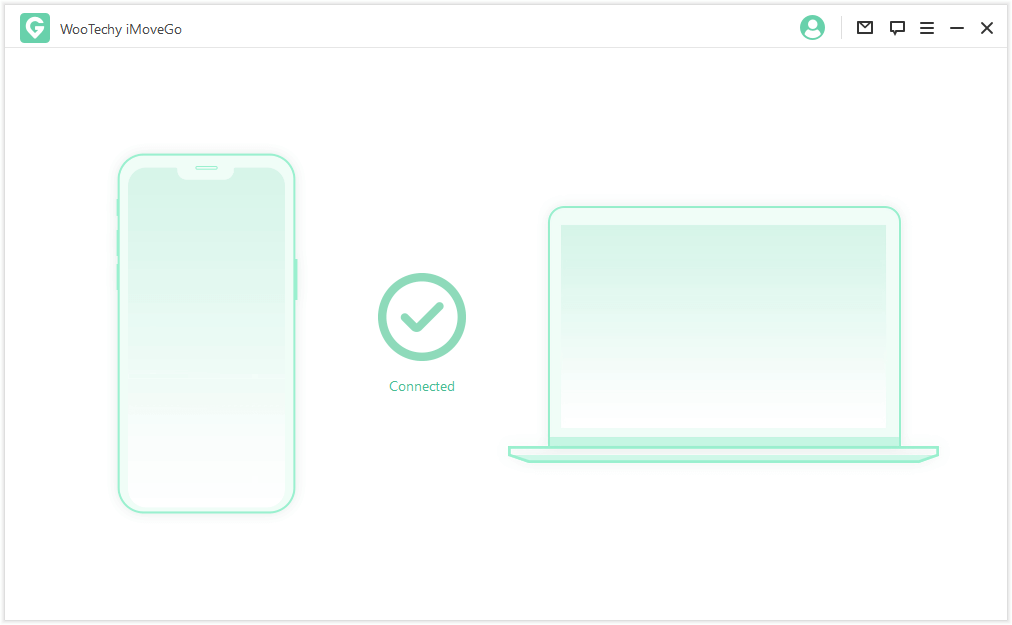 On iMoveGo, select Multi-Spot mode/2-Spot mode in the upper right-hand corner. Then, enter any locations or GPS coordinates you desire. On the left-hand sidebar, select Move.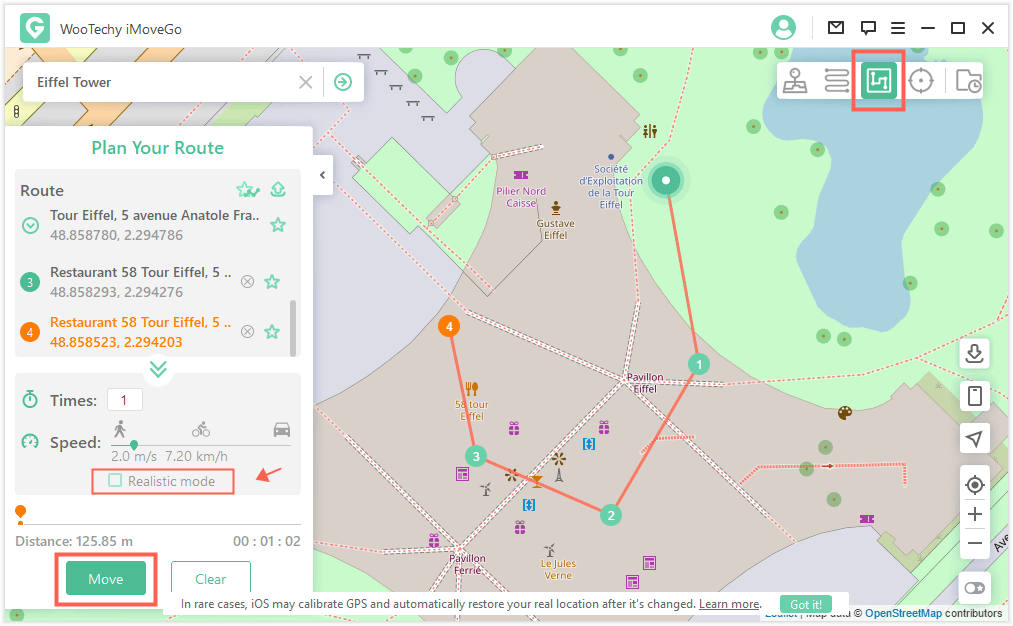 You can also plan a route with varying speed by ticking Realistic mode or use the GPS Joystick to move manually in real-time.
Finally, open Apple Maps and DoorDash on your phone to check if your GPS location is moving as you wish.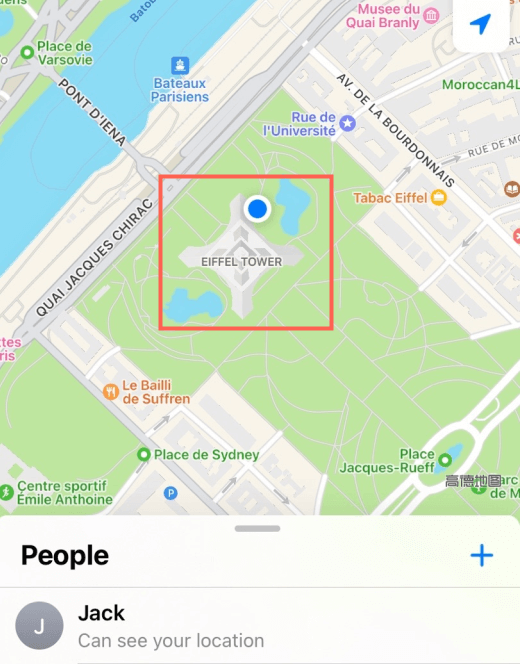 2. Use Fake GPS Location Spoofer from Google Play Store
This app is straightforward to start up. It has two ways for the user to find GPS locations. Using the names of places and also the GPS coordinates of those locations. A free and a premium version of this app exist, each offering a distinct set of features.
The premium version of Fake GPS Location Spoofer includes the following features:
Features:
Spoofing location on Android Device.

No root mode available on Android 6.0 and above.

Joystick operation is possible.
Follow the steps below to get started with Fake GPS Location Spoofer
Ensure you set your Android location settings to GPS only or Device only for the app to work smoothly.
Then, find About phone and press it under the settings. Scroll down to Build Number which is under Software information and press it repeatedly (7 times) until a message that says "You are now a developer" appears.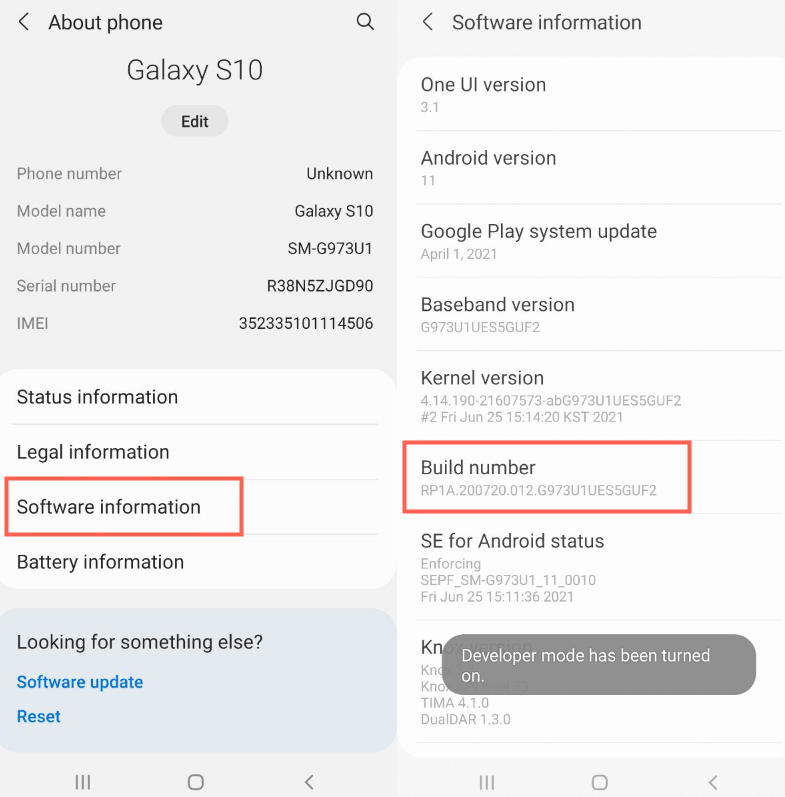 Scroll to the Debugging section in Developer Options and press Allow mock locations, choosing Fake GPS Location Spoofer as your mock location app.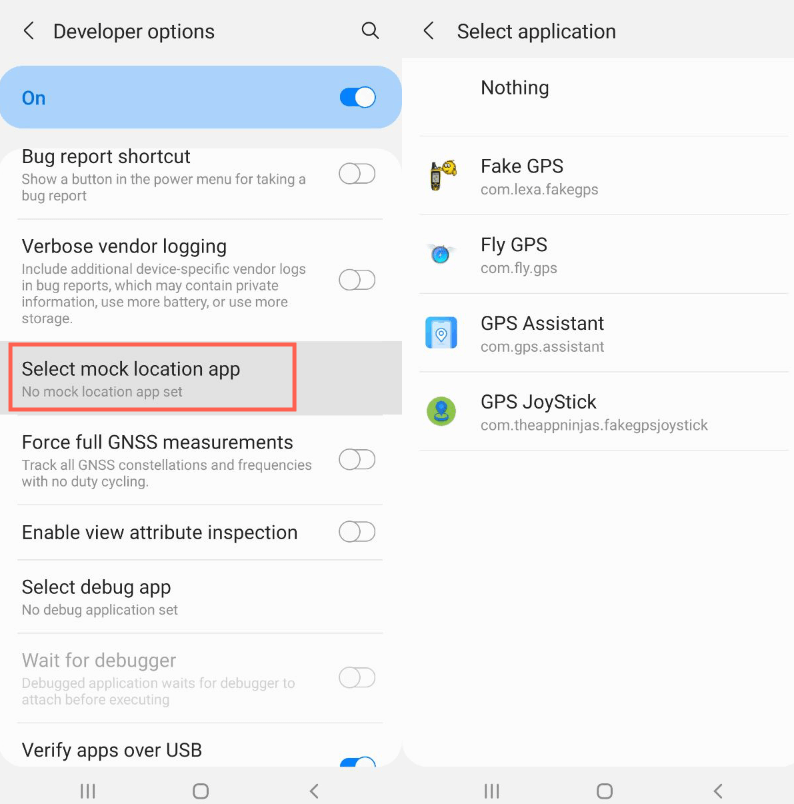 Now, open Fake GPS Location Spoofer. Press the play button after selecting your fake GPS position.
In the end, the program will inject the fake GPS position into the Android phone.
Cons of Fake GPS App from Google Play Store
The app is accessible exclusively on Android, so you will be unable to create a fake GPS position on your iPhone/iPad.

In some apps, misusing this spoofer may result in your account being suspended.

The software offers fewer features than the applications available on the computer.

The free version contains many advertisements, making it annoying to utilize the app.

The app can't provide long-term service as it crashes frequently.
Note: When it comes to using false GPS apps and GPS spoofing, there are risks involved. Drivers who use GPS spoofing applications may have their accounts suspended or terminated. Use these apps with extreme caution and only when necessary.
How to Avoid Being Detected
The main reason that people getting ban when using fake GPS apps is the mobile apps downloaded from Google Play cannot work as described. Crash and frequent reset causing the GPS data switches frequently, which is obvious to the Dashdoor's server.
However, there is a way more advanced software that has been created specifically to assist Android and iOS users in faking their GPS position. iMoveGo is the most reliable spoofing program that allows you to easily change your exact location to any other region.
In contrast to the other fake location applications currently on the market, you would not be required to install any app on your devices before using it. It controls the GPS location of your phone from your computer. Using a reputable location changer will not result in a ban.
Conclusion
DoorDash dynamically adjusts your DoorDash locations based on where it believes you are; however, there may be occasions when DoorDash cannot deliver in the area or time range that you have specified. Also, drivers might want to use GPS spoofing software to create DoorDash fake GPS locations, allowing them to claim to be in one spot while being in another.
WooTechy iMoveGo is a high-rated iOS/Android location-changing application with a simple interface. More and more individuals are putting their trust in it and using it. It is a fantastic program for concealing your location. Download a free trial version of the software today and reap the benefits.