Snapchat finally has a Dark Mode! Or do they? Compared to other apps, they don't make it that obvious how to find. Even then, on iOS, it is only available in some places.
Unfortunately for Android users, Snapchat did not release the feature yet at all! However, there are plenty of clever ways you can get Dark Mode. So, this guide will be all about how to make Snapchat dark mode.
Part 1. How Do You Put Snapchat in Dark Mode?
Snapchat came up with tons of new exciting features. So innovative, in fact, that Facebook (now Meta) straight-up stole some of them. Although, as hip and creative as the app is, it's still behind in some areas.
We don't know why, but the app makes it unnecessarily difficult to turn on dark mode.When Apple introduced dark mode on iOS, everyone was happy. Snapchat did not get the memo. Here is how to enable dark mode on Snapchat.
1. Enable Snapchat Dark Mode in Settings
If you dig around a bit, you'll notice there is no dark mode option in the setting – at least not where you would expect it to be. You can activate dark mode in iOS by following these steps:
Step 1 Go to the camera tab of your Snapchat app.
Step 2 Tap on your Bitmoji icon in the upper left corner of your screen.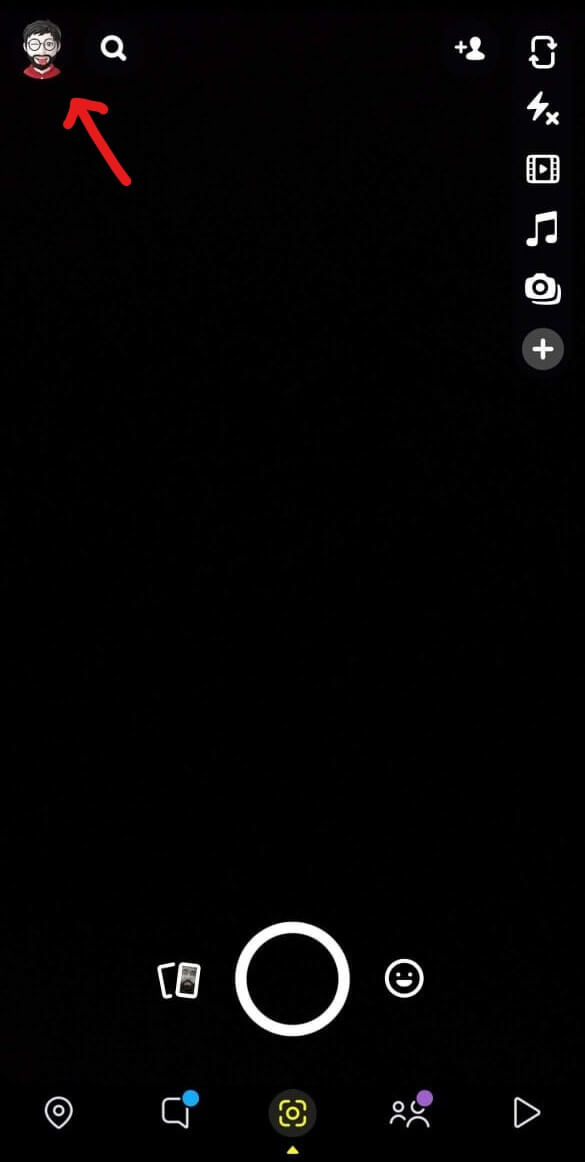 Step 3 Tap on the Setting icon on the right corner of the profile page. It has a gear icon.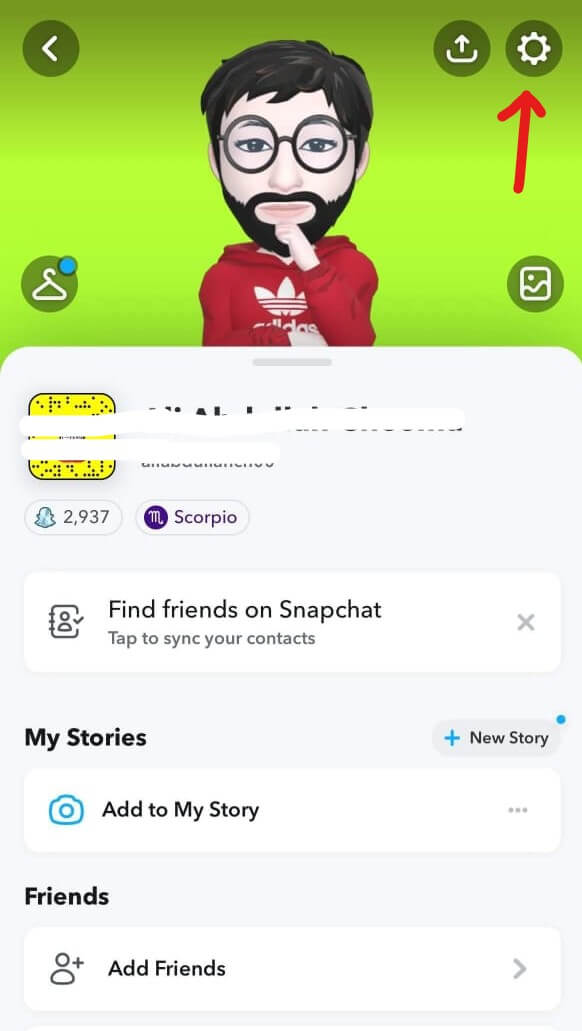 Step 4 Navigate through the many options and tap on My Account.
Step 5 Under My Account, you will find a sub-menu called App Appearance.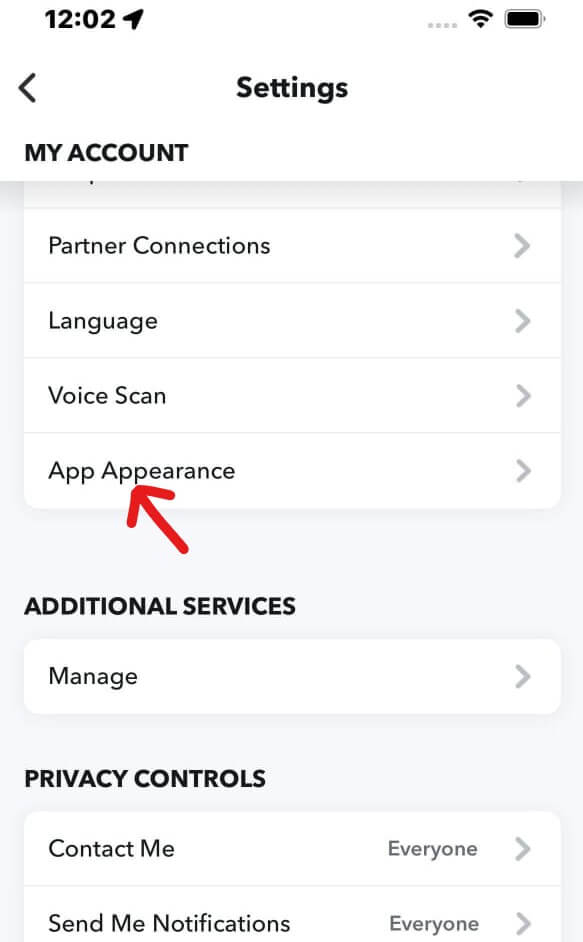 Step 6 Tap on App Appearance. Now you can change the theme from here. Tap on Always Dark to keep dark mode on indefinitely.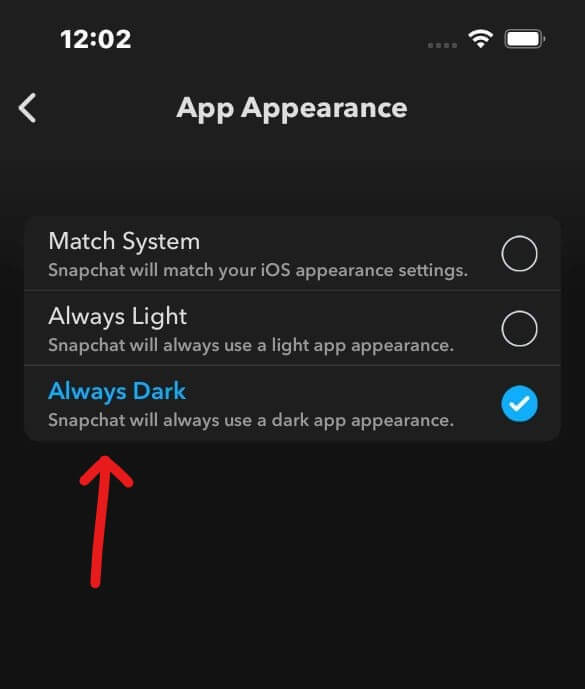 2. Enable Snapchat Dark Mode with Smart Invert
There's a second way of getting a dark mode on Snapchat for iOS. Let's talk about how to get Snapchat dark mode via the smart invert option.
Step 1 Tap and open the Settings app.
Step 2 Scroll down to the bottom of the page and tap Accessibility.
Step 3 Then tap on Display & Text Size. From here, you can change various display-related settings.
Step 4 Switch on Smart Invert. This feature will invert colors but won't do it for videos and images. So, you can still use Snapchat usually.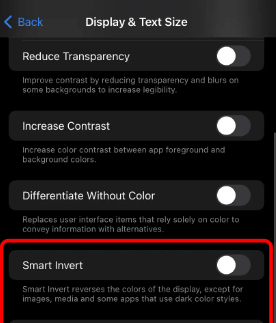 Part 2. Does Snapchat Have a Dark Mode Android?
If you thought the iOS version was a bit tedious, you would be annoyed to hear it is unavailable on Android. Snapchat's Android version gets updates all the time. However, they still lack this fundamental (and popular) feature.
It has been a long time since dark mode launched for iOS. So, you can safely assume that this feature is not coming to Android. At least not soon. This is not an Android problem, by the way. Android supports dark mode all across the board. Moreover, many other apps have incorporated the feature. Except for Snapchat.
However, there are a few clever things you can do to get a dark mode for Snapchat on Android. Here are four separate guides on how to turn on dark mode on Snapchat for Android:
1. Force Dark Mode on Snapchat
The great thing about Android phones is that they're pretty user-customizable. And This control they put on the user's hands can be very empowering. Even empowering enough to force apps to use dark mode. Here's how to get dark mode on Snapchat by force.
Step 1 Tap on Settings on your phone.
Step 2 Scroll to Display and Brightness. By the way, different phones might have them labeled differently. But it should be similar.
Step 3 Tap on Dark Mode Settings and Dark Mode for Outside Apps.
Step 4 Then, simply turn it on for Snapchat.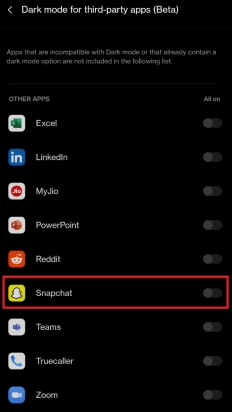 Remember that this feature might be available for every Android smartphone out there. Also, the quality is in the beta phase for some phones.
2. Turn on Dark Mode on Snapchat Using Developer Mode
Want more control over your phones? Turning your phone's built-in developer mode will give you incredible abilities. Follow these steps to turn on dark mode for Snapchat using this mode:
Step 1 Go to the Settings home page and tap System. Tap on Advance.
Step 2 Then tap on Developer Mode and click Hardware Accelerated Rendering.
Step 3 Tap on Force Dark Mode. It might be labeled Override Force Dark Mode.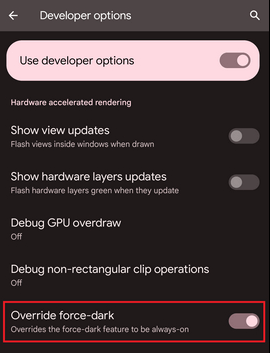 3. Use Substratum on Android
A third option you can use is another app called Substratum. Told you that there are a lot of options on Android. However, this process is a bit outdated.
And everyone will be happy downloading a new app to turn on Snapchat dark mode. Moreover, and perhaps more importantly, you need a rooted android phone. 
Rooting your phone gives you much more control than turning on dark mode. It can even provide you with access to settings and options the manufacturers did not intend on.
As you might have guessed that this will void your warranty. If you have a relatively new phone, do it at your own risk. Here are the steps to follow if you still want to do it:
4. Invert Colors
Like iOS Smart Invert, Android allows you to invert your phone's colors. This is a straightforward step. However, remember that this will affect your whole experience, not just Snapchat.
Step 1 From Settings, tap on the Accessibility option
Step 2 Toggle Colors Inversion on.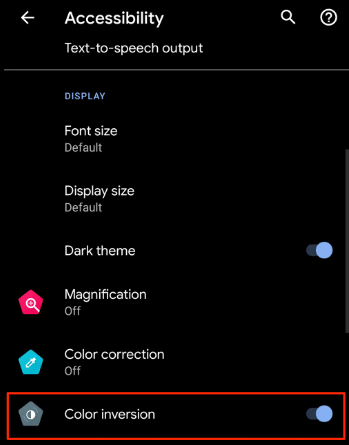 Keep in mind that depending on your phone's manufacturer, the specific names of the setting could be slightly different. However, the setting names will be pretty much similar. So, you should not have a hard time finding it.
Part 3. Why Doesn't My Snapchat Have Dark Mode?
In some cases, even if you have an iOS device, you might not still have Dark Mode. That's because it has not rolled out to everyone just yet. Here are some reasons you might not be seeing the Snapchat dark mode feature:
You are not located in US or Australia.

You are using an Android device.

Your Snapchat is not updated.

Minor software bugs.
Obviously being location blocked to use a simple dark mode option sucks. Thankfully, there's a way around this. For example, you can use WooTechy iMoveGo to go past the geo-blocking and get this feature.
iMoveGo lets you spoof your location on Android and iOS devices. It enables you to do incredible things like:
Key Features of iMoveGo
75.000.000+
Downloads
Change your location to anywhere at anytime.

Ability to control GPS location with joystick and lets you move 360 degrees.

Simulate GPS movement with a customized speed.

Works with all location-based apps and games like Snapchat, Find My and Pokémon GO.

No jailbreak required, it is supports all iOS and Android systems including the latest iOS 16 and Android 13.
Now let's take a look at how you can fool Snapchat into thinking your are in the locations where Dark Mode is enabled to use the feature.
1. Fake Snapchat location on iOS & Android
If your area did not get the Snapchat Dark Mode update yet, you could use iMoveGo to easily fake your location.
This will trick your phone into thinking it is somewhere else. However, you need to choose a place where the feature is available. Otherwise, your Snapchat still will not have Dark Mode. Here is how to do it:
How to Fake Snapchat Location on iPhone:
Step 1 Launch and Install WooTechy iMoveGo on your computer. Connect your iPhone via WIFI or a USB cable.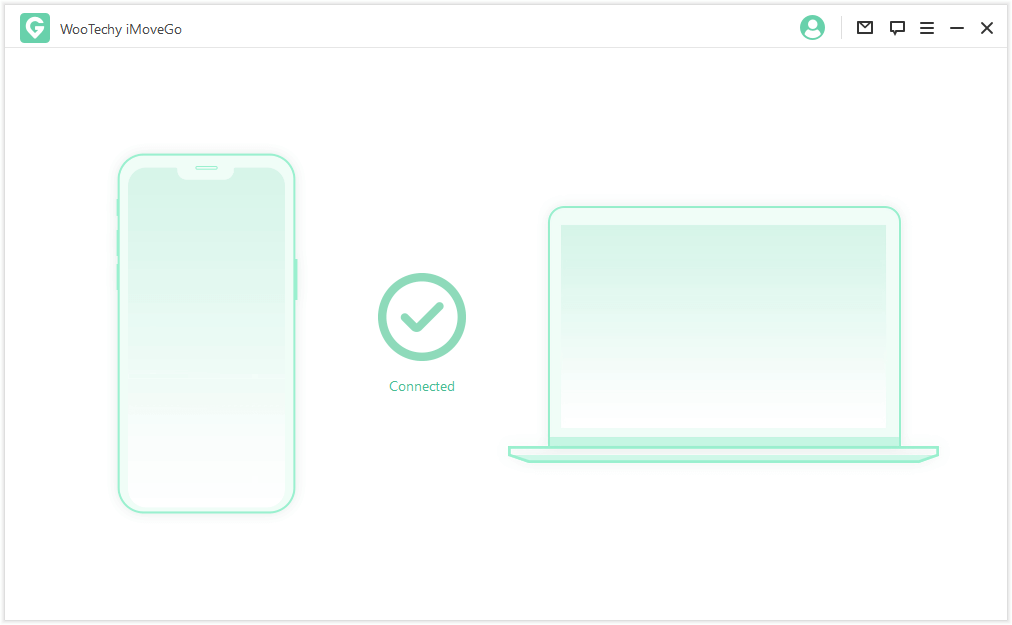 Step 2 Wait till the map has finished loading and click on Teleport Mode in the upper right corner. It is the fourth option.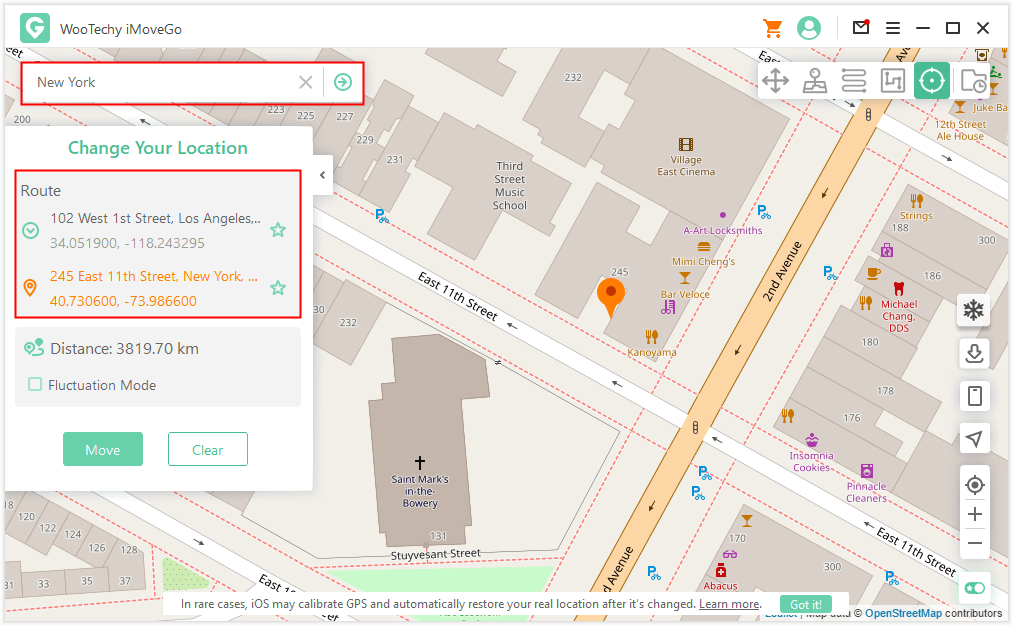 Step 3 Choose any location you want to teleport and click Move.
How to Fake Snapchat Location on android:
Step 1 Open iMoveGo and connect your Android phone with a USB cable. Choose the Media Transfer Protocol mode and turn on USB Debugging.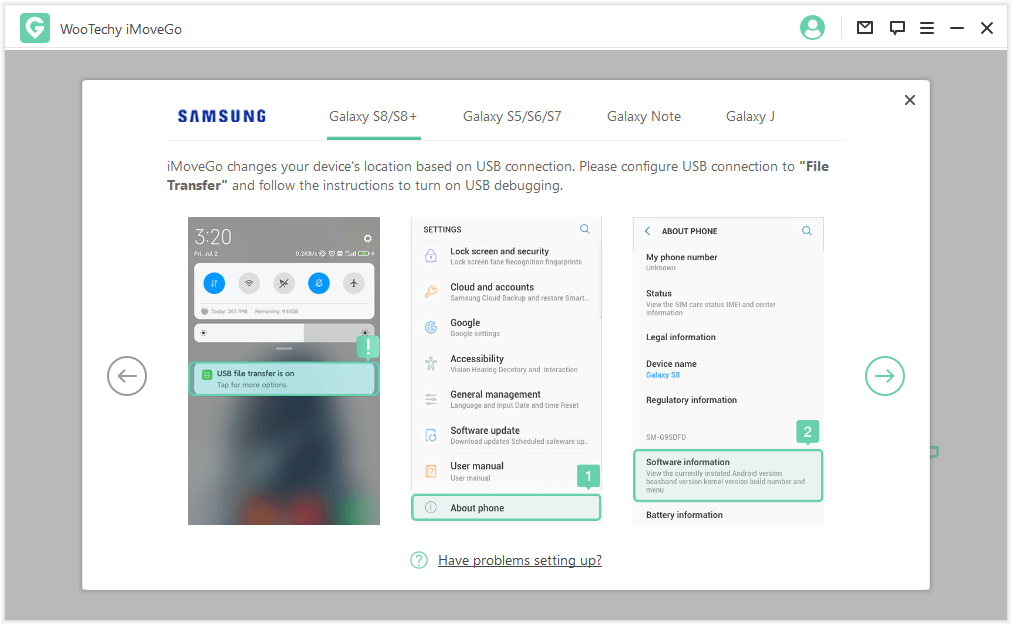 Step 2 Select the Social mode on iMoveGo's interface and iMoveGo Assistant under Developer options once the installation is complete.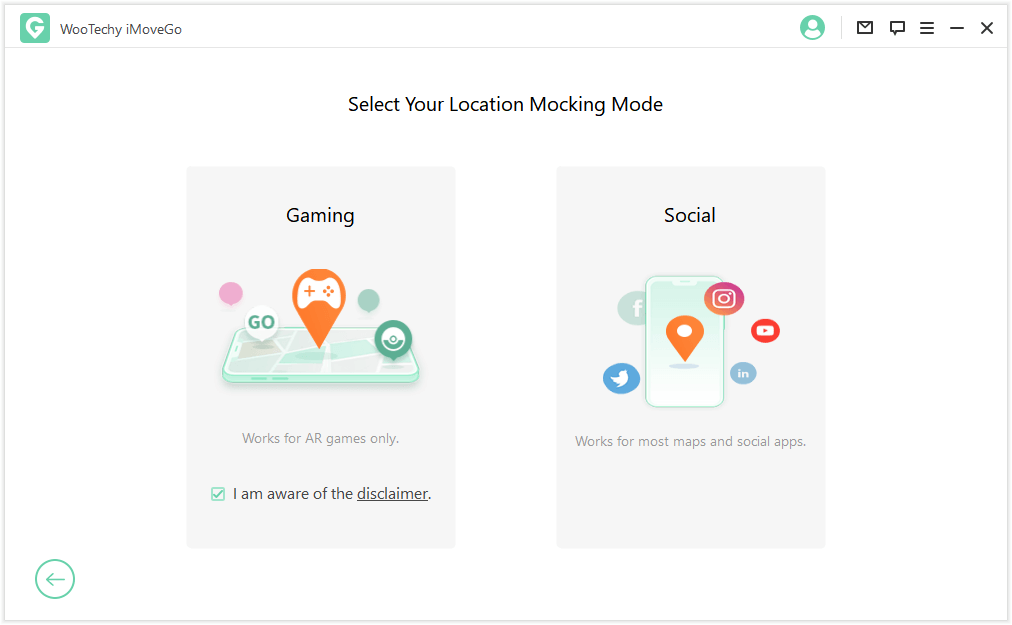 Step 3 Change your location now.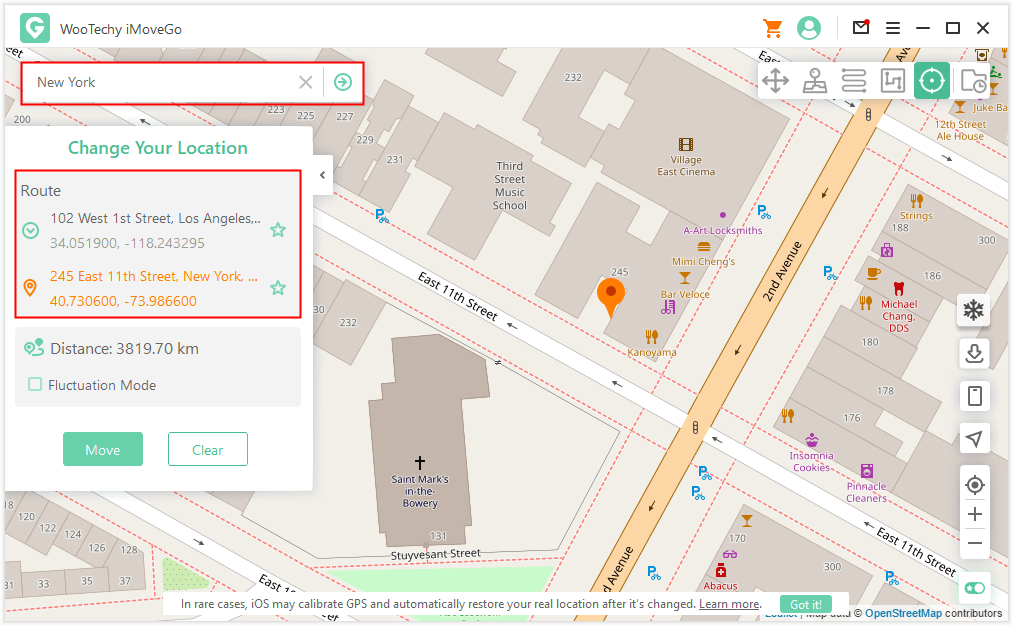 2. Use VPN on iOS
Another common way to spoof location on any device is with a VPN service. It's super simple to install and use too. Here is what you need to do:
Step 1 Download a reputed VPN app.
Step 2 Launch the app and create an account.
Step 3 Set up the VPN app and the correct settings.
Step 4 Tap on the country/server you want to go to.
Using a VPN is pretty easy for the most part. However, keep in mind that not all VPNs are free. Some require a monthly subscription. Although you can find free alternatives, they usually have a data cap.
Conclusion
There you have it. Now you know all about how to make Snapchat dark mode. If you have the option in your app settings, that's the best and easiest way. However, you can also try inverting colors.
On Android, you can use developer tools, force dark mode, and even root your phone if you are adventurous. Other solutions like WooTechy iMoveGo are fantastic options if Dark Mode isn't available where you live.