Are you ready for the next big thing from Apple? The highly anticipated iPhone 15 is set to be released later this year, and tech enthusiasts around the world are eagerly awaiting its arrival. With a possible switch to USB-C, the introduction of a periscope-style telephoto lens, and the rumoured Dynamic Island feature making its way across all models, the iPhone 15 is shaping up to be a revolutionary device.
But what else do we know about Apple's upcoming flagship smartphones? And what is the iPhone 15 release date? Let's take a closer look at the latest iPhone 15 rumors and predictions surrounding the iPhone 15 lineup.
1. iPhone 15 Design and Display
According to relevant staff, the upcoming iPhone 15 models are expected to bear a close resemblance to the iPhone 14 models, with the pill-and-hole cutout expanding to the entire lineup. This means that all iPhone 15 models will feature the Dynamic Island technology that was first introduced in the iPhone 14 Pro models, resulting in a complete removal of the notch.
The iPhone 15 may have a curved design similar to the iPhone 11 Pro Max, and all three devices may have thinner, curved bezels. Besides, the iPhone 15 could finally feature a USB-C port instead of the traditional Lightning port, in line with the European Union's mandate for all phones to use USB-C by 2024. A leaked image of an iPhone 15 Pro model has given us a glimpse of the new USB-C port.
One rumor has suggested that the iPhone 15 may measure 6.2 inches instead of the previously reported 6.1 inches, although it is unclear why Apple would make such a minor change. The information was based on CAD drawings used by case makers, and some of the data could be inaccurate.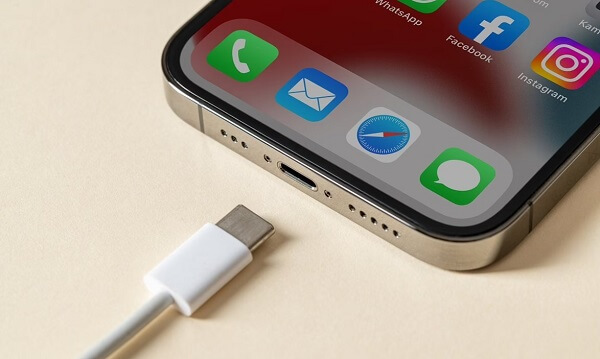 2. iPhone 15 Battery
All iPhone 15 models are expected to come equipped with a more power-efficient OLED display driver chip that will be manufactured using a 28nm process. This technology will enable reduced power consumption and could result in improved battery life. However, the standard iPhone 15 models will not have ProMotion or always-on display technology, which will remain exclusive to the Pro devices.
The Dynamic Island technology in the iPhone 15 and iPhone 15 Pro is expected to come with an updated design that incorporates an integrated proximity sensor. Although this change is not expected to have any significant impact on the appearance or functionality of Dynamic Island, it could help to lower component costs and contribute to a reduction in the overall price of the device.
3. iPhone 15 Hardware and Performance
One of the rumored upgrades is the use of the A16 or A17 chipset, which is expected to offer faster processing speeds, improved graphics performance, and better power efficiency. Additionally, the use of a 5G modem is likely to continue, providing faster internet connectivity for users.
In terms of storage, the iPhone 15 is expected to come with a minimum of 128GB of internal storage, with higher storage options available for the Pro models. Apple may also offer expandable storage options through the use of a microSD card slot, which would be a first for the iPhone.
4. iPhone 15 Camera
Another area of improvement is the camera system. The iPhone 15 is rumored to feature a new triple-lens rear camera setup with improved sensors, allowing for better low-light performance and sharper, more detailed photos and videos. The front-facing camera is also expected to be upgraded, potentially offering higher resolution and better image quality for selfies and video calls.
5. iPhone 15 Color
Phone 15 could come in a range of colors, including traditional options such as black, silver, and gold, as well as new colors such as blue, green, and purple. It's worth noting that color options may vary depending on the specific iPhone 15 model. In the past, Apple has offered different color options for its standard and "pro" models, so it's possible that we could see similar variations with the Apple iPhone 15 Pro Max.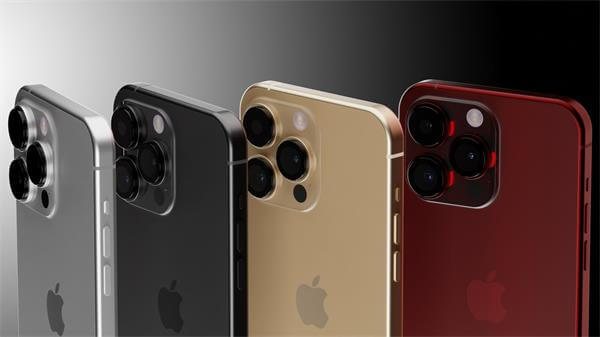 6. iPhone 15 Price
The design is not expected to undergo any major changes, with Apple continuing to offer four models, namely the iPhone 15, iPhone 15 Pro, iPhone 15 Max, and iPhone 15 Pro Max. The Pro models will be equipped with higher-end features and will be priced accordingly, while the standard iPhone 15 models will be more affordable.
Regarding the pricing, the iPhone 15 Ultra may start at $1,199, which is around £1,309 or AU$2,099. However, it is unclear whether this rumor is accurate or not, as it is still too early to confirm the official pricing for the iPhone 15. The iPhone 15 will certainly cost a little more than the iPhone 14. According to recent reports, the price of the iPhone 15 Pro and Pro Max could rise by up to $200 each.
Based on this, we can predicted that the price of iPhone 15 Pro Max Price would be:
iPhone 15 Pro: $1,199 (128GB), $1,299 (256GB), $1,499 (512GB), $1,699 (1TB)
iPhone 15 Ultra: $1,299 (128GB), $1,399 (256GB), $1,599 (512GB), $1,799 (1TB)
7. iPhone 15 Release Date
When is the iPhone 15 coming out? This is probably the most important concern for everyone. The iPhone 15 could launch in September 2023 with a release date of September 15, following Apple's previous launch patterns.
Consumers are eagerly anticipating iPhone 15's release. As always, iPhone 15 could be a highly sought-after device upon its release as long as Apple is expected to deliver high-quality performance and user experience. We will also keep updating iPhone 15 news.
8. Tips: iPhone Location Solutions
There were some location-related issues reported on the iPhone 14. One potential cause of location issues on an iPhone is an outdated iOS version. Before the release of iPhone 15 and iOS 17, here we would like to share an ultimate location tool, iMoveGo Location changer.
WooTechy iMoveGo is a location changer that allows you to fake your location on your iPhone anywhere as long as you want, as well as simulate your GPS location and movement on iOS devices. It can be used to play location-based AR games without physically moving, explore apps that are restricted to certain locations, and protect privacy by hiding real-time GPS locations.
iMoveGo works with all location-based apps without jailbreaking or rooting the device, such as FaceBook, Tinder, WhatsApp, Snapchat or Pokemon Go etc... If your location is wrong on your iPhone, you can also fix it with iMoveGo manually.
Key features of Wootechy iMoveGo
75.000.000+
Downloads
Change your location to anywhere in the world in real time.

Simulate route with customized speed.

Joystick is available to control the direction.

Support up to 10 iOS devices at the same time.

Retain the starting and end points of your route, as well as save the GPX.
Follow the Steps to Change Your iPhone Location:
Step 1: Download and install Wootechy iMoveGo on your computer. You can find the download link on Wootechy's official site, or click the below buttons.
Step 2: Connect your iPhone to your computer using a Lightning to USB cable or WiFi. USB is required for the first time only.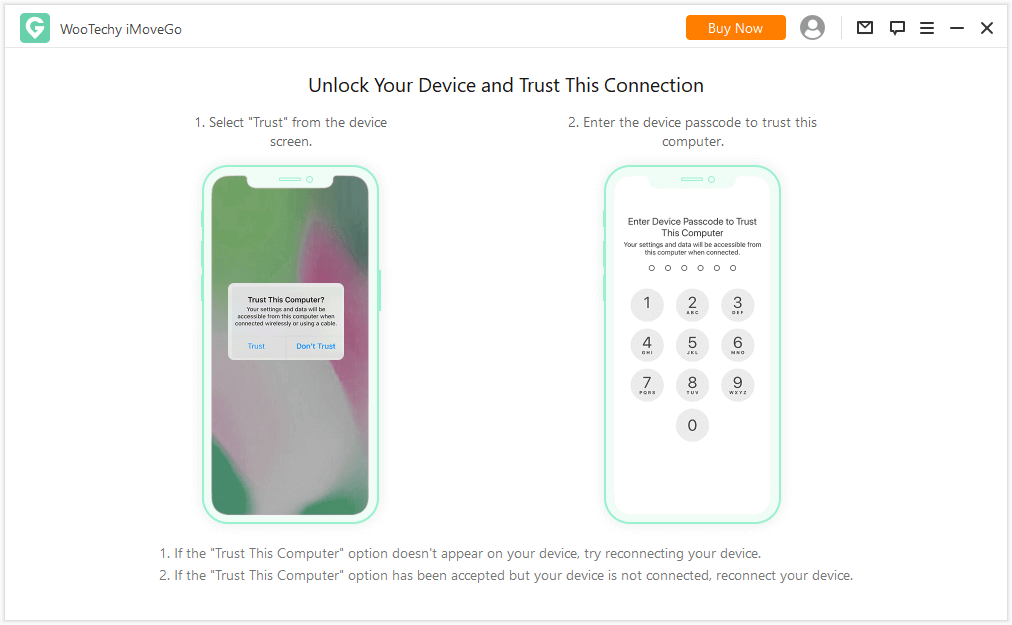 Step 3: Once your device is detected, you should see different modes in the iMoveGo's interface: Teleport Mode, Two/Multi-Spot Mode and Joystick Mode.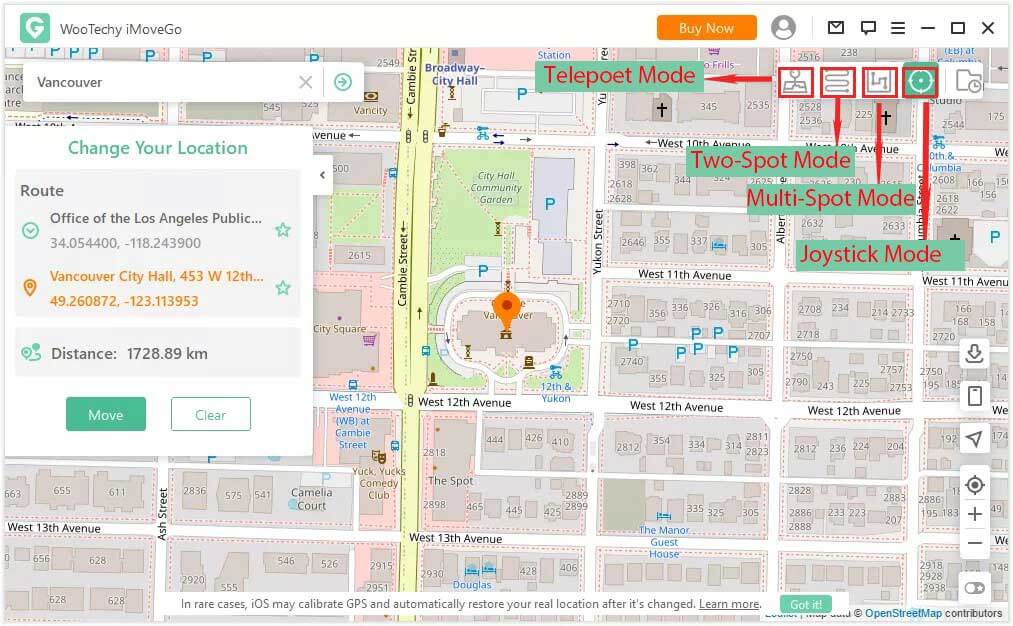 Step 4: Choose a mode, and enter the location that you wanna change to. Then, click "Move" and you are good to go.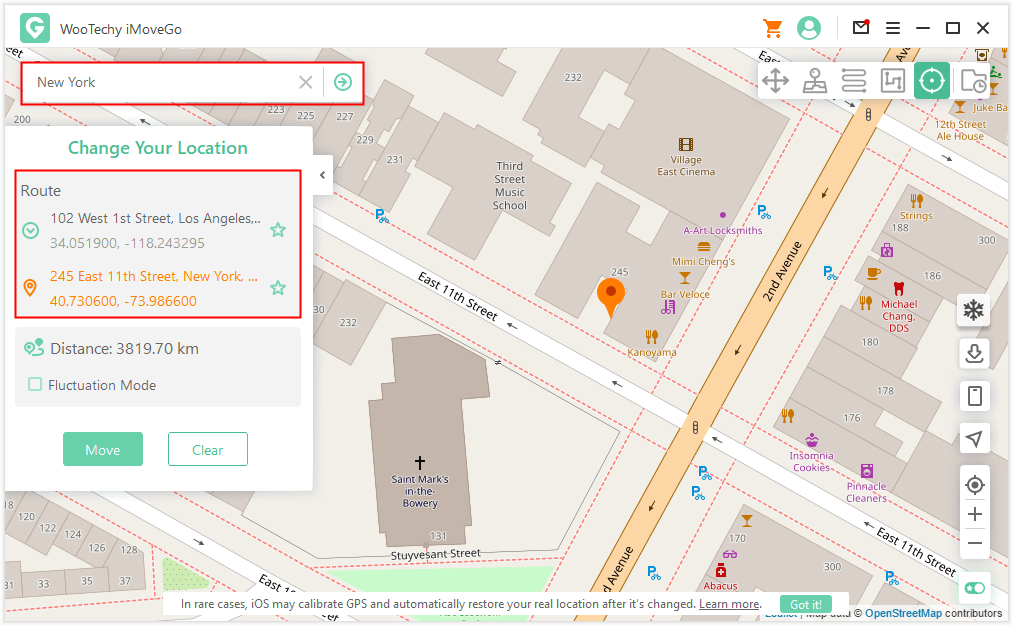 Summary
In conclusion, changing the location on an iPhone using Wootechy iMoveGo is a straightforward process. With iMoveGo, you can change the location on your iPhone quickly and easily whatever you want to keep your location private, access content that is unavailable in your area, or just wanna fake your location to another one. Now, get iMoveGo for free and let others think you are in other places!