Motorola devices run on Android OS with some differences in the user experience. Those running on Android 5.1 and higher come with the FRP lock that will restrict you from resetting the device without having the right password. Even if you hard reset your device, FRP lock will restrict device activation without authentication. So, here you may learn some ways to FRP bypass Motorola devices.
Part 1. Can I Bypass Google Lock (FRP) on Motorola Phone?
You can bypass FRP on Motorola, but it depends on which requirements you meet and what solution would work best for you. Removal of FRP locks on Motorola devices is a problem usually faced by people when buying or selling used smartphones. Similarly, when employees get the company's devices and leave the company, they often leave the FRP lock on, making those devices useless for new users. That's why people often search if it is possible to remove the FRP lock on their Motorola devices.
However, considering these devices run on Android OS, this lock can be removed with almost a similar experience as on other manufacturers' devices like Samsung. There are multiple methods to do that, including using PC software and doing it on your device. All those methods also come with their specific requirements.
Part 2. The Best Motorola FRP Bypass Tool Download and User Guide
While there are many methods that you may use, the best one so far is using the iDelock tool from WooTechy. It is your one-stop solution for all android device password and lock removal needs. You can download it on Windows PC for free and use it for FRP lock removal, Google verification, lock screen password, and even factory resetting your Motorola devices.
iDelock works on Motorola smartphones and tablets, and it brings an easy experience with minimal steps to bypass the FRP lock on your devices. This user guide will teach you about its features and the steps to bypass the FRP lock on your Motorola smartphones.
Features:
It works on all Android versions, including the latest ones.
You can remove the FRP lock on over 6000 android smartphones and tablets with iDelock.
iDelock can remove every pin, password, biometric, and pattern lock. It even works to remove the Google smart lock from your android devices.
With iDelock, you may remove locks and restrictions from your devices without causing any data loss.
You need to download and install the iDelock tool on your PC first. Once the installation is complete, you can begin with the following steps to bypass FRP on Motorola:
Step 1. You will find different modes on the interface from which you may select FRP removal or Google lock removal method. There will be standard and advanced modes to use this feature. Try Standard Mode first.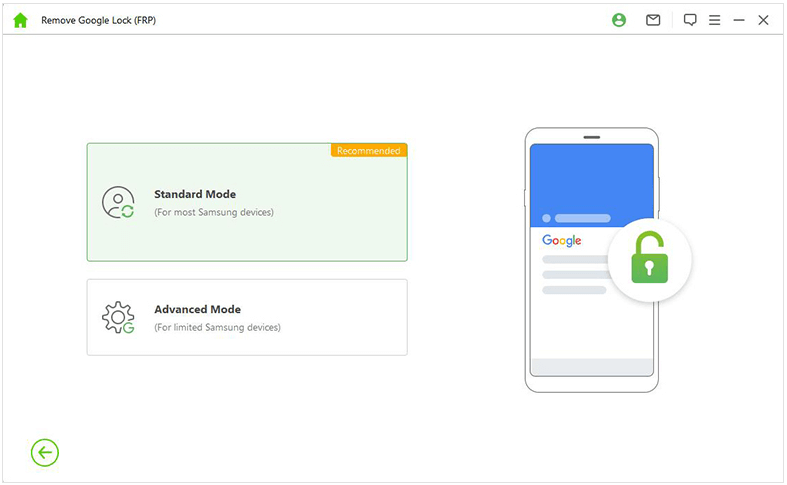 Step 2. Connect the PC and Motorola device using a USB data cable. It is recommended to use the original Motorola wire for more efficiency. Let the tool detect your device's specifications and verify them or manually enter all the specifications.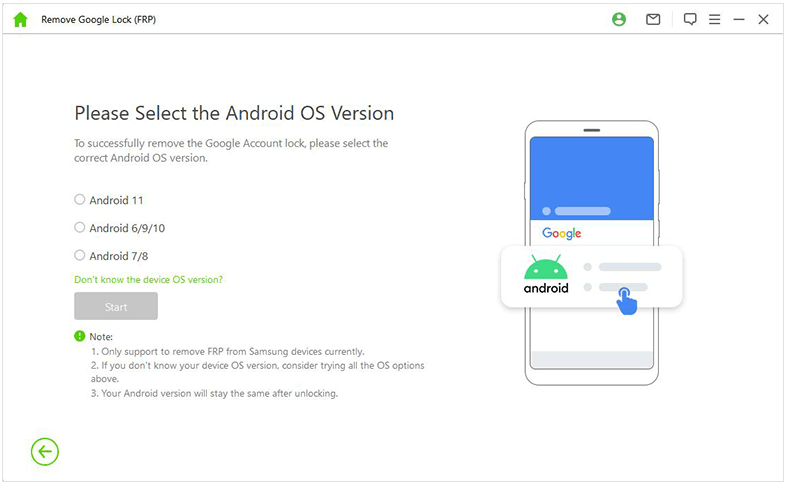 Step 3. As you verify, the tool will show you thorough steps to allow permissions before removing the Google FRP lock on your Motorola device.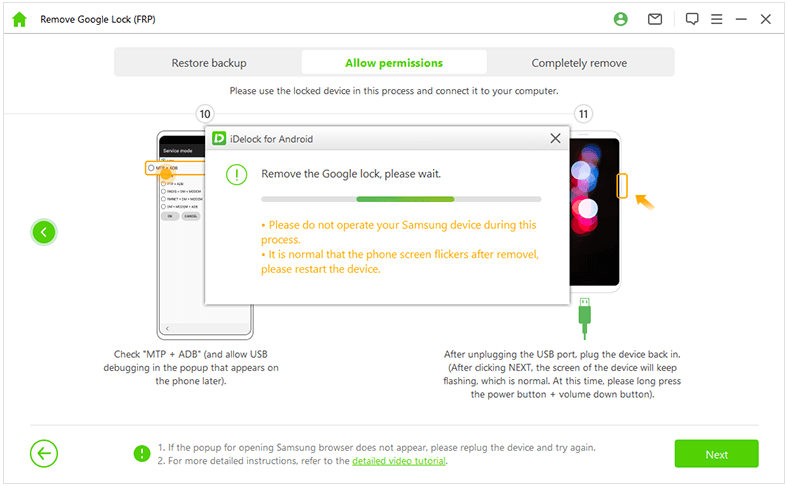 Step 4. Now you must wait before the tool shows success, and once it shows success, you can remove the Motorola smartphone, and the lock will be removed.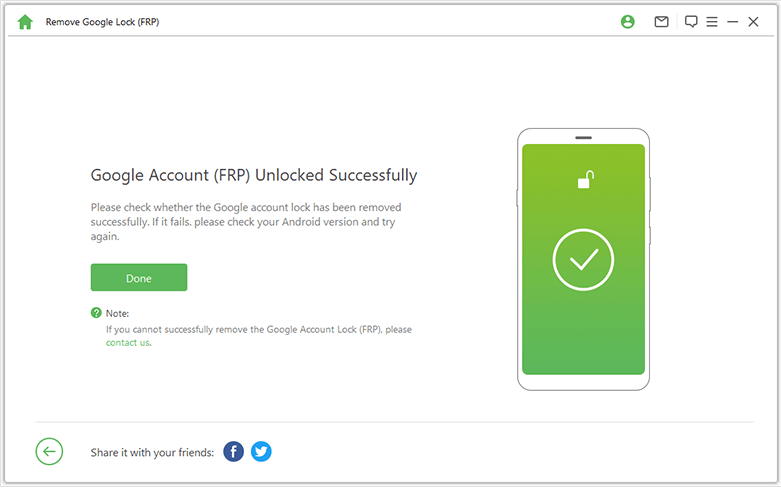 Part 3. How to Do Motorola FRP Bypass Without Computer [Time-Consuming]
Don't worry if you don't have a PC, as you can still bypass FRP on your Motorola device. However, this method will be more time-consuming and may involve some complex steps. It is a free solution but will remain almost 30 minutes of working and processing time with some technical knowledge. So, if you are in a hurry, this method may not be the best for you.
Motorola makes bypassing FRP on its devices a little difficult to increase the security of its phones. However, this method works best for locked Motorola phones. So, we will divide the process into 3 different phases, and below are the details of those phases with all the steps you must follow.
Phase 1: Getting Things Ready
Step 1. Connect your Motorola to Wi-Fi and go to the Emergency call screen on startup.
Step 2. Tap on the edit icon, then on the name, and then change the image.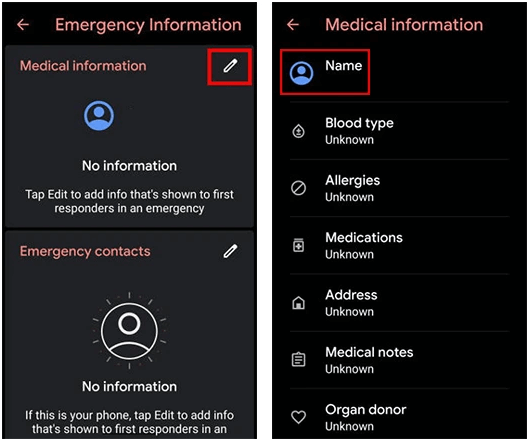 Step 3. From the menu, go to Photos and Permissions.
Step 4. Select Contacts to see applications that have permission to use photos.
Step 5. Now tap on Search and search Settings. Open settings and go to Accessibility to turn on the accessibility menu.
Phase 2: Enabling Shortcut Menu
Step 1. Go back to settings and go to applications and notifications information.
Step 2. Go to Apps info and tap on 3 dots to see apps.
Step 3. Now select android setup and tap on force stop. You may need to confirm to disable it.
Step 4. Go to storage and cache to wipe it. Here you will need to tap on the disabled app option as well.
Step 5. Now tap on Android Setup and then on force stop. Remove the cache and storage data from the android setup option.
Step 6. Click on Play Services and Disable this app as well. You don't need to force stop it.
Phase 3: Finishing
Step 1. Now go back to the hello page and select Start.
Step 2. Go to Wi-Fi options there and open the shortcut menu by swiping up with 2 fingers.
Step 3. Now go to the Assistant, then Settings, and from there, enable Play services.
Step 4. Now go back once, then Skip and Continue.
Step 5. Tap on More and then tap Accept.
Step 6. Now go to the set lock screen option and skip twice, press ok, and accept. Follow through with the on-screen instructions for the remaining process.
Step 7. Go to settings, and in System settings, you will find the Reset option under the Advanced menu.
And with that, you may have removed the FRP lock from your device. However, if you get a PC and use the previous method, the whole thing will become simpler and easier.
Conclusion
The FRP lock may add additional protection to your Motorola. Still, knowing FRP bypass, Motorola methods will ensure that you are never locked out of your device when resetting it. Remember that different methods to bypass the Motorola FRP lock will have different effects, so if you want to retain your data, use the right method with iDelock.