There are countless videos on the internet of live streaming or pranking people with a child voice. Now, if you're not a voice actor that can be hard to do. So, how do you get kids voice? Using a kids voice changer, that's how.
Let us walk you through all you can do to use a kids voice effect and AI voice-changing software that supports your devices. There are countless kid voice changers on the internet and we will recommend the best ones for you to use on all devices. So, let's get started.
Part 1. Why Get A Kids Voice Changer?
When you are live streaming, mimicking a child can bring a moment of comic relief. A little kid voice changer can make you sound like a toddler, and those who adore children find this to be extremely cute and funny. Pranking people with a child's voice is also fun.
Kids voice effects are very popular among YouTubers and streamers. It helps them attract an audience who enjoy upbeat content. The gaming industry has people of all ages. When someone sees you use a kid's voice despite being older, they automatically assume you to be someone who is funny and goofy.
Part 2. How Can I Change My Voice to A Child's Voice?
You can change your voice to sound like a kid using voice filters that are available online. These voice effects work in real time, and you can also record yourself and dub it to sound like a little kid. WooTechy SoundBot gives you one of the finest voice filters, letting you effortlessly alter your voice to kid.
SoundBot – Wonderful Kids Voice Changer
75.000.000+
Downloads
Has over 125+ voice filters including different kids voice effects such as female kid, little girl, and more.

Change your voice to kids in real-time and can do that in various games and programs like Discord, Zoom, Oculus Quest etc.

400+ voice effects and 200+ voice memes to add for fun when getting kids voice with SoundBot.

Offer 5 free voices each day and is much easy to use.
Here is how you can step up WooTechy SoundBot real-time AI voice changer to get kids voice on your PC.
Step 1 Download and install SoundBot on your computer. Plug in your microphone and headphone to the computer. Launch SoundBot and set up your input and output devices respectively.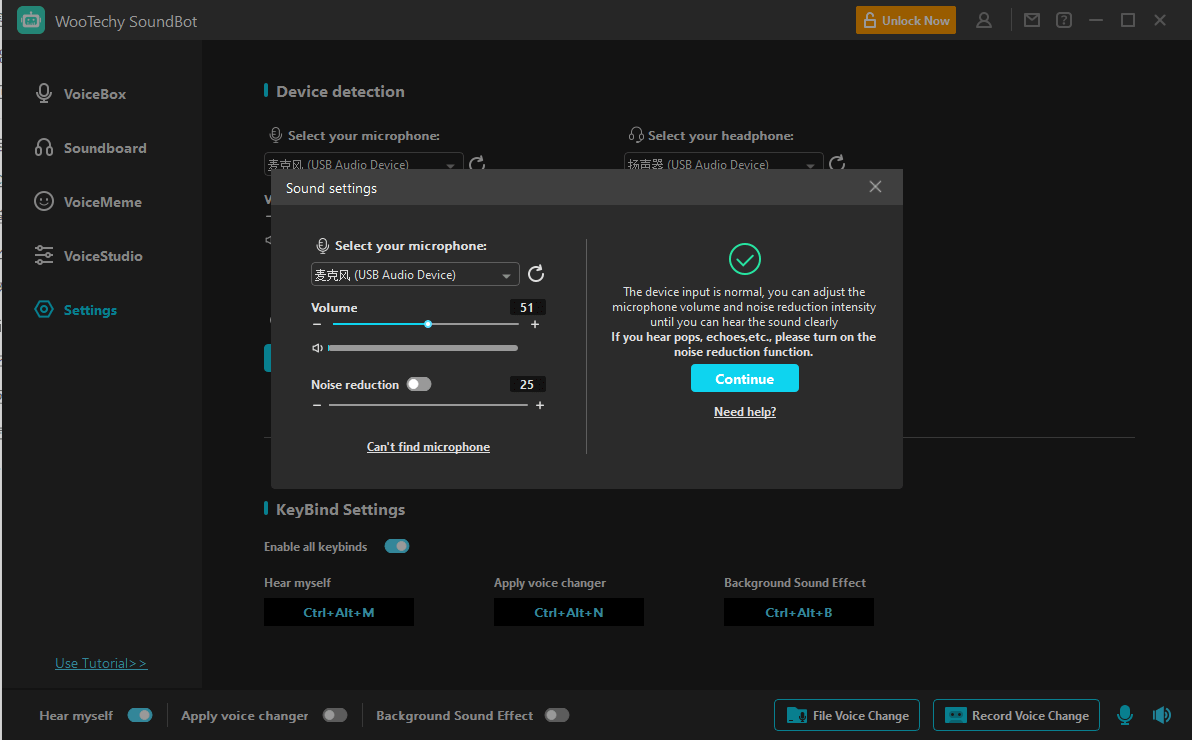 Step 2 Once you are successfully set up the devices, go to VoiceBox tab and find the kid voice you like. Then speak to your microphone and your voice will be transformed to kid.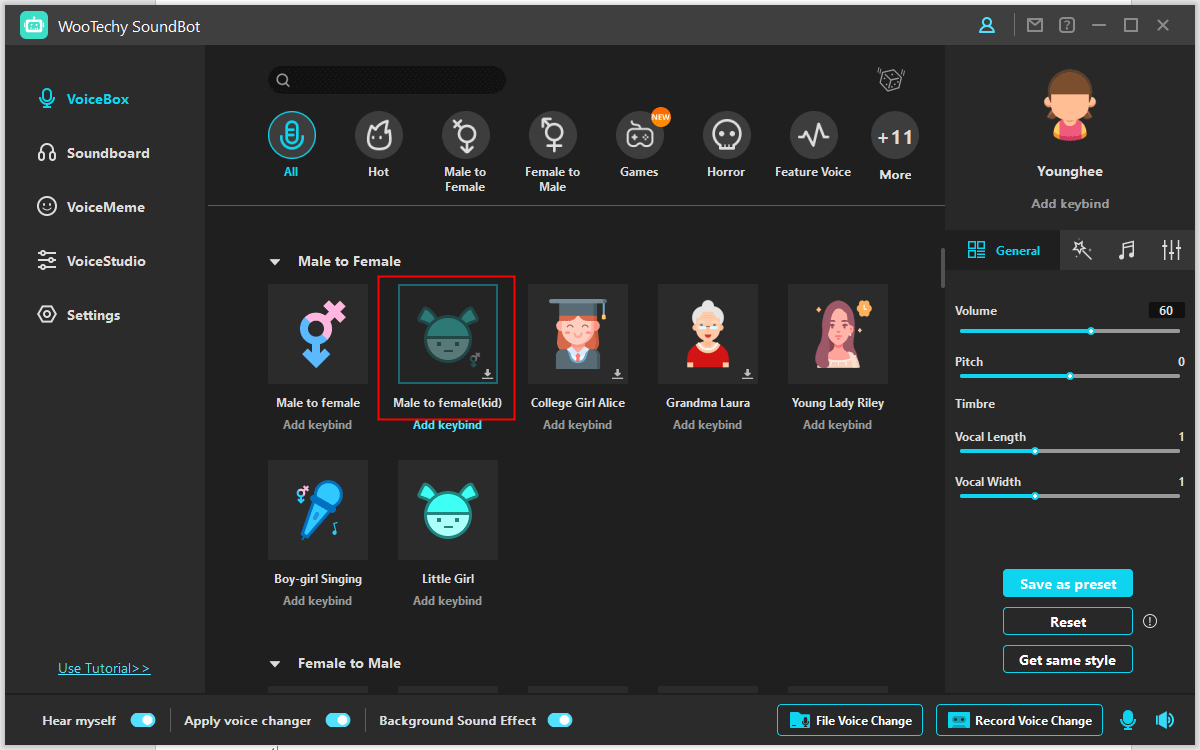 Part 3. Other Kids Voice Changers
Now that you simply know how you'll be able to alter your voice and get kids voices on PC with WooTechy Soundbot, you should also be aware that there are also other accessible applications that you can utilize that let you change your voice to kids voice effects.
Voxal Voice Changer lets you apply different voice filters and effects to your live streams in real time. There is a huge library of voice effects from famous characters for you to choose from, including kids voice effects. You can easily input these effects onto your audio calls and even live streams when playing games.
The software is also easy to install and very user-friendly. You can also assign hotkeys that give you a shortcut to toggle between voice effects of your choice. Get kids voices and set one of them as your favorite.
2. Murf
Murf is another application software you can use to change your voice to get kids voices. The software also works in real time. However, you will need to pay to access Murf's premium version to use all of the voice effects. You will find a 10-minute window to use your kids voice changer effect for free use.
3. Voicemeter
This is one of the best free software out there for you to use to get kids voices. You can sound like a kid in real-time, add your filters to your Discord or Skype live streams to talk to your friends and family, and change the whole vibe.
The software used in Voicemeeter is very advanced. It not only adds voice filters, but it also manages all your audio devices on your PC. There is a library of hundreds of voice filters to choose from, including kids voice effects.
Conclusion
Install WooTechy Soundbot voice changer to alter your voice to kids voice effects and numerous others to have fun while streaming online on platforms, including Discord, Twitch, and more. The tool for using voice filters works in real-time and works as an audio mixer application to mix and manage any audio sources.