I have to transfer my WhatsApp data from my Android to an iPhone. Some people recommended AnyTrans software. Can anyone give me a comprehensive AnyTrans WhatsApp Transfer review with its pros and cons? Also, it would be a great help if you could suggest a safe and reliable alternative to this tool?
You may have heard of AnyTrans WhatsApp transfer software like the above user. But before using this software, you should be fully aware of its features and functionality. In this article, you can read a detailed AnyTrans WhatsApp transfer review including its key features, pros and cons, and the best alternative of this app, so keep reading.
Part 1. A Full Review of AnyTrans WhatsApp Transfer
1. An Overview of AnyTrans WhatsApp Transfer
AnyTrans WhatsApp Transfer is one of the most popular and rated apps to transfer, restore, and backup WhatsApp data. It allows you to effortlessly send WhatsApp messages from an iPhone to an Android or the other way around.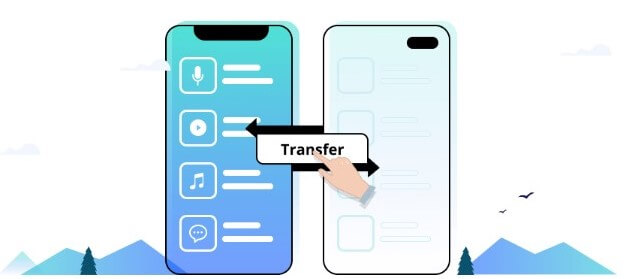 You can send messages and attachments, such as videos, pictures, audio files, etc. AnyTrans can restore the history of your WhatsApp conversations from a Google Drive backup to your iPhone. Without storage restrictions, you can back up your WhatsApp data on your PC and restore chats from your previous WhatsApp account to the new one.
2. Is AnyTrans Safe for WhatsApp Transfer?
It enables users to transfer WhatsApp chats from Android to iPhone using a robust data transfer and backup. AnyTrans abides by tight privacy rules and is free of viruses and malware. Your personal information is end-to-end encrypted, making it invisible to everyone. The installer file ensures you get the most recent and safe software version by downloading it straight from the iMobie website and installing it.
3. Is AnyTrans WhatsApp Transfer Free?
AnyTrans WhatsApp transfer isn't free. You will be restricted to basic functions because all premium features require a paid membership. Fortunately, AnyTrans offers a free 3-day trial so that you can review its features before you decide to buy.
If you want to use the advanced features of AnyTrans, you can purchase its lifetime package for $59.99. It supports five devices but just one PC. The yearly package costs $29.99 per year. It also supports five devices and will run on one PC. The 3-months package costs about $25.99 per 3-months. It supports only two devices and one PC. Round-the-clock customer assistance and a 60-day money-back guarantee are included in the fees.
4. How to Use AnyTrans WhatsApp Transfer?
Follow these steps to use AnyTrans WhatsApp Android to iPhone.
Use USB cables to link your PC to your Android and iPhone devices. Open the AnyTrans app and select the Social Messages Manager option.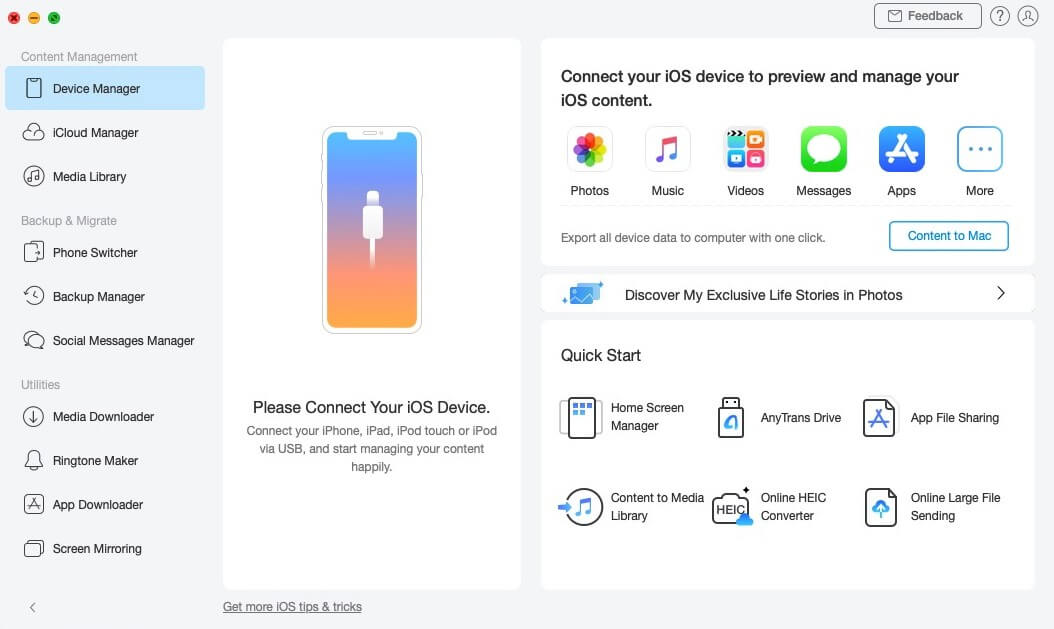 Connect your devices. Choose an Android or an iPhone as the source and destination phones, respectively. To begin moving WhatsApp conversations from Android to iPhone, select Next.
Now back up the WhatsApp data on your Android device. You'll then see instructions for installing an improved version of WhatsApp on your phone. Improved WhatsApp will make it simpler for AnyTrans to send data.
Permit WhatsApp access to the phone's storage. The phones will begin to transfer data. After the transfer, you can access your old WhatsApp data on your new iPhone. The time it takes to send WhatsApp data is determined by its size.
5. Can AnyTrans Be Trusted?
Many credible websites and antivirus companies have certified AnyTrans software and labeled it a "safe tool." The top certifying body in the world, Norton, has accredited it to assure that AnyTrans is virus-free. Additionally, Norton authentication guarantees that the website is free of viruses, spyware, malware, and advertisements.
Furthermore, AnyTrans uses McAfee SECURE to handle payments; all of your sensitive information is shared during payments using very robust and trustworthy SSL security/encryption. AnyTrans also claims to protect your credit card information from phishers or scammers.
6. Does AnyTrans Work for WhatsApp Transfer?
You can effortlessly transfer your WhatsApp chats and media files to your phone with AnyTrans. If you want to move WhatsApp from an Android device to an iPhone or vice versa, this solution works both ways. You can backup WhatsApp messages on Android and iPhone without any storage limits.
However, it still has some unattractive points. To make you more clear of this software, we list its pros and cons below.
Pros
It is reliable and does not frequently crash.

It allows you to transfer WhatsApp from Google Drive to your iPhone.
Cons
The UI interface is not user-friendly and users are difficult to operate it with complicated steps.

The 3-day free trial does not include all the functions and its prices are a little high.

It won't function unless you have the iTunes desktop software.

The data transmission rate might get slow at times.
Part 2. The Best Alternative to AnyTrans WhatsApp Transfer
Don't rush to buy the AnyTrans app after reading the above AnyTrans WhatsApp transfer review. AnyTrans is a good solution for safe data transfer from an Android device to an iPhone. Still, it comes at a hefty cost and may not be convenient for everyone.
If you are looking for a safe and reliable alternative to AnyTrans software with all the functionality you can anticipate from high-end software. You can use the WooTechy WhatsMover app. It can smoothly transfer your WhatsApp data from iPhone to any Android devices or Android to iPhone, or even between the same type of phones.
WhatsMover offers free, limitless storage to back up your WhatsApp data from your android or iPhone to your computer. You can use this backup function for totally free. It is easy to use and works with most smartphones, including Samsung, Nokia, Huawei, iPhone, LG, Motorola, and others.
WhatsMover – The Perfect WhatsApp Transfer Tool
100.000+
Downloads
Transfer WhatsApp between iPhone and Android with the 100% success rate and with the fastest speed.

Restore iTunes or Google Drive backup to any phones or computers without any limitation.

Export WhatsApp data to different formats such as HTML, PDF, XLS, etc. for further access and reading.

Support all WhatsApp data including chats, contacts, photos, messages, stickers and more attachments.

100% safe and user-friendly, it ensures to not invade your data privacy and is easy to use with super simple steps.
Here is how to use WooTechy WhatsMover to transfer your WhatsApp data with 3 steps:
Step 1 Open WooTechy WhatsMover on your computer, then connect your iOS and Android devices. Click Transfer WhatsApp between Devices.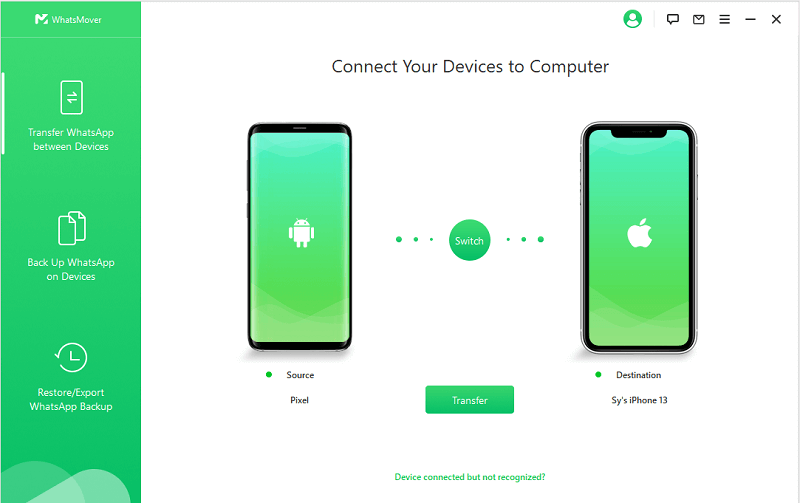 Step 2 You'll be prompted to select your WhatsApp type. Choose from WhatsApp Messenger or WhatsApp Business after both devices have been identified. The WhatsApp transfer process will begin after this.
Step 3 When the process is done, it will successfully move all your WhatsApp data to the targeted device. To finish the procedure, click Done.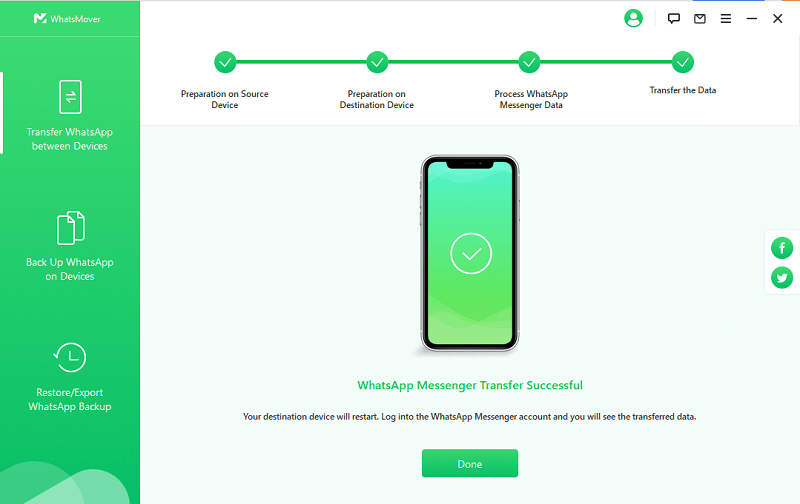 Conclusion
You can read our comprehensive AnyTrans WhatsApp Transfer review to know more about the efficiency and reliability of this software. But it is slightly expensive for average users who wish to transfer their WhatsApp data at an economical cost. Therefore, we suggest you use a reliable, safe, and user-friendly WhatsApp transfer tool to transfer your WhatsApp data. WhatsMover is an excellent alternative to this app. It is so affordable that you shouldn't miss buying this software.