Texting without emojis is like eating donuts without icing! Bland and boring!
Given how profusely people have been using emojis to add meaning and fun to their texts, WhatsApp launched the stickers features which took messaging to the next level.
Several sticker packs have been introduced ever since, and WhatsApp users are in a rat race with each other to see who has the best collection.
Everything is fun and games until the time comes to change your phone!
This means making a backup of your conversations, contacts, media, and of course, back up stickers in WhatsApp.
Because you certainly don't want to lose the collection you so carefully and selectively created!
Part 1. Do Stickers Get Backed Up in WhatsApp?
Yes, it does!
There is a built-in function in WhatsApp that you can back up all data including stickers, chats and contacts. You can back them up locally or on Google Drive for Android, iCloud for iPhone. All the WhatsApp stickers are default stored in .webp format in "storage/emulated/0/Whatsapp/media/Whatsapp Stickers/" from where you can backup these WhatsApp stickers.
Part 2. How to Backup Stickers on WhatsApp?
There are 4 ways to backup WhatsApp stickers. Let's go over the steps of each way individually.
1

Backup Favourite Stickers on WhatsApp

Although, and strangely WhatsApp does not have an option to create a backup of your favorite stickers, there are some tricks that can help you with this issue.

Follow these steps to backup WhatsApp stickers and save yourself the trouble of doing so over and over again.

Step 1 On your smartphone (iOS or Android), launch your browser (Chrome or Safari), and in the address bar type the address https://wa.me// followed by your phone number with the country code. For example: "https://wa.me//+xxxxxxxxxxxx."

Step 2 You will receive a prompt asking if you want to continue to chat with your own number. Click on Continue to Chat.

Step 3 On your WhatsApp on your smartphone, a conversation window with yourself will open.

Step 4 Now, send all your favorite WhatsApp stickers to yourself that you want to save or make a backup of.

Step 5 Now, backup your WhatsApp to Google Drive or iCloud. This will create a backup of your conversation with yourself, hence automatically creating a WhatsApp sticker backup.

Step 6 On your new smartphone, restore the WhatsApp backup, open the conversation with yourself, and add each sticker back to your favorites.

Although this procedure might be a bit time-consuming, if you want to keep your WhatsApp sticker backup when switching from Android to Android or iOS to iOS, this is the most convenient and easy way.
2

Backup WhatsApp Stickers on iPhone

If you have an iPhone and want to create a WhatsApp sticker backup, here are the steps for it:

Step 1 On your iPhone, go to Settings > Apple ID > iCloud.

Step 2 From the options, turn on the toggle for WhatsApp.

Step 3 Now launch WhatsApp on your iPhone, and tap on Settings at the bottom-right corner.

Step 4 Go to Chat Backup > Back Up Now to create a backup of your WhatsApp. This option will automatically create a WhatsApp sticker backup too.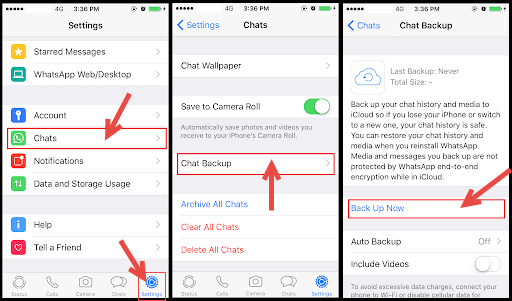 And that's how you backup WhatsApp stickers on an iPhone!
3

Backup WhatsApp Stickers on Android

Followings are the steps to backup WhatsApp stickers on Android:

Step 1 Launch WhatsApp on your Android phone, click on the 3 dots at the top-right corner and select Settings.

Step 2 Now tap on Chats > Chat Backup.

Step 3 Next, click on Backup to start the backup process. This way, your WhatsApp conversations, along with media and stickers, will be saved to your Google Drive or selected Google account.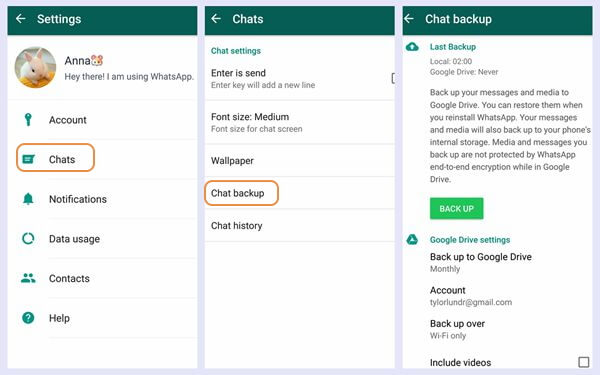 In 3 easy steps, you have successfully created a WhatsApp sticker backup on your Android phone.
4

Backup WhatsApp Stickers on PC

If you want to backup WhatsApp stickers on a PC, you can do so in a reliable, secure, and foolproof way via a third-party app such as WooTechy WhatsMover. It's totally FREE to back up stickers in WhatsApp.
WhatsMover – The Best WhatsApp Backup Tool
100.000+
Downloads
Back up WhatsApp on all iPhones and Android devices to your computer without storage concern.

Support backing up all WhatsApp data including stickers, chat history, photos, videos, contacts and more.

Safe to easy to operate, it allows you to further access, relocate and export the WhatsApp stickers.

With no data loss, your WhatsApp stickers backed up will be saved in a separate folder, won't be overwritten or automatically deleted.
Here are the steps to back up stickers on WhatsApp with WhatsMover:
Step 1 Download and launch WooTechy WhatsMover on your PC. Connect your device to your PC with a USB cable. Select Backup WhatsApp on Devices.