If you own a Samsung smartphone, it's a given that you'll want to preserve and keep track of how to backup Samsung WhatsApp in advance. Having a backup is essential to avoid losing WhatsApp messages and their associated media files. On Android, there are various options for backing up WhatsApp messages and attachments. There are several solutions to backup WhatsApp Samsung data. However, we've chosen 3 practical approaches and one of the best Samsung backup software to assist you in backing up quickly and efficiently, so keep reading:
Part 1: Why Do You Need to Back up WhatsApp Samsung?
WhatsApp is a messaging program that has grown in popularity over time due to its simplicity, sharing features, and cost-free usage. Practically everyone on the planet uses it. You may need to back up WhatsApp Samsung to avoid the following scenarios:
Keep data from being lost due to device failure or virus attack.

Because theft does happen, take precautions ahead of time.

The gadget becomes broken, hangs, or WhatsApp stops operating.

You intend to switch phones.

Keep data protected from unwelcome events on a secure computer.
Part 2. How to Back Up WhatsApp on Samsung
1

Back Up Samsung WhatsApp with Google Drive

Using your Google Account is one of the simplest methods to backup WhatsApp Samsung. Follow these steps to backup WhatsApp Samsung on Google Drive:

On your device, open WhatsApp and then press the three dots in the upper right corner. Click on Settings options and tap on Chats > Chat Backup > Back up to Google Drive.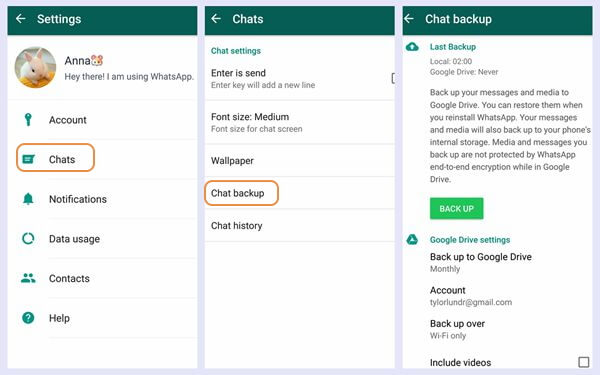 To access the frequency menu, go to Google Drive Settings and then Google Drive. You can select the backup frequency that best matches your needs.
You can choose whether or not to backup over Wi-Fi under the Back Up Over option. Turn on Include Videos to ensure that all videos are backed up.
After that, click Back Up to save all of your chats to Google Drive.
Cons
There is only 15GB free storage for WhatsApp data backup.

You have to do it manually and the Google Play should be installed earlier.

Sometimes the WhatsApp Google Drive backup is not working.
2

Back Up Samsung WhatsApp with Email

Using the Email feature, you can backup WhatsApp on your Samsung device, including chat history. Now, follow the instructions below to create a backup of your WhatsApp data. Follow these steps to backup WhatsApp on Samsung:

Open WhatsApp and then the chat you want to send. At the top, select More.

Choose whether or not to include media files in the backup by tapping Email Chat or Export Chat.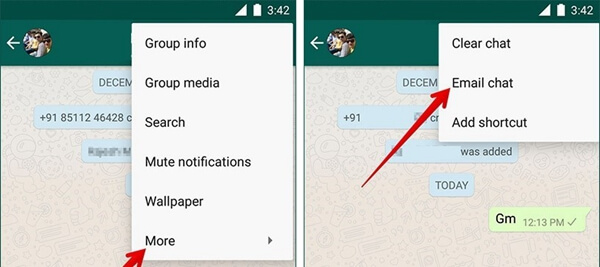 Finally, select the Email option to send the chat. After that, the chat is backed up to the email you sent.
Cons
You can only send data up to 25MB at a time due to the size limitations of email attachments.

The process is really troublesome as you have to back up chats one by one.
3

Back Up Samsung WhatsApp to SD Card

If you don't want to use Google Drive or email to back up your WhatsApp chats, you can save them to your device's internal memory or external SD card. The easy instructions below will teach you how to do that:

Launch WhatsApp on your Samsung phone.

Then go to Settings and select the Chat settings option. Click on Backup conversations.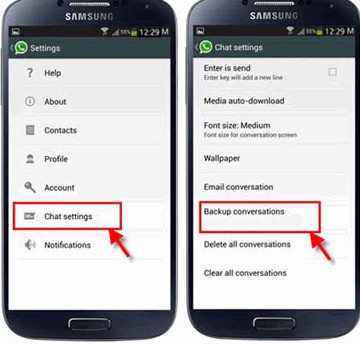 Your WhatsApp will be backed up to your Samsung's SD card if you have it on your phone.
Cons
You risk losing all your data if the SD card dies.
4

Back Up Samsung WhatsApp with WooTechy WhatsMover

Our top choice for backup WhatsApp on Samsung is to use professional WhatsApp backup software like WooTechy WhatsMover. This is the perfect tool for backing up data from your Samsung phone on your computer. It backs up your WhatsApp without OS restrictions and without storage limit.
WhatsMover – The Best WhatsApp Backup Program
100.000+
Downloads
Backs up all WhatsApp data on Android devices with unlimited free storage.

Compatible with popular brands like Samsung, iPhone, Motorola, Xiaomi, LG, Huawei, etc.

Supports all data formats such as videos, images, documents, contacts, chat history, etc.

All files are protected, and data privacy is 100% ensured.

The backup files are safe, stored in separate folders which won't be deleted and overwritten.

It has an excellent user interface and is easy to use.
Follow these steps to back up WhatsApp on Samsung with WhatsMover:
Step 1: Connect your Device
Install WooTechy WhatsMover on your computer. Connect your Samsung mobile device to your computer and select the Back Up WhatsApp on Devices option. Allow USB debugging for your phone.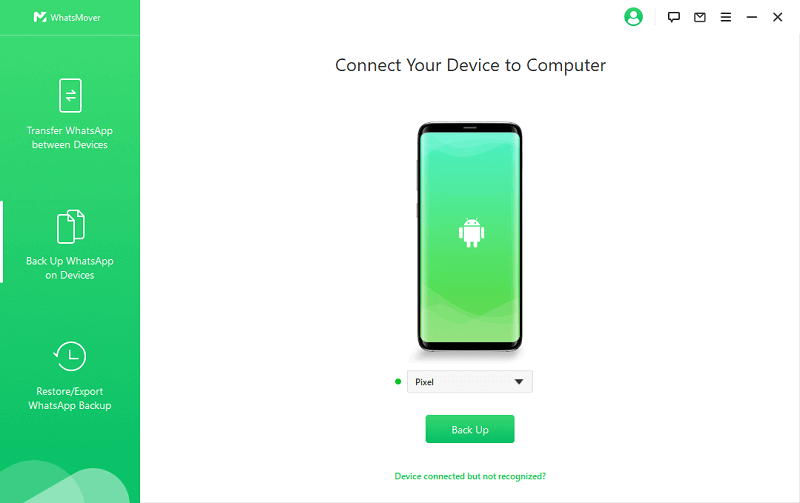 Step 2: Choose WhatsApp Type
After your phone has been detected, choose Back Up and select either WhatsApp or WhatsApp Business data to back up.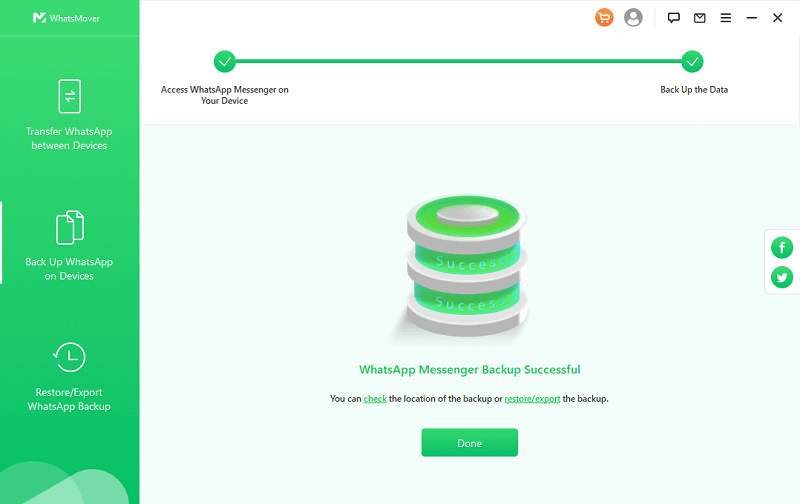 Step 3: Complete the Backup
The data backup won't take long, and you'll be notified once it's complete.
Part 3. FAQs About WhatsApp Backup on Samsung
Q1. Where Is WhatsApp Backup Stored on Samsung?
Usually, your WhatsApp backup is stored on the internal memory on Samsung devices. You can locate by going to local storage > WhatsApp > Databases. Google Drive can be also where WhatsApp's backup is kept if you have chosen it as the backup location. Whenever we update or reset our phone, WhatsApp automatically identifies and recovers our data after login into our Google account.
Q2. Does Samsung Smart Switch Back up WhatsApp?
No, that is not the case. Samsung has restricted Smart Switch from transferring any data or programs using end-to-end encryption. Therefore, Smart Switch cannot store WhatsApp backup because WhatsApp chats and data are end-to-end encrypted. If you have to transfer WhatsApp on your devices, you can use professional WhatsApp transfer tools to do that.
Conclusion
This is how you can backup WhatsApp Samsung on your phone. We've covered all 4 methods for backing up WhatsApp data on your Samsung phone. However, we recommend using WooTechy WhatsMover as it has made backing up WhatsApp on a Samsung phone more accessible and faster. It has no restrictions and other risks, unlike other choices. Try it right now and see for yourself.