The competence is smartphone industry is really hot! The release of the iPhone 13 late in 2021 might make anyone think we have seen it all in terms of creativity, style, and elegance. Fast-forward to early 2022, Samsung released an absolute beauty of a phone in Samsung Galaxy S22, which is increasingly gaining traction.
TThis has caused some users to jump ship from iPhone to enjoy the features of the latest release by Samsung. However, the ever-present worry of WhatsApp transfer from iPhone to Samsung is not solved yet.
If you want to make or already made the switch, you can go right ahead as this article contains four simple ways to transfer WhatsApp from iPhone to Samsung S22/S21/20 and other models. Have a fun read!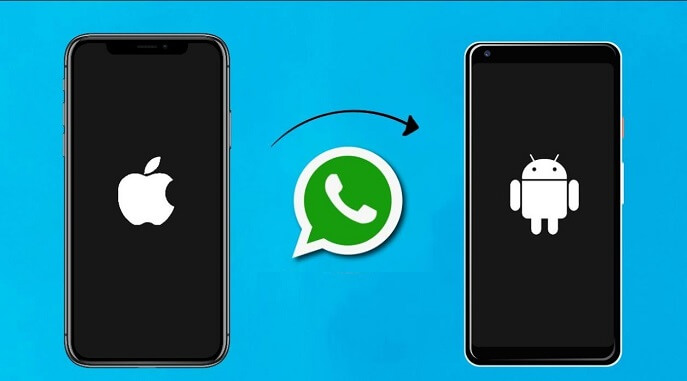 Transfer WhatsApp from iPhone to Samsung Using a Third-party Tool
The easiest way to transfer WhatsApp from iPhone to Android is using third-party software. These software are effective and get the job done without fuss. Below are two of the best software you can use to transfer WhatsApp from iPhone to Samsung effortlessly.
1

Using WooTechy WhatsMover Software

If you can have only one tool for cross-platform WhatsApp transfer, then WooTechy WhatsMover - WhatsApp Transfer is the best to get. It is adept at transferring WhatsApp from any iPhone to Samsung S22 or other Samsung models.
WhatsMover - Perfect WhatsApp Transfer Tool
100.000+
Downloads
You can transfer WhatsApp messages, contacts, photos, documents, etc. to new phones with WhatsMover.

Also, the data transfer occurs directly between the two devices and, as such, requires little to no effort from you. All you do is one or two clicks of the mouse, and WhatsMover gets the job done.

The WhatsMover software is not limited to WhatsApp transfer from iPhone to Samsung, it also supports other major Android phone brands like Huawei, Xiaomi, and LG.
With this software, you have the freedom to switch phones from time to time without having to worry about WhatsApp data transfer.
Transfer WhatsApp from iPhone to Samsung using WhatsMover
Below are the easy steps to follow to migrate your WhatsApp data from iPhone to Samsung after downloading and installing the WhatsMover software on your PC.
Step 1: Launch the WhatsMover program and connect the iPhone and Samsung to your computer via USB cables.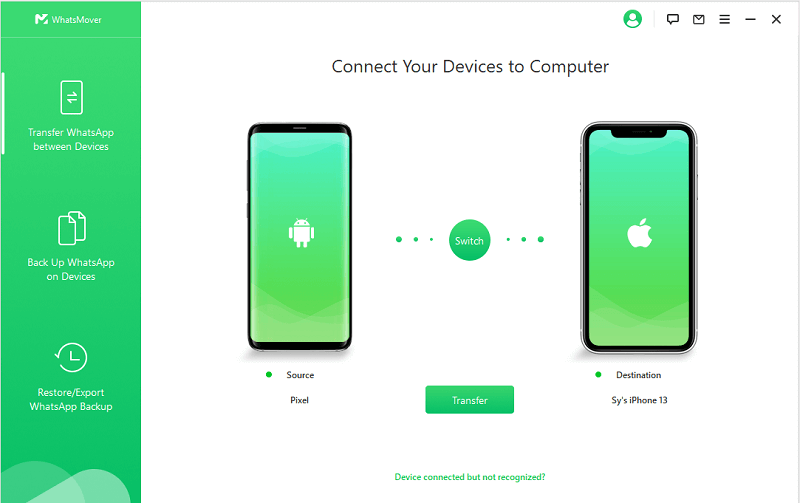 Step 2: Ensure that the iPhone is denoted as the Source and the Samsung as the Destination. If not, click the Switch button to correct it. Now, click the Transfer button to start.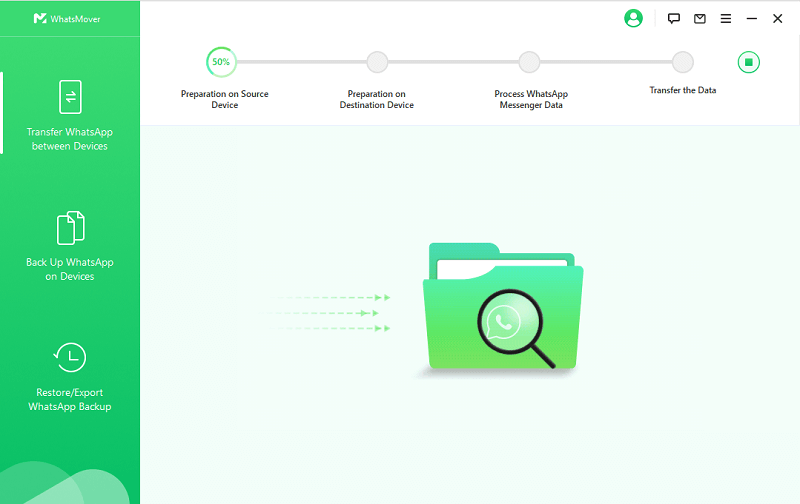 Step 3: Select your WhatsApp type when prompted and wait for the transfer to complete. Click the Done button to finish the process, and you have your WhatsApp data ready on your Samsung device!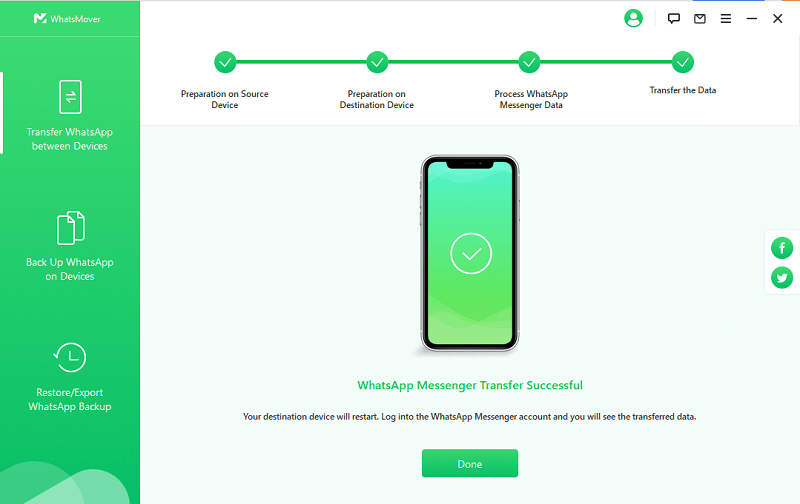 2

Using Backuptrans iPhone to Android Transfer

Backuptrans is another highly-rated third-party software that can transfer WhatsApp from iPhone to Samsung Galaxy. It can transfer your WhatsApp directly and the migrated chats are 100% the same as the proginal.

Although its UI design is not very friendly and sometimes it might have problems detecting your Android at times, Backuptrans is a secure tool that can be relied upon.

Note

Make sure you have installed iTunes 12.0 or above on your computer and turned off iCloud backup on iPhone, then follow the below steps to transfer WhatsApp data from iPhone to Samsung.

Download and install the Backuptrans software on your PC. Launch the tool and connect both the iPhone and Samsung devices to the PC.

A prompt will be shown on your Samsung. Click the Back up my data button to create a backup of the WhatsApp to phone storage. Now, go back to the Backuptrans app on your PC and click the OK button to continue.

The software will show the WhatsApp chats from your iPhone on its main interface. From here, select your iPhone under the Devices section on the left plane.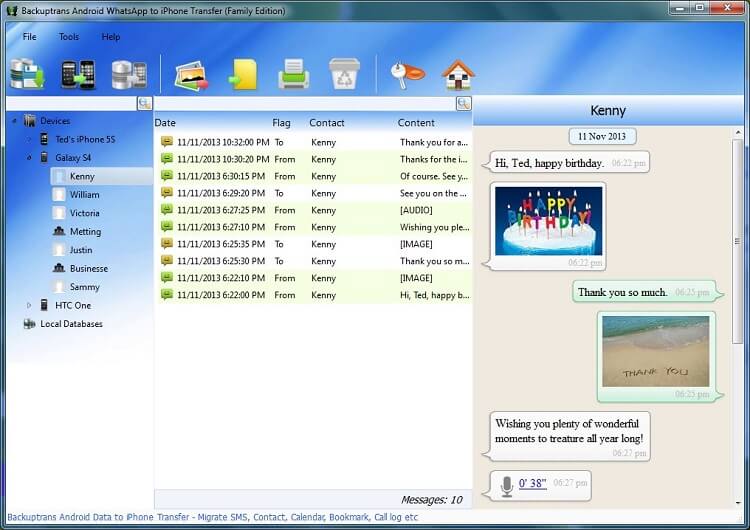 Select the phone-to-phone transfer icon from the toolbar at the top of the screen. Now, select the Transfer Messages from iPhone to Android option.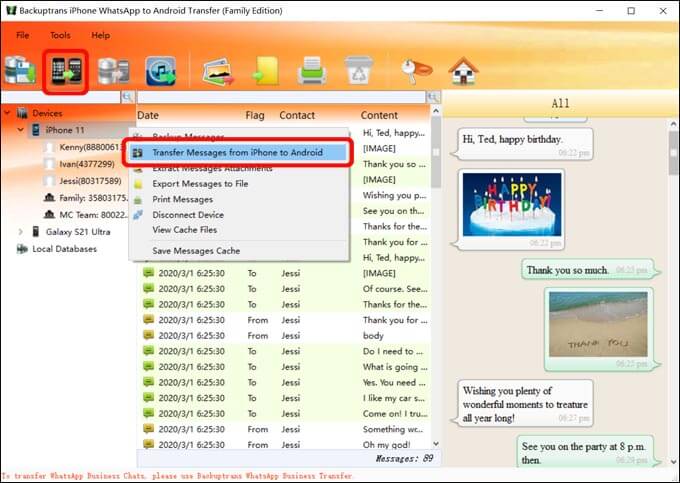 Finally, select your Samsung under the Devices section on the left plane and click the Confirm button to continue. Wait for the process to complete, and you have your data on your Samsung, ready for access.
Move WhatsApp from iPhone to Samsung via Smart Switch
The good news is that WhatsApp has offered an official way to transfer WhatsApp, though it's limited to iPhone-Samsung transfer. This is all thanks to the Samsung Smart Switch feature.
This feature allows you to quickly transfer WhatsApp from iPhone to Samsung Galaxy in just three steps. However, some requirements must be met.
You must have installed the SmartSwitch app (version 3.7.22.1 or greater) on Samsung Galaxy.

You should install WhatsApp version 2.21.160.17 or above on your iPhone and version 2.21.16.20 or above on your new Samsung phone.

Samsung Galaxy device must be running Android 10 or above.

Your Samsung device should be reset to factory settings if it's not brand new.

A USB-C lightning cable is required for the transfer.
If all the conditions above are met, you can now follow the steps below to transfer your WhatsApp data.
Step 1: Go to Galaxy Store or Google Play Store to download and install the latest version of Smart Switch on your Samsung Galaxy. Now, go to Settings > Accounts and backup > Bring data from old device.
Step 2: Select the Receive data option when asked "What should this phone do". Then, select iPhone/iPad as the source and connect the iPhone to your Samsung using a USB-C lightning cable.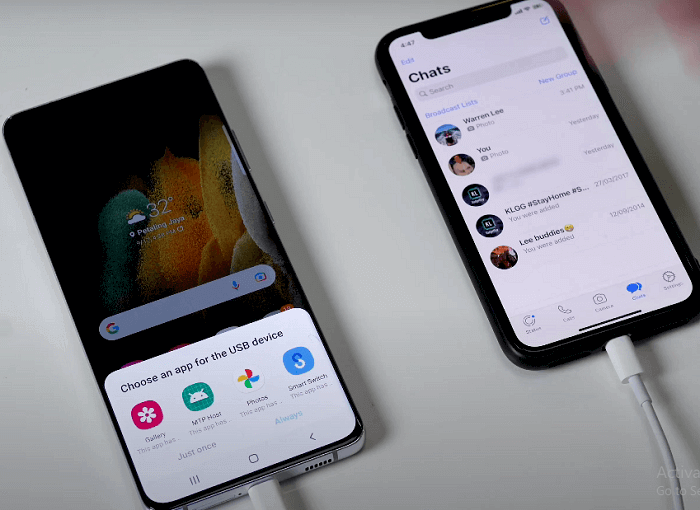 Step 3: Tap Trust when prompted on your iPhone followed by Next on your Samsung. Now, select the data you want to transfer on your Samsung and tap the Data from iPhone apps option.
Step 4: Tap Transfer ( you might be asked to install WhatsApp on your Samsung if it is not yet installed) and scan the QR Code on your Samsung Galaxy screen with your iPhone's camera.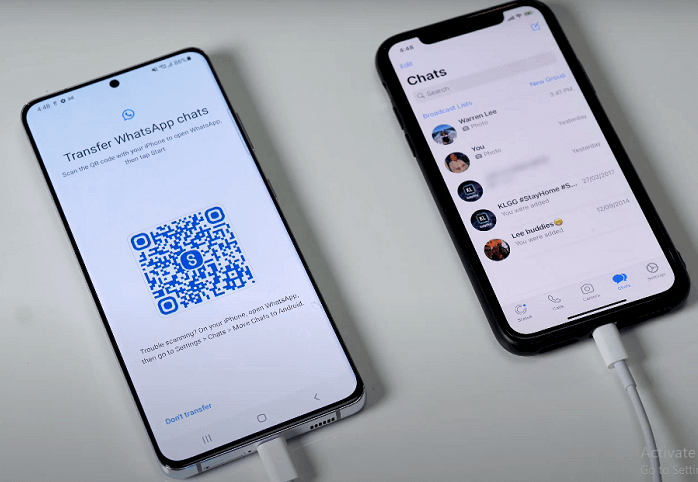 Step 5: On your iPhone, Tap Start and wait for the data transfer to complete. From here, continue the setup of your Samsung device.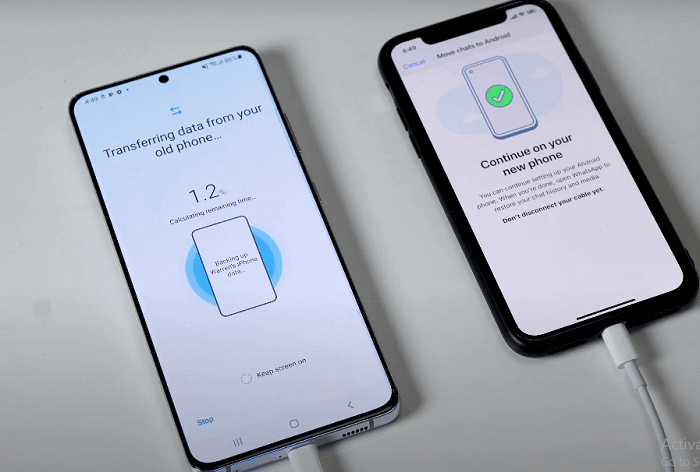 Step 6: Launch WhatsApp when you get to the home screen, and complete the set up with the same phone number you used for WhatsApp on your iPhone. Finally, tap the Start button when prompted to import your data. Wait for the process to complete and you will have your WhatsApp data transferred successfully.
Transfer WhatsApp from iPhone to Samsung by Email Exportation
Email exportation is the only official WhatsApp data transfer method from iPhone to Android compatible with all devices. It is fast and straightforward, albeit very limited.
A significant downside of email exportation is that your WhatsApp data cannot be restored on your Samsung for continuity. Instead, it will be exported from your iPhone as a .txt file and can only be read with a text or word editor on Samsung. However, the fact that it is free and without compatibility issues makes it a good option to have.
Follow the steps below to transfer WhatsApp from iPhone to Samsung via email exportation.
Launch WhatsApp on your iPhone and open the chat you want to transfer.
Tap the contact name and select the Export Chat option. Choose whether to attach media files or not when prompted and tap the email icon from the list of apps displayed.
Enter your email address as the recipient email and send the chats.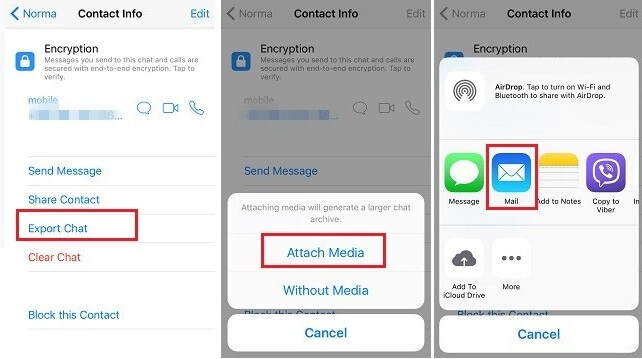 Log in to the email on your Samsung and locate the WhatsApp chats sent as a .txt file attachment to your inbox. Download the chats and open them with any text editor of your choice.
Note
You will have to repeat the steps above to transfer more than one chat.
Samsung S22 vs. iPhone 13, Which is the Better Buy?
For the sake of this comparison, we will pit the Samsung S22 against the iPhone 13 without considering other versions of the two phones. This comparison is based on five major features that determine the suitability of mobile phones for different purposes.
Size and Display
Samsung S22 and iPhone 13 are almost the same sizes with negligible differences. However, Samsung has a better display. Samsung 22 boasts a 6.1-inch Super AMOLED display with a 120Hz refresh rate, while iPhone 13 incorporates a 6.1-inch OLED display with a 60HZ refresh rate.
Processor, RAM, ROM
iPhones have always been known for better processor speed, and it stays the same for the newly released one. iPhone 13 has an A 15 Bionic processor, which is considered better in some notable aspects to Samsung S22's QualComm snapdragon 8 Gen 1 processor.
In terms of RAM, the 8GB RAM of the Samsung S22 is higher than iPhone's. Lastly, iPhone 13 offers as high as 512GB built-in storage compared to the maximum 256GB in Samsung S22.
Battery
Apple is known not to disclose its device's battery capacity over the years and the trend continues with the iPhone 13. However, they are known for their strong battery life. Samsung S22, on the other hand, boasts a 3700mAh battery capacity with strong battery life.
Lastly, both devices have wireless charging support.
Camera
The Samsung S22 boasts considerable high numbers, but as expected with iPhones, the 13 camera is one of the very best ever. However, Samsung S22 runs it very close.
Price
Samsung S22: $799 for 8GB RAM, 128GB storage/ $849 for 8GB RAM, 256GB storage.
iPhone 13: $799 for 128GB/ $899 for 256GB/ $1099 for 512GB.
The starting price of the two devices is the same, but iPhone 13 increases considerably with more storage space.
In all, the two phones are excellent options depending on what you want to use them for. Also, your choice will rely heavily on the ecosystem you are in, as it will take some getting used to when you change platforms. Overall, this argument tilts in favor of Samsung 22 if you are caught in two minds on the better buy.
Conclusion
As satisfying and thrilling as it is to switch from iPhone to the just-released Samsung S22, users often get worried about transferring the all-important WhatsApp data from iPhone to Samsung.
In this article, we have discussed three effective methods to get this done. All the methods on this list are effective and proven. However, we will recommend using the WooTechy WhatsMover software.
This software is not just effective but eliminates all forms of version limitations, excessive requirements, and speed concerns plaguing other methods. It is just the complete package that safely delivers irrespective of your iPhone and Android version.