If you own a Samsung device, you might find it challenging to find a secure way to fake your location. However, spoofing your location on a Samsung isn't much different from any other Android device. We'll teach you how to fake your GPS location on your Samsung device using a few different apps and decide which one is the best.
Part 1: Can I Fake GPS Location on The Latest Samsung Phone?
Yes, you can fake your GPS location on a Samsung S10, S22, or any other Android or iOS device. The process is the same if you choose an effective tool. Conveniently, some location-changing apps will allow you to fake your GPS location by simply connecting any of these devices to an app on your desktop.
Unfortunately, if you go to search for location faking apps on the Google Play Store, you might spend much time to find a reliable one. Sometimes these apps will work, but they leave much to be desired in terms of accuracy and security. Not to mention, they might lag and crash. However, we will walk you through the most popular methods to fake location on Samsung.
Part 2: How to Set a Fake GPS on Samsung
1. Android & iOS Location Changer- iMoveGo
To set a fake GPS on your Samsung device, your first choice is to use a desktop app like iMoveGo. We will also introduce you 2 popular apps from Google Play Store.
iMoveGo will provide you with fast, secure location spoofing and does so with minimal errors. Aside from teleporting your GPS to a fixed location, you can also navigate your phone through pre-loaded routes using two-spot and multi-spot mode. This is especially helpful for collecting the top Pokémon in Pokémon Go.
Key Features of iMoveGo
75.000.000+
Downloads
Teleport your GPS location to anywhere in the world.

Simulate GPS movement with customized speed.

Works well on all location-based apps, such as Snapchat live location.

Compatible with both iOS and Android devices. (Including iPod/iPad)

Free trial is available for every user.
Follow the steps below to learn how to fake locations on a Samsung without hassle.
Step1. Download and connect
Launch iMoveGo and connect your Samsung device to your computer.
Step 2: Adjust for Android Users
Since we're changing the location on a Samsung, you will need to enable Allow Mock Locations. To complete this process, follow the instructions on your screen. When your device is prepared, select Social or Gaming according to your needs. (Gaming Mode is designed for Pokemon GO)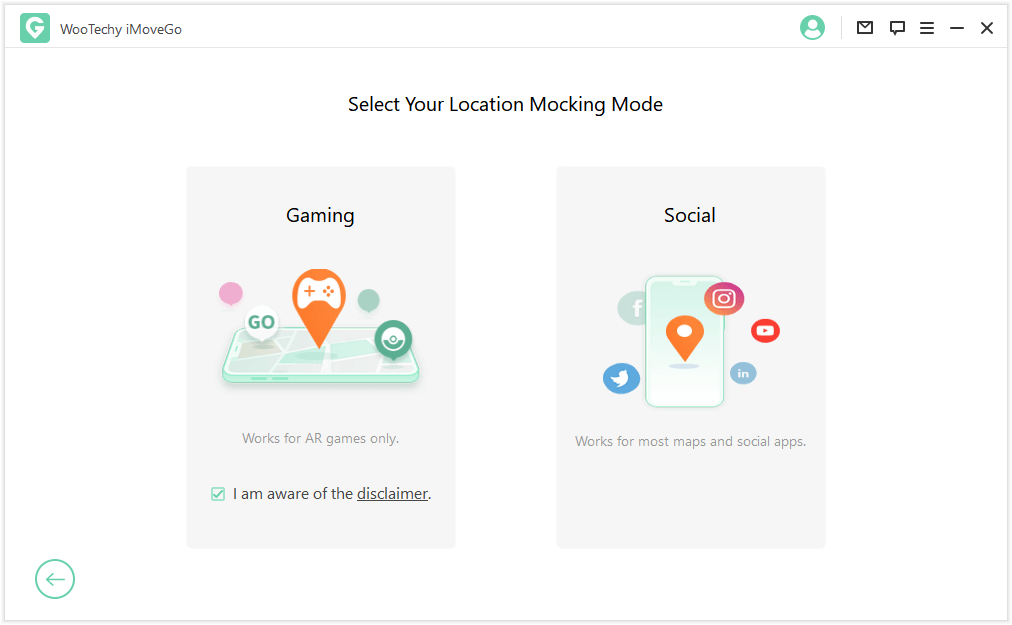 Step 3: Teleport
Now the map will load, and you can set a fake location. Select Teleport mode, the fourth icon on the upper-right of the map. Afterward, search for a destination using an address or GPS coordinates. Once you've settled, click Move.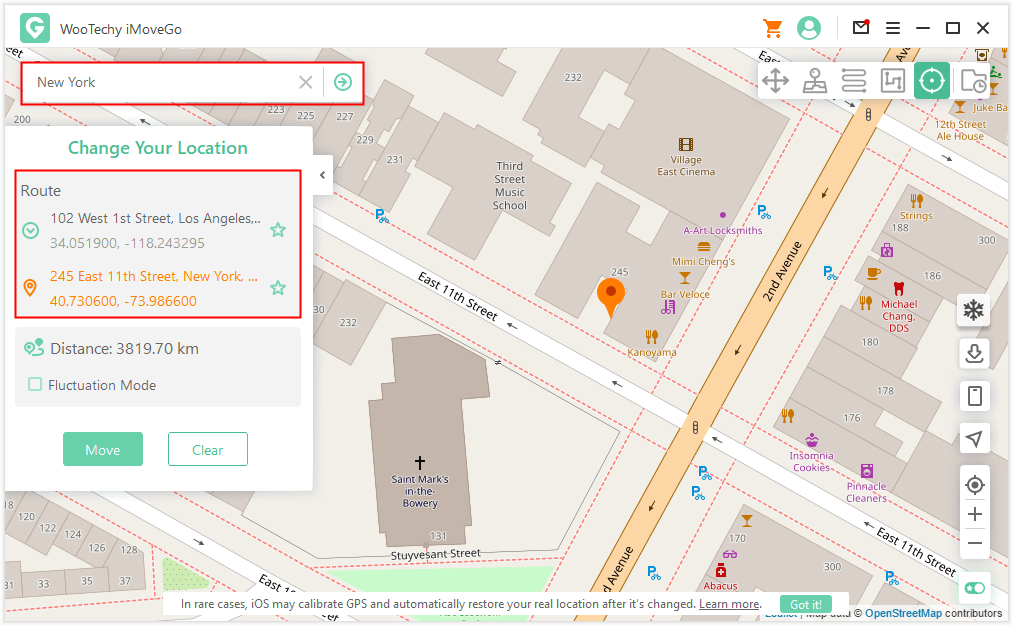 Switching your location on a Samsung device using iMoveGo is a breeze. Get started with iMoveGo right now, you'll have a location loaded on your Samsung in minutes.
Part 3: Other Options to Fake GPS on Samsung
As we mentioned earlier, there are several options for Samsung owners who want to fake their GPS location. Some apps are available on the Google Play Store, others, like iMoveGo, can be downloaded from a website. Let's discuss a couple of apps options you can use as alternatives.
1. Fake GPS by Lexa
Fake GPS is one of the typical location faking apps that you can find on the Google Play Store. The app will take a few moments to download on your Samsung device. To set a fake GPS on Samsung using Fake GPS by Lexa, follow the steps below:
First, you have to enable the developer options on your device. Go to your Samsung's Developer settings and Allow mock locations.
If you don't have this option, follow these steps: by opening Settings and scrolling down to About phone. Next, click on Software information and rapidly tap on the Build number until it unlocks the developer options. Click back and click on the Develop options item.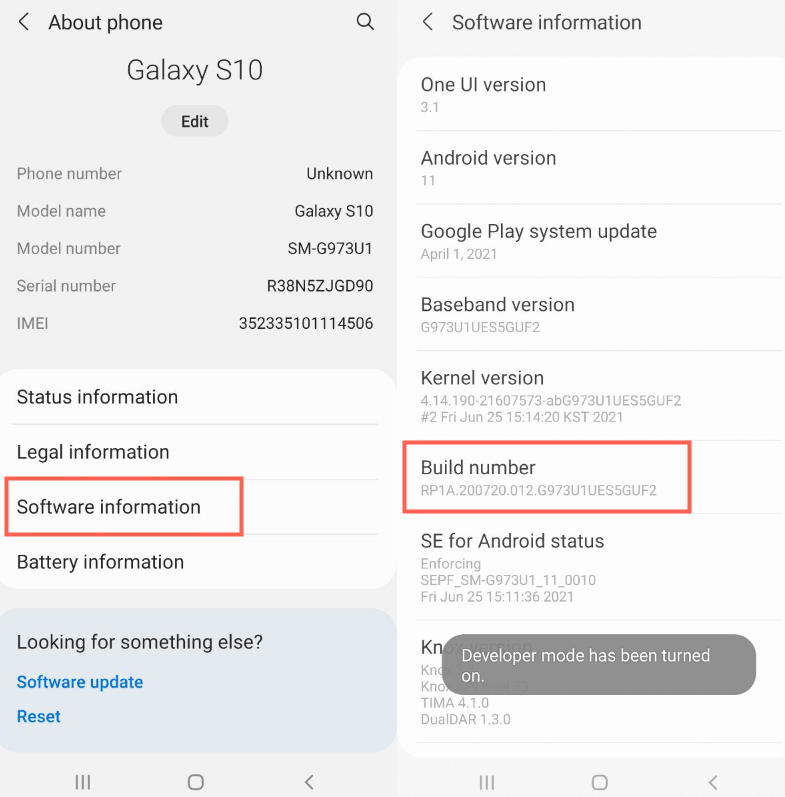 When you are inside the Developer options menu, toggle the button on top to make sure it is on. Then, select the location spoofing app that you have downloaded.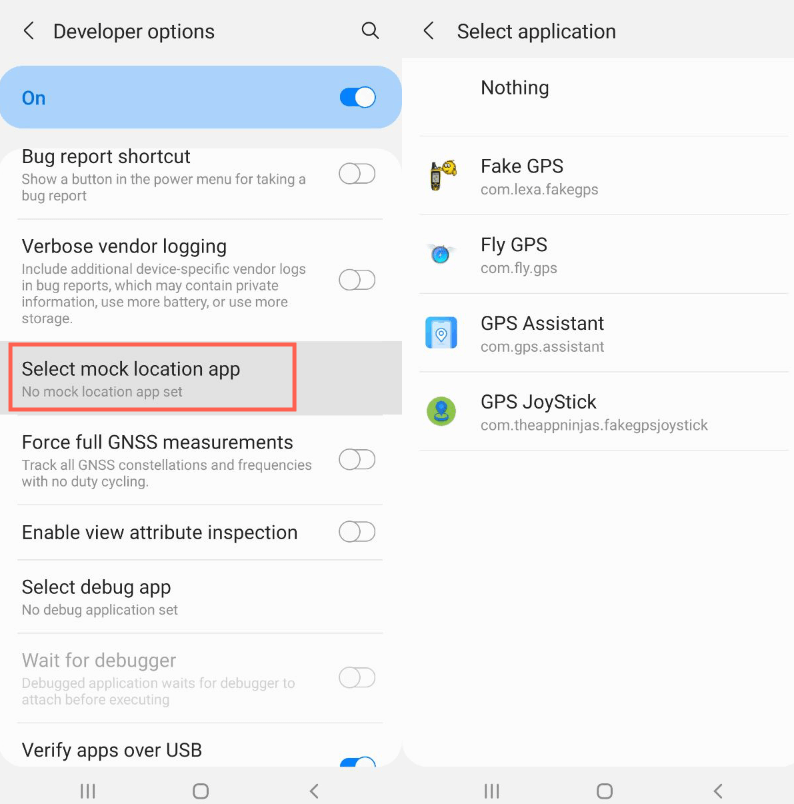 Open the app and click the search bar on top. Enter the location you wish to move to, and it will show up on the map. To make sure the location change works, open the app's settings to select "Spoof Wi-Fi Provider". Click the green button on the right-hand corner to confirm your choice.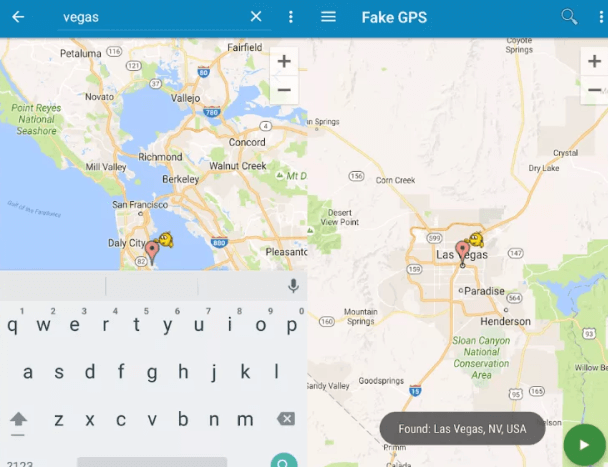 If this process worked, you should be able to see your new location on any location-based app. However, the app may fail to maintain the fake location and switch back to your real one after a few minutes. Of course, this is a common risk with these Play Store apps.
2. Fake GPS by ByteRev
Let's test a different Fake GPS app, this time made by ByteRev. You can download the app from the Google Play Store. Follow the steps below to set a fake GPS on Samsung.
Set up Allow mock locations as mentioned before. Then, disable location services and switch the device location to GPS only.
Now, you're ready to open Fake GPS. Once the map loads, you must select your location using coordinates. This is rather inconvenient, but you can search for the coordinates of the location you need using Google Maps. Once you've chosen a new location, click "START" in the upper-right corner to move to the new location.
When you're finished with the fake location, you can click "STOP" at any time.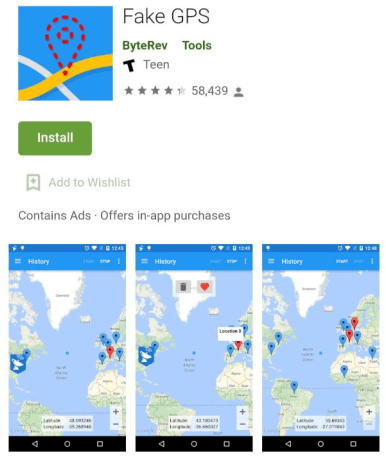 Unfortunately, the app, like many of its peers, will often take you back to your real location before you've finished with the fake one. This usually occurs after you put your phone down. Additionally, many users complain that the app is no longer compatible with certain Android updates or certain versions of Pokémon Go.
4 Common Issues with Fake GPS Apps from Google Play Store
1. Compatibility
Unfortunately, not all location-changer apps sync automatically with the latest updates. Sometimes, app users must wait for the developers to make the app compatible with Android updates.
2. Sticky locations
Occasionally, location apps will fail to switch your location back to the real one when you want to. Other times, the GPS location will switch back to your real one before you want it to happen.
3. Detection
Many location-based apps such as Pokémon Go have attempted to crack down on players who use location-faking apps. Therefore, Pokémon Go looks for the signals of location spoofing and could potentially ban you for your actions – making you lose all your progress in the process.
4. Stops working
Worst of all, sometimes these apps simply stop working altogether. Perhaps the developers become too lazy to update the app consistently, other times it's a temporary issue unique to your device. Either way, it's extremely inconvenient.
Conclusion
When you consider the 3 fake GPS apps on Samsung that we tested, iMoveGo is clearly the most reliable choice. The problem with many Fake GPS apps on the Google Play Store is that they change the fake location back to the real one far too quickly. Your location spoofing won't be effective if you can't stay in the same fake location for an extended period.
That's why using a desktop app like Location Spoofer iMoveGo poses a clear advantage when faking your GPS on a Samsung or any mobile device. You won't need to worry about finding another mock location app since iMoveGo is well-maintained. Moreover, as a desktop app, it is compatible with all updates, both for Android and iOS.