When we go through the process of switching our phones, the first thing we do is transfer all of the previous data to the new phone. Apple developed an application for the Android platform a few years ago that can help all users transition from Android to Apple quickly.
Users who go from iOS to Android often question if Move to iOS transfers all the WhatsApp messages from the old device to the new one. If you are someone looking for the answers to this question, make sure to stick around till the end.
Part 1. What Is Move to iOS?
Move to iOS is an application developed by Apple Inc. for android devices that lets users transfer their existing data and content from their old Android phone to an iPhone. It is a user-friendly app that anyone can use following the instruction manuals prompted on-screen within the app.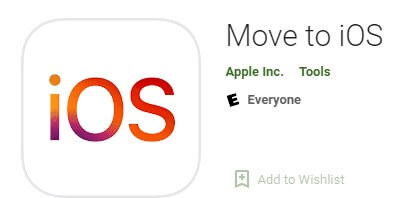 Using the Move to iOS App is a fairly straightforward process. By using Move to iOS, you can transfer all your existing phone contacts, email accounts, SMS texts, calendars, bookmarks, and all photos and videos from the gallery of your old phone.
For most smartphones, the contents mentioned earlier tend to make up most of their existing data and content, which are pretty convenient to transfer using the Move to iOS app. The process is very convenient and can be completed in almost no time.
Part 2. How to Use Move to iOS to Transfer Data
If you have an iPhone where you wish to transfer all your existing data except for WhatsApp from Android to iPhone, the steps are pretty straightforward and convenient. Here are the steps you need to follow to transfer your data using the Move to iOS app.
Firstly, you need to download the Move to iOS application on your Android phone. Once you have connected both your devices to power and the same network, turn your iPhone on to start the setup wizard.
Secondly, you have to follow all the instruction prompts as they come until you reach Apps & Data. Afterward, tap the Move Data from Android option to initiate the transferring process.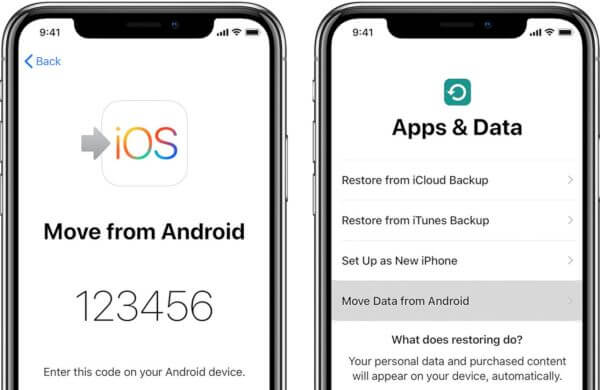 Thirdly, it is time for you to launch the Move to iOS app on your Android device and tap Continue. Proceed to the Move from Android screen and wait for a while to get the code.
Lastly, insert the code on your Android phone to establish a connection between your old Android phone and your new iPhone. Furthermore, on your Android device, choose all the data you wish to transfer to the iPhone and keep tapping on the next. The app will notify you once the transfer is complete, and you can move to set up your new iPhone.
Part 3. Does Move to iOS Transfer WhatsApp Messages?
The Move to iOS application does not allow you to transfer your existing Whatsapp content from your old device to your new iPhone. Therefore, it is an inconvenience for users who are already too reliant on using Whatsapp as their daily communication platform.
Since Whatsapp messages are encrypted from both the sender and the receiver's end, it is not possible for the Move to iOS app to access the contents of the Whatsapp messages. The only way anyone can transfer the contents of their Whatsapp messages from their old Android phone to a new iPhone is to obtain the services of a third-party app.
Part 4. The Best Alternative to Move to iOS for WhatsApp Transfer
If you are someone who is seeking a solution to transferring your WhatsApp content from an Android phone to an iPhone, WooTechy WhatsMover can provide you with the answer you are looking for. It allows you to transfer WhatsApp on your device without any limitation.
WhatsMover – The Best WhatsApp Transfer Software
100.000+
Downloads
Transfer WhatsApp between iPhone and Android without OS restrictions, such as from Android to iPhone, iPhone to Android, etc.

Transfer all types of WhatsApp data including contacts, messages, stickers and photos with several clicks.

Be compatible with all iPhone models and Android phones like Samsung, Huawei, Motorola and more.

With a 100% success rate, it also ensures your data privacy during the whole transfer process.
The steps to use WooTechy WhatsMover are pretty simple and easy to understand. Here is the list of things you need to do to transfer your WhatsApp content from an Android to an iPhone quickly and efficiently.
Step 1: Connect Your Devices to Computer
After launching the WhatsMover application, choose Transfer WhatsApp between Devices from the left panel. Ensure that your source and destination devices are correctly connected through the computer.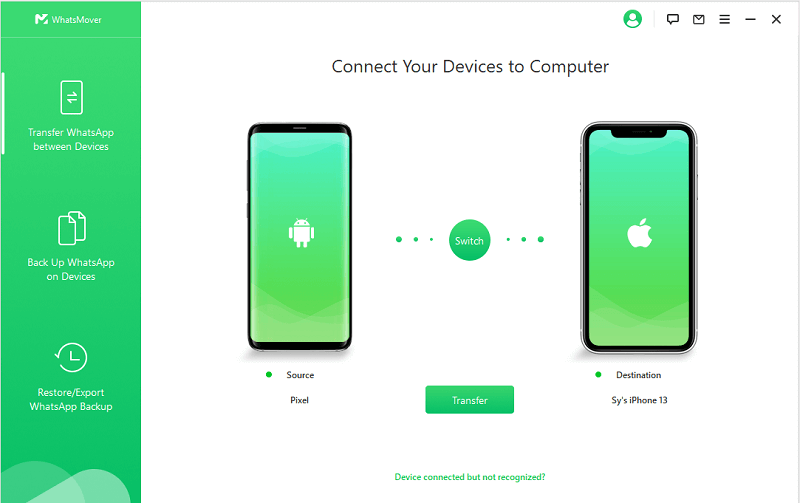 Step 2: Choose a WhatsApp Type and Initiate Transfer
Once both of your devices are recognized, you have to click Transfer. A prompt will come, asking you to confirm the type of your WhatsApp; either WhatsApp Messenger or WhatsApp Business. After selecting the type of your WhatsApp, your transfer process will be initiated.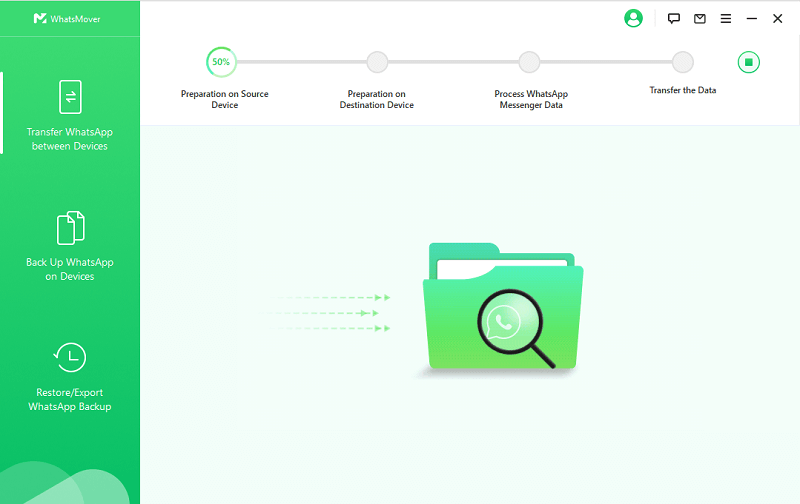 Step 3: Completion of Transfer
The transferring process should not take too long, but the time can vary depending on how many files you are looking to move. Once the process has finished, the selected data comprising messages, photos, and videos will all show on the destination phone.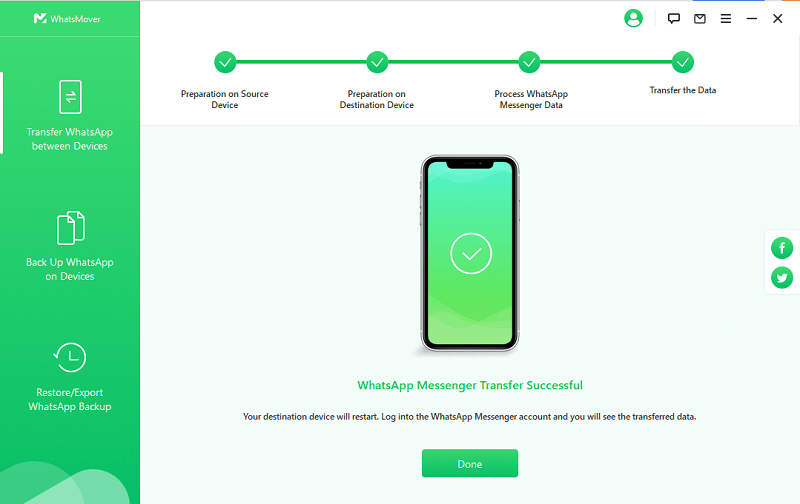 Conclusion
Move to iOS is an efficient application that enables users to transfer content from Android devices to a new iPhone. However, because WhatsApp supports encryption as a platform, the app cannot move the contents of WhatsApp messages from one smartphone to another.
WooTechy WhatsMover is a third-party tool that can provide you with an efficient solution that can help you move the contents of your WhatsApp from your Android to your iPhone in a hassle-free way. It is currently one of the best tools available to find you an efficient solution to your transferring WhatsApp data problem from an Android to an iPhone.