WhatsApp chats are very important. They contain vital information that can be essential in a court argument, used in a business meeting, or in preparing for an exam. These crucial pieces of data need to be protected.
One of the methods for protecting WhatsApp chats is to export them and store them in your email. From your mail, you can have it transferred to external storage or your cloud storage.
Also, you can protect your WhatsApp chats by exporting them to your computer or another phone. In this article, I will show you how to export all WhatsApp chats at once.
Part 1. Can You Export All WhatsApp Chats at Once with Email?
No, you cannot export all WhatsApp chats at once with email. With this method, chats are exported manually, one after the other. In addition, it is cumbersome exporting WhatsApp chats with email because messages and media files are exported separately. Another downside to using email is that it does not allow you to preview WhatsApp chats before exporting them.
Not minding these shortcomings, many users still prefer this generic method to export their WhatsApp chats one by one. The steps they follow are shown below if you are also interested.
Open your WhatsApp account. Navigate to the conversation you want to export and select it.
In the chat, click on the Hamburger (or three vertical dots) icon at the top right corner of your screen.
At the bottom of the menu list, select the More option. On the list, select Export chat.

You will get a dialogue box requesting you to INCLUDE MEDIA or exclude (WITHOUT MEDIA) in the conversation you want to export. Once you pick an option, a .txt file will be generated that you can share and save.
Complete the process by sharing it by email.
There is another major limitation to using email to export your WhatsApp chats. You can only send up to 40,000 messages. These 40,000 messages cannot contain your attachments and other crucial personal/business files.
However, you can include attachments like personal and business files when exporting your WhatsApp chats. In this case, you will be limited to only 10,000 WhatsApp messages. WhatsApp sets the restriction, but it corresponds to the limits email service providers have given. In the sections below, you will find solutions to this restriction.
Part 2. How Do You Export All Your WhatsApp Conversations?
You can bypass all the restrictions of exporting all WhatsApp chats with email by using WooTechy WhatsMover. The software allows you to export all WhatsApp chats at once on all iOS and Android devices.
Not only can you export all your WhatsApp chats at once, but you can also export your chat and media files together. Furthermore, there is no size restriction when you use WhatsMover.
WhatsMover – The Best WhatsApp Data Exporter
100.000+
Downloads
Export All WhatsApp chats at once to different formats such as HTML, PDF, Excel, CVS, etc.

You can preview your WhatsApp chats before exporting them, and selectively export all chats or a chat as you like.

Able to export other WhatsApp data such as contacts, stickers and export more than 40000 WhatsApp messages.

With the 100% success rate, it just need several clicks and it ensures your data privacy with its privacy policy.
To use WhatsMover to export all WhatsApp chats at once, follow the steps below:
Step 1 Open our app on your PC and select Back Up WhatsApp on Devices from the left side of the screen. Connect your mobile device to the computer. Click Back Up and wait until the process is complete.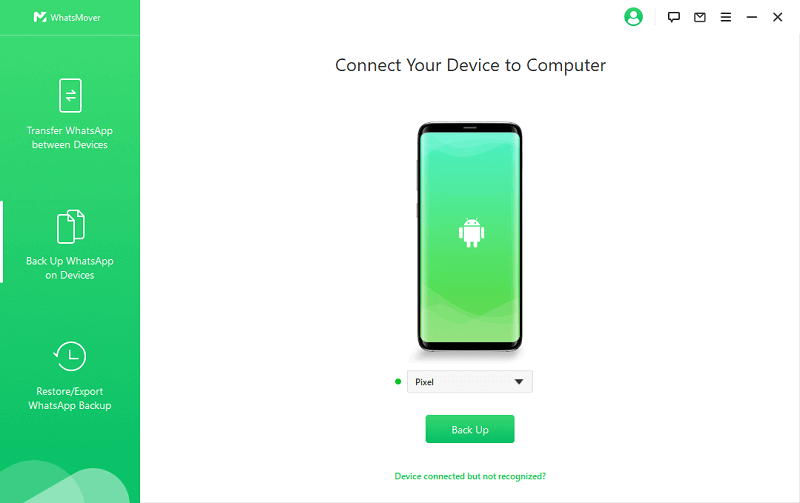 Step 2 Go to the Restore/Export WhatsApp Backup mode on WhatsMover's screen. At this time, all of your WhatsApp data including chats are shown on the screen, click Export to Computer.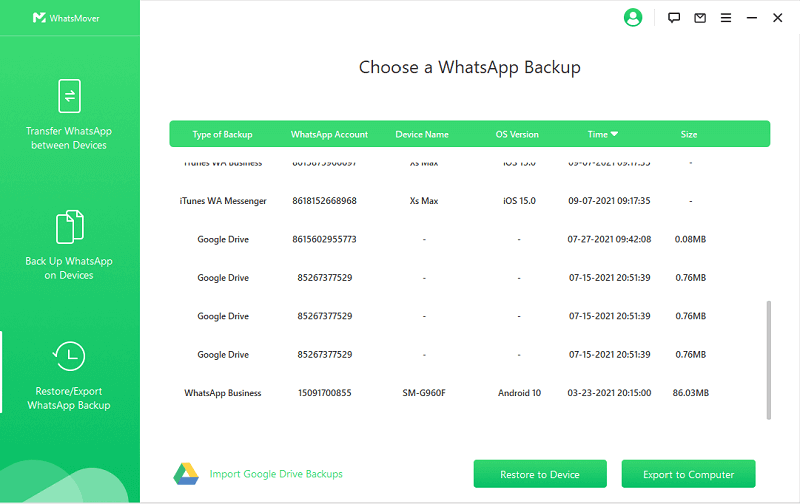 Step 3 Tick the WhatsApp Chats option and choose the export location and format. Finally click the Export button and all WhatsApp chats are exported in the blink of eye.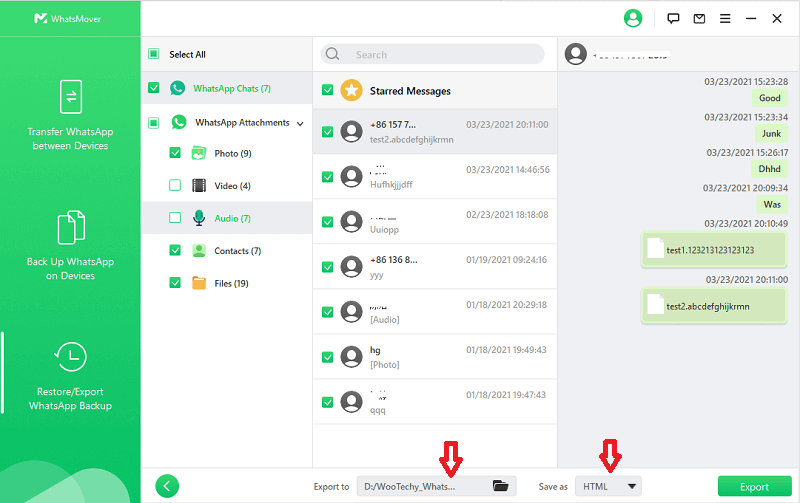 Part 3. Export All WhatsApp Chats at Once on Android for Free
The last solution in this article for exporting all WhatsApp chats at once includes using another third-party app. The processes involved in this method are backing up, decrypting, and exporting your WhatsApp chats.
WhatsApp allows users to back up their chats. However, the backup files require a third-party software tool to be decrypted. Hence, we will use WhatsApp Viewer to decrypt the backed-up file.
With this tool, you can search messages and scroll through older messages conveniently. Finally, it supports exporting WhatsApp chats at once in .txt, .html, and .json formats. Follow through to see how each step is carried out.
Step 1 Back Up WhatsApp Chats Locally
The first stage is to make a local backup of WhatsApp on your Android device. Follow the steps below to create a backup of your WhatsApp chats.
Launch WhatsApp on your mobile device. Open the app menu by clicking the hamburger icon at the top of the screen.
Click on Settings from the WhatsApp menu list. In your settings, click on Chats.
Select the Chat backup button. Under the Back up to Google Drive option, click on Never.
Go ahead to click the BACK UP button, and the local backup will begin.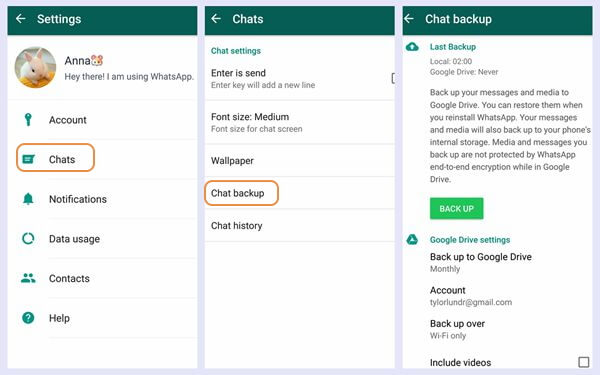 Without this process, your WhatsApp automatically backups your account on your phone by 2 am daily.
Step 2 Decrypt WhatsApp Backup with WhatsApp Viewer
The second stage of this method is decrypting the backup saved on your mobile device. Follow this step to decrypt your WhatsApp chat backup.
Open the file manager or explorer app on your device. Find the backup file on your Android device with the paths below.
For internal storage: Device Storage > WhatsApp > Databases

For SD Card: SD Card > WhatsApp > Databases
Look for the file titled msgstore.db.crypt12 and copy it to your computer.
Get the key file from your phone. You can find the key file at root > Android > data > com.WhatsApp > files > key.
Download WhatsApp Viewer and install it. Open the app and go to the menu bar to select File.
Inside the file, click on Open, then navigate to where the msgstore.db.crypt12 file is copied on your computer.
Click on Continue and leave the account name section empty.
Step 3 Export WhatsApp Chats at Once
You will find all your conversations. You can complete this method by selecting the chat you want to export, then click on the Export... button at the bottom of the screen.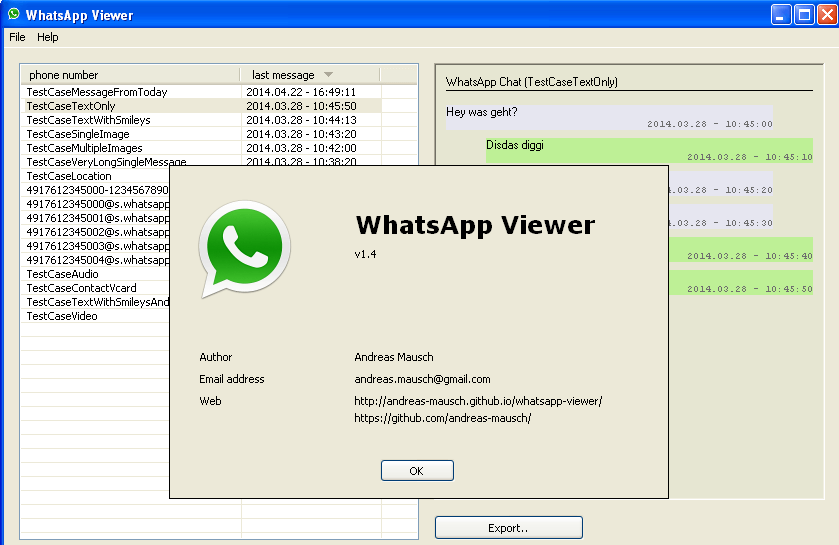 Conclusion
WhatsApp chats are critical because of their numerous uses. Hence, it is best to protect these pieces of information by exporting all WhatsApp chats at once on Android and iPhone. Email is a popular method, but it is flawed in many ways. Alternatively, you can use WooTechy WhatsMover to export all WhatsApp chats in several clicks. It has been proven to be safe and reliable over the years for users.