We all know about the underdog app, GBWhatsApp lurking in the shadows. It hosts numerous additional features that are not seen in the usual Whatsapp application. However, a lot of its users face issues regarding backing media files up on GBwhatsapp. Thus, we are here to break the ice to let you know of much-needed information regarding GBWhatsApp backup Google drive.
Providing GBWhatsApp backup to Google drive is not a simple one-way process. It requires a lot of preliminary knowledge if you want this feature to function properly. Hence, please keep reading to get a crystal clear idea on how to backup GBwhatsapp to Google drive.
Part 1. Does GB WhatsApp Have Google Drive Backup?
The first step to a problem is to first know crystal clear about its solutions. How can we even ever expect to enable GBwhatsapp Google drive backup if we never know if there's access to it in the first place?
In official terms, no, GBWhatsapp does not support Google drive backup as there is no official affiliation. This is partly due to the reason that GBwhatstapp is an unofficial reverse engineered variant of Whatsapp. It does not have the official support you might expect from the usual Whatsapp application.
However, this does not mean that GBwhatsapp Google drive backup is a total lost cause. It is still very much possible to back your GBwhatsapp chats and media through Google drive, but it's not exactly a piece of cake as it is for the regular app. Hence, I would like you to pay very close attention to the next section of this article.
We will be breaking down in detail the whole process of how you can easily backup GBwhatsapp to Google drive by following the clear-cut guides provided below!
Part 2. How Do You Enable Google Drive Backup in GBWhatsApp?
We have a total of 3 solutions served on the menu for you to get rid of this backup related issue on GBWhatsapp. Nevertheless, our procedures of backing data up manually, Whatsapp, and 3 simple clicks of an amazing application will surely solve your problem for the better!
Method 1: Back up GBWhatsApp to Google Drive Manually
Doing things the old-fashioned way, as in manually, is always not the most convenient way but is the one that can be trusted. This method is also quite crucial for the second method to work. Thus, my advice would be to pay close attention to the steps below.
To backup GBWhatsApp manually, consider the following steps.
Step 1 Navigate to the Settings menu on your GBWhatsApp, then proceed to create a backup of the conversation.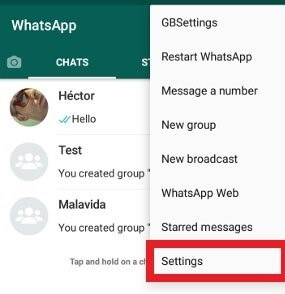 Step 2 Download and install the original WhatsApp, however, do not open the application until further instructed.
Step 3 Open the File Manager and navigate to the GBWhatsApp directory. Your default backup will be saved there as MSGSTORE.DB.CRYPT12.
Step 4 Carefully copy this file and place it into your Whatsapp directory. Next time you open your Whatsapp, all of your data from the GBwhatsapp will be transferred to your original WhatsApp account. Be sure to import the backup data into your new account.
By now your backup data is secured in your original Whatsapp application. For the next method to work, you must first do this method. Only then can you successfully backup your data with no issues.
Method 2: Backup GBWhatsApp to Google Drive via WhatsApp
Assuming you have resorted to the manual, all you need to make sure to execute a smooth backup process in this method is to have the following prerequisite met.
To successfully back up your GBWhatsapp data to your Google Drive with the help of WhatsApp, make sure you have a Google account and the latest Google Play store services up and running. Sufficient free space and a steady network are also crucial.
Step 1 Simply Launch WhatsApp.
Step 2 Tap the three-dot icon to access the more options tab.
Step 3 Navigate in this order: Settings, then go to Chats, proceed to Chat backup and finally choose the Backup Google Drive option.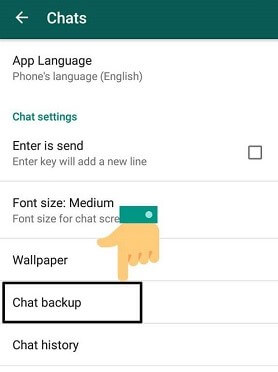 Step 4 Select a backup frequency. Do not choose Never, and then choose your desired Google account to which you'd like to save your conversation history.
Step 5 Choose the Back up over option to assign your desired network for future backups.
Method 3: Backup GBWhatsApp to PC in 3 Clicks
We saved the best method for the last. We know how all our audience always loves to prefer the easiest option out there. And, just for the sake of your convenience, we went out of our way to find this amazing software called, WooTechy WhatsMover that will solve your problem in just 3 clicks!
To indulge in this convenient method, simply do the following steps carefully:
Step 1 Download and Install the WhatsMover App. Open the program and then choose the tab labeled Back up Whatsapp on Devices.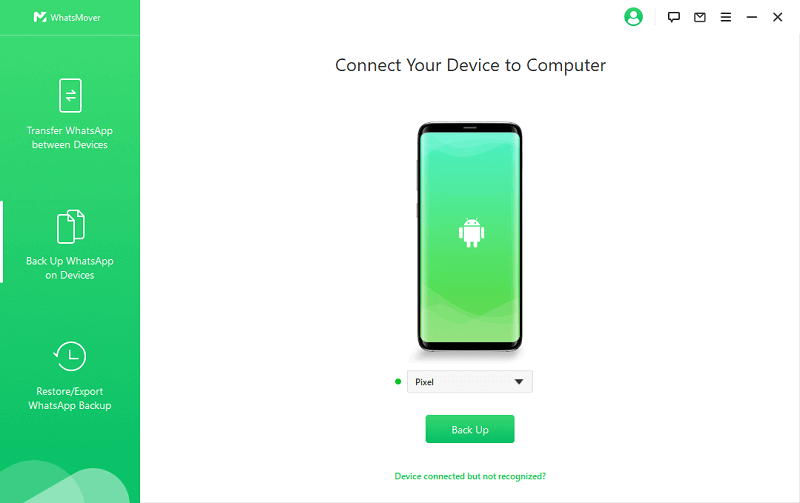 Step 2 Connect your device to your computer. Your device will be automatically recognized. Click Back up and choose GBWhatsApp.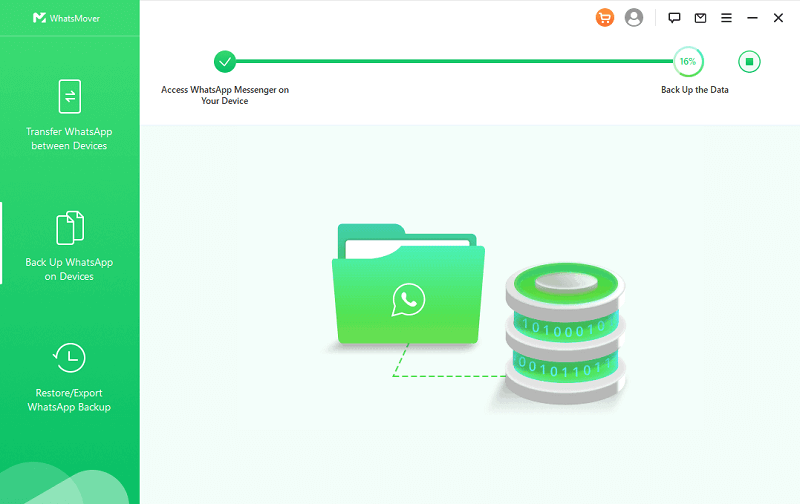 Step 3 Very soon your backup will be completed and you will get a notification.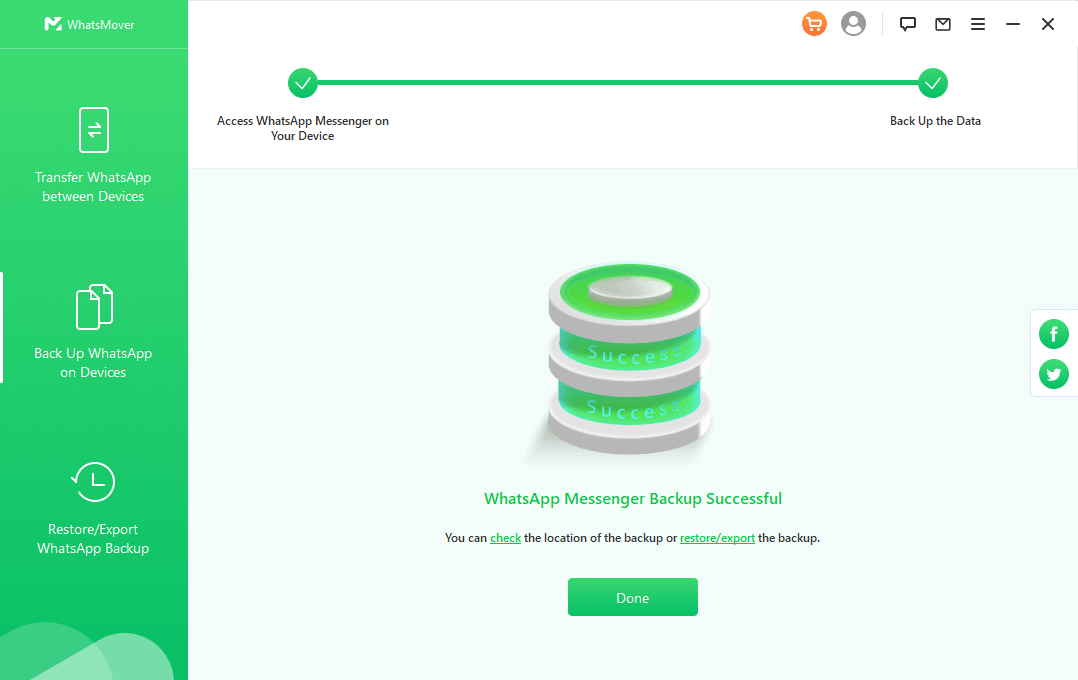 What Else You Can Do with WhatsMover:
100.000+
Downloads
Backup GBWhatsApp in every type of file within several clicks.

Import GBWhatsApp Google Drive backups easily.

Export GBWhatsApp backup on iPhone/Android to HTML, PDF, CSV/Xls, etc.

Transfer GBWhatsApp on iPhone and Android without OS restrictions.
Bonus. Difference Between GBWhatsApp and WhatsApp
Before we hop into discussing the differences between these two identical applications, let's talk about what both of them respectively are. A lot of people can have misconceptions about mixing them up, however, they are different in their own respect. Hence, to emphasize the differences these applications have, we have curated this useful table for you.
In the following table are all the major differences that set Gbwhatsapp and Whatsapp apart from each other.
| Differences | Whatsapp | GbWhatsapp |
| --- | --- | --- |
| App Status | WhatsApp is an official worldwide program owned by Meta that includes services such as instant messaging | GbWhatsapp is an unofficial mod for Whatsapp that has been reverse engineered to include more features |
| Where to Download | Whatsapp can be downloaded from just about anywhere starting from Google playstore, Apple store, web and other official platforms | GbWhatsapp is a mod apk file that can only be accessed from the official website |
| Media Sharing Size limit | 25 MB | 50 MB |
| Theme Change | No | Yes |
| Online Status | Cannot be hidden from contacts | Option available to allow user to hide online status |
| Launching Date | 2009, January by Jan Koum and Brian Acton | 2014 by an Unknown Developer |
Conclusion
That pretty much covers all that we had to say about GBWhatsapp backup Google drive. We hope no longer will any of our humble readers have any problem with this issue ever again. All the three precise methods we listed are going to get the work done conveniently if followed thoroughly and consecutively.