I have started a small business of baked goods and I want to reach out to more clients on WhatsApp. I already have a WhatsApp account can I convert my WhatsApp to Business account? Please suggest me a quick method on how to convert WhatsApp to business account.
WhatsApp Business was explicitly created for enterprises to use as a customer care channel to improve business-customer connection and communication. For many years people used to utilize Emails, social media, and other traditional platforms to market their products and reach out to clients, but after the launch of WhatsApp Business, the whole dynamics of selling and marketing products changed.
Now more than five billion businesses use the WhatsApp Business to offer their services to their clients. If you are running a business and still confused about how to convert WhatsApp to Business account, then keep reading this article because we have mentioned the best methods to convert WhatsApp to a business account quickly and efficiently.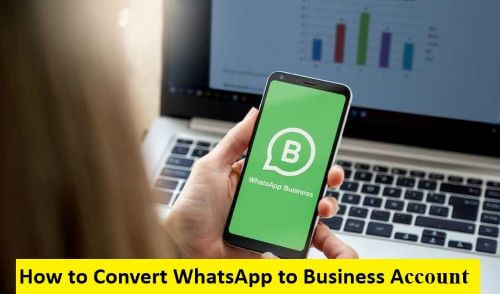 What's the Difference Between WhatsApp and WhatsApp Business Account?
WhatsApp Messenger is a free personal messaging program used by two billion people worldwide. In contrast, Whatsapp Business was created to allow small and micro enterprises to engage with their consumers using their preferred messaging app.
It's a more advanced version of the standard WhatsApp app with business-oriented features. Informing clients about new promotions and items, offering them a behind-the-scenes peek through WhatsApp stories, and providing quick customer service are the three most popular ways to utilize WhatsApp Business.
Here is how WhatsApp Business differs from a regular WhatsApp:
The letter B is printed in the middle of the WhatsApp logo on the WhatsApp Business App, which distinguishes it from the standard WhatsApp logo.

You can build a Business profile with a WhatsApp Business account with information such as your company's name, phone number, address, description, and hours of operation.

When a customer opens a chat with you, they will see a message stating, 'This chat is with a business account.

Once WhatsApp has verified your business, you will receive a verified badge for your profile. This increases your clients' faith in you.

You can establish chat labels for each client on a WhatsApp Business account, such as New orders, New customers, Payment processing, etc.

WhatsApp Business also gives information about your communications, such as the number of messages received, read, sent, and delivered.
Can You Convert Your WhatsApp to Business Account?
Yes, you can convert your existing WhatsApp Messenger account, including media and conversation history, to a new WhatsApp Business account. However, if you quit using the WhatsApp Business app, you won't be able to shift your chat history back to WhatsApp Messenger.
How Can You Change Your WhatsApp from WhatsApp to Business?
You'll need a WhatsApp Business account to reach out to more clients. You can either download it separately or convert your existing WhatsApp account to a WhatsApp Business account. Follow these steps if you want to know how to convert WhatsApp to business account:
Step 1: Backup WhatsApp Data
Click on the app's Settings and choose Chats > Chat Backup > Back Up to save your conversations to the cloud.
Step 2: Download WhatsApp Business
On iOS devices, go to the App Store and on Android phones, go to the Google Play Store.

Step 3: Enter Company's Registration Number
Open the WhatsApp Business application. WhatsApp will immediately detect the personal number that you use on the Messenger App. Enter your company's registration number to proceed. To continue, please read and accept the Terms of Service.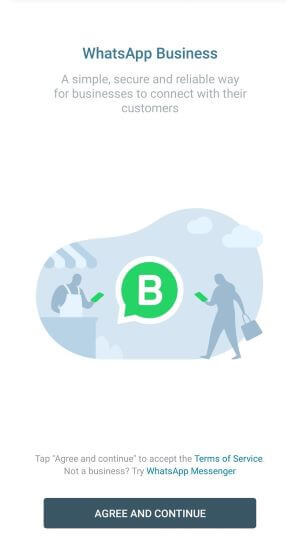 Step 4: Restore Backup
Switch on your phone and keep the WhatsApp Business App open until the account transfer is finished. You may be requested to restore from your backup while the transfer is in progress. You can do this by clicking Restore or selecting Continue. Allow WhatsApp Business to access your phone's media by clicking Next when prompted.
Step 5: Add Contacts
Add contact details from your smartphone's contact list and grant access to your phone's videos, images, and files.
Step 6: Customize Business Profile
Choose a business category, change your company's name, and upload a profile photo. To enter all necessary information about your business, such as your description, working hours, address, and more, tap on Explore and then on Business Profile.
After your WhatsApp Business account is activated, you can continue to customize your business profile.
How to Transfer WhatsApp Business from Android to iPhone
If you want to know how to transfer WhatsApp business from Android to iPhone, then you can use a professional tool like WooTechy WhatsMover. This app allows you to safely transfer both WhatsApp and WhatsApp Business data from Android to iPhone and vice versa in a few minutes.
WhatsMover – The All-in-One WhatsApp/WB Data Manager
100.000+
Downloads
Support both WhatsApp and WhatsApp Business transfer, backup, restore and export.

Compatible with all iPhones and Android phones including Samsung, Huawei, Google Pixel, etc.

Support all WhatsApp and WhatsApp Business data such as contacts, videos/photos, stickers and more.

With the 100% safety and success rates, it is very simple to use.
Follow these steps to transfer WhatsApp Business from Android to iPhone:
Step 1: Download and Install
Download WhatsMover on your computer. Launch the app after installation and select Transfer WhatsApp between Devices.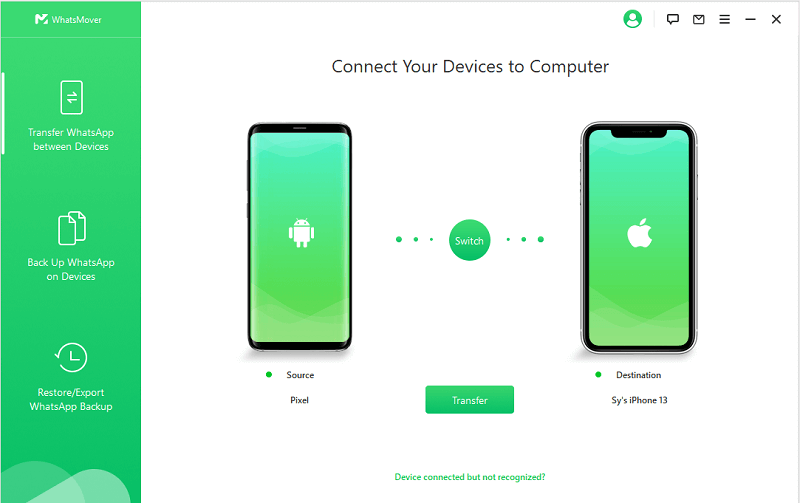 Step 2: Connect your Devices
Now connect your Android and iPhone to the computer with the help of a USB cable. Double-check the Destination and Source devices.
Step 3: Transfer
To transfer WhatsApp business from Android to iPhone, click Transfer once both devices have been detected and confirm whether you want to use WhatsApp Messenger or WhatsApp Business. Select WhatsApp business and wait for the transfer process to start.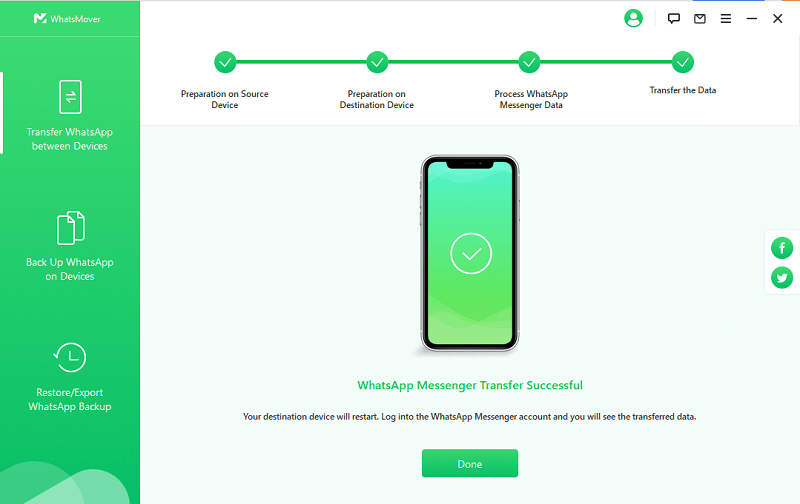 Wait for a few minutes, and you will be able to view all WhatsApp data, including videos, images, messages, and other media, on the destination phone after the process is completed.
Conclusion
If you are a business owner who wants to learn how to convert WhatsApp to a business account, we have specifically explain to you how to do that. Besides, you can use WooTechy WhatsMover to transfer WhatsApp Business from Android to iPhone and vice versa. This app is 100% safe and reliable, which allows you to manage the data in different ways.