GBWhatsApp is an alternative form of the normal WhatsApp software. This app is basically a modified version of WhatsApp and has extra features and abilities that you can't perform on a regular WhatsApp.
Technically, WhatsApp users are not supposed to use GBWhatsApp, as it goes against terms of service. But if you have GBWhatsApp we'll show you how to transfer chats from WhatsApp to GbWhatsApp, and vice versa.
Part 1: How Can You Change WhatsApp to GBWhatsApp Without Losing Chats?
You don't want to lose any of your chats or data from WhatsApp as you make the transfer. Follow these steps to transfer without any potential data loss.
1

Firstly Back Up WhatsApp Data

To transfer WhatsApp data to GBWhatsApp without data loss, you can back up the chats and messages first. This is also the precondition for restore WhatsApp data to GBWhatsApp later.

In WhatsApp enter Settings > Chats.

In Chats, click Backup Chats which will save all your chat data to your phone.
2

Transfer WhatsApp Data to GBWhatsApp

Next, start to transfer your WhatsApp data to GBWhatsApp.

Uninstall WhatsApp in Settings > Apps. Scroll to WhatsApp > then hit Uninstall.

Don't delete any data at this time as you need it to transfer to the new app.

Download your GBWhatsApp package and install it into your phone.

When installed, you can begin the data transfer process by renaming your backup files.

In File Manager, go to Open storage. Look for your WhatsApp data folder.

Click on the folder then rename it to GBWhatsApp. Inside the folder replace any files that have the words WhatsApp with GBWhatsApp.

Open GBWhatsApp on your phone and verify your account. Then it will tell you that it has found a backup. Just click the Restore button to restore WhatsApp data to GBWhatsApp.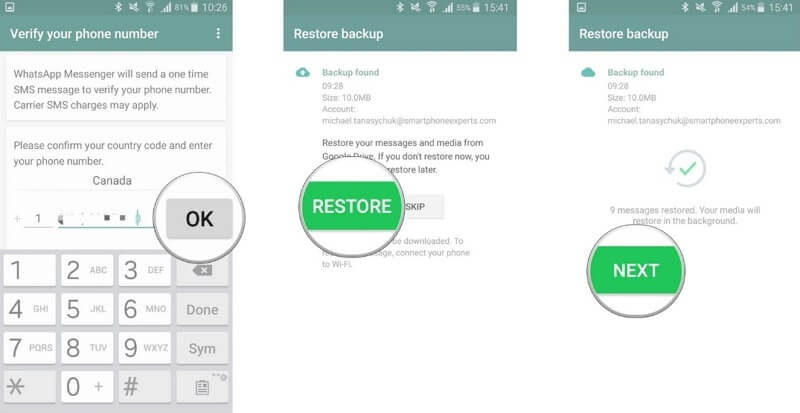 Part 2: How to Restore Chats from GB to WhatsApp?
If you ever used GBWhatsApp and want to switch to the official WhatsApp program, then you may wonder how to transfer data from GBWhatsApp to WhatsApp. Here are the detailed steps:
Go to File Manager and locate GBWhatsApp folder.
Change the backup folders names including all GBWhatsApp media and photos folders to WhatsApp.
Delete GBWhatsApp and download the official WhatsApp. Verify your account and the backup will be detected. Finally just restore the backup.
Part 3: How to Transfer GBWhatsApp Data to New Phone
You know how to transfer GBWhatsApp data to new phone when you switch to a brand new phone? There are two ways to do this and a computer will be needed.
1

Through Copying and Pasting GBWhatsApp Folder

Plug your old phone into your PC. When your phone appears on your desktop click on it.

Look for GBWhatsApp folder under the internal storage. Copy and Paste it to the desk.

Unplug your old phone and plug in your new phone. Drag the GBWhatsApp folder to your new device's internal memory.

Log into GBWhatsApp on your brand new phone.

Restore the data by clicking the Restore button when your backup data is detected.
2

Through Using GBWhatsApp Transfer Software

If you don't want the hassle of switching phones in and out of your computer and dragging files, then using related GBWhatsApp transfer software. Here we will recommend WooTechy WhatsMover, a professional WhatsApp transfer tool on iOS and Android.
WhatsMover – A Powerful WhatsApp Transfer Program
100.000+
Downloads
Transfer WhatsApp data without OS restrictions as it can transfer from Android to Android, Android to iPhone, vice versa and more.

Transfer all types of WhatsApp data including chats, contacts, photos, videos, etc.

Transfer your WhatsApp with a 100% success rate and all of your data privacy is ensured.

With a user-friendly interface, it is easy to use, no technical knowledge required.
Steps to Transfer GBWhatsApp Data to new Phone:
Launch WooTechy WhatsMover software and choose Transfer WhatsApp between Devices. Connect your old phone and new phone to the computer. Please allow USB debugging for your phone.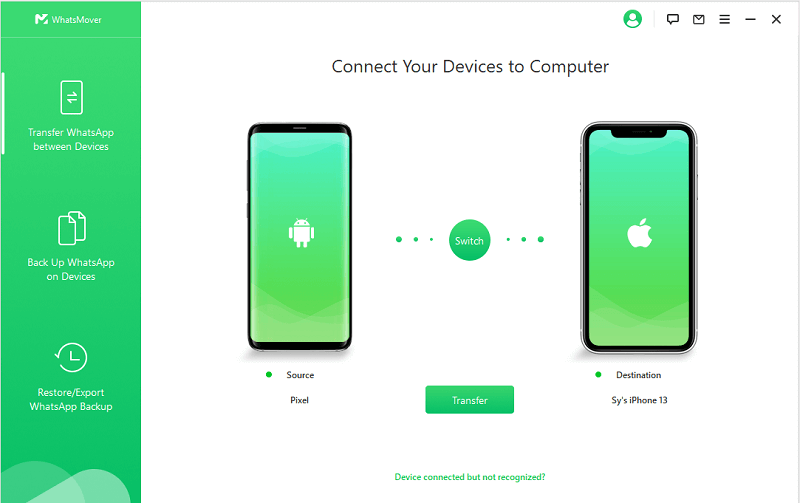 After your both devices are recognized, click the Transfer button and select the type of WhatsApp.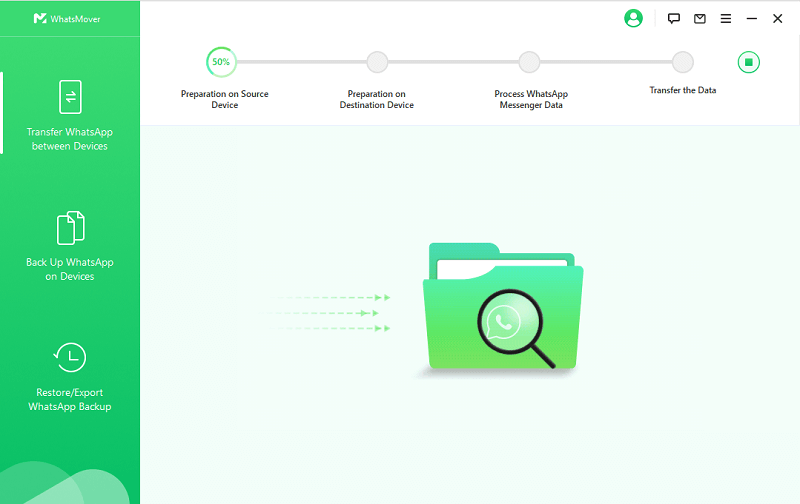 Wait until the transfer process finishes. After that, all WhatsApp data will be on your new phone.
Bonus: Main Features of GBWhatsApp
Again, as was mentioned, there are tons of features and abilities that set GBWhatsApp apart from regular WhatsApp. You can learn about some of these main features which include:
A larger range of files can be shared with your contacts.

Privacy options and settings are boosted in GBWhatsApp.

You can make your WhatsApp status up to 255 characters.

You can use more than one phone number with the GBWhatsApp.

You can share much larger sized audio and video files.

Your WhatsApp status can be copied with a tap of your finger.

There are more options for stickers, fonts, and other customizable emojis and GIFs.

You can share up to a whopping 90 pictures at once.

You can customize and send automatic replies and messages to your contacts.

You can change your online status and make it so that certain contacts will see the exact status you want them to.

You can get access to deleted messages a lot easier.

You can hide your conversations with more ease.

WhatsApp is pretty limited with colors, banners, and themes. You can specifically customize the look of GBWhatsApp and get it to look exactly how you want it to.
Conclusion
In today's post, we detailed how to transfer chats from WhatsApp to GBWhatsApp. We also discussed how to transfer your data to new phones and how you can back up your chats from the app. Overall, there is a lot to love when using GBWhatsApp. But be careful using this app as you can potentially get banned from WhatsApp.