WhatsApp, as one of the most important messaging apps, is now a essential element in our life. You can use it to communicate with your friends and family for free in any time anywhere.
However, it is said that most users wonder that how to use two WhatsApp in one phone, since this can be useful to separate their work and personal life. This article is right here to bring you the best solution.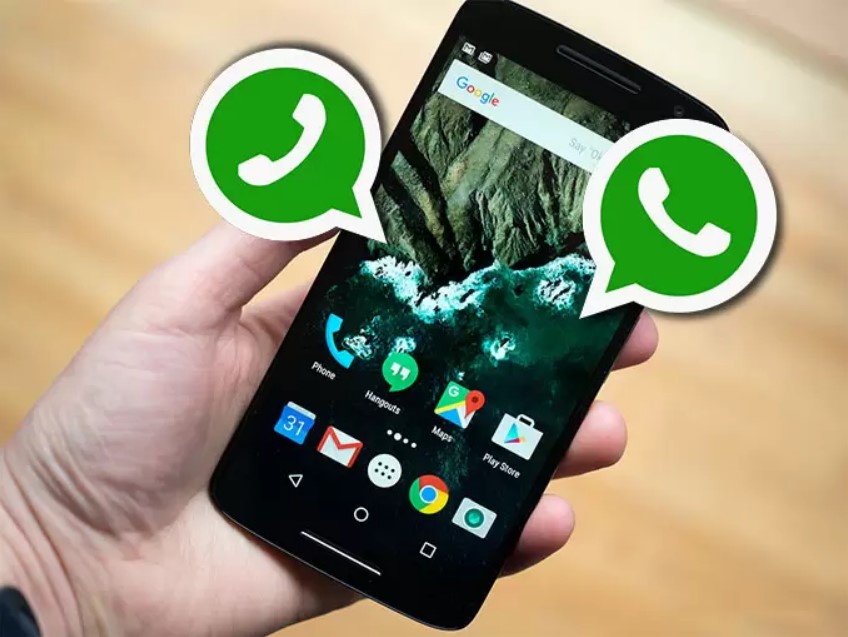 Part 1 Can We Use Two WhatsApp in One Phone?
Of course, yes, we can use two WhatsApp in one phone. WhatsApp's primary goal is to be an application that brings people closer to their families and friends. It is now a well-known messaging platform for businesses and other companies as well.
Most users would not like to mix their personal life with work. They won't want their person status, profile photos or any else shared on their WhatsApp account be visible to their workplace colleagues, for some of annoying colleagues will judge them not to pay attention to their work from their sharings on WhatsApp. There could be other scenarios similar to this one that requires dual WhatsApp accounts.
If you're seeking information on how to make the two WhatsApp accounts on a single smartphone, this is the complete guide you need to be aware of.
Part 2. How to Use Two WhatsApp in One Phone?
A variety of Android smartphones come with an option known as App clone, also known as App twin. Therefore, it's not that complex to use 2 WhatsApp accounts in one phone with those Android devices. For iPhone users, although there is no built-in function to use two WhatsApp, don't worry, just keep reading. However, it is recommended to have dual SIMs on your phone. The article will be discussing for both Android and iPhone devices.
1. Use Two WhatsApp in One Phone for Android Device
Companies such as Xiaomi, Samsung, Vivo, and Oppo allow you to create dual apps, parallel apps, or twin applications. Different OEMs have different names for this feature, which allows you to have two versions of WhatsApp.
SAMSUNG
You can access Settings > Advanced features > Dual Meassenger.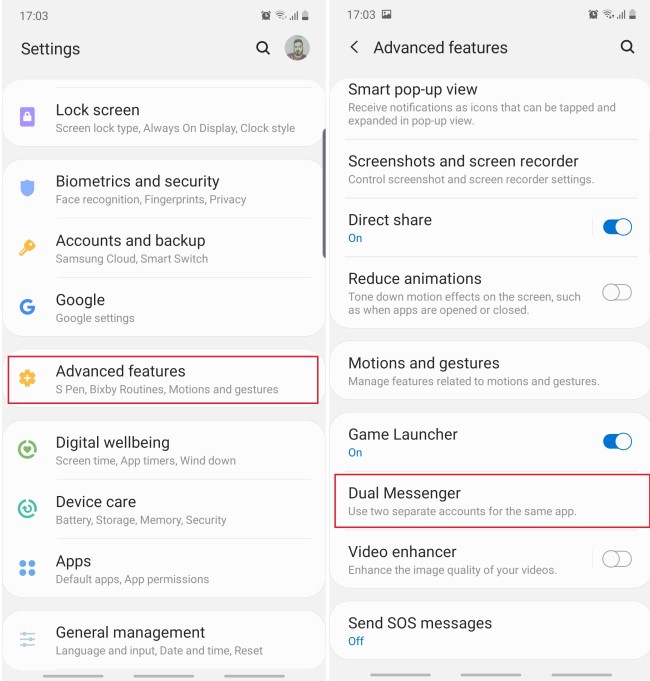 ONEPLUS
OnePlus users can access Settings > Utilities > Parallel Apps > WhatsApp.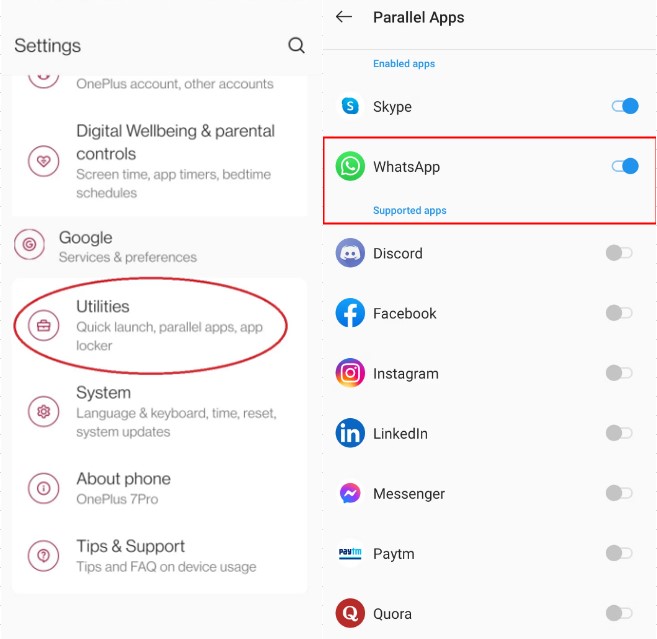 XIAOMI
Xiaomi phone runs MIUI: You can access Settings> Dual apps > WhatsApp.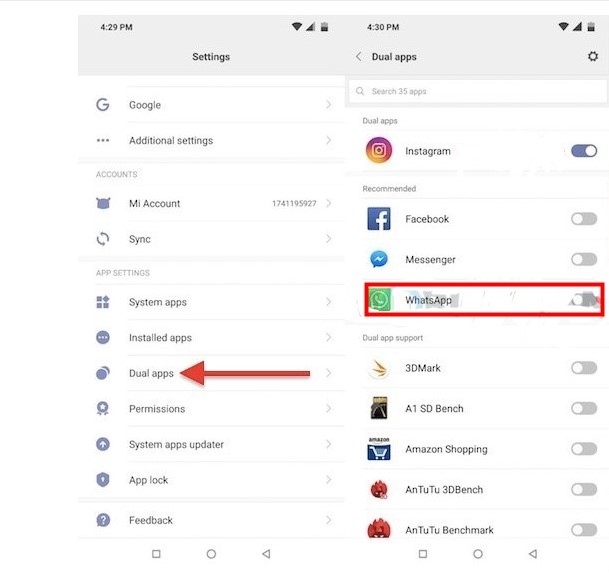 REALME
If you're a Realme user, you can also go to Settings > Application management > App cloner > WhatsApp.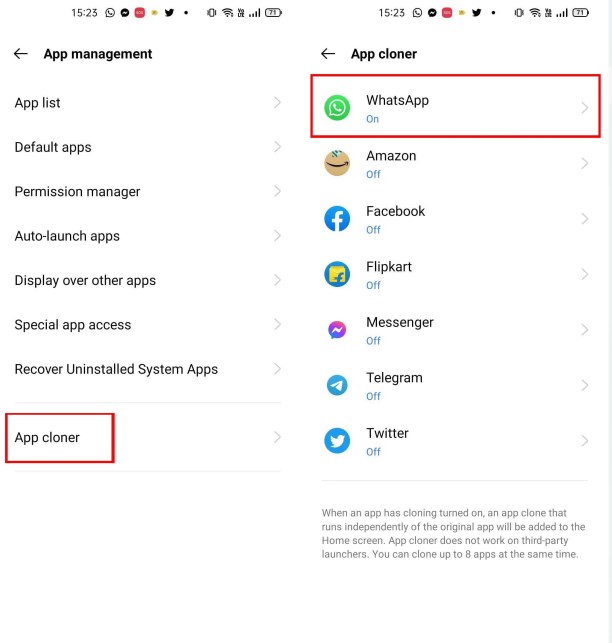 VIVO
Vivo users can access the Setting> App Clone > WhatsApp.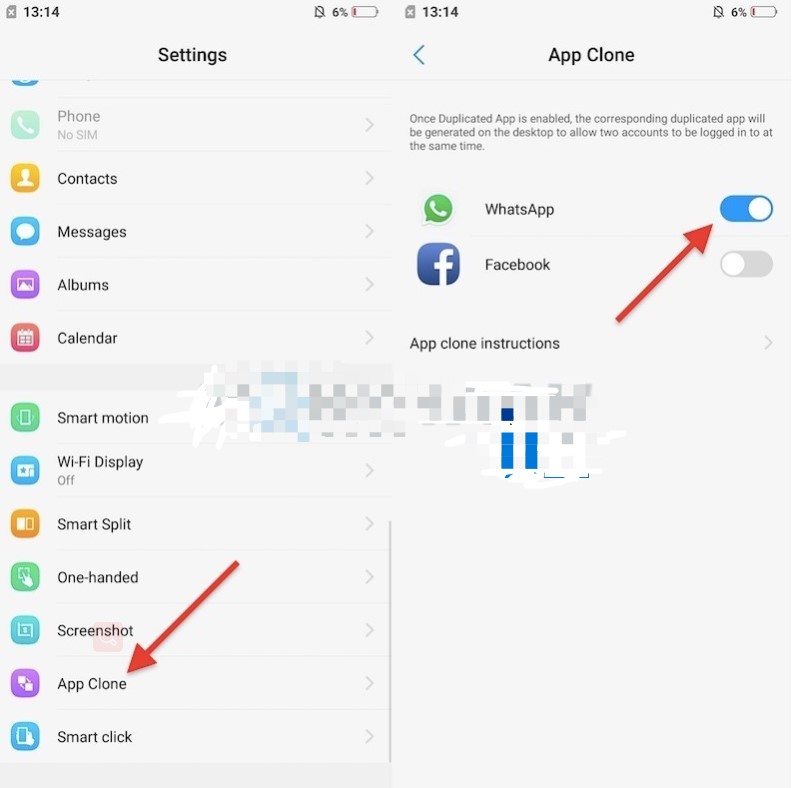 OPPO
Oppo smartphone owners can tap Settings > App Cloner > WhatsApp.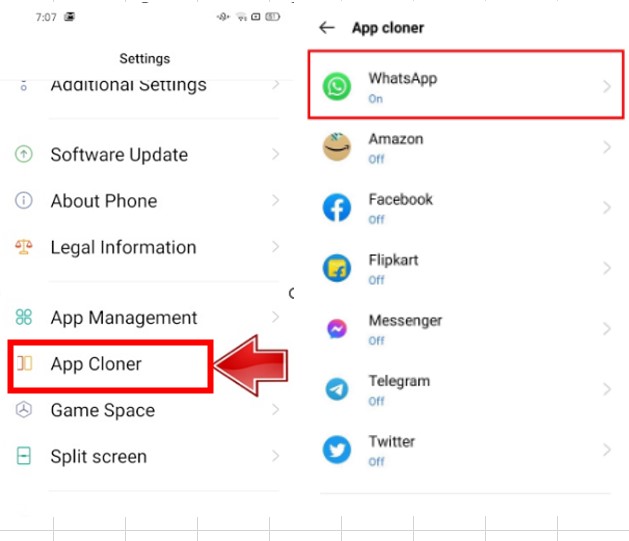 2. Use Two WhatsApp in One Phone -- Android & iPhone Devices
For Android device, it is easy to use two WhatsApp in One phone with its built-in function. However, iPhone device may not allow this, as there aren't any third-party apps or built-in tools to allow users to clone applications. This makes it not easyto have two WhatsApp accounts. Luckily, there is still a good way to help you out.
Method : Using WhatsApp Business
Both iPhone and Android devices allow to use the WhatsApp and the WhatsApp Business apps in one phone. Make sure you have the second SIM installed on your phone.
The blow is how to install and use WhastsApp Business:
Step 1 Download the WhatsApp Business App from the App Store or Play Store.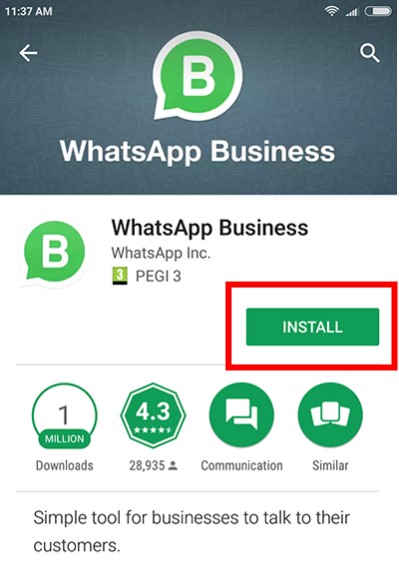 Step 2 Open it up and enter your secondary/another phone number.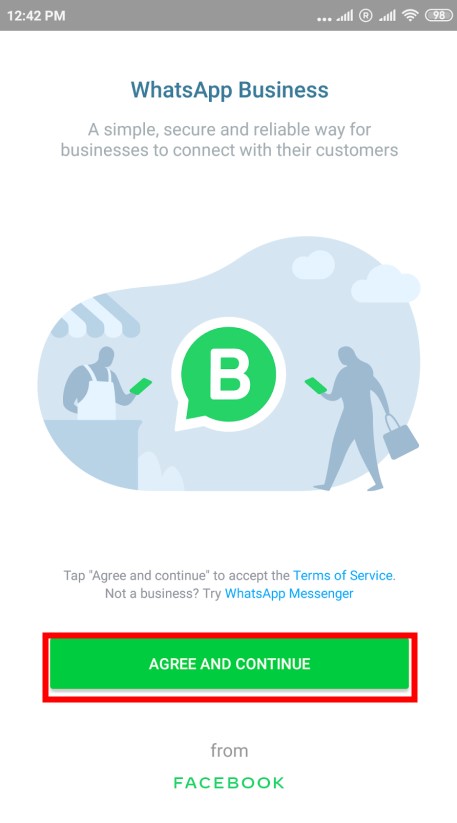 Step 3 Registering is the same as regular WhatsApp login.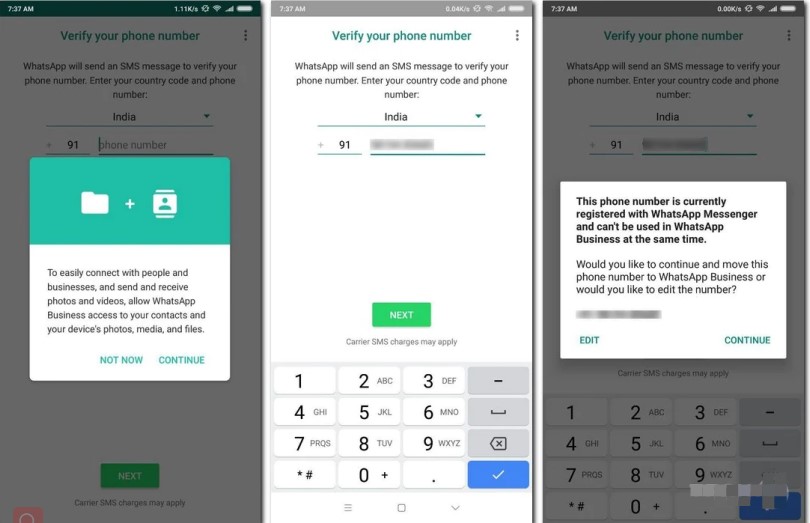 Step 4 After the setup is complete, you can use the WhatsApp Business app can be used to send messages like WhatsApp. Then you can use both WhatsApp and WhatsApp Business in a phone.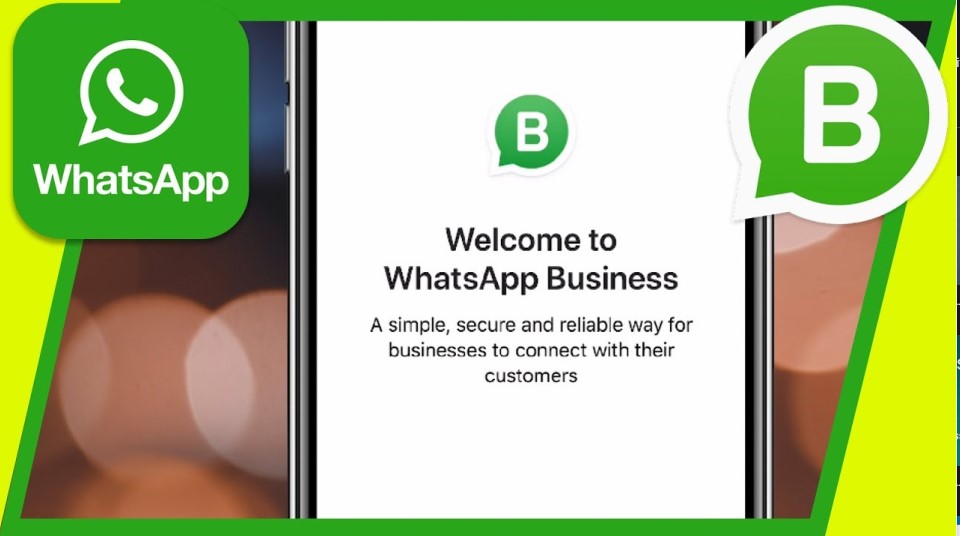 Bouns Tip: Pros and Cons of Having Two WhatsApp on One Phone
Pros
The two WhatsApp will be running side by side, and you can easily monitor both accounts.

You can quickly switch between the two versions of WhatsApp without any hassle.

You can keep work and personal contacts separate.

You can use different accounts for different purposes.
Cons
You will need two different phone numbers to use two WhatsApp accounts on one phone.

It can be confusing to keep track of two different WhatsApp accounts on one phone.

Some people may find it difficult to use two WhatsApp accounts on one phone, as it can be confusing to keep track of two different conversations.

You may need to clear your cache and data more often, as two accounts can take up more space on your phone.
Part 3. [Free Method] Remember to Back up Your WhatsApp Data Timely
It's overwhelming for the phone storage to use 2 WhatsApp accounts in one phone. Aside for freeing up the cache and data often, you had better back up the important WhatsApp chats to avoid any data loss.
When it comes to WhatsApp backup, I would like to highly recommend a 100% FREE WhatsApp backup software – WooTechy WhatsMover, which is increasingly popular among WhatsApp users. With this software, you can save tons of time to back up your WhatsApp data.
WooTechy WhatsMover – the Best Choice to Back up WhatsApp Data
100.000+
Downloads
Great Availability: Allow to work with iPhone and Android tablets/phones, including all major brands like Samsung, LG, Huawei, Motorola, Xiaomi, and more.

No Data Loss: Ensure your valuable data always safe, and the backup files are kept in seperate folders and won't be overwritten or automatically deleted.

Unlimited Storage: Allows to back up all the WhatsApp data from your phone to the computer without any limitation.

High Success Rate: Ensure to back up all your WhatsApp data successfully with just few clicks.
[100% Free] WooTechy WhatsMover -- WhatsApp Backup to PC Video Guide:
How to Back up WhatsApp Data with WhatsMover Software:
Step 1 Install WooTechy WhatsMover and connect your phone to computer with a USB cable. Open up this software.