Nowadays WhatsApp is used for all the latest gossip and file transfer. Businesses would intercommunicate with customers and co-workers using WhatsApp. However, when you set up a new phone or switch devices, you may lose important documents saved on WhatsApp.
iCareFone whatsApp Transfer makes it easy to transfer all your documents and you may have heard of or used it. But is it worth using? Here we will fully review iCareFone for WhatsApp and go over the important points as well as other alternatives to help you choose the best WhatsApp transferring app.
Part 1. A Full iCareFone WhatsApp Transfer Review
1

What Is iCareFone WhatsApp Transfer?

iCareFone is a professional data transfer tool that can easily transfer all your WhatsApp chats and documents from one device to another, even transfer between iOS and android. iCareFone will not only transfer all your files but also let you backup and restore them.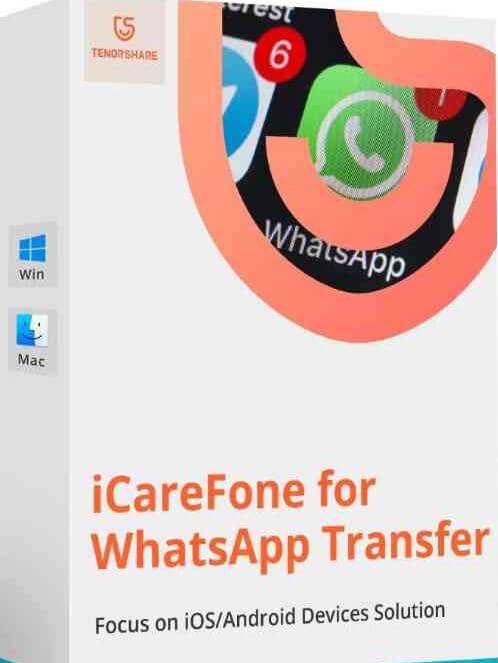 There are no limitations on transfer space and no risk of data losses after restoring. It is also much more simple and easier to use than any other storage cloud drives or similar apps on the market. One of the best features is that you can access the application from your desktop to manage it.
While transferring files you also have the option to select specific data or multiple, and also delete duplicate files.
2

Is iCareFone WhatsApp Transfer Free?

You can begin using iCareFone WhatsApp transfer for free just by downloading the application. The free trial version only lets you back up WhatsApp on iOS. However, you can pay to keep further using the application. There are different packages and pricing options available for both Windows and Mac.

Windows versions start from 19.95$/monthly to 49.95$/ for a lifetime on one PC and five devices, while charges of Osx start from 24.95$/monthly to 69.95/for a lifetime on MacBook. You may cancel these plans at any time and use them according to your ease.
3

Is iCareFone Safe for WhatsApp Transfer?

iCareFone is safe to use and transfer all your personal and business chats, and documents. Sign up using the official website and provide all the required information. Be sure to download the application from their official website and not third parties. Third parties will not provide keygens and are unreliable when it comes to the security of your personal information.

iCareFone WhatsApp transfer is also safe to incase of database management as well that your file will not get corrupted when switching between iOS to android or changing operating system requirements.
4

How Do You Transfer Your iCareFone WhatsApp from Android to iPhone?

Using iCareFone for WhatsApp transfer is very easy and simple. Let us go over every step-in order to make it easier for you to connect your WhatsApp device to another and transfer all your data.

Connect your phones

Start up iCareFone and connect your phones to which you wish to transfer WhatsApp data. It may take a while for your device to be recognized. Do not unplug the data cable and wait till the device is found and accepted by the application.

Recognize WhatsApp backup

A Pop-up message will show up which will show you the backup size and date stored on your WhatsApp. This may also take up a bit of time to calculate the size of your backup depending on how big or small they are. After the target account is detected, the backup will start.

Verify WhatsApp

Once your backup is done, you will be asked to verify your WhatsApp account. Type in your WhatsApp account number, and you will be sent a confirmation SMS on your phone, input it and verify your number. This will automatically set up your WhatsApp to transfer data between Apple and Android devices.

Transferring data

After your WhatsApp is verified, you will be able to access all your data. You may delete duplicate files or choose multiples to transfer together. The transfer will take a few minutes depending on the size of your files.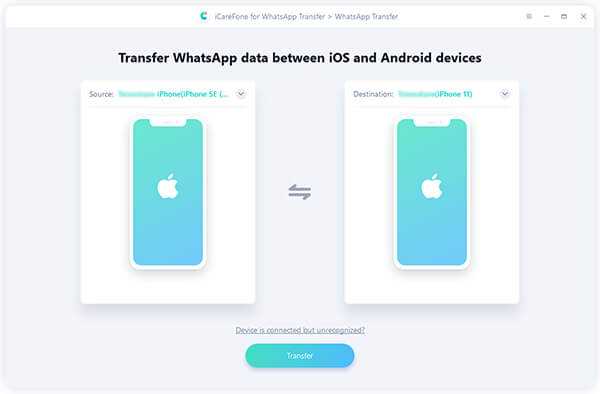 5

Pros and Cons of iCareFone WhatsApp Transfer

With iCareFone WhatsApp transfer, there are both benefits and drawbacks that users have experienced over time. Let us go over each to get a better understanding and review the application.
Pros
It is a cross-platform for WhatsApp data transfer.

You can use it to restore and back up data.
Cons
You can't back up WhatsApp data on Android for free.

Sometimes, the data transferring isn't successful as it has a low success rate.

Not user-friendly, the operating steps are relatively complicated.

The prices are tax-excluded.
Part 2. What Is the Best WhatsApp Transfer App?
If you want to transfer WhatsApp with the 100% success rate and the 100% safety rate, then the best WhatsApp transfer software -- WooTechy WhatsMover works better than iCareFone WhatsApp Transfer. It is an all-in-one WhatsApp data management tool to transfer, back up, restore backup and export files with easy-to-use steps.
Extraordinary Features of WhatsMover:
100.000+
Downloads
It lets you transfer all your WhatsApp files and documents from one device to another without OS restrictions.

You can also back up all your WhatsApp data on iOS and Android into your computer directly for free.

You can back up WhatsApp data without any limitation, restore your backups including Google Drive backup and iTunes backup to your devices.

It supports all formats for exporting WhatsApp data such as HTML, PDF, CSV, or XLS.
What's more, WhatsMover supports all iOS versions and all Android phones. You are freely and safe to transfer WhatsApp data with the program. Besides, all your important information is stored securely with WhatsMover. The backup files that you have stored on your computer are kept in folders separately and won't be overwritten or naturally erased.
To use WhatsMover transfer your WhatsApp data, you only need 3 simple steps:
Download and open WhatsMover. Choose Transfer WhatsApp between Devices mode and connect your phones to the computer.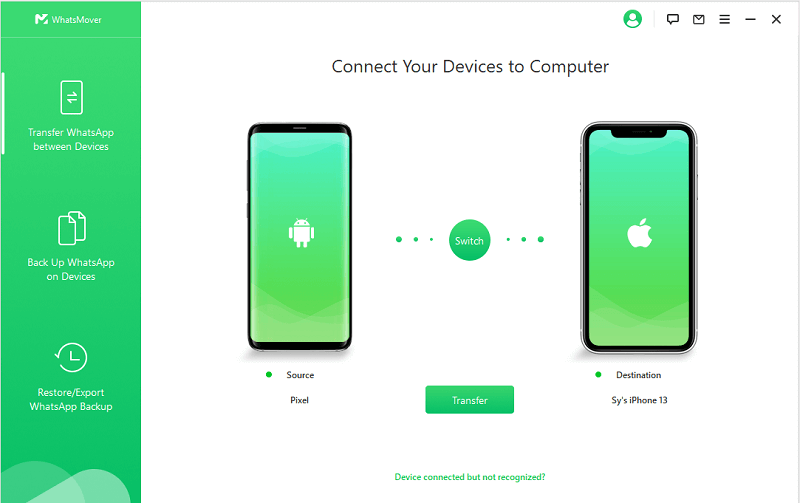 Ensure the Source and Destination devices are correct. Then click the Transfer button to start the WhatsApp transfer process.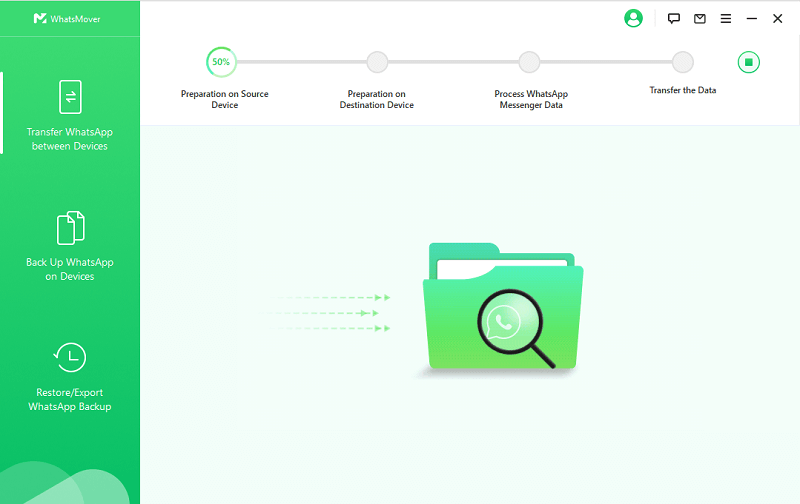 Finally, you will receive "WhatsApp Messenger Transfer Successfully" notification and all WhatsApp data will appear on the destination phone.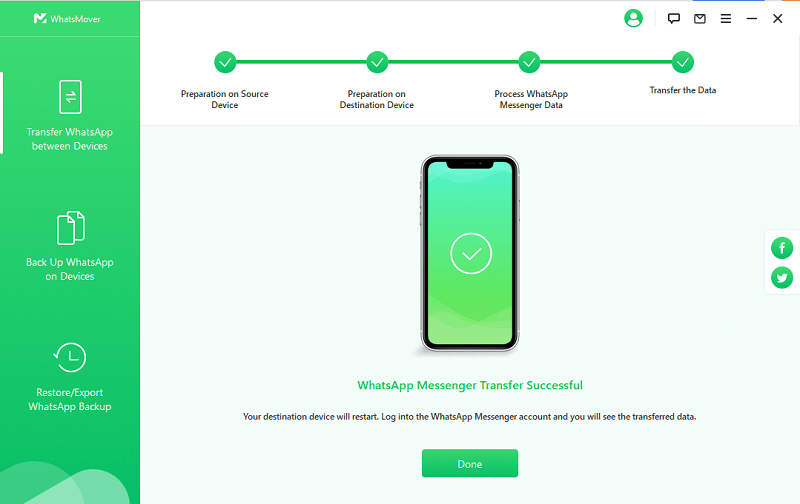 Conclusion
Although iCareFone WhatsApp Transfer program makes it easy for you to transfer WhatsApp data from one device to another, it still has many disadvantages such as the success rate the transferring speed. Therefore, you are suggested to use the best WhatsApp transfer tool – WooTechy WhatsMover to achieve your goal with ease. It has the highest success rate and quite easy-to use operating steps. Just give it a try now.