WhatsApp has become one of the most important online platforms globally. Users send and share many important information and files using this platform. Also, they want to be able to access these data on their different devices like transferring their WhatsApp data to a different phone. Hence, they need trusted third-party apps to transfer WhatsApp across devices.
Among them, Mobitrix WhatsApp Transfer is a popular one. In this article, we will have a full Mobitrix WhatsApp Transfer review of how it works, the cost, and the best trusted alternative for WhatsApp transfer.
Part 1. What Is Mobitrix WhatsApp Transfer?
Mobitrix WhatsApp Transfer is a third-party software that helps users seamlessly move their WhatsApp data from one device to another. It applies for different phone models. You can use Mobitrix to instantly transfer your WhatsApp chats between your Android device and iPhone.

Also, you can use it to back up WhatsApp to PC and restore the WhatsApp backup to any device. Follow this Mobitrix WhatsApp Transfer review to find out more details about this app.
Part 2. Is Mobitrix WhatsApp Transfer Safe?
Yes, Mobitrix WhatsApp Transfer is a safe tool that prioritizes users' privacy. Hence, users have a 0% risk of privacy leaks. What that means is when you use the app, it will not access your personal details. Your data is processed locally on the device.
It does not require that you root/jailbreak your phone. Rooting/jailbreaking means giving the app permission to your phone's subsystem. It allows the phone to remove restrictions put there by the manufacturers. Mobitrix WhatsApp Transfer installs its customized WhatsApp version on your device. However, you can trust their installation because it is as secure as WhatsApp's official version. This app will not collect any form of data from your device.
Part 3. How to Use Mobitrix WhatsApp Transfer?
As mentioned earlier, you can use the software to transfer, restore, and back up WhatsApp chat. Follow the steps below to use Mobitrix WhatsApp transfer to transfer WhatsApp data from one device to another, back it up, or restore the chat.
Open the application on your computer and choose the action (Transfer) on the left side panel.
Connect the two phones to your computer with the appropriate cables and wait for the app to recognize your devices.
Set the source and destination devices between two phones, pick between WhatsApp and WA Business, and complete the process by clicking the blue button containing the action (Transfer) at the bottom of your screen.
Part 4. How Much Does Mobitrix WhatsApp Transfer Cost?
Many users would like to know if Mobitrix is free. The answer is that yes, it is free. However, you can access only its backing up feature in the free trial mode. If you want to transfer between devices or restore your WhatsApp chat, you need to buy the license. The table below shows the different pricing for the Mobitrix license.
| Package | 1-Year Individual | Lifetime Individual | Family Individual | 1-Year Business |
| --- | --- | --- | --- | --- |
| Mobitrix WhatsApp Transfer | $25.5 | $26.95 | $40.5 | $195 |
Part 5. Pros and Cons of Mobitrix WhatsApp Transfer
As discussed in this Mobitrix WhatsApp transfer review, we have also identified some pros and cons of using the app on the premise of the features, usage, and cost of this app.
Pros
Backing up is not affected by network issues.

Chats are processed privately and are secured.

Your phone's storage is not required.

It has no storage limit on the size of a backup.
Cons
It can become unresponsive and stuck when the file size is large.

It has restriction for media file that are accessible on iOS.

Transferring WhatsApp data between two devices can take a long time.

Sometimes the backup on Android cannot be detected and there may occur other unknown errors.

It doesn't support exporting WhatsApp data for further access and read.

The operating steps is much more complicated and the user interface is not easy to understand for many users.
Part 6. The Best Alternative to Mobitrix WhatsApp Transfer
According to some Mobitrix WhatsApp transfer review on Reddit, it is possible for the app not to work for some people. And owing to the above disadvantages listed, you may look for other qually tested alternatives. Here we recommend that you can use WooTechy WhatsMover for your WhatsApp transfer between devices, data backup, and restoring it to your devices. Also, you can use this app to export WhatsApp backup.
WhatsMover – The Best WhatsApp Transfer Software
100.000+
Downloads
It works across different devices and OS so that you can transfer WhatsApp without OS restrictions.

It has no limitation when backing up and restoring WhatsApp data. All WhatsApp data are included, like chat history, images, videos, contacts, files, etc.

100% secure, it protects your data with their privacy policy and works with the fastest speed as well as the 100% success rate.

While transferring data, you will not suffer any data loss and there won't be stuck issues and errors.

It can also export your WhatsApp data to different formats such as HTML, PDF, CSV, or XLS.
With 3 easy-to-follow steps, you can transfer your WhatsApp data soon with the WhatsMover software:
Step 1 Get and open WhatsMover on your computer. Select the Transfer WhatsApp between Devices mode. Connect your devices and set the Source and the Destination devices right.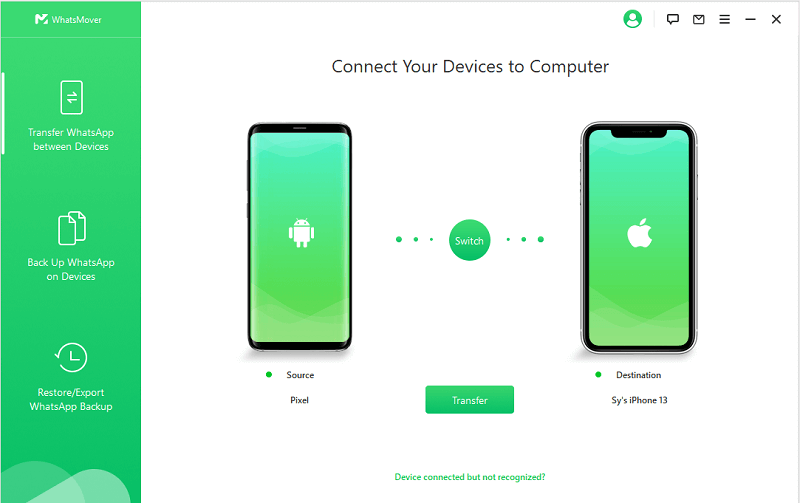 Step 2 Click the Transfer button and choose your WhatsApp type to start transferring.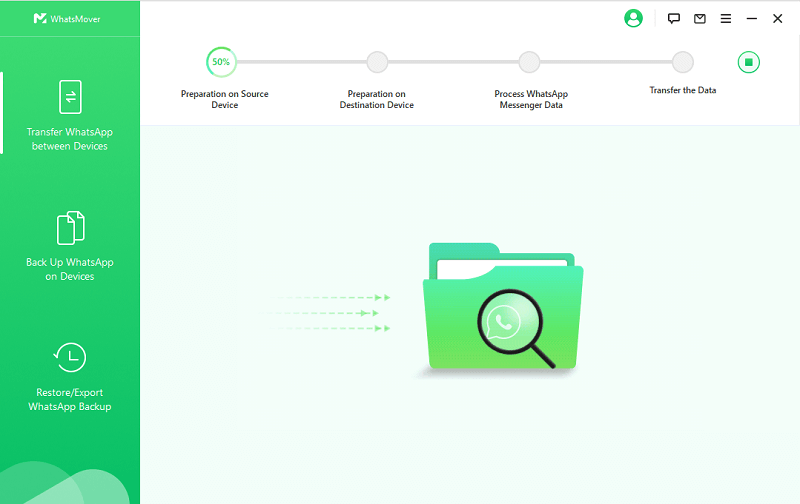 Step 3 Wait for the process to complete. Finally you will receive the "WhatsApp Messenger Transfer Successfully" notification.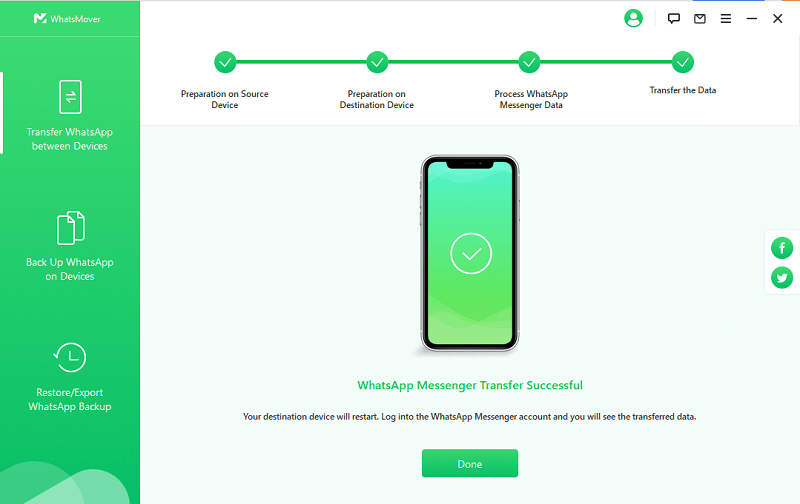 Conclusion
When you need to manage your WhatsApp data, for example, transferring data from one device to another, back up and restoring backups, WooTechy WhatsMover is a better solution than Mobitrix WhatsApp Transfer. As WhatsMover has the equally powerful functions while excels in success rate and speed.