WhatsApp is hands down one of the most popular messaging apps. No wonder Facebook bought it for $19 billion. That is a billion with a "b". As with any messaging app, people have a lot of important messages and information on them. And you might just be one of them as well. We use WhatsApp for a lot of things nowadays.
So, if you just bought a new phone and you cannot find your WhatsApp backups, it is all the reason to be stressed out. Do not worry though. This guide will be all about how to solve no backup found WhatsApp. We will take a deep dive into why you might not find any previous backups and also how you can fix them. So, let's get started.
Part 1: Why WhatsApp Says No Backup Found
There could be actually a couple of reasons why you might not see any backups for your WhatsApp. One of the most common reasons could be your settings. If you do not have the proper settings dialed in, the data might not be syncing up.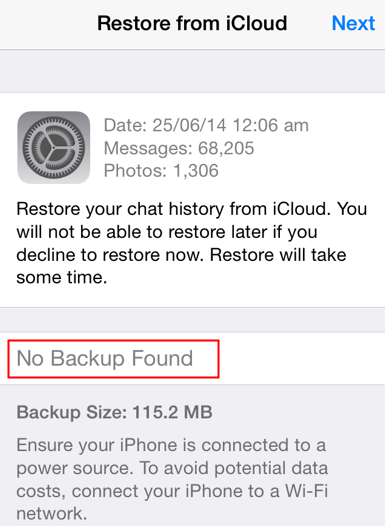 Here are also some other reasons for WhatsApp backup not found.
You Are Not Logged into the Same Account
If you want to be able to sync your WhatsApp backup, the first thing you need to ensure is that you are logged into the same account that has your backups. In case you are using an iPhone, you need to be logged into your iCloud that has your backups.
For Android, you need to make sure that you are logged into your Google account that has the backups. Logging in from a different account might be the cause. And it is a common one as well.
Network Problems
All backups and restores happen over the internet. So, naturally, if you are experiencing network problems, it might be because you have less than stellar network connectivity.
Then you might run into backup problems. Your backups might not show up. In some cases, you might run into troubles when you try to backup or restore using mobile data. In this case, you can try switching to Wi-Fi.
Corrupt Backup
This one is a bit of a bummer. Another reason why your WhatsApp backups might not be found is that the backup itself is corrupted. This stops the application from being able to trace the backup.
Part 2: Fix WhatsApp iCloud Backup Not Found
Luckily, it is not the end of the world. There are some pretty effective ways you can restore your backups. You can perform a couple of checks to ensure that your WhatsApp is backed up properly. Some of these checks are sort of routine. So, you do not need to go digging too deep into it. Here are the things you can try if you are using iCloud.
1. Turn on iCloud Drive in Settings
Turning your iCloud Drive settings should be the first check you need to make. This can be the main reason why you might be seeing any kind of WhatsApp no backup found error. Apple makes it pretty easy to switch on iCloud Drive settings.
Tap on the Settings app. Tap on your Apple ID section at the top.
Tap on iCloud. Tap on iCloud Backup and turn it on.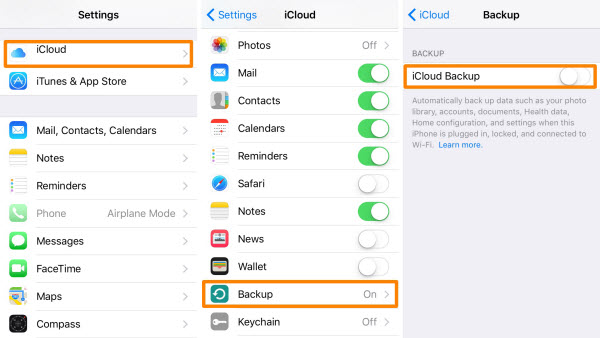 2. Check Storage Space
All backups whether it be your photos, files, or app data like WhatsApp will count towards your iCloud drive storage. If you are using the free tier, you get very limited space. Apple gives its free iCloud Drive users only a measly 5GBs of space.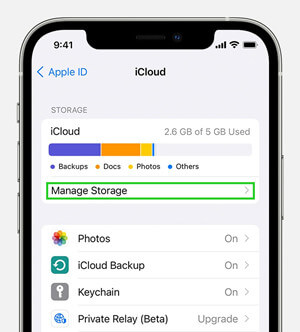 You can check your storage to see whether it is full or not. The iPhone has a cool feature where it tells you what is taking up space on your device and iCloud.
3. Update iPhone and WhatsApp
Software can be quite junky sometimes. WhatsApp is not an exception. And in some cases, a simple update will fix the issue. You can try updating your phone's software to the latest iOS version. Also, update your WhatsApp to the latest version as well.
To update your iPhone's software, follow these steps:
Tap on the Setting app. Go to the General section and Software Update.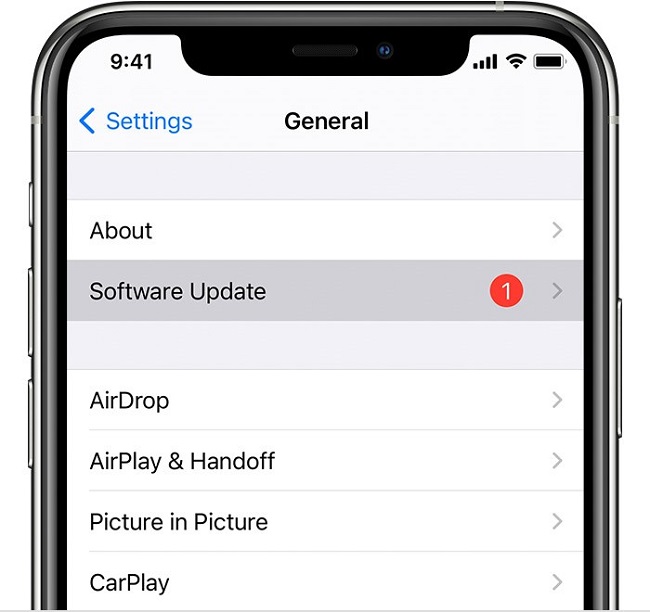 You will see any available updates here. There will also be options to turn on auto-update download and install. This is a personal preference. So, choose the setting you want.
To update your WhatsApp, you would need to visit the Apple App Store. Here is how you do it:
Click on the App Store icon.
Either search for WhatsApp or tap your profile icon on the top right.
Tap on Update.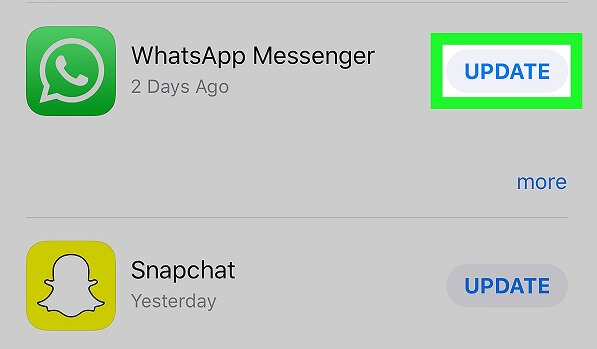 4. Delete Existing iCloud Backup
In some weird cases, deleting existing iCloud backups can solve WhatsApp iCloud backup not found issues. The previous backups might be interfering with new ones.
That is why you might not see your old or new backups. If there are some redundant backups on your phones, just simply delete them by going to Settings > iCloud > Backups. Then reopen WhatsApp and restore backup again.
5. Reinstall WhatsApp
If nothing else works, reinstalling the app is your best bet. It can do wonders and iron out any bug that may have occurred. Reinstalling WhatsApp is super easy!
Tap and hold on the WhatsApp icon from your home screen.
Tap on the Remove App button on the lower left corner of the app and confirm.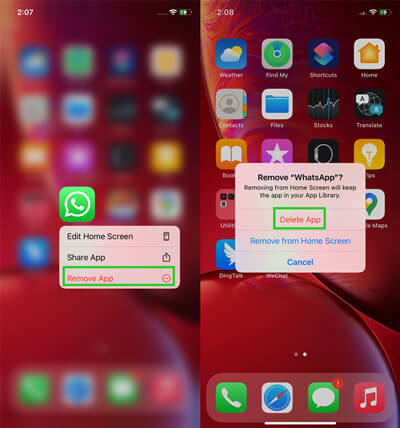 Go to the AppStore and search for WhatsApp.
Reinstall WhatsApp and punch in your account details. Make sure to turn on backups as well.
Part 3: Fix WhatsApp Backup Not Found in Google Drive
If your WhatsApp was backed up on Google Drive, then there are some other steps you can take. These would help you retrieve and find your WhatsApp backup on Google Drive.
Google Drive backup problems are not that common. But sometimes your WhatsApp backup not found in google drive can be quite an annoying issue. Here are all the things you can try to fix it.
1. Check Your Phone Number
You need to ensure that you are using the correct number. Your Google account and the backup you are trying to restore need to be the same number.
Otherwise, Google Drive will be unable to find it. You can just go to your Settings and see which number you used for your Google account.
2. Check Your Google Account
Speaking of Google accounts, ensure that you are searching for the correct account. If you are logged into an account that you did not backup to, then you will not be able to find the backup.
To see which account you logged in with, you can tap your account profile picture. The app will show you what your email address is. That is how you can tell which account you logged in with.
3. Check Google Play
Google Play is a necessity for services like WhatsApp backup. You need to have it installed. If your WhatsApp backup was not found, then you should check whether or not you have Google Play services installed or not.
4. Check Network Connection
Network connectivity issues are another major reasons why you might not see your WhatsApp backups. So, check your internet connection and ensure that it is working.
5. Check Phone's Battery
For good measure, you can check your phone's battery as well. Plug it into a wall outlet and try to search for the backup again. In some cases, this has solved the issue.
6. Use Your Local Backup
A cool thing about Android phones is that you can use local backups. If you cannot find your WhatsApp backup on Google Drive, try restoring it from any local backup that you might have. It is pretty easy and quick. One thing you need to note is, of course, you should have the backup locally stored before you can restore it.
Open File Manager and go to /SDcard/WhatsApp/Databases or Internal Storage/Whatsapp.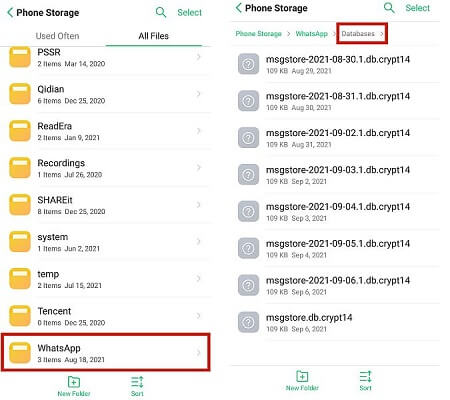 Locate your WhatsApp backups and rename the files.
Reinstall WhatsApp to restore the backups.
Note
For other phone models to find WhatsApp backups on local storage, you need to go to
File Manager
>
Categories
>
Internal Storage
>
WhatsApp
>
Backups
.
Bonus: Backup and Restore WhatsApp on Android and iPhone Without Limitation [100% Success]
Backing up WhatsApp data to Google Drive and iCloud or local storage have many disadvantages and you may encounter problems at times. To avoid these cons and issues, you may need a better WhatsApp backup and restore program. WooTechy WhatsMover, safe and privacy-protected, can achieve them with the highest success rate and without any errors.
Outstanding Features of WooTechy WhatsMover:
100.000+
Downloads
Back up all sorts of WhatsApp data on Android & iPhone to computers without storage limitation.

Safe to use, WhatsMover back up your WhatsApp in separate folders, which won't overwrite previous backups.

Able to restore from WhatsMover backup, iTunes backup and Google Drive backup without OS restrictions.

Export or extract WhatsApp backups to PDF, HTML and other formats.
Steps to use WhatsMover to back up your WhatsApp without limitation:
Download and open WhatsMover program. Choose Back up WhatsApp on Devices and connect your device to your computer.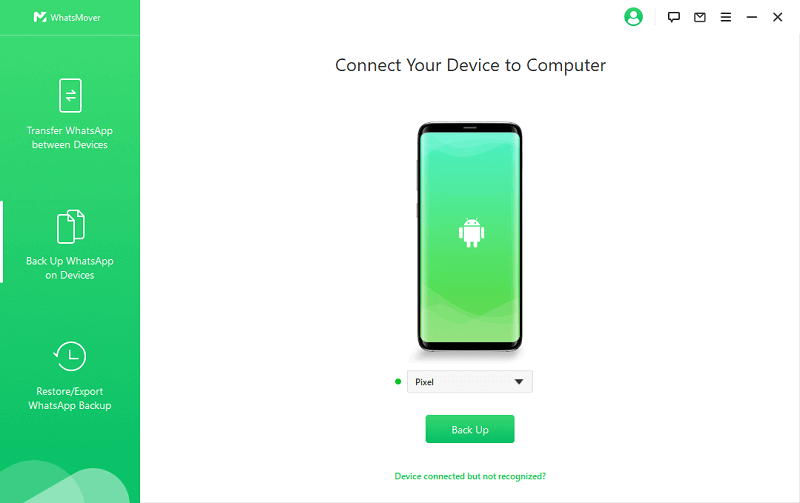 Then click Back Up and select WhatsApp or WhatsApp business. Soon, your data will be backed up successfully.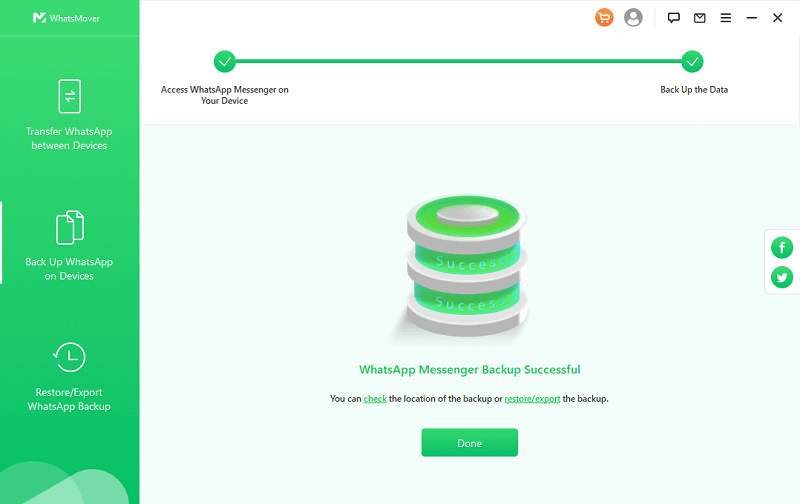 Conclusion
WhatsApp has definitely become one of the most popular messaging apps. Both work and personal messages are done over WhatsApp nowadays. You do not want to lose the backups for those. WooTechy WhatsMover is the best way to ensure your WhatsApp data is always safe and secured.