Using an OPPO has perks and features. It works excellent with WhatsApp and is a great way to send messages and media to friends and family. However, you may have started piling up messages and media you would like to keep safe.

Unfortunately, my OPPO phone just has 56G storage, which cannot store all my WhatsApp videos and photos greatly. Thus how can I do to back up my WhatsApp data on my OPPO device?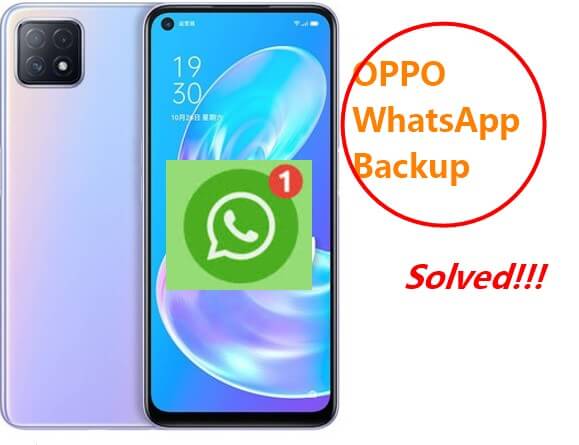 Don't worry! This article will explain how to clone WhatsApp in OPPO and other great alternaitves for OPPO clone WhatsApp backup, which must help you troubleshoot the issue with the biggest convenience.
WooTechy WhatsMover -- [100% Free] Video Guide About OPPO WhatsApp Backup to PC:
Part 1. Where is WhatsApp Backup Stored in OPPO?
You may wonder to know what is WhatsApp clone backup location OPPO device before you start to do your OPPO WhatsApp backup.
This answer can vary depending on how you backup your WhatsApp Data. Suppose you use OPPO Clone or a Local Backup. In that case, it will be located in your phone directory, either your phone's Backups Folder.
If you have ever backed up your WhatsApp data to the internal storage in your OPPO phone. Go to tap on File Manager > Internal Storage > WhatsApp > Databases, where you can find all your Huawei WhatsApp backup data.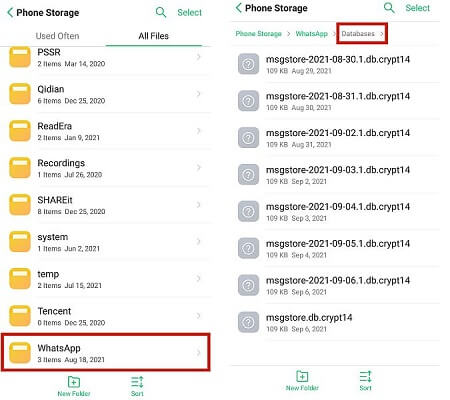 Otherwise, it can be in your Google Drive. You can check it on your PC.
Your WhatsApp messages are stored in the general folder for backups. Go to Menu (three horizontal lines at top left corner) > Backups and you will find the WhatsApp backup there.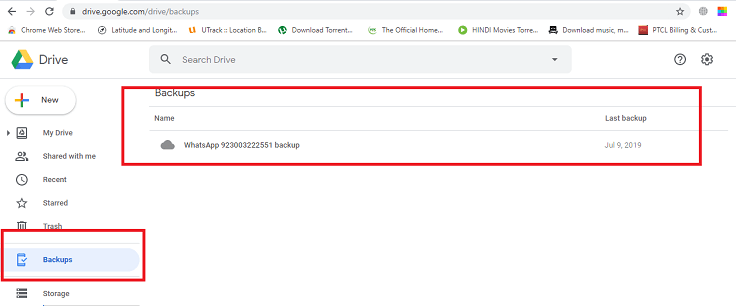 Part 2. How to Clone WhatsApp in OPPO?
The first method we will describe is how to back up WhatsApp on OPPO using OPPO Clone. This is a great software to use if you are backing up/ transferring your data to another OPPO device and want to use OPPO products because they will be optimized for the phone.
While the app doesn't get regular updates, it can be nice to use it if you need a quick backup/transfer. Unfortunately, this method will only work if you have another old OPPO phone to store the backup.
Simply follow the steps below to perform OPPO Clone WhatsApp backup:
Step 1 Open Clone Phone on the device that you want your WhatsApp data on. Select This is the New Phone.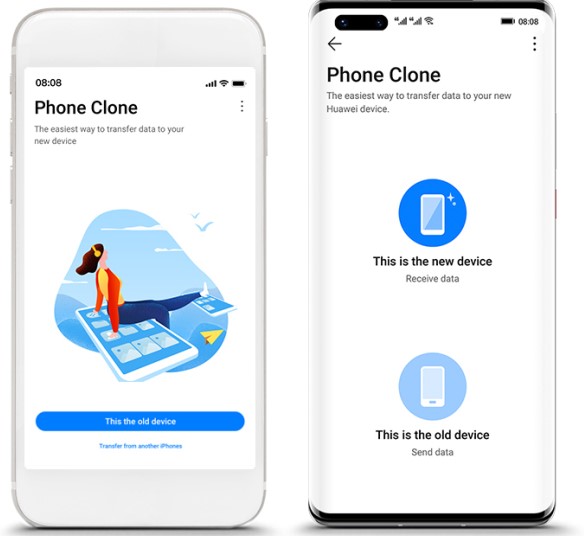 Step 2 You will then be prompted to choose which type of phone you are importing the data from. Select Import from an Android Phone
Step 3 You will be given a QR code to scan with the old phone. Scan it.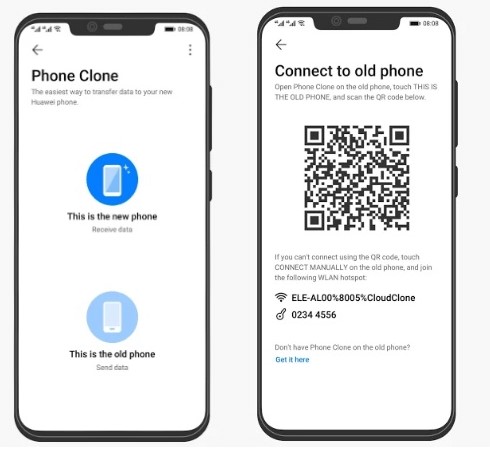 Step 4 After scanning the QR Code, you can click on Start Cloning to transfer all the data.
Note
If you want to customize the data that gets transferred, click on
Customize Phone Clone
before you click
Start Cloning
.
Part 3. Are There Any Other Alternatives for OPPO WhatsApp Backup?
Absolutely! there are several other alternatives for OPPO WhatsApp backup without OPPO Clone.
The method we are about to show you is superior to OPPO Clone because you don't need a second OPPO phone to store the data, and you can store it anywhere. It is simple and only takes a few clicks. We also have a few alternatives, in case you somehow don't like the next one.
3.1 Backup WhatsApp on OPPO via A 100% Free Tool
This method is far superior to any other method on the list, and we would like to share it with you to be transparent. The software we recommend is WooTechy WhatsMover, which is an official and professional WhatsApp backup tool with a large number of users from around the world.
Furthermore, you are supported to freely use this tool to back up all kinds of your WhatsApp data including messages, videos, documents and other attachments without any OS and storage limitation.
WooTechy WhatsMover—Best Tool to Back Up Your WhatsApp Data on OPPO:
100.000+
Downloads
Work with both WhatsApp Messenger and WhatsApp Business, and also support both all brands of iPhone and Android devices such as Huawei, Xiaomi, LG, Samsung and more, iOS 16 and Android 13 are supported.

Ensure your data privacy without overwriting or deleting the previous backup during the whole backup process.

Support to back up WhatsApp chat on Android & iPhone to your computer with the highest success rate and fastest speed.

Aside from its free WhatsApp backup function, WhatsMover also supports you to transfer WhatsApp from Android to iPhone or vice verse.
How to use WooTechy WhatsMover to back up WhatsApp data on OPPO:
Step 1 Open Wootechy WhatsMover and ensure you use the suitable charging cable to connect your OPPO device with your computer. Choose the Back Up WhatsApp on Devices option on the left side.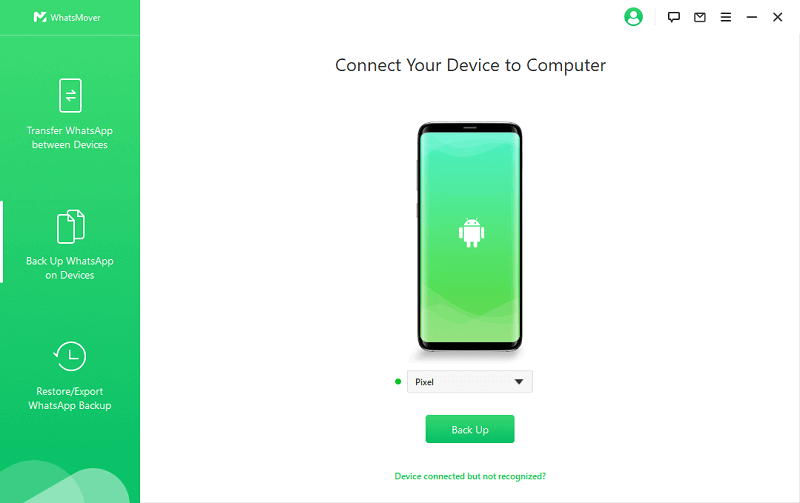 Step 2 Once the tool detects your OPPO device click Back Up icon to start the backup process.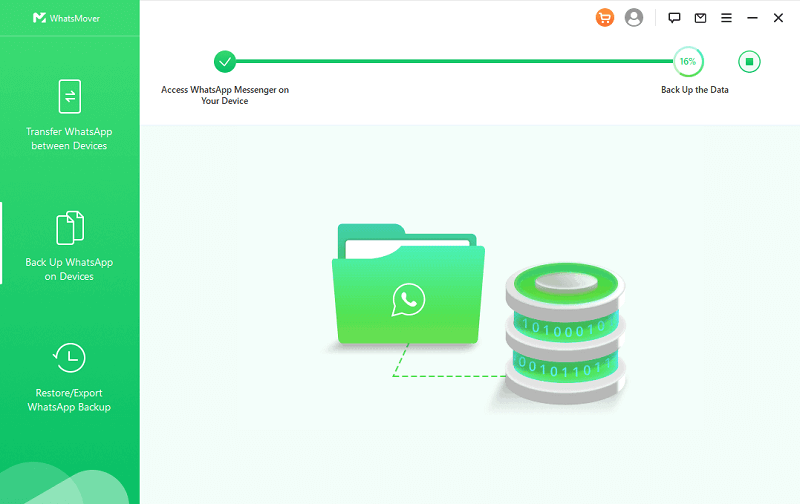 Step 3 Tap on Done icon, now you have succeeded in backing up your WhatsApp data from OPPO device to the PC. You can further access and read the backups on your PC directly.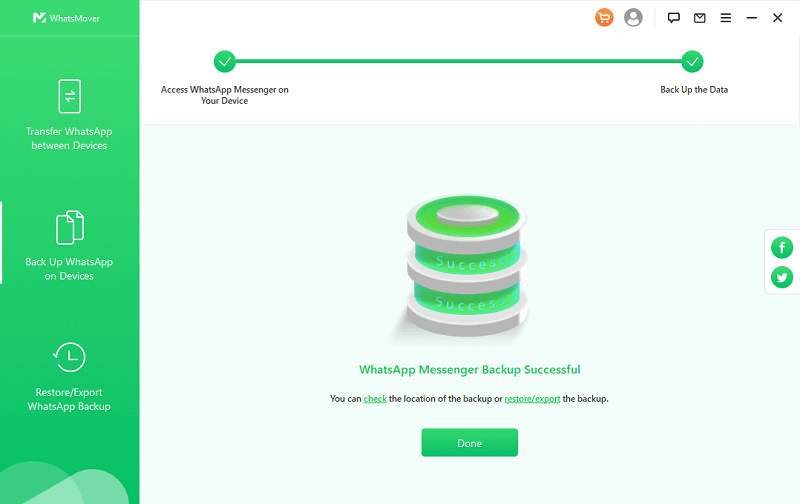 WooTechy WhatsMover -- Video Guide About OPPO WhatsApp Backup to PC:
3.2 Backup WhatsApp on OPPO via Google Drive
If you don't like the previous method, the next best option is using Google Drive. But Google Drive has some limitations regarding the amount of storage you can save there. If you have the upgraded plans of Google Drive, this shouldn't be a problem.
To use Google Drive to backup WhatsApp on OPPO:
Open WhatsApp on your OPPO and head to Settings > Chat > Chat Backup.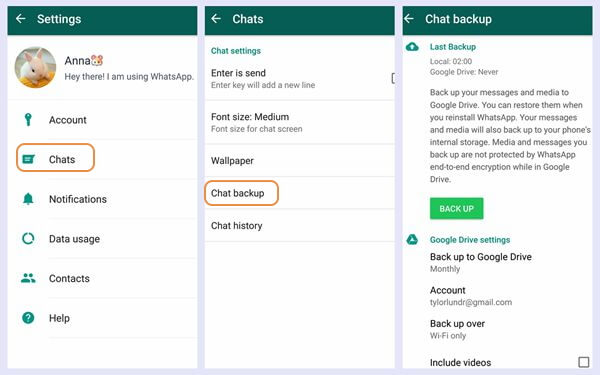 Next, you will see an option on which method you would like to select. Select Google Drive > Only when I click Back up.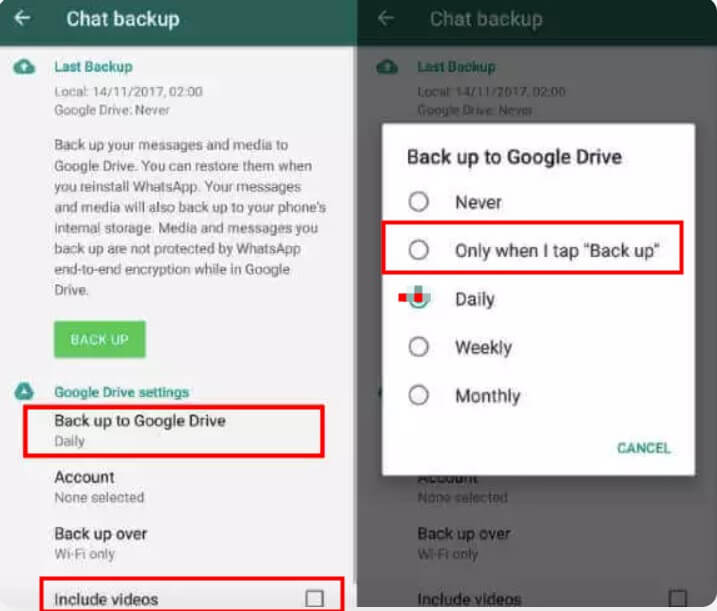 You may need to sign in again if you are logged out but after the process is done your backup is now ready on Google Drive.
3.3 Backup WhatsApp on OPPO via Local Backup
While Google Drive is great, it limits storage. To combat this, we can use Local Backup to backup WhatsApp data. This can be a little more confusing, but you won't run into any issues not being able to backup all your data.
Open WhatsApp and navigate to Settings > Chats > Chat Backup > Backup.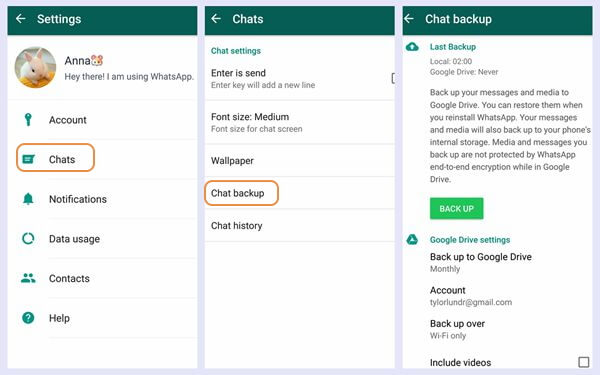 To bypass the google drive feature so we can do a local backup, select Google Drive > Never, so the backup goes to your local storage.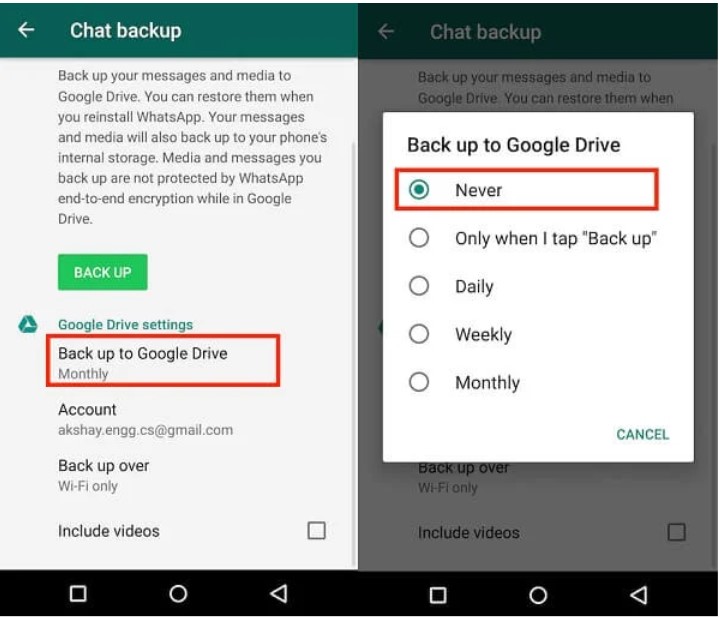 Your backup is now complete, and you can access it on your SD card or Internal memory in the WhatsApp folder named Backups.
3.4 Backup WhatsApp on OPPO via Email
If you just want to complete a quick backup and aren't too worried about the quality of it or backing up your media, this last option is perfect for you. Backing up WhatsApp data on OPPO using email is the best way to quickly save your data and share it with other devices.
Additionally, this option is more limited than Google Drive regarding space limitations.
To Backup WhatsApp on OPPO via Email:
1. Open your WhatsApp and go to Settings > Chats > Chat History > Export Chat.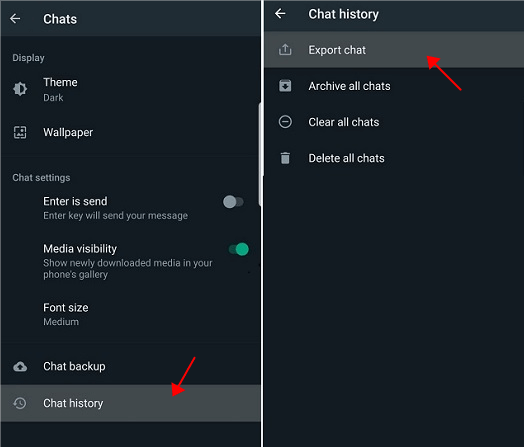 2. Select all of the chats that you want to backup. A pop-up will display, giving you the choice of exporting with or without media. Since media takes up a ton of storage and we can't afford that, click WITHOUT MEDIA.
3. After selecting Without Media, you will see an option that says Mail. Click on this option and enter your email as the recipient. You are now done!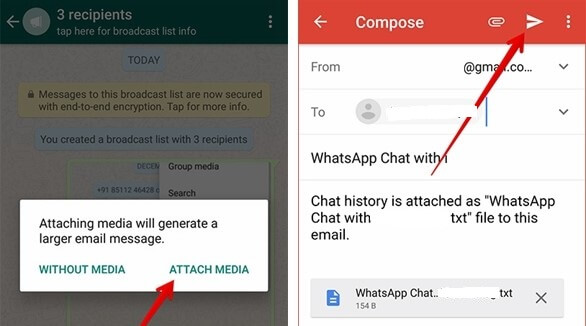 Bouns Tip: Does OPPO Have Clone App?
Yes, OPPO have clone app. If you are an OPPO Color OS 12 user, You can find it on your Settings > Apps >App Cloner > Apps that can be cloned; if you are using OPPO Color 11-13, you can find it Setting > APP management > App cloner > App that can be cloned.
Besides, OPPO Clone Phone can transfer WhatsApp. As the official data transfer for OPPO phones, OPPO Clone can transfer data to an OPPO phone from Android and iPhone devices.
However, it cannot transfer WhatsApp data if the transfer is performed from an iPhone because the OPPO system doesn't allow this with the aim to protect their own technology.
Conclusion
In this article, we explained the full-guide ways to back up your WhatsApp data on OPPO, such as OPPO Clone WhatsApp Backup. Now your problem on OPPO WhatsApp backup must be troubleshoot.
We also showed you the best way to perform these backups, that being WooTechy WhatsMover, because it is the most convenient and free way to quickly back up all your WhatsApp messages.