There are extensive data on WhatsApp that make transferring critical when you switch devices. When transferring WhatsApp data, users can meet with issues, be limited on the size of data they can transfer, the different systems running on devices, etc. That is why WhatsApp transfer tools come in the market.
This article will review one of the most sought-after transfer apps -- Syncios WhatsApp transfer. If you want to know whether it is safe, how to use it and more, keep reading, we will give you a full review of it and also introduces the best alternative WhatsApp data transfer tool.
Part 1. A Full Syncios WhatsApp Transfer Review
In this section of the review, you will find out all that you may need to know about Syncios WhatsApp Transfer. For instance, knowing if the app is safe for transferring your data is essential. In addition, you would also want to know if it is free, and its pros & cons. All these details are further discussed below.
1. What Is Syncios WhatsApp Transfer?
Syncios WhatsApp Transfer is a software solution for exporting WhatsApp messages and other extensive data attachments. Suppose you have several devices or are replacing an old phone; Syncios WhatsApp Transfer can be used to send and move all WhatsApp data from Android to iPhone, iPhone to iPhone, and vice versa in both cases.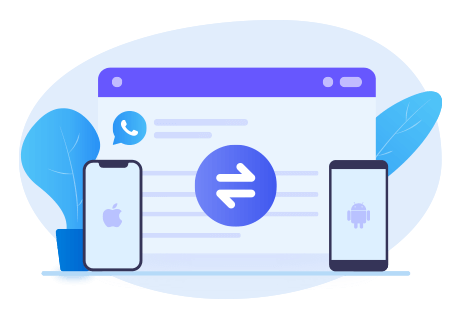 If you are not interested in transferring all your WhatsApp data, you can preview and select the backups you ever did on the app. After that, you can restore the data easily. It is a simple tool that is compatible with various gadgets.
2. Is Syncios WhatsApp Safe?
One of the most common questions first-time users ask about this app is that is Syncios safe? It is a safe and effective WhatsApp data transfer tool. While transferring data from one device to another, you are guaranteed no data loss.
Syncios WhatsApp Transfer is a read-only app. Hence, it does not keep, modify, or leak your information. What's more, it won't pose any virus to your devices and computers. The app is safe for newbie users because its processes are simple and user-friendly.
3. Is Syncios WhatsApp Transfer Free?
Syncios WhatsApp Transfer has free and paid versions because it is a freemium app. The Freemium model is one of the most common app sales models and pricing strategies. In this model, free and premium features are combined together. For instance, the user can download the app for free but can only get the app's premium features after subscribing.
In Syncios WhatsApp Transfer, you will be given a registration code after purchasing the subscription. You will be asked to open an account with your email to make the subscription. The registration code is then sent to your email. You can purchase four premium subscription plans, which are listed below.
1-year subscription with 1 computer and 5 devices is $29.95

Lifetime subscription with 1 computer and 5 devices is $39.95

(Windows Business License) 1-year subscription with 1 computer and unlimited devices is $219

(Mac Business License) 1-year subscription with 1 computer and unlimited devices is $394
4. How to Use Syncios WhatsApp Transfer
If you are convinced about the Syncios WhatsApp transfer review you have seen, you can use the app to transfer your WhatsApp data with four simple steps. The steps are shown below.
Launch the program and select Transfer WhatsApp between two devices from the options on your screen.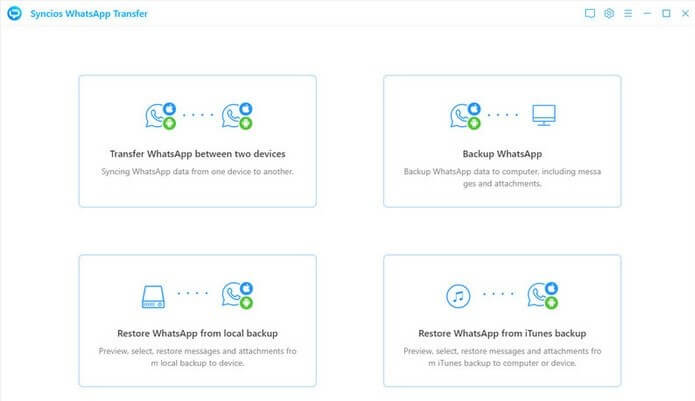 Use the appropriate USB cables to connect the two devices to the computer and wait for them to be recognized.
Click on the Transfer button at the bottom right corner of your screen to complete the process.
5. Syncios WhatsApp Transfer Crack vs. Syncios WhatsApp Transfer Full Version
Syncios WhatsApp Transfer full version refers to the app that you have rightly subscribed for. On the other hand, online vendors offer users illegal Syncios WhatsApp Transfer crack. This crack is a cloned free version of Syncios WhatsApp Transfer. However, it is not recommended because it endangers the users and their personal data for reasons highlighted below.
Privacy & Protection: Online vendors use crack versions to gain access to user data and infect them with bugs.
Legality: There is no binding license or terms for crack versions.
Poor Performance: The UI/UX of a crack is irregular compared to Syncios WhatsApp Transfer full version.
Technical Support: You cannot get technical support when the app is broken, or your data is affected.
6. Pros and Cons of Syncios WhatsApp Transfer
While compiling this Syncios WhatsApp transfer review, users across the board have mentioned what they are most fascinated about when using the app. Also, we have discovered some of the downsides that they have experienced on the app. Below are the pros and cons of using Syncios WhatsApp Transfer.
Pros
It works on Android, iPad, and iPhone.

It is user-friendly and easy to use.
Cons
It does not have a stable connection with a slow speed.

Some users reported online that their devices can't be detected at some cases.

It doesn't support all media files, thus you cannot transfer some WhatsApp audio and video formats.

It doesn't support exporting WhatsApp data to PDF format.

Users cannot make monthly subscriptions; only yearly and lifetime options are available.
Part 2. The Best Alternative to Syncios WhatsApp Transfer
According to user' Syncios WhatsApp transfer review, some of its disadvantages are impermissible. If you belong to this category, you can try our trusted alternative. WooTechy WhatsMover will help you transfer WhatsApp data between devices as fast as possible. It is a versatile and safe tool that works across different devices and OS. You can use it without the help of an expert while enjoy the highest success rate.
WhatsMover – Manage Your WhatsApp Data Better
100.000+
Downloads
Back up WhatsApp data to computer without storage limit and overwriting the previous backups.

Transfer WhatsApp data between iPhone and any Android phones such as Samsung, Huawei, Pixel, LG, etc.

Support all WhatsApp data including photos, videos, chats, contacts, stickers and other attachments.

Export WhatsApp data to the most common formats like PDF, XLS, HTML and CVS for further access and read.

Restore any backups, for instance, iTunes and Google Drive backups, to computer or phones without limitation.
Here is how to use Wootechy WhatsMover to transfer WhatsApp data:
Step 1 Download and install the app. Open the program on your computer. Select the Transfer WhatsApp between Devices option on the left green pane of your screen.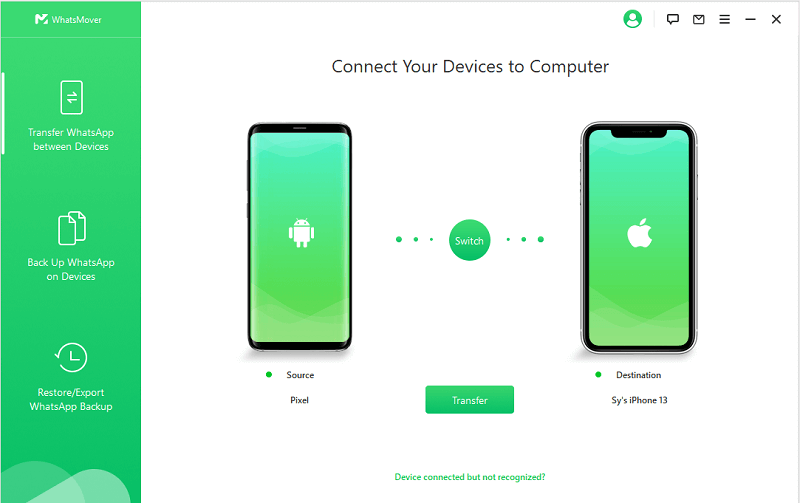 Step 2 Connect your iPhone and Android device, and make sure the Source and Destination devices are right.
Step 3 Once the two devices have been recognized, click Transfer at the bottom of the screen. Select transfer for WhatsApp and the software will start transferring. You will get a notification that says "WhatsApp Messenger Transfer Successful" once done.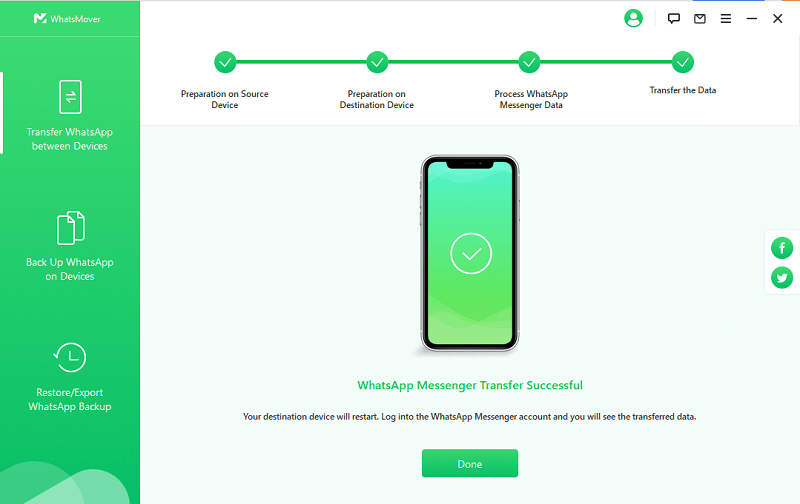 Conclusion
Syncios WhatsApp Transfer has a lot of benefits for users that want to transfer their WhatsApp data between devices. It is safe, secured, and simple. However, it doesn't work for some users. To back up, transfer, export and restore your WhatsApp backup with the 100% success rate, you would not like to miss WooTechy WhatsMover, which is the most reliable transfer tool.