For all these years, users have always turned to third-party software to complete WhatsApp transfer as there is no official way to do so. And one of the well-known software used for this purpose is the WazzapMigrator software. Once a free software, the developers have now mandated a download fee without a free trial. This, plus reviews on how difficult the steps involved in the transfer process, has prompted users to look for an accurate review before spilling the cash.
In this article, I will give you a firsthand WazzapMigrator full review after intense tests and use of the software. Whichever question you have about this tool, this article has the answer to it and more.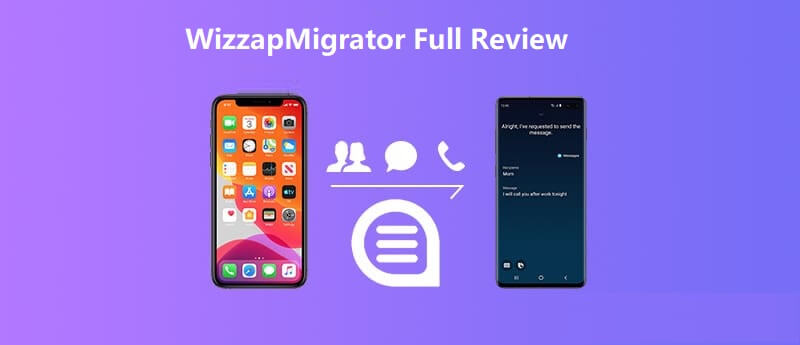 WazzapMigrator Review— Everything You Want to Know
Is WazzapMirator safe? How to use the WazzapMirator app? I believe these are your concerned questions. So iin the next section, we'll explain everything you want to know about this app.
1. What is WazzapMigrator and What can it Do?
WazzapMigrator is one of the most popular WhatsApp transfer third-party apps. It can transfer WhatsApp data from iPhone to Android, but not the other way round. It has a PC app called the WazzapMigrator Extractor and an Android app that can be downloaded on Google Play Store.
WazzapMigrator uses WhatsApp archives from iPhone backup on your PC to transfer your WhatsApp data from any iOS device to Android. The process is not straightforward as it requires multiple steps and a bit of technical knowledge to pull off.
As mentioned earlier, WazzapMigrator was a free software program some time ago. Now, you are required to pay $7.99 for downloading the app on Google Play Store.
2. How Does WazzapMigrator Work?
WazzapMigrator extracts a WhatsApp archive from your iPhone backup on your PC, then you transfer the archive to your Android and extracts the WhatsApp data. I know what you are thinking - that's a lot of things to do.
Now, let me break down the processes for you.
Step 1: Back Up Your iPhone to Computer using iTunes
Make sure you have the latest version of iTunes on your PC. To start, connect your iPhone to PC and launch iTunes.
Once iTunes recognizes your device, click on the iPhone icon at the top and click the Summary tab. Under the Backups section, choose This Computer > uncheck the Encrypt iPhone Backup box > click the Back Up Now button, and iTunes will save a full backup of your iPhone data.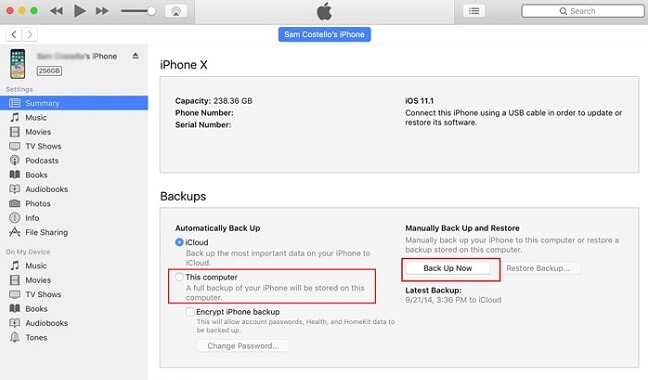 Step 2: Extract WhatsApp Backup Archive
Go to wazzapmigrator.com on your PC browser to download the WazzapMigrator Extractor.
After installation, choose the iPhone backup you just created and click the Extract button. This will extract an archive file named ChatStorage.sqlite and a Media file to your computer, then click the Show extracted files button.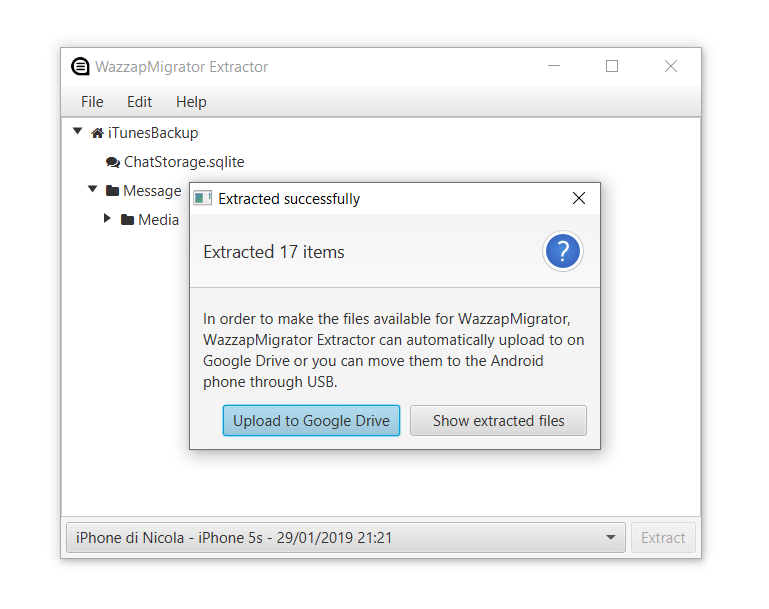 Step 3: Transfer the WhatsApp Archive to Your Android Phone
Go to Google Play Store to download the WazzapMigrator app and install it.
After that, cconnect your Android phone to your PC via a USB cable. Move the ChatStorage.sqlite archive file and the Media file to the WazzapMigrator folder of your phone's internal storage.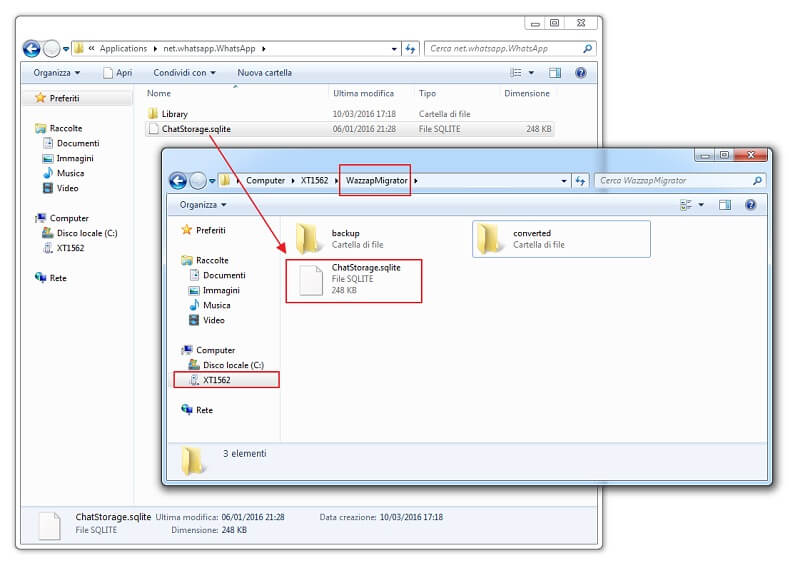 Step 4: Extract WhatsApp Data on Your Android Device
Later, disconnect your Android from your PC and delete WhatsApp if you have installed it before.
Launch the WazzapMigrator app and it will detect your WhatsApp archive. Now, tap the play button to initiate the conversion.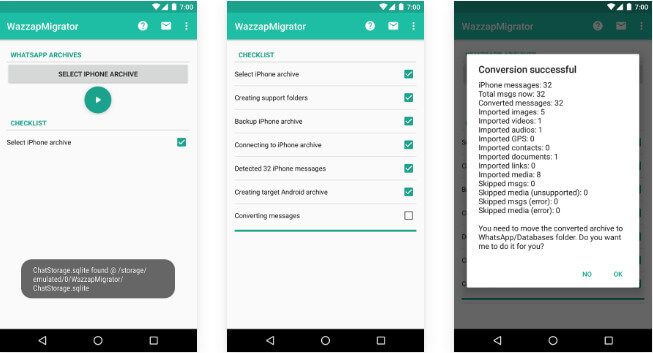 Step 5: Complete WhatsApp Setup on Android
After the process is completed, go to Google Play Store to download WhatsApp. Complete the setup with the same phone number and tap the Restore button when prompted to restore messages and media from the phone's storage.
And you will have your WhatsApp transferred to your Android. But that's truly a whole lot of steps.
3. What is User's Opinion about WazzapMigrator?
Before discussing other users' opinions about the WazzapMigrator, let me quickly take you through the pros and cons of the software from my own experience.
Pros
Transfer all WhatsApp messages at once.

Extract WhatsApp data from old iTunes backup even if you don't have the iPhone now.

The app is safe to use.
Cons
Hiccups such as the "select media.zip" error happen often.

Transfer process is complicated and takes a whole lot of time.

Cannot transfer WhatsApp from Android to iPhone.

Does not offer a free trial of any of its features. In fact, you need to pay the fee before you can download the app on Google Play Store.

It's not compatible with some smartphone models and the latest version of WhatsApp according to our tests.
With a rating of 4 out of 5 on Google Play Store, users' opinion about the WazzapMigrator is generally positive. However, about 20% of users give this app a 1-star rating because the app fails to do its job or is too difficult to use.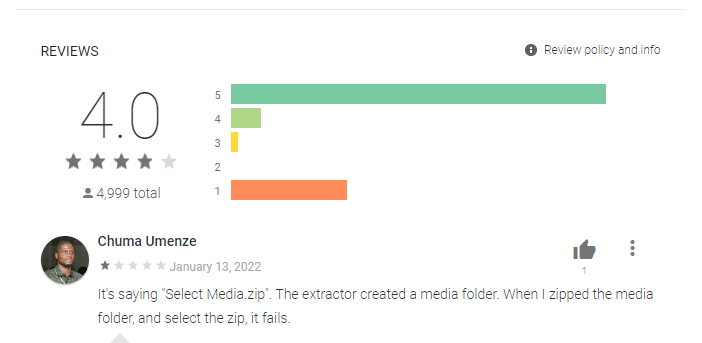 Best Alternative to WazzapMigrator for WhatsApp Transfer
If you have been reading only the WazzapMigrator review, you'll be forgiven for thinking that WhatsApp transfer is supposed to be complicated. However, it is actually a cakewalk if you've got the right software like WooTechy WhatsMover.
WhatsMover WhatsApp Transfer is a computer-based tool that transfers your WhatsApp from iPhone to Android in three simple steps without any other third-party tools. The transfer is direct between the two devices with a few mouse clicks. It does not involve any form of human interference as you are only required to confirm the transfer action and nothing more.
What's more, the WhatsMover software can also transfer WhatsApp from Android to iPhone, iPhone to iPhone, and Android to Android. It is, without a doubt, the perfect WhatsApp transfer tool you can get.
How to Transfer WhatsApp from iPhone to Android with WhatsMover
Below is how you can quickly transfer WhatsApp from iPhone to Android after downloading and installing the WhatsMover software on your PC or Mac.
Launch the WhatsMover program and click the Transfer WhatsApp between devices tab on the left plane.
Connect both your iPhone and Android to computer via USB cables. Ensure the iPhone is denoted as the Source and the Android as the Destination. Now, click the Transfer button.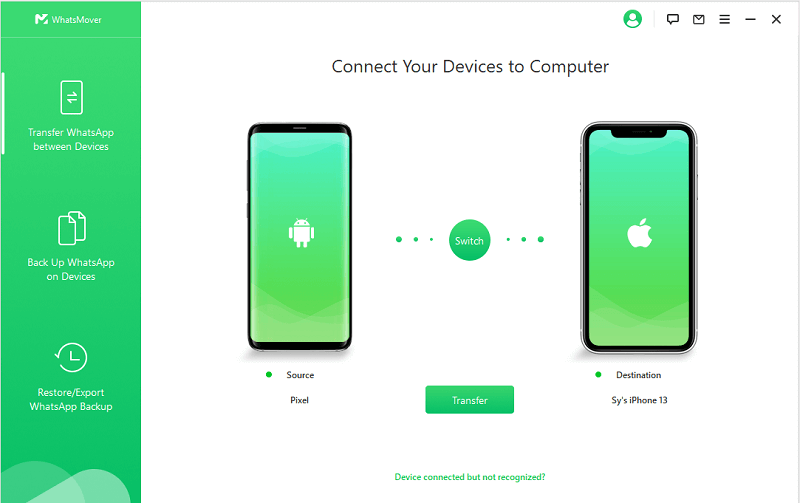 Select your WhatsApp type when prompted, and the software will begin transferring your data. Just have a cup of coffee and wait for the process to complete.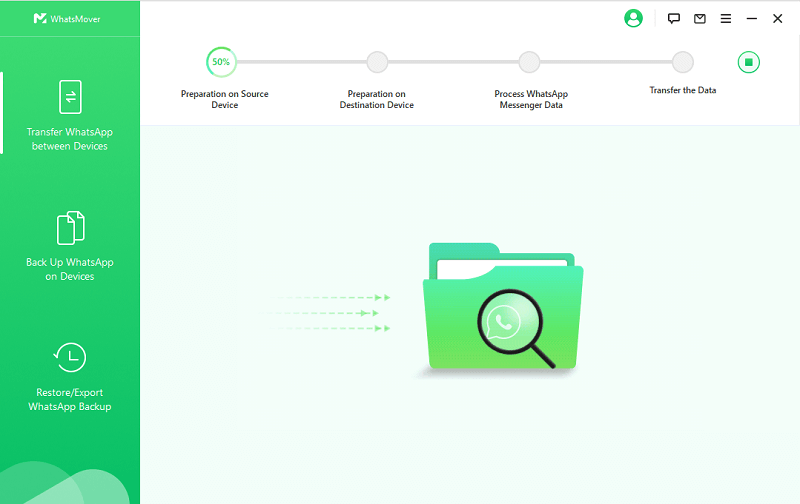 Easy as you like! You have your WhatsApp data ready for access on your Android.
Conclusion
There you have it — a complete firsthand WazzapMigrator review. On a general note, the app is reliable to finish WhatsApp transfer, but it is not user-friendly.
Therefore we recommend the WooTechy WhatsMover WhatsApp transfer software as the ideal alternative to the WazzapMigrator. This software supports a wide range of phone models and OS versions and perform WhatsApp transfer in a few clicks.