WhatsApp is one of the most fashionable instant messenger apps around the world. Over two billion people use this app to chat, send photos, and stay in contact with friends and family. Still, if you have been using this app for years, you might be wondering how you can protect and store your data. In this post, we'll talk about WhatsApp local backup and discuss how you can take a local backup and restore WhatsApp from local backup on any phone.
Part 1. What Does Local Backup Mean on WhatsApp?
Local backup refers to your personal WhatsApp data that is stored on WhatsApp and backed up on your phone. WhatsApp refreshes and saves your data to your phone each day. This process creates backup files for your chat logs, photos, and other data on WhatsApp.
The local backup is created and stored on your phone. And it can help you recover lost data in case your phone breaks or the app is accidentally deleted from your device.
Part 2. How to Take Local Backup on WhatsApp
To restore and access your local backup on WhatsApp, you will need to take a local backup on WhatsApp and back it up on your mobile device. This way you can restore the data and get it back on your phone.
How to Take Local Backup on Android:
Open your WhatsApp first.
Click the three dots to bring down the menu, and click Settings.
After scrolling down click on Chats > Chat Backup.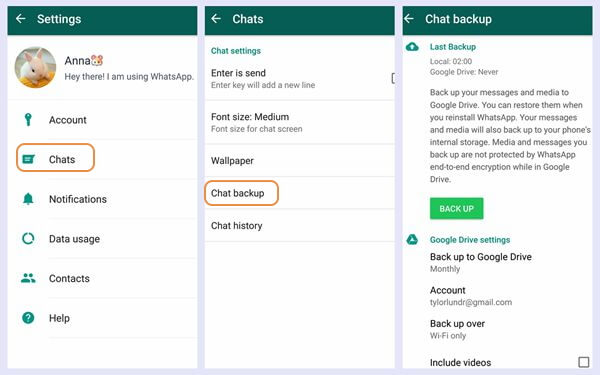 In Chat Backup press Back Up to Google Drive > Never, this will make the backup store on your phone locally.
Then hit the Back Up button and let the local backup download.
How to Take Local Backup on iPhone:
Make sure you are signed in to your iCloud.
Click on WhatsApp > Settings > Chats.
Click Chat Backup then press Auto Backup. The data will be backed up to your iCloud.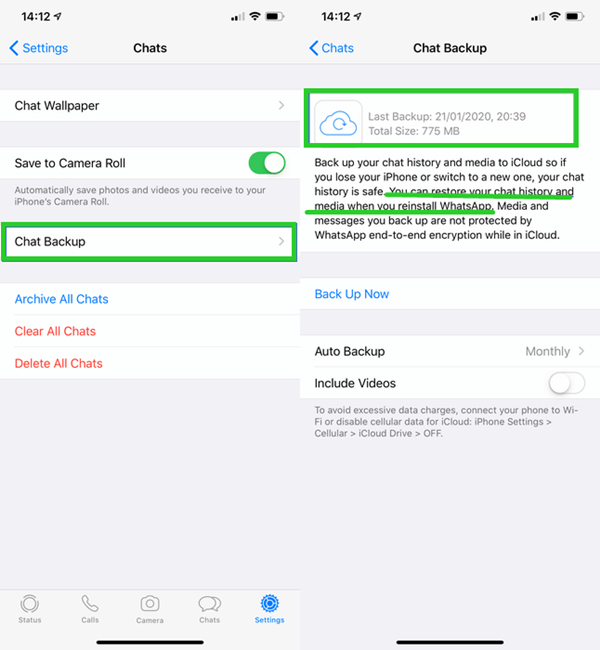 How to Access WhatsApp Local Backup Android:
WhatsApp local backup location is usually at the WhatsApp Databases folder on your phone's default storage. To access it, you can follow these directions:
Go to MyFiles app or other File Manager on your Android phone.
Click on either SD Card or Device Storage, if you have an SD card click SD card.
Click on WhatsApp > Databases.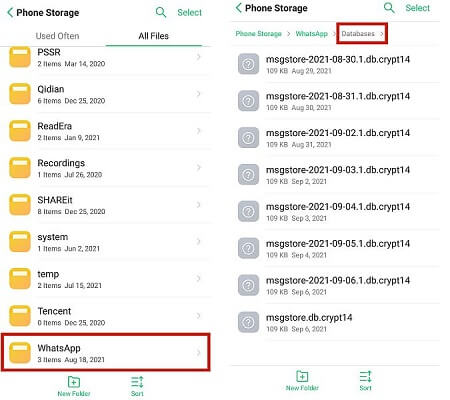 From here you can see your backup data and access it.
Part 3. Can You Restore WhatsApp Chat from Local Backup?
For the iPhone, to restore WhatsApp from local backup is often the restoration from iCloud. To do that, you will need to reinstall the WhatsApp program and log in the same account to restore WhatsApp chat data.
But, for Android phones, you can restore WhatsApp Chat directly from the local backup.
1. Restore from a Recent Local Backup
Open your File Manager app. Head to your SD Card Storage or Device Storage.
Go to WhatsApp/Databases. Reinstall and open WhastApp.
Verify your number and click on Restore button to restore WhatsApp from local backup.
2. Restore from a Less Recent Local Backup
The process is a little more complicated if you are using an older backup.
Open your MyFiles app or similar File Manager app. Go to your Local Storage or SD Card again.
Locate WhatsApp > Databases. When you find the backup file you will need to rename it as msgstore.db, but don't change the crypt extension.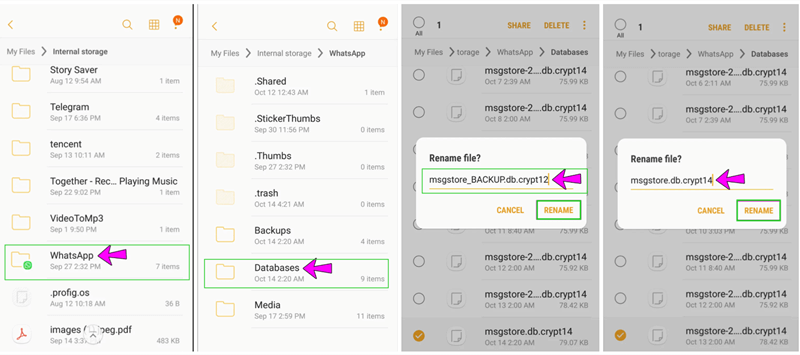 Then uninstall the WhatsApp app from your phone. Reinstall and sign in, then hit the Restore button when the app logs you in.
Part 4. Pros and Cons of Local Backup
Pros
It will be automatically created at 2 am every day.

It's convenient and simple to back up your files this way.

It's easy to transfer the local backups to other devices.
Cons
Local backup only stores WhatsApp data of the last 7 days. And older backup files will be deleted.

The local backup is saved as encrypted file, so it's hard to read them.

It will take up your phone's storage and cause out of memory.

The backed up files can be lost for unknown reasons at times.
Part 5. A Better Way to Backup and Restore Your WhatsApp (iPhone & Android)
Considering the limitations of WhatsApp local backup, WooTechy has the perfect solution for people who want to back up their WhatsApp data simply and swiftly. The WhatsMover app makes it super convenient to back up WhatsApp and restore WhatsApp backups without storage limit and without OS restrictions.
Key Features of WooTechy WhatsMover:
100.000+
Downloads
Back up WhatsApp data on Android and iPhone to PC with unlimited free storage.

Safe to use, it backs up your data in one click and without overwriting your previous backups.

Able to restore WhatsApp backups from iTunes and Google Drive.

Support backing up all types of WhatsApp data including messages, contacts, emojis and photos.

Support all models of iPhone and Android devices, as well as restoring WhatsApp backups without reinstalling WhatsApp.

You can also use it to transfer WhatsApp data from one phone to another.
To backup your data on your phone, download WhatsMover to your computer. Plug in your device and connect it with a USB Cord and turn off Find My iPhone if you have an Apple device. Open WhatsMover, then click Backup WhatsApp on Devices option on the side menu.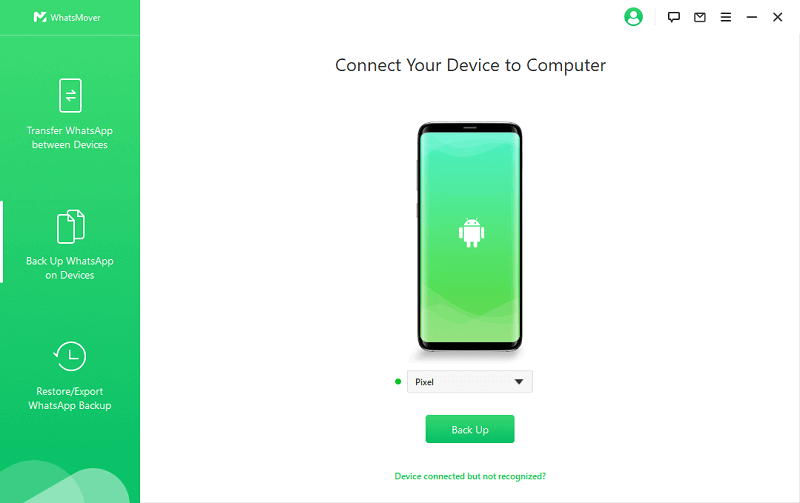 Click Back Up and choose the type of data that need to be backed up. Soon your WhatsApp data is saved to your computer.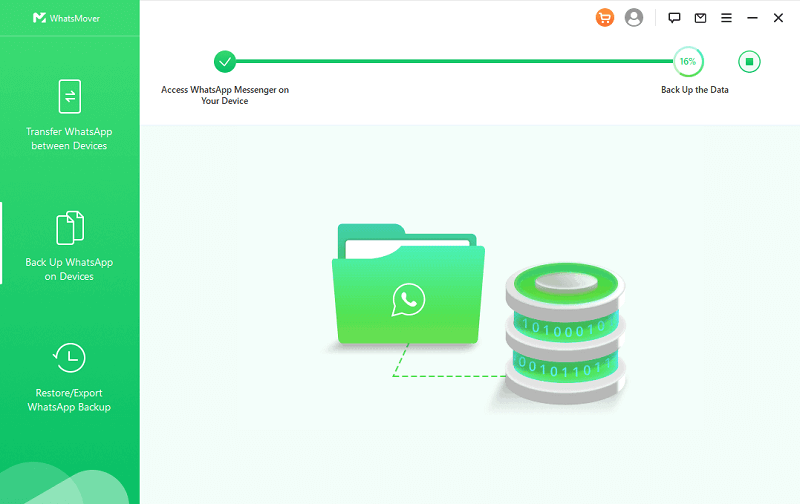 To restore the data, click Restore/Export WhatsApp Backup. Click on the file you want to restore. After that, you can choose to restore them to your device or export them.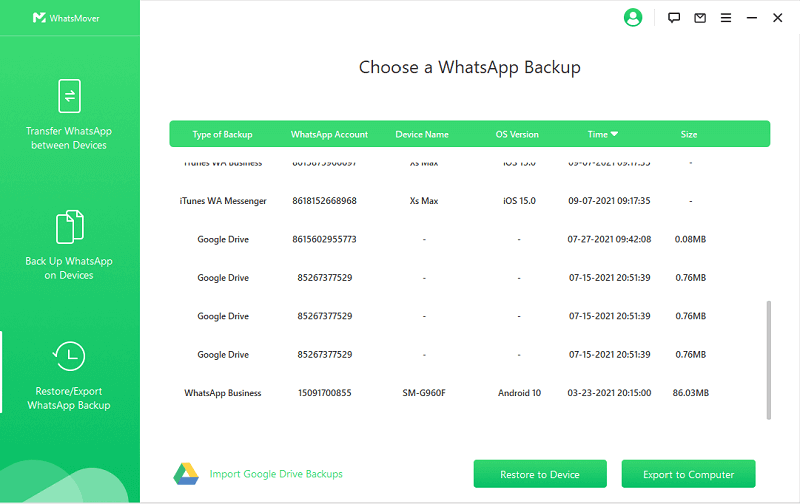 Part 6. Pro Tip -- How to Transfer Your Local WhatsApp Backup to A Different Device
If you have taken local WhatsApp backups and would like to transfer them to a different device, then you can follow these directions.
Go to File Manager/Storage/WhatsApp/Databases.
Select the backup files you want to transfer and tap on the Send button at the bottom of screen.
From here, you can transfer them to Google Drive, through WhatsApp.
Conclusion
WhatsApp local backups are a great way to restore lost phone data or transfer old app data to a new phone. In this post, we went over the best way to make a local backup and restore your backup. Our WhatsMover software is the simplest way to do this but we also talked about some other methods you can use. Go back through our post if you are still unsure of what you need to do with your WhatsApp local backup.