If you are in the process of switching over to a new phone, you might be wondering how to transfer your WhatsApp data. No one wants to lose their chat history, contacts, and other information. So, getting your WhatsApp data and account to your new phone is important.
If you have WhatsApp with new phone same number, it is not too difficult to make a transfer. Just follow the steps we will talk about throughout this post.
Part 1. Will You Lose Your WhatsApp Conversations If You Change Phones?
No matter what kind of cellular device you have, you can transfer WhatsApp to a new phone with the same number. Some people wonder if it's safe to do a data transfer to their new device.
However, as long as you have backup data, you don't have to worry about losing WhatsApp conversations. This includes photos you have sent or received, videos, and other media you have saved on WhatsApp. WhatsApp has a built-in backup feature that you can use to restore data on any new device.
Part 2. How to Transfer WhatsApp to New Phone Number (iPhone & Android)
Professional WhatsApp transfer software like WooTechy WhatsMover is the best way to get WhatsApp from your old phone to your new phone. WhatsMover can be used on both iPhones and Android devices and transfer WhatsApp to new phone number without the OS restrictions.
With the click of a few buttons, all your data can be moved to a new phone fast and highly efficient.
WhatsMover – Transfer Your WhatsApp Easily
100.000+
Downloads
Able to transfer WhatsApp to your new iPhones or any new Android phones as it is compatible with all iOS versions and Android tablets such as Samsung, Huawei, LG, etc.

Transfer all types of WhatsApp data including chats, contacts, photos, videos and other attachments to your new phone with same number.

With the 100% success rate, it ensures to transfer your WhatsApp data to new phone with 3 easy-to-use steps.

100% secure, it has no virus and protects your data privacy during the whole process.
We'll show you how to use WhatsMover to transfer WhatsApp to your new phone here:
Download WhatsMover and open up the software on your computer. Plug in both your phones. Press Transfer WhatsApp between Devices on the menu.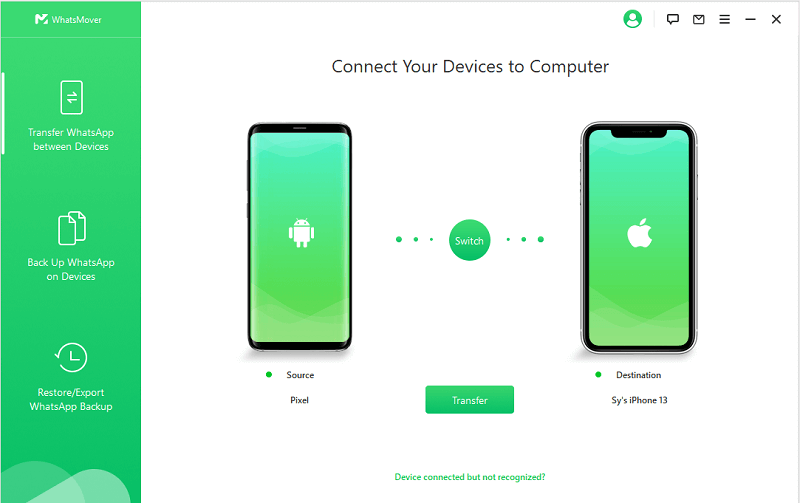 Wait for WhatsMover to recognize your phones. Click which phone is the source and the destination once your devices pop up. Now you can press the Transfer button.
Wait for the WhatsApp transfer to complete and then unplug your phones. With your new phone log into WhatsApp.The data will show up on your new phone.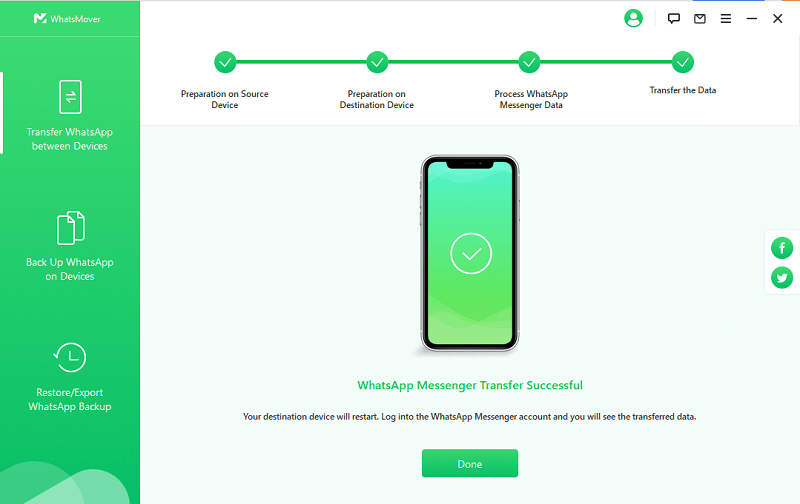 Part 3. [WhatsApp Transfer] Move to the Same Type of Phone
Moving WhatsApp between the same types of phones is not too hard. Follow these steps to back up and transfer chats and pictures to your new device.
3.1 Transfer WhatsApp to New iPhone Number
To start the WhatsApp transfer from your old iPhone to your new iPhone with same number, get your phones out and do this:
Make sure you have a backup first by going into WhatsApp on your old iPhone. In WhatsApp navigate to Settings > Chats > Chat Backup.
If you don't have a backup, press Back Up Now Now. With your backup saved you can log out of WhatsApp and delete it.
Go to your new phone and install WhatsApp and log in. You should be logged in to your iCloud so you can access your backup. And make sure to verify your phone number if you changed it.
Then restore your backup. A prompt will pop up on your phone. Press the Restore chat history button to transfer all your old chat data.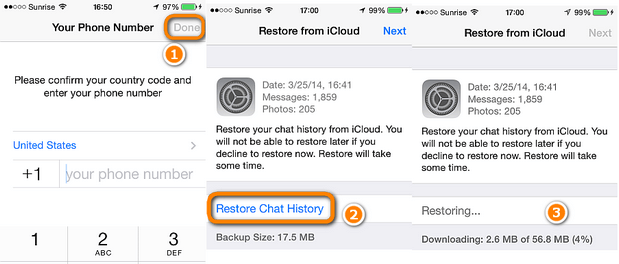 Note
There should be 2.05 times the space on your iCloud and iPhone than the actual size of your backup.
3.2 Transfer WhatsApp to New Android Phone Number
For Android to Android transfer, the process is similar, with some differing steps. Create a Google Drive backup for the simplest transfer between phones.
Go into WhatsApp on your old Android phone. Enter Settings > Chat > Chat Backup.
Create a backup through Google drive. Sign in to your Google account on WhatsApp.
Then press Back Up, so Google backups the data. Get rid of WhatsApp on your old phone.
Then open your new phone and check that you are signed into Google. Log in to WhatsApp and verify your new phone number.
You will be asked to restore your chat history. Press the Restore button. Select Google Drive as the source of the backup.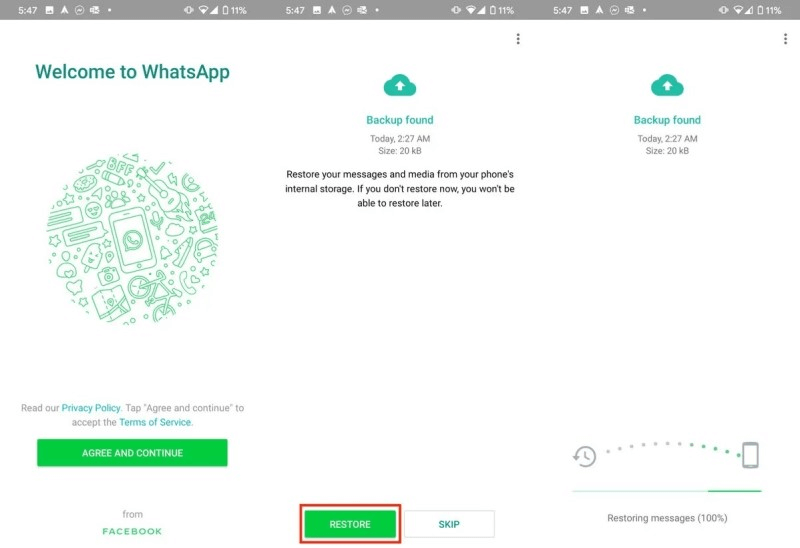 Wait for the restoration to complete and press Next. All your chats and media should be downloaded on your new phone.
Part 4. [WhatsApp Transfer] Move to a Different Type of Phone
What if you want to move WhatsApp data between different types of new phones? We'll go over the steps for this type of transfer here.
4.1 Transfer WhatsApp from iPhone to New Android Phone Number
To transfer WhatsApp from iPhone to new Android phone with same number, follow these instructions. You can only do this with a Samsung phone, unfortunately.
Start by downloading the Samsung SmartSwitch app on your new phone. It should be version 3.7.22.1 or higher.
Ensure that your WhatsApp is installed to the latest version on both your phones. You can update and check your app version in the app store if you need to.
Use a USB lightning cable to connect your phones to each other. When the phones are connected, go into the SmartSwitch app.
Follow the steps on the screen. Scan the QR code on the Samsung with your iPhone.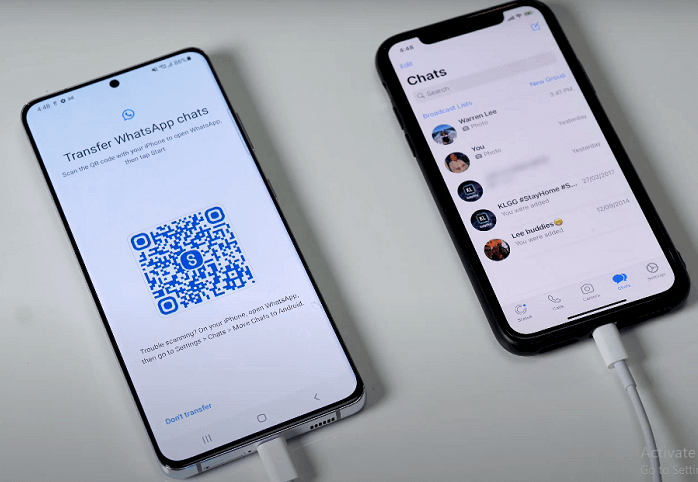 On the iPhone, a screen will pop up and press Start. The transfer will start, just let it finish.
Log in to WhatsApp on your new phone with your same phone number and account info.
Your phones should still be connected, then press the Import button on WhatsApp screen.
Note
Your new Android phone must be reset to factory settings if it's not fresh new.
4.2 Transfer WhatsApp from Android to New iPhone Number
What about transferring WhatsApp from Android to your new iPhone? This is also possible but you need to use the same phone number and your phones should be fully updated to the latest operating systems.
Download the Move to iOS app on your old Android phone from the Google Play Store. Connect both your phones to power sources.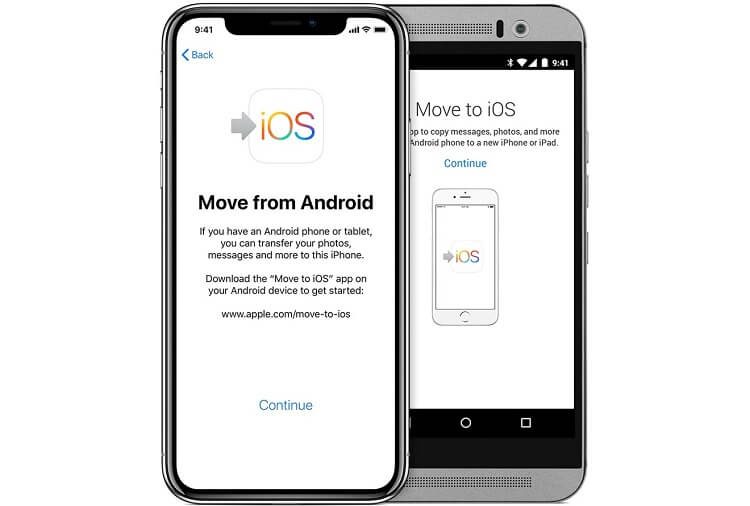 Then pair your iPhone with the Move to iOS app on your old Android phone. Instructions will appear on the screen to help you do this. Follow them.
Enter a code into your Android. It will show up on your iPhone screen after the pairing. Press the Continue button after.
A Transfer Data screen will show up, press WhatsApp. Press the Start > Next > then Continue button.
Let the data export to your iPhone and let it finish up. Then you can download WhatsApp on your iPhone.
Log in to your WhatsApp using your account information with the same phone number.
In WhatsApp, press the Start button when it appears to get all your chats and data back.
Note
Similarly, your new iPhone must be reset to factory settings if it's not fresh new.
Bonus: How to Transfer WhatsApp Account to a New Phone with the New Number?
We talked about how you can transfer WhatsApp to a new phone with the same number. But what if you get a phone with a brand new number? It is possible to transfer your WhatsApp account to a new number.
There are a few extra steps to follow. However, you'll need to go into your WhatsApp account settings to get your data transferred over to your new phone number. So, ensure that you have access to your account too.
Transfer your WhatsApp data between your phones. Use the steps we outlined above depending on the devices you have. Open up WhatsApp on your old phone when you are done with the data transfer.
In your WhatsApp Settings go to Account > Change Number > Next. To change the number, enter your old phone number first. Then enter your full new number in the text box below it.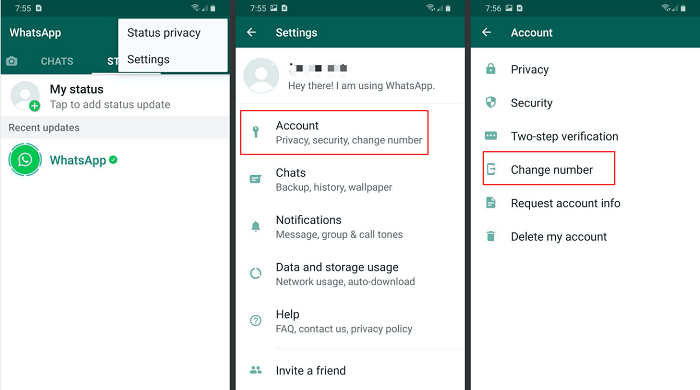 Press the Next button. You can also notify your contacts your number is changing by hitting the Notify All Contacts option. Afterward hit the Done button.
Get out your new phone and open WhatsApp. If you don't have the app on your new phone, download it. Then start logging into WhatsApp.
When you log in you will also need to verify your brand new phone number. Look at your SMS and find the six-digit code. Enter the six-digit code into the WhatsApp verification page.
WhatsApp should detect the data backup you created. Then restore your data by pressing the Restore button.
Conclusion
Everything you need to know about WhatsApp new phone same number was included in this post. We even talked about how to transfer WhatsApp account when you have a new phone number. The ways you can transfer WhatsApp are varied, but we highly suggest using our WooTechy WhatsMover app to get the job done, as it provides the best results!
You can get your videos, chats, and other WhatsApp data to whatever phone you want with WhatsMover. Even if you are transferring from Android to iPhone or iPhone to Android.