You might be wondering what you need to do when you see that your WhatsApp restoring media is stuck. While this doesn't happen all the time, sometimes restoring issues randomly crop up for WhatsApp and Android users. We'll be going over the exact steps you need for fixing the WhatsApp restoring media stuck on Android issue.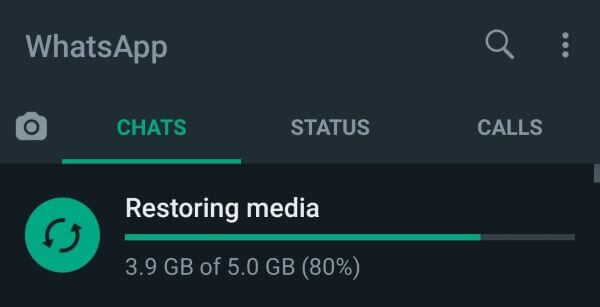 Part 1. How Long Does It Take to Restore Media on WhatsApp?
When WhatsApp is restoring media, the loading time may vary. Usually, though, a restore shouldn't take that long. If you have a good internet connection and your phone is working, it takes around 5 to even 10 minutes to restore WhatsApp media.
On the other hand, if there is a hardware issue with your phone, you aren't connected to the internet/cell service, or if your phone or software isn't updated, then restoring might take longer. For instance, with a slow network connection, it can take a few hours to restore WhatsApp media. The restoration might stop completely too, especially if you don't have enough phone data or updates aren't installed.
Part 2. How to Fix WhatsApp Restoring Media Stuck on Android
We'll talk about how you can get WhatsApp unstuck when it won't restore media right away. Android users should follow the steps we outline below to solve this problem quickly.
1

Check Network Connection

The first thing you want to do is check your network connection. This is the most common reason WhatsApp restoring media gets stuck on Android devices.

Go to Settings > Wi-Fi. Check to see if you are connected to the Wi-Fi.

Look at your signal strength too. If your signal is poor or you're not connected, turn your Wi-Fi off and then on.

When you reconnect, check your WhatsApp restoring media.
2

Check Google Account and Phone Number

If the issue wasn't with your Wi-Fi, look at your Google Account and Phone Number. If you don't have the right information entered in, your media backup won't restore.

Go to WhatsApp > Settings > Chats.

Then enter Chat Backup > scroll to Google Account and check whether it's the right account name.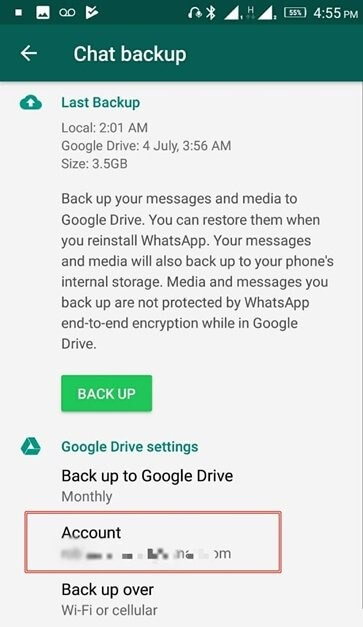 If your Google Account is right, go back to Settings.
Click on your profile picture then look if your phone number matches the number associated with your backup data.
Fix the phone number if it's wrong.
3

Check Storage on Android Phone

You need enough storage space to back up and restore your media onto your Android phone. Check your storage if you get WhatsApp restore stuck on Android.

On your cell phone, go to Setting > Storage.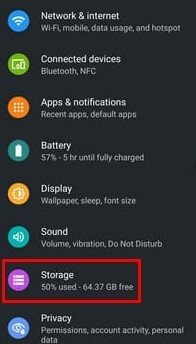 When in Storage, you can see how much space you have left for your backup.
If you don't have enough space go into your picture and videos. Delete files you don't need to make space for WhatsApp media.
When there is enough space, the restore will resume.
4

Check Google Play Services

You need Google Play Services to do your WhatsApp restore. You'll have to install this app if you don't have it.

Go to your Google Play Store app. Press on My Apps & Games to see all your apps.

Scroll down and look for Google Play services.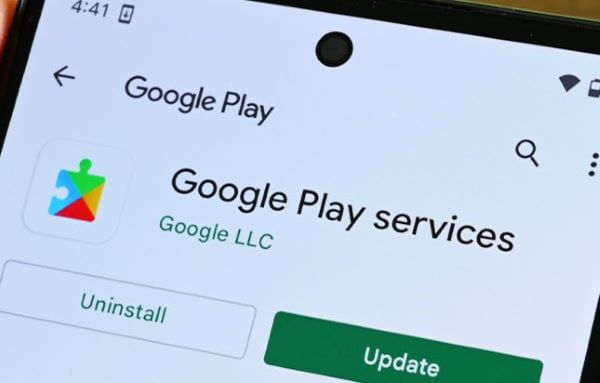 If it's not installed go back into the app store. Then search for and download Google Play Services.
5

Charge Your Android Phone

Fixing WhatsApp restoring media stuck on Android can be as simple as charging your phone because low battery can cause issues at times.

Check to see what your phone battery is at. If your battery isn't fully charged, get your wall charger.

Plug it in and charge it all the way. When the charging is done, see if your data has been restored.
6

Update Phone and WhatsApp

Another way to get your WhatsApp restore unstuck is by updating both your phone and WhatsApp.

Go to the Google Play Store to update WhatsApp.

Search for WhatsApp Messenger in your search bar.

Click on the app then hit the Update button if it's present.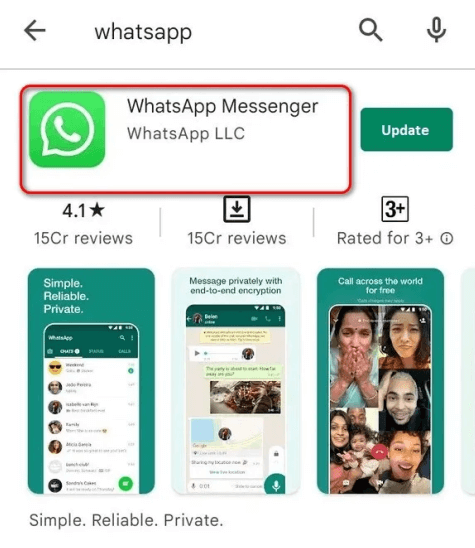 If your app is updated, then update your phone.
Enter Settings > System menu > System Update.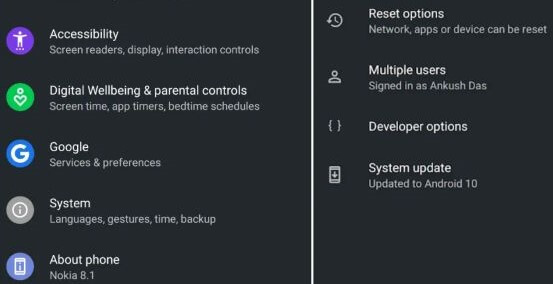 If there is a new update it will appear on your screen. Click Download and Install.
7

Restore WhatsApp from Local Backup

Finally, try to restore WhatsApp from a local backup if your WhatsApp restore is still stuck at 99 on Android. WhatsApp created backup locally every day.

Open your file manager and then go to Internal Storage.

Look for the WhatsApp file then click it. Find Databases and choose the most recent backup file.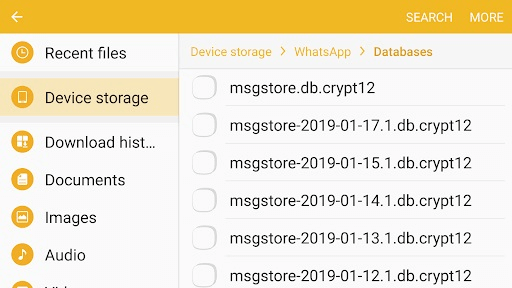 Change the file name and take out the year, month, and date.
Uninstall WhatsApp and reinstall it. When you log back into your WhatsApp, hit the Restore button.
Bonus: Back Up and Restore WhatsApp on Android Without Stuck
There is a better way to back up your WhatsApp and prevent it from getting stuck on Android. If you want to avoid this issue entirely, use WooTechy WhatsMover. The all-in-one software quickly and efficiently gets your WhatsApp data backed up with unlimited storage and restored without any stuck errors.
WhatsMover – WhatsApp Backup and Restore Tool
100.000+
Downloads
Back up all types of WhatsApp data on your phone including media files, stickers, documents and more.

Support all Android phones such as Samsung, Huawei, Xiaomi, Google Pixel, LG, etc.

With no data loss, it backs up your WhatsApp data without overwriting previous backups.

Restore your WhatsApp backup like Google Drive backup to Android or iPhone without restrictions.
Open up WhatsMover on your computer and plug in your Android phone. Press Back Up WhatsApp on Devices in the sidebar.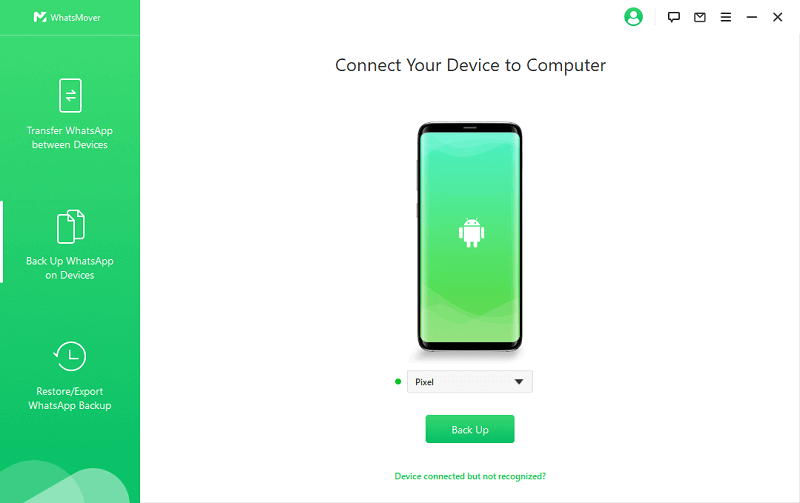 Allow USB debugging on your phone and hit the Back Up button. Soon, the process will be completed.
To restore the backup, go to the sidebar again and click Restore/Export WhatsApp Backup.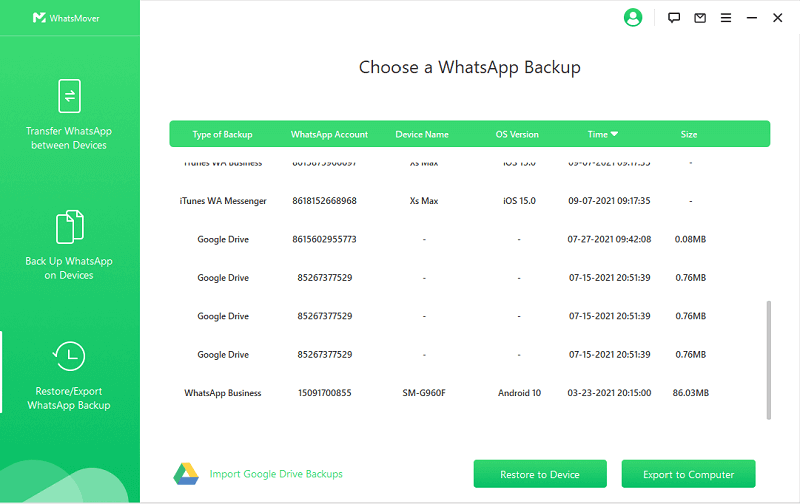 A list of backups will appear, choose the one just made. Plug in your any phone, then click the Restore to Device button.
Your backup will go into your phone and restore. Just log into WhatsApp to check it.
Conclusion
We talked about a few ways you can repair the issue of WhatsApp restoring media stuck on Android. This isn't a complicated fix, just make sure that your phone is connected to a network or that your WhatsApp software or phone firmware is up to date.
If you don't want to meet with the issue again, we highly suggest you use the WooTechy WhatsMover software to freely back up your WhatsApp on Android and then restore it smoothly.