Question
"Is it possible to unlock iCloud locked iPhone?"
The answer is Yes! This article is going to discuss several methods to unlock iCloud locked iPhone. Let's dive into it.
Is It Possible to Unlock iCloud Locked iPhone?
Before we discuss solutions to unlock iCloud locked iPhone, we shoud know why and when our iPhone will be iCloud-locked.

1. How Can I Know That My iPhone Is iCloud-Locked ?
To check out whether our iPhone is iCloud locked is quite easy. The activation lock is usually enabled when we turn on Find My iPhone. Therefore, when we turn on our iPhone, we will encounter the Activation Lock screen. The on-screen message will tell us that the device has been linked to an Apple ID.
We'll be required to enter this Apple ID and password. Verification will be done through official Apple Activation Servers. If we still see that the iPhone is asking for a passcode on the home screen, it's likely that it has not been reset.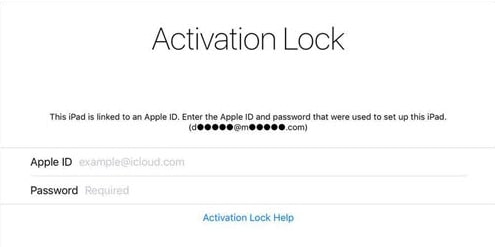 2. Cases That iPhone May Be Locked by iCloud
When users have their the Find My device feature turned on, they can mark the iDevice as stolen or lost if they don't have it in their possession. The device will be locked with a passcode, and they can choose to display a custom message.
Now, it's not a requisite for an iCloud locked iPhone to be either lost or stolen. In fact, most people that purchase second-hand iDevices discover later that they are iCloud locked.
Most sellers assume that all they need to do before selling their device is resetting and deleting all settings and data. In fact, they also need to sign out from iCloud.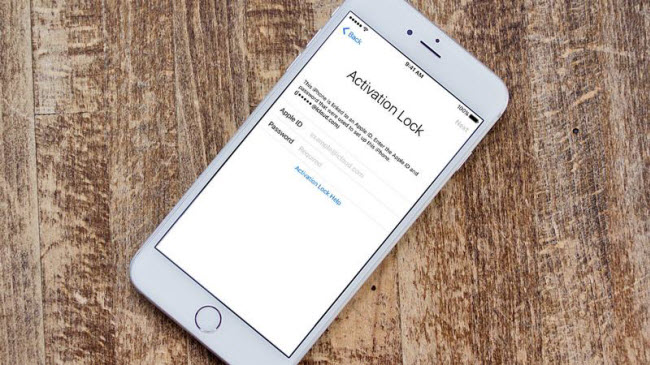 3 Easy Ways to Unlock An iCloud Locked iPhone
If you are tired of unlocking iCloud locked iphone manually, here you will learn some of the best softwares to help you do it.
1

WooTechy iSalvor
WooTechy iSalvor is a professional iCloud lock bypass tool. Without any technical knowledge required, the software can help users to unlock thier iCloud-locked iPhone within minutes.
Great Features of WooTechy iSalvor
Bypass iCloud locked devices without Apple ID or password.

Virtually supports iOS 12 and later versions.

Work with iPhone, iPad, and iPod Touch devices.

Prevent the device from being tracked using the old iCloud credentials.

Users can try out the software without purchasing.
What are people saying about WooTechy iSalvor?
So far, the software has received high ratings from past users. Most reviewers have been amazed by the simplicity of the software and the quick steps to unlock their locked iPhone.
A Video Tutorial about Removing iCloud Account without Password
Steps to Unlock iCloud locked iPhone
Step 1. Download and run the application on your computer. Then tap "Start".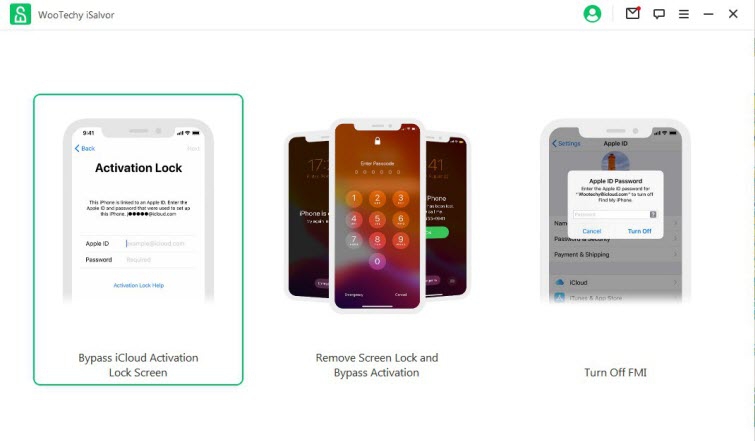 Step 2. Connect your device with a lightning cable. Check to see if it's connected.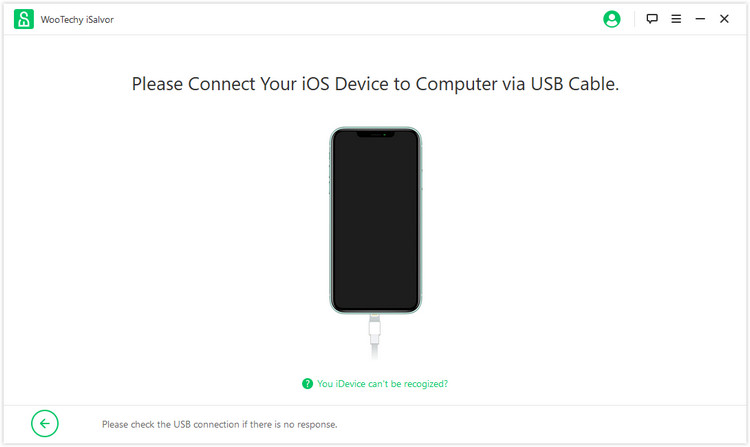 Step 3. Jailbreak your iDevice by clicking "Jailbreak Tutorial" so that the software can bypass the activation lock screen.The program will provide instructions on how to perform this step. If you are using Windows version, please refer to the iOS jailbreak tutorial on Windows.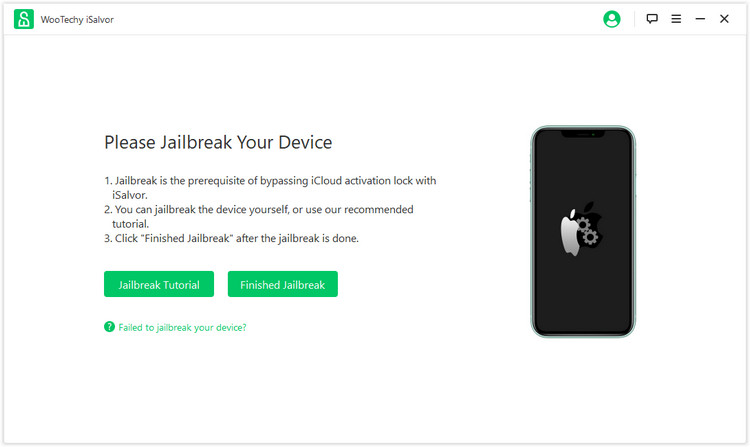 Step 4. The application will display the device information, including its iOS version, serial number, model, etc. You just need to click "Start Bypass" to complete the process.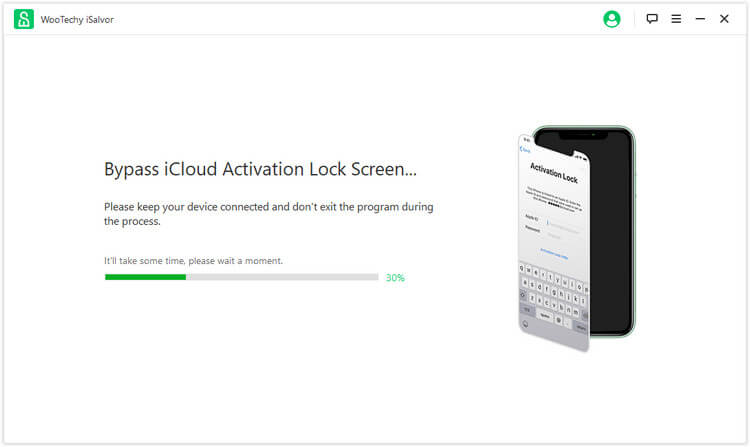 In a few seconds, iCloud activation lock screen will be removed.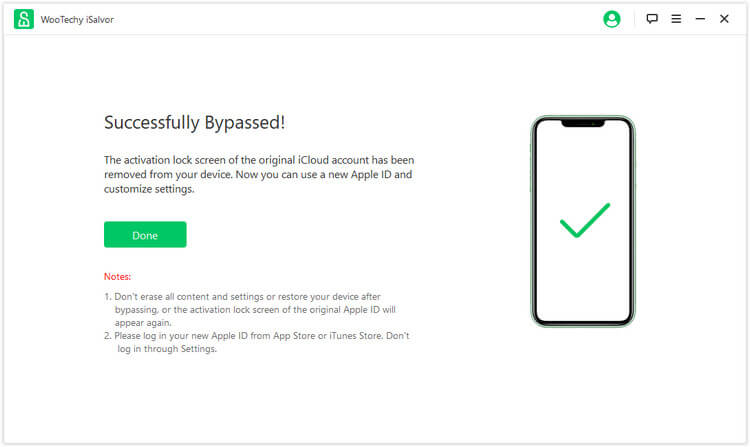 Now it's important to be realistic about the capabilities of the program. While it allows you to bypass the activation lock screen, you may lose some functionality, such as using cellular data and making calls since your iPhone will be jailbroken.
---
2

DNS Method
Is it possible to unlock an iCloud locked iPhone using the DNS method? Well, it does not enjoy a high success rate and mostly works with older iOS versions.
The premise of the DNS activation method is that the iDevice must connect to Apple Activation servers to receive the verification. Instead of connecting to the official server, you can set up a device to receive its verification from third-party servers.
Steps to use the DNS activation Lock Bypass
Step 1. Power on the device and choose your region and language.
Step 2. Open the Wi-Fi settings and click the more information icon to access the advanced network settings. (You can also press the home button to access more Wi-Fi settings).
Step 3. If you are connected to the Wi-Fi network, make sure to forget it at this stage.
Step 4. On the advanced Wi-Fi settings page, you should see the DNS entry. Change this figure to the following values based on your region:
USA: 104.154.51.7
South America: 35.199.88.219
Europe: 104.155.28.90
Asia: 104.155.220.58
Australia and Oceania: 35.189.47.23
Other continents: 78.100.17.60
Step 5. Select the back button and find your Wi-Fi network. Enter its password and select "Join" to connect.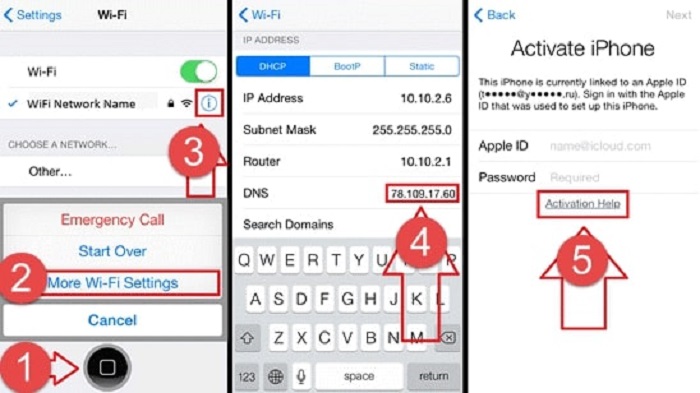 Step 6. On the Wifi Settings page, don't go to the next page. Give it some time to load, and the iCloudDNSBypass.com screen should pop up. (You can also access this screen by selecting "Activation Help" on the activation lock screen) There will be a message at the top of the page telling you that you have successfully connected to my server.
Step 7. Scroll down the page and below the language option, select Menu. It allows you to access apps.

The method may be free, but it has some limitations, including:
It provides a partial unlock.

The DNS has been shown to work on iOS 8 to iOS 10 devices only.

You get limited access to features.

There's no assurance to the safety of the third-party servers used.

There will be an annoying "log in" banner at the top of the screen.

Try WooTechy iSalvor if your device is not supported or DNS doesn't work.
---
3

AppleiPhoneUnlock Removal Service
Is it possible to unlock an iCloud locked iPhone using an online service? Several online services help customers activate their locked iDevices using the device's IMEI.
AppleiPhoneUnlock is one of these services but be wary because the service has garnered many negative reviews.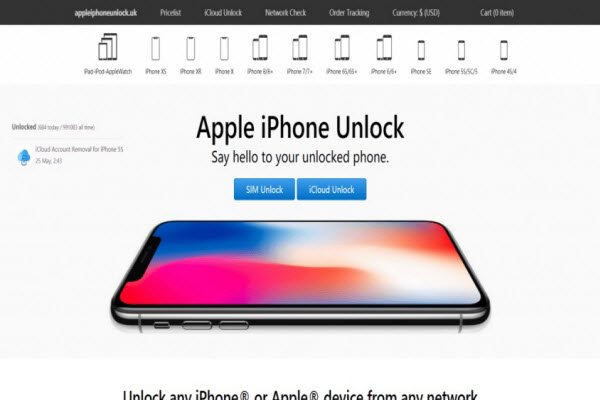 Steps to use AppleiPhoneUnlock
Step 1. View your IMEI. You find it by pressing the more information icon (i) on the welcome page ("Hello" page).
Step 2. Visit the AppleiPhoneUnlock website and navigate to the iCloud activation bypass page.
Step 3. Choose your device model and enter the IMEI.
Step 4. Enter your payment details and receive a confirmation email.

What are people saying about AppleiPhone Unlock?
It takes a period of several working days for the team to get back to you.

In the reviews we encountered, many people have had negative things to say about the service. Some customers stated that they were asked to pay more money to complete the unlock process.

One user complained that they were told that their iPhone was reported as stolen; hence it could not be unlocked.

Use the reliable tool WooTechy iSalvor if you find the online service is scam.
Other Tools to Unlock An iCloud Locked iPhone
Is it possible to unlock an iCloud locked phone using any other methods? Yes, and here are some other tools.
1

ApowerUnlock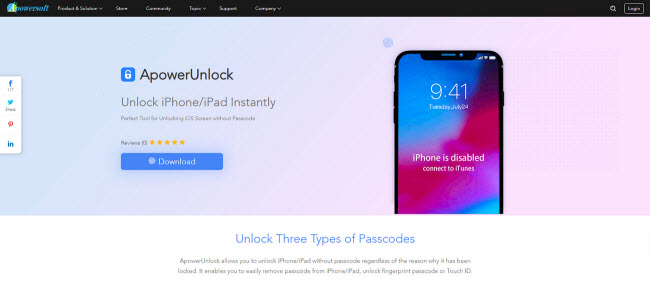 It's a tool that promises to help you unlock your device without requiring any system modifications (jailbreaking). You can use it to unlock your Apple ID or unlock the screen.
The software comes as a download. You need to connect your iOS device and wait for it to be detected. ApowerUnlock will then download the necessary files needed to unlock your phone.
---
2

Doulci Activator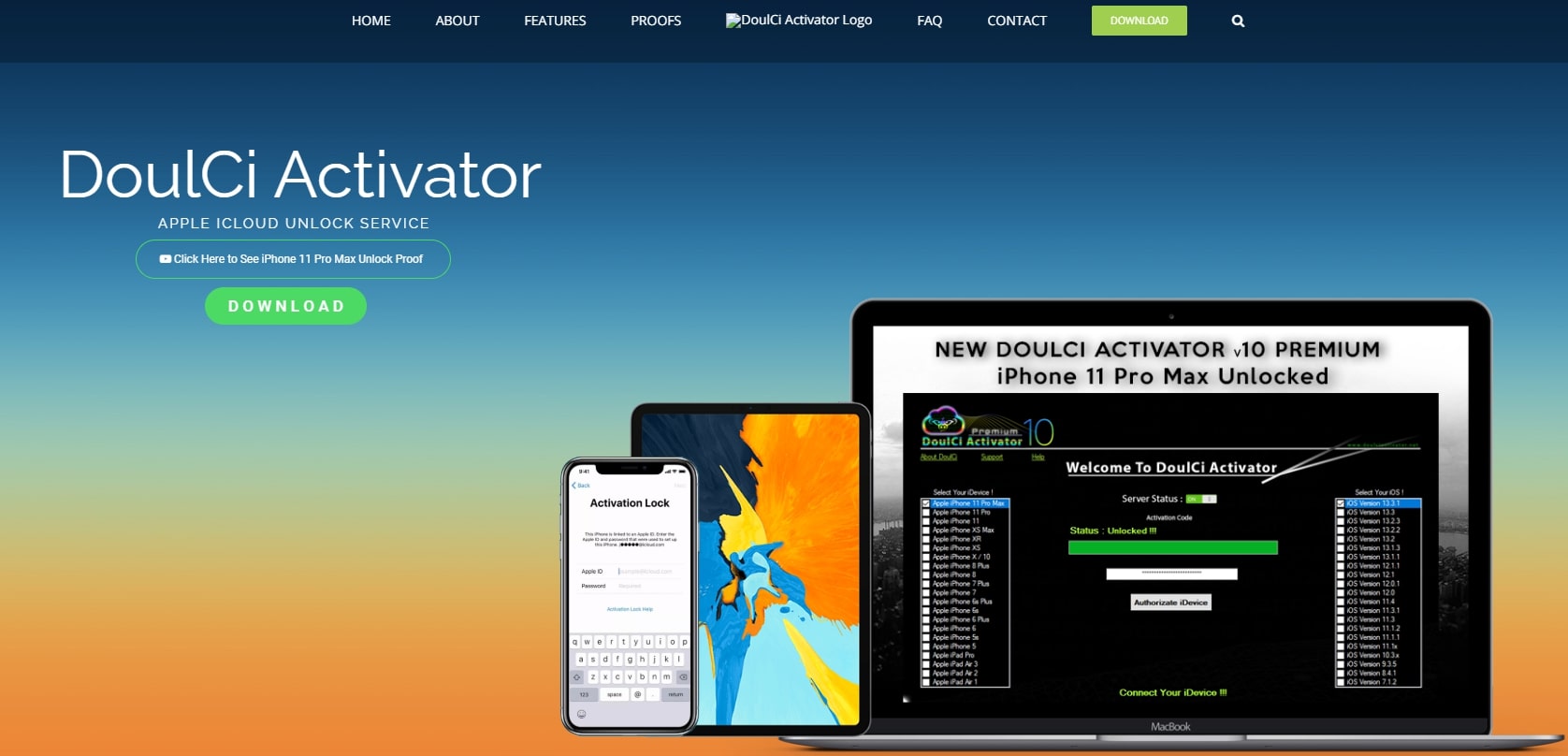 The DoulCi Activator is also distributed as a download for macOS and Windows. The team states that they unlock your device using their iCloud unlock servers.
It is not a free tool as you'll need to pay for the service using MoneyGram and contact their support team to receive your username and password needed to activate the features. You will also need to have iTunes running on your computer in order to activate the iDevice.
---
3

OpenMyICloud Service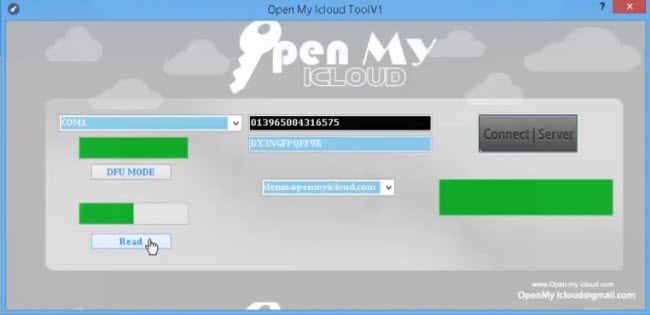 The OpenMyICloud also uses iCloud bypass servers to remove the activation lock on your screen. You need to download the program and connect your iDevice.
It also requires you to run iTunes on your computer to achieve a successful bypass. They provide their tool for free, but you need to complete a survey to keep the service free.
Conclusion
If you're looking for an effective solution to the question "is it possible to unlock iCloud locked iPhone?" we recommend checking out WooTechy iSalvor. It provides a free-trial where you can check its utility. Also we have discussed serveral methods above, hopefully you can tell which one is the best and unlock your iCloud locked iPhone within minutes.