Photos are a recollection of all the important and memorable events of your life. However, there are possible scenarios where you can lose all of your photos. At times, you accidentally delete them all or they are lost when you reset your device.
Then as a Samsung user, are you worried about how to recover deleted photos? Well, don't stress out because there are various solutions available to retrieve deleted photos on Samsung phones. In this article, we have gathered four easy ways to get you out of this trouble.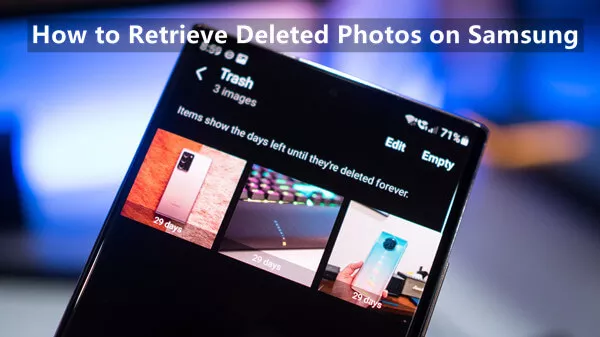 Part 1. Where Do Deleted Samsung Photos Go
When you delete any photo on your Samsung device all the deleted photos will first go to the Trash folder in the Gallery app. This trash folder keeps the deleted photos for 30 days before they are permanently deleted.
And even if the period has been extended by 30 days, there are still chances that the deleted photos are stored in the internal memory of your phone.
Part 2. Can You Retrieve Deleted Photos From Your Samsung Phone
The short answer is Yes. First, you should go to check the Trash folder in the Gallery app. If your photos are not there, then you could check if you have any backup of these photos. Even if you permanently deleted the photos, there are chances to still recover them. We have listed all the ways below. Let's check them one by one.
Part 3. How to Retrieve Deleted Photos on Samsung
In this part, we will give you methods in detail on how to recover deleted photos on Samsung to end your misery.
1. Recover Deleted Photos from Gallery
When you delete a photo from your gallery, it reaches the trash folder. The deleted photo will stay in the Trash folder in Gallery app for 30 days; you can easily get it back.
Here are the steps to recover deleted photos from the Trash folder in the Gallery app:
Go to the Gallery app on your home screen.
Tap on the Menu option in the bottom-right corner.
Next, tap on the Trash or Recycle Bin option.
Select the photos you want to recover and then tap on the Restore option.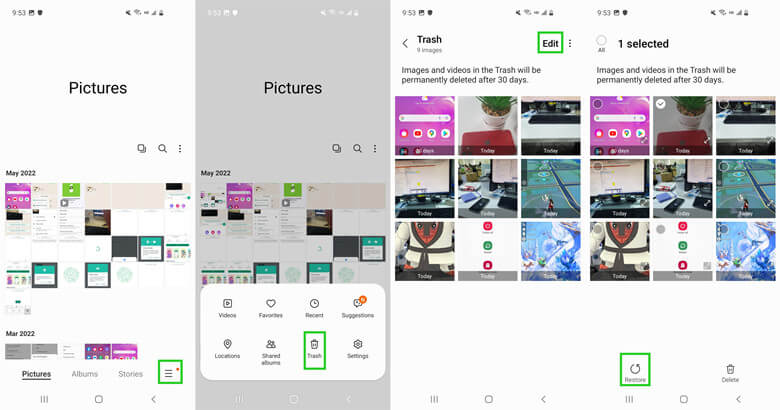 2. Recover Deleted Photos from Google Photos
Google Drive and Google Photos are the most widely used sharing and backup services for Android users due to their simple and unique features. If you back up your photos on Google, you can recover deleted photos easily and quickly from there. The deleted photos stay in the Trash folder on Google Photos for 60 days.
Here are simple steps to recover deleted photos on Samsung from Google Photos:
Tap on the Google Photos app on your Samsung phone. If you haven't already, log in with your Google account.
Go to Library and then open the Trash folder.
Select the photos you want to restore on your device and then tap on Restore to get back the selected photos.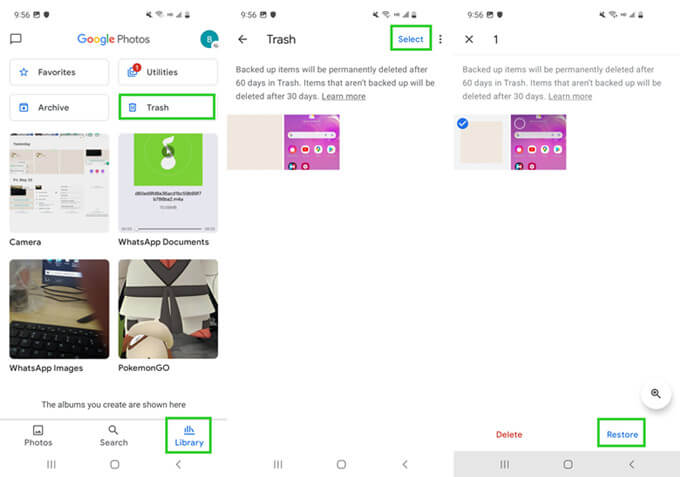 3. Recover Deleted Photos from Samsung Cloud Backup
Samsung has the Samsung backup feature, which could help you sync and back up data. It has about 5GB of free storage capacity. If you have enabled the service, your photos are automatically backed up to Samsung Cloud. If you lost your photos, you could go to Samsung cloud backup to restore the photos with ease.
Following are the steps to restore deleted photos from Samsung cloud backup:
Open the Settings app on your phone.
Tap on Account and backup in Settings Menu.
Tap on Samsung cloud and select Backup and Restore.
Then, tap on Restore data and select Gallery.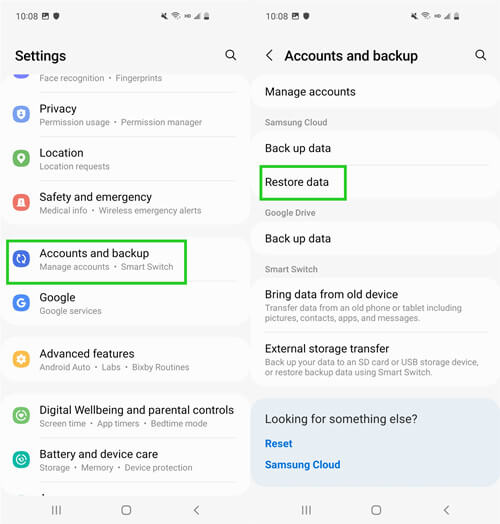 Lastly, tap Sync.
Samsung Cloud has a trash folder that you can also check out for the missing pictures. Following the above steps once you reach the gallery in the 4th step select Trash and select the photos you want to restore.
4. Recover Deleted Photos Without Backup
If you don't have a backup of your deleted photos and are still wondering how to recover deleted photos from gallery Samsung directly, then we recommend them using WooTechy iSeeker for Android.
This software can efficiently bring back all your lost data on Android phones without any backup. It is a reliable source and is available for a variety of android models. The tool will bring back your precious photos and you will not only be able to preview the photos before restoring them to your Samsung phone but also selectively restore them with guaranteed success rates. The interactive interface makes it even more of a smooth experience.
Some other highlight points of WooTechy iSeeker for Android
100.000+
Downloads
Restores lost or deleted photos directly from your Android devices, Google account and broken phone.

Selectively restore data and a unique feature that allows previewing the data before restoring any backup.

Designed to work with more than 6000 Android device models.

Free from all types of viruses and malware; making it 100% safe to use.
Here is a simple guide for recovering deleted photos on Samsung with iSeeker(Android):
Step 1. Launch iSeeker(Android)on your computer, then connect your Samsung phone to the computer. Then choose Recover Phone Data.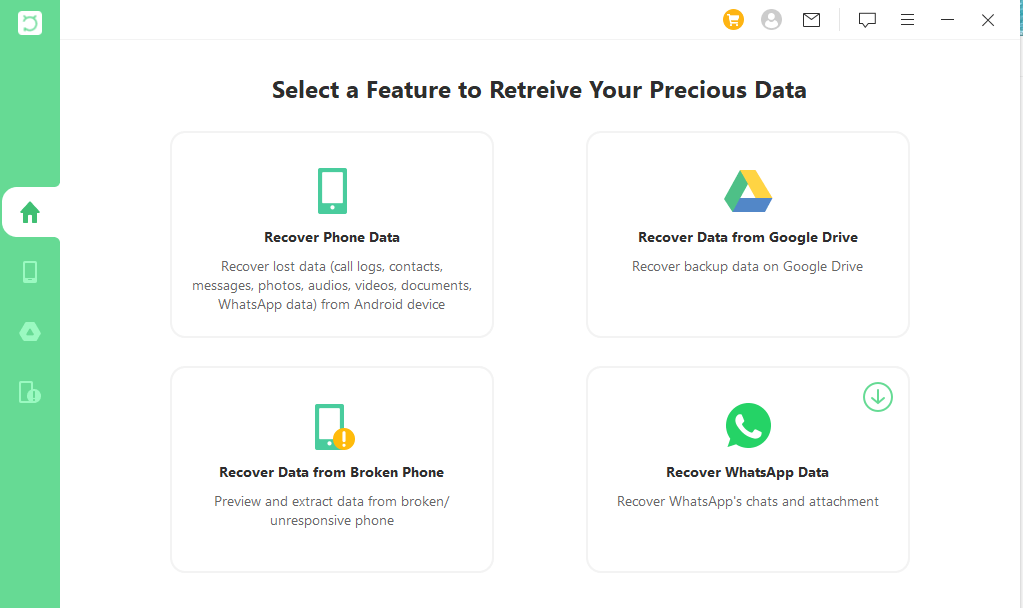 Step 2. Then choose Quick Scan or Full Scan according to your need.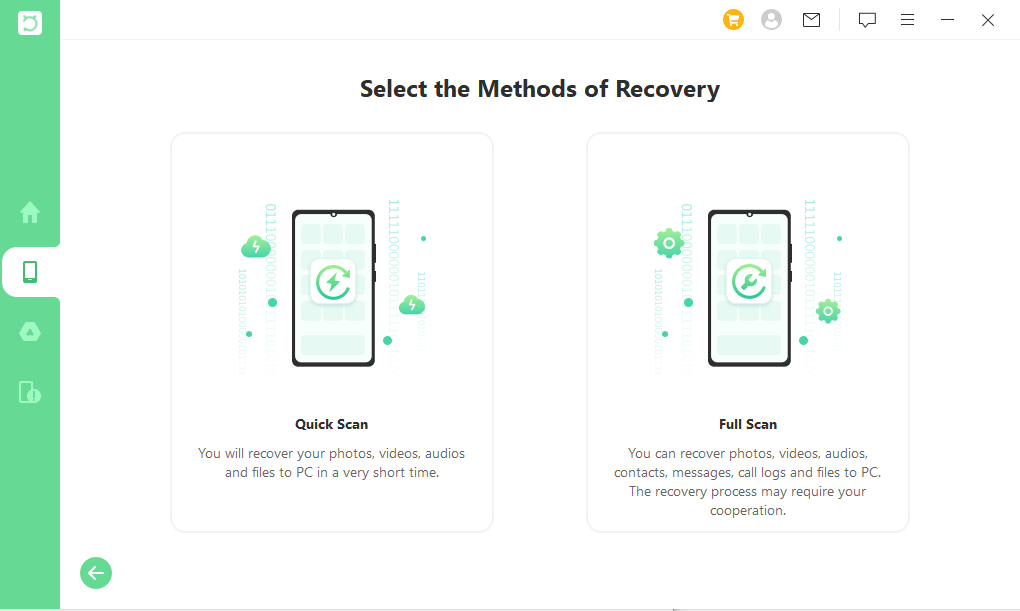 Step 3. After the scanning process, preview all the photos and select all the photos that you want to recover. Lastly, click Recover.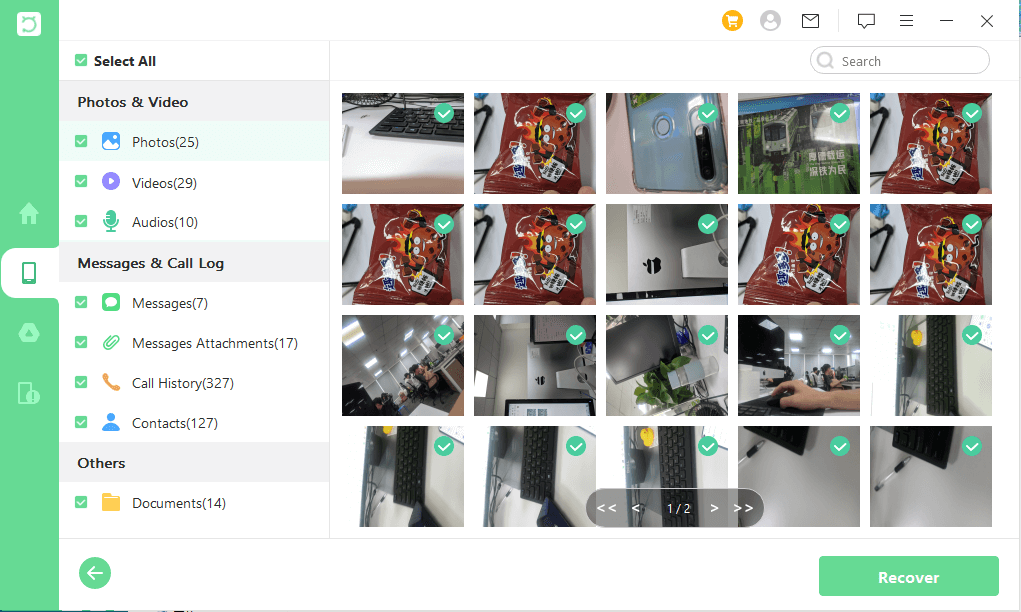 Conclusion
The article highlighted the ways you can recover your lost photos on your Samsung phone with or without any backup. If you have created a backup the process is quite simple, and you can follow the related solutions explained above.
In the case you didn't backup, you should definitely try WooTechy iSeeker for Android to recover your lost photos easily. Just download and give it a try right now!