What can I do to recover lost data from my OnePlus phone? This is a common question that many OnePlus users ask after accidentally deleting important files from their device or when their data suddenly disappears due to some sort of system malfunction.
Though it may seem like a daunting task, recovering data from an OnePlus smartphone is actually quite easy. In this article, we'll show you 3 different methods for OnePlus data recovery. With these practical solutions, you'll be able to get your lost files back in no time even if you don't have a backup.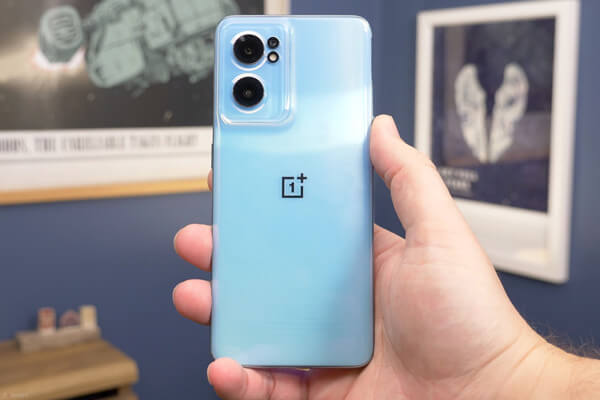 Part 1. Best OnePlus Data Recovery Tool
When it comes to recovering lost or deleted data from your OnePlus phone, using a data recovery tool is always the best and most efficient way to go. Luckily for you, we've done the research and found the best data recovery tool for OnePlus devices - WooTechy iSeeker for Android.
It's an easy-to-use tool that can recover lost or deleted files from your OnePlus smartphone without rooting it. Additionally, it works even if you don't have any previous backups. It directly scans your phone's internal storage and recovers files from there. Plus, it won't cause any existing data loss and is completely safe to use.
Highlight Spots of iSeeker Android
100.000+
Downloads
It provides a high data recovery rate and can bring back over 11 types of data you want to restore, such as photos, videos, contacts, call logs and son on.

It recovers data directly from the internal storagae without backup and without rooting your phone.

It supports 6000+ Android phones and tablets and all Android OS versions (including Android 13).

It allows you to preview and select recoverable data before you restore them.

It provides a free trial to all users.
Here's a step-by-step guide on how to recover data from OnePlus phones with the help of WooTechy iSeeker:
Step 1. Download and launch iSeeker Android on your computer and also connect your phone to the computer. Afterward, select Recover Phone Data.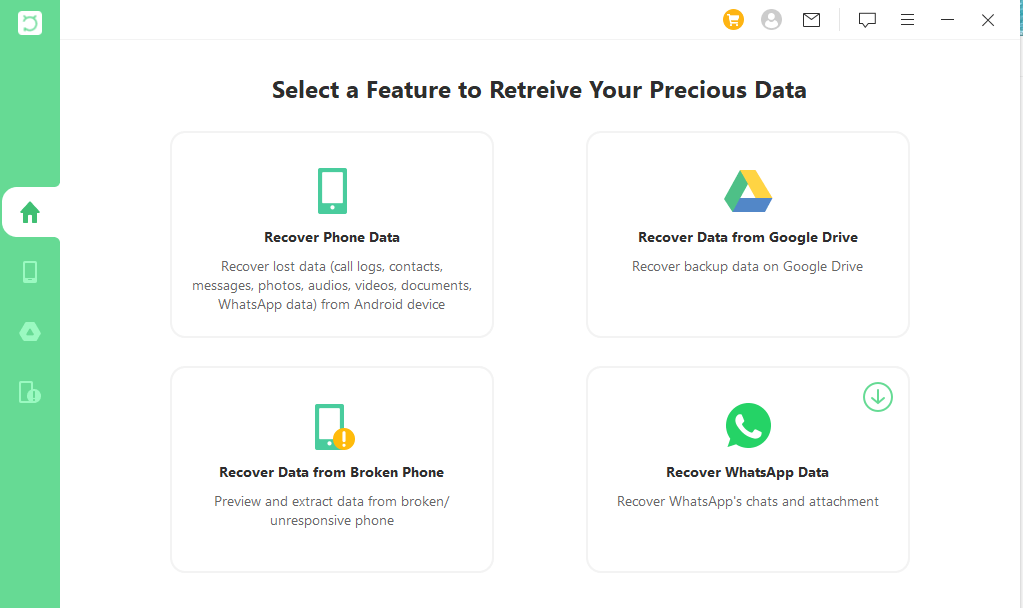 Step 2. Choose Quick Scan or Full Scan according to your need.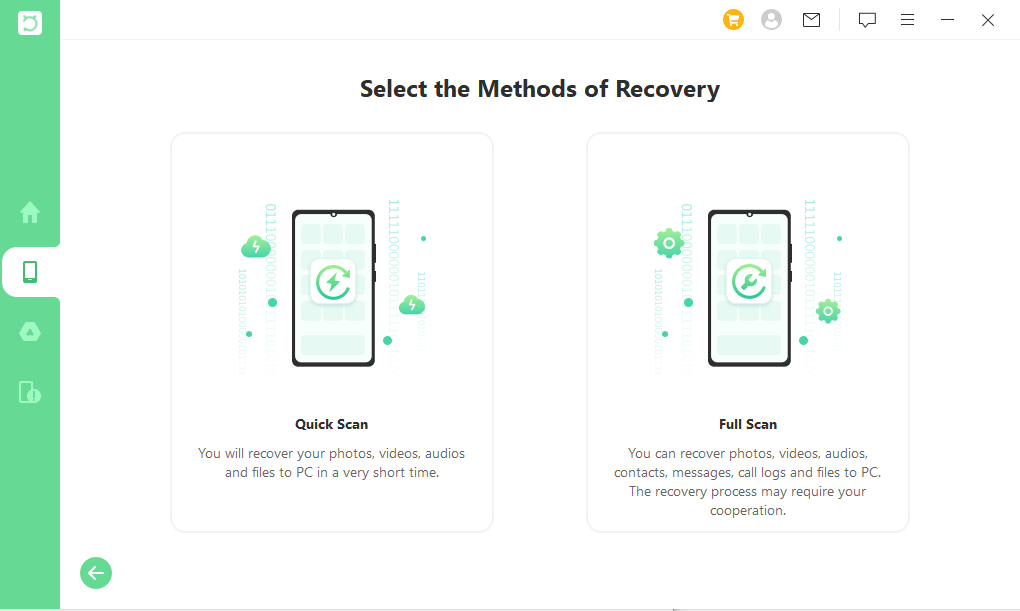 Step 3. Once the scan is completed, preview and select the data you want to recover and click Recover.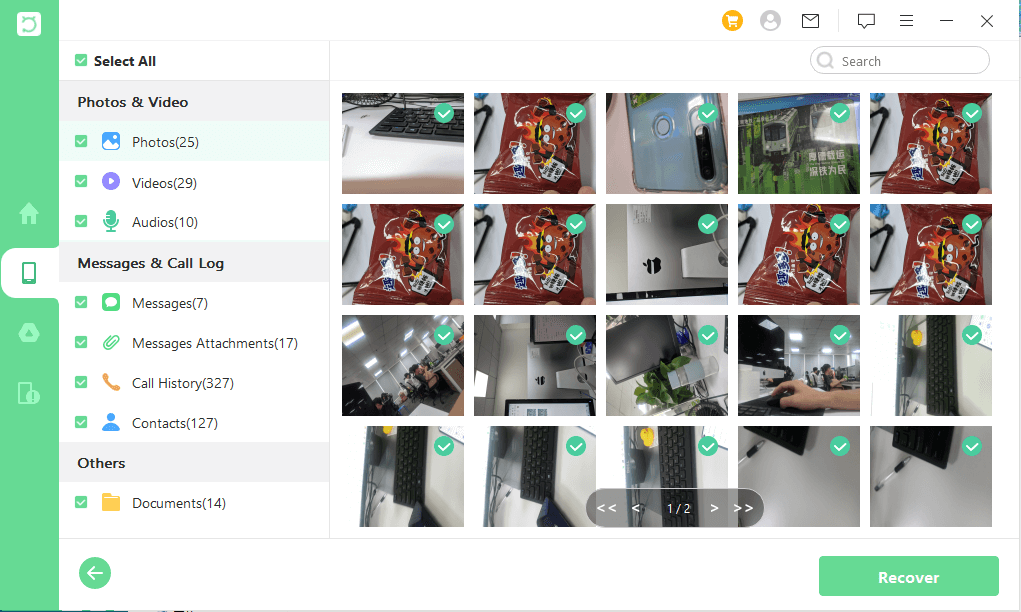 Part 2. Restore OnePlus Data from Google Drive
Google Drive is a cloud service that comes with every Google account and includes 15 GB of free storage. Many OnePlus users who often run out of space on their phones use it to back up and store files like photos, videos, apps, and music.
So, if you have also enabled the option to back up your data to Google Drive from the settings, then recovering lost files from your OnePlus device should be quite easy.
Here's a step-by-step guide on how to recover data from a Google Drive backup:
Go to Settings on your OnePlus device and select Backup and restore.
Choose Restore and then verify your Google account.
Choose the backup you want to restore and tap on Restore button.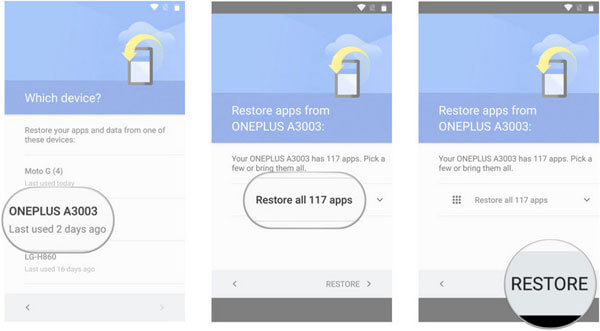 Part 3. Restore Lost Data with OnePlus Switch
OnePlus Switch is a pre-installed data transfer tool that allows you to quickly and easily move data from one OnePlus phone to another. It's also useful to back up the data on your phone and restore it when needed. This means that if you had backed up your data using the OnePlus Switch tool before losing it, you can use this tool again to easily recover your lost files.
The following are a few easy steps that you need to take to restore lost data with OnePlus Switch:
Open the OnePlus Switch app from the apps menu on your OnePlus device.
Tap on the Backup & Restore option which you will find at the bottom of the screen.
Next, select the Restore Backup option then choose the files you need to get back and tap Restore.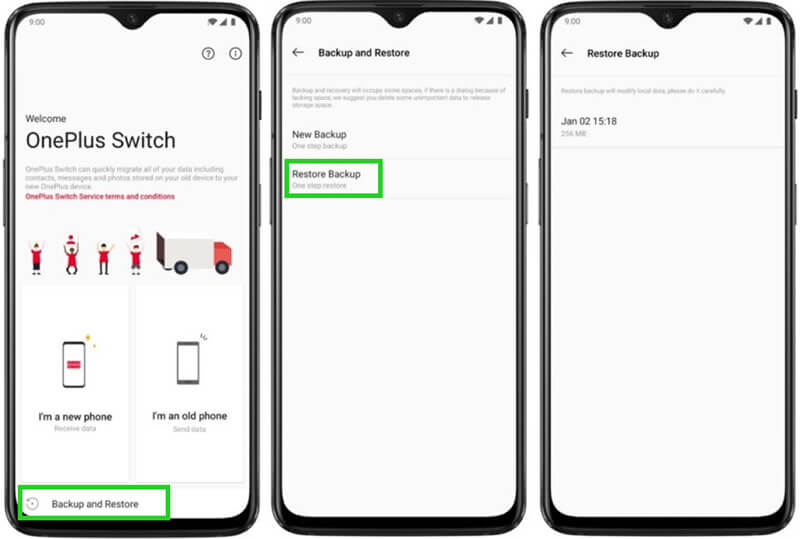 FAQs about OnePlus Data Recovery
1. Can we recover data after factory reset OnePlus?
When you factory reset your OnePlus phone, all of the data stored on your device is wiped. But that data is still stored on your device in an invisible form until new data overwrites it. Therefore, if you use the WooTechy iSeeker Android immediately after performing a factory reset, you have a good chance of recovering most of your lost data.
2. Can you recover permanently deleted photos?
Yes! It is possible to retrieve permanently deleted photos from your OnePlus. In fact, there are numerous ways available to get them back.
The first option is to look for deleted photos in the Recently Deleted folder. This folder stores the photos for a short period of time before permanently deleting them. You can also recover permanently deleted photos from a previously made backup or from Google Photos.
Conclusion
As you can see from the following list, there are plenty of options available for recovering data from your OnePlus smartphone even if you've never backed it up before. Depending on what you want to recover and how convenient it would be in your situation, you can choose any of the methods discussed above.
However, if you're looking for a straightforward solution that offers the best chance of data recovery, then we recommend you using the WooTechy iSeeker to retrieve your OnePlus data within minutes. Don't be hesitant to give it a shot!