GPS is an important feature that allows you to use certain location-based services of the applications. However, you might want to spoof actual location due to different reasons. In cases you are looking for a way to protect your privacy, playing VR games in the comfort of your own space, prevent any geo-restrictions or even want to prank your friends or to hide the actual location from your followers.
If you are wondering how to fake GPS location on iPhone, then you come to the right places. In this article, we will introduce top 5 best location spoofers for iPhone.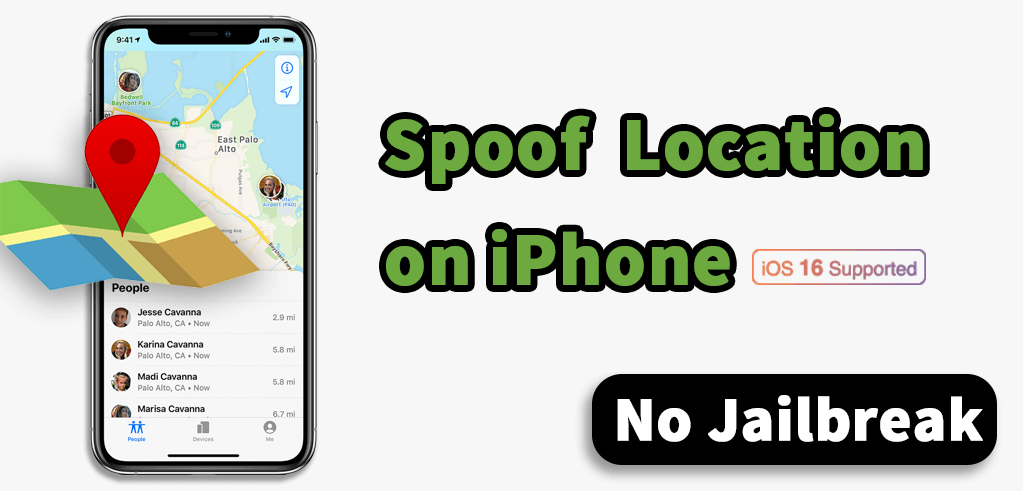 Part 1. Can You Fake Your Location on iPhone (iOS 16)?
Yes, you can fake your GPS location on iPhone for whatever reasons. You could fake a specified location of your choice without actually being there. You can achieve it with various third-party location changer tools which will be discussed in detail in the next part.
Part 2. Best 5 Location Spoofers for iPhone
In this part, we have enlisted some of the best GPS spoofers for iPhone along with their advantages and disadvantages. So, you can ultimately decide which location spoofer software would you prefer.
1. WooTechy iMoveGo [iOS 16 Supported]
WooTechy iMoveGo is an excellent location changer application that actually serves for both Android and iOS users. It allows you to spoof your location to anywhere you want with only one click.
Moreover, it has a feature allowing you to simulate GPS movement according to the route you choose. The tool also has a joystick mode which is helpful and often comes in handy while spoofing Pokémon GO. You move around at your preferred speed and direction.
This location spoofer we reviewed before is fast, versatile, reliable, and user-friendly even for the users who are using a location spoofer for the first time. iMoveGo doesn't even require any knowledges or jailbreaking.
Video Guide of Best Location Spoofer iphone:
Salient Features
Changes GPS location to a specified area in 1 click [ No jailbreak & No Root]
You can pre-plan a route on a customized speed.
Joystick mode allows you to freely control movements.
Free trial feature for every Android and iOS user.
Works well with both Windows and Mac OS.
Allows users to spoof the location of 5 devices simultaneously.
Steps to use iMoveGo location spoofer on iPhone
Here is a step to step guide given below which will ensure you to spoof the GPS location of your iPhone via WooTechy iMoveGo:
Step 1. Connect your iPhone to PC
Firstly, launch the iMoveGo software on your PC which you have installed and click Get Started. Then connect your iPhone using a USB cable to your PC.
Note: After connecting to the computer once, iOS users can connect to the program via WiFi without using USB cables next time.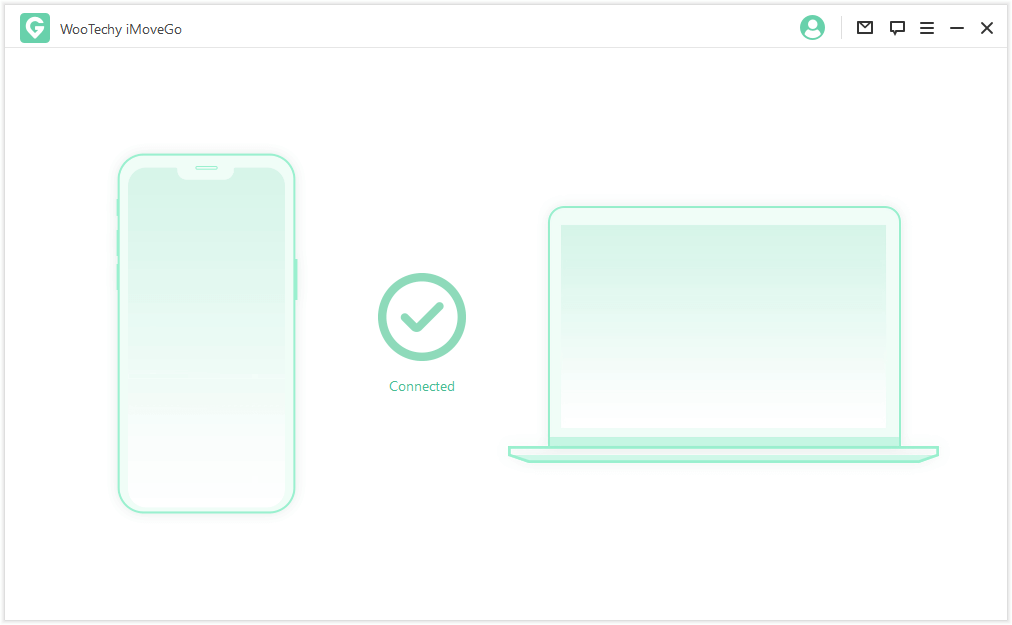 Step 2. Teleport Mode
You can set up a new location by using Teleport Mode which is the 4th option in the top-right corner of the screen. Here you will search for the location you want to spoof to. Now, choose the location you want to spoof to, and lastly, you will click on the Move option after you have selected the desired location. Your location in all the location-based apps will be changed instantly.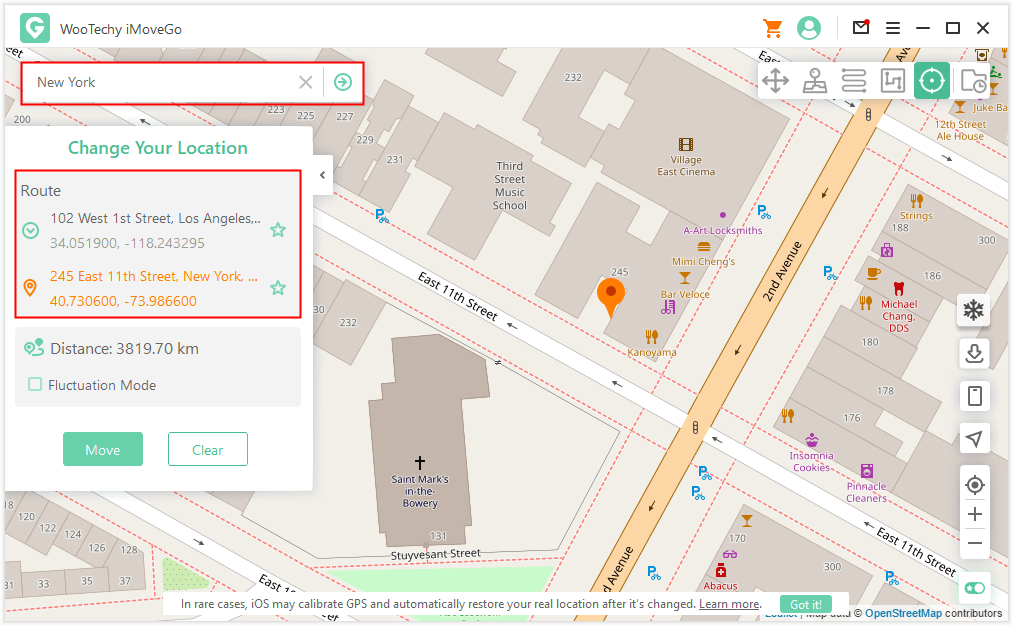 If you want to simulate your movement with iMoveGo, here is also a guide for you.
Step 1. Choose two-spot or multi-spot mode
When you open iMoveGo, choose the second option - two-spot mode or the third option - multi-spot mode in the top-right corner. Then enter an address in the search bar or mark a point on the map and set up a speed. Click Move and your iPhone will start walking by itself.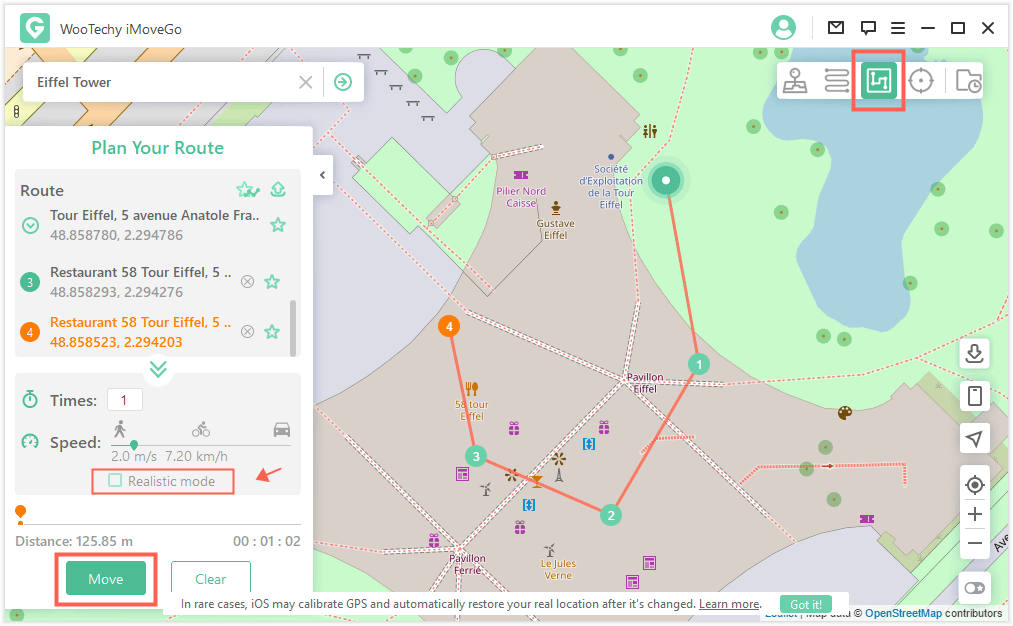 2. Thinksky iTools
The iTools Virtual Location is another popular iPhone location spoofer among users. You can easily change GPS location to anywhere on your iPhone and also mock your real movement. However, it is only usable when pay for the entire toolkit which can be pretty heavy on your pocket.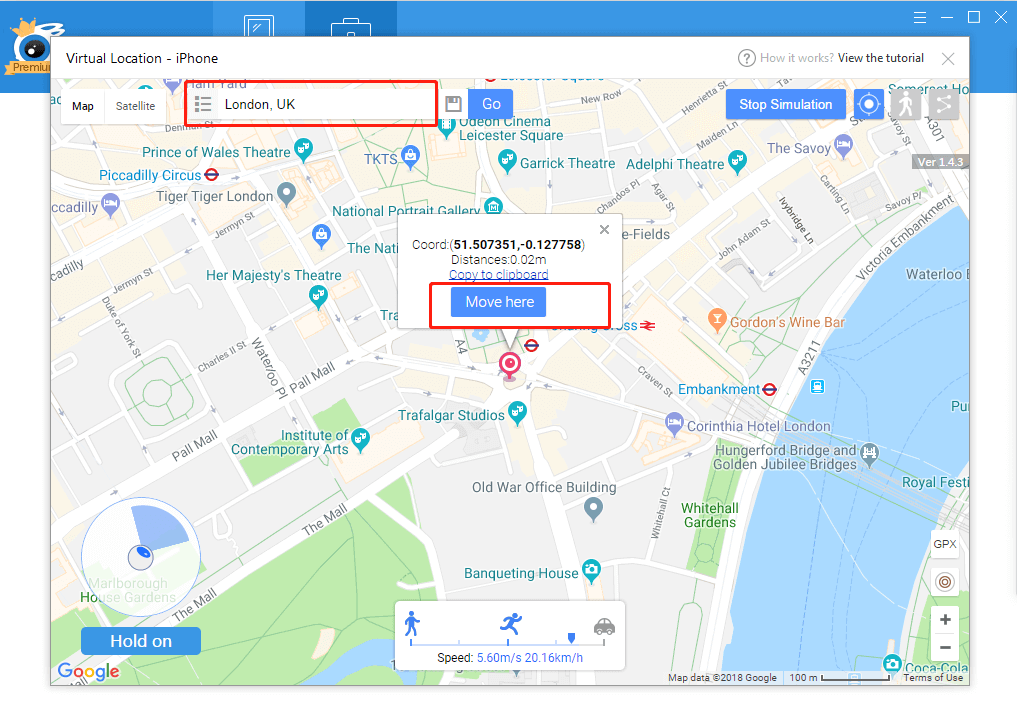 Pros
iTools can spoof GPS location and simulate GPS movement.

It has a clean and user-friendly interface.
Cons
Doesn't support Android devices.

You have to buy an entire expensive tool package.

Incompatible with antivirus software of your PC.

Requires the latest version of iTunes.

Complicated to use.

It's a toolkit that requires a huge free space.
3. Cydia Relocate Reborn
Relocate Reborn is the next tool in our iPhone location spoofer app list. It allows you to drag and pin a destination on the map to spoof your location and thus is easy to use. It works well with location-based applications which require you to move around. You can save your favorite location in the Favorites manager. However, this location spoofer app requires you to jailbreak your iPhone which is not only complicated but risky.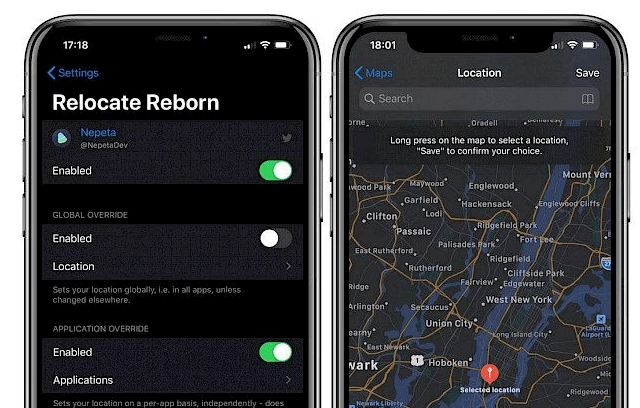 Pros
Allows you to select the applications to use your location.

Allows to disable GPS and save the battery.

Spoofed location can be accessed by selected apps.
Cons
Relocate Reborn is not safe to use.

It's complicated to use especially for the new users.

Not compatible with Android devices.

Requires Jailbreaking your phone which is risky.
4. 3uTools
Another location faker available for iPhone we have is 3uTools, which is efficient. This tool allows you to spoof to any of your desired locations on your iPhone or any other iOS device. So, you can access any of the geo-restricted content on your iPhone anywhere. 3uTools has an interactive interface that allows the users to spoof location with ease.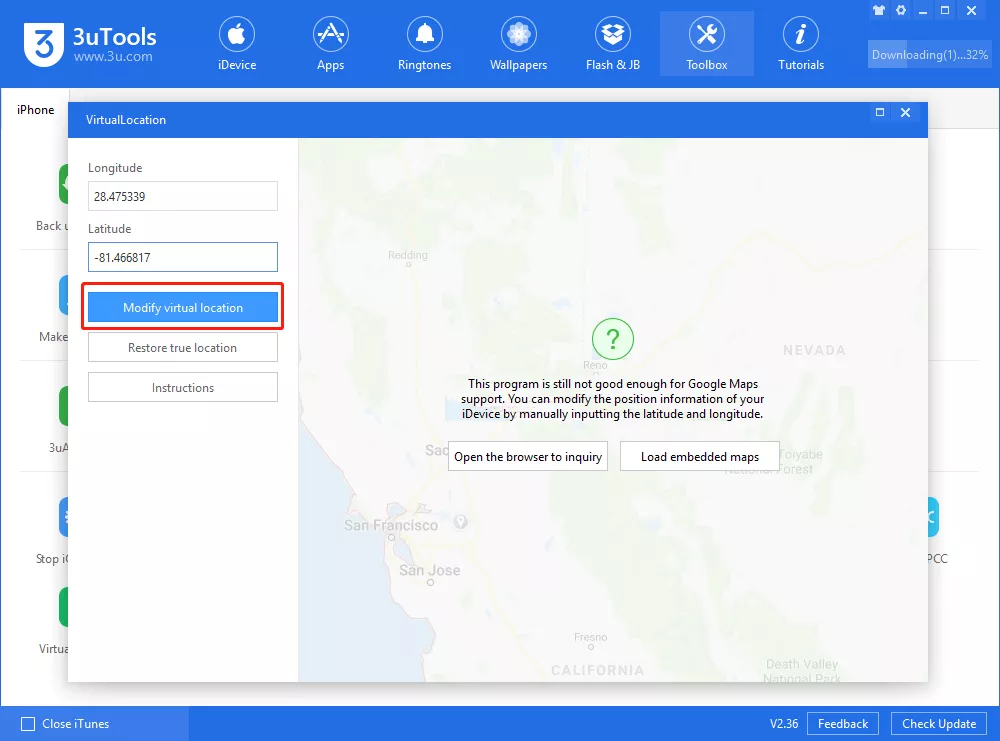 Pros
Doesn't require jailbreaking your iPhone.

Has a user-friendly interface.
Cons
Doesn't support Android devices.

Not available on Mac OS.

Unable to simulate GPS movement and doesn't have a joystick.

Can't work with the Pokémon GO.

Fake location only lasts for 3-6h. s
5. iToolab AnyGo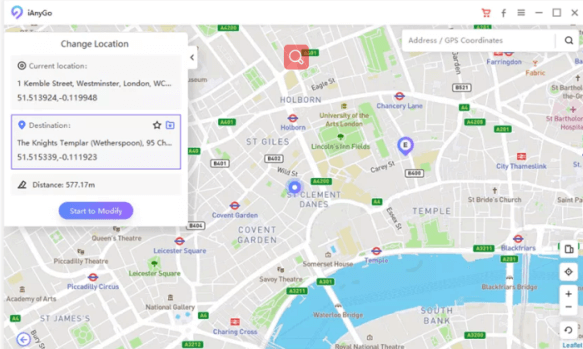 Last but not least on our list of iPhone location spoofer apps is AnyGo. This tool allows you to change GPS location of your iPhone in a single click. The tool works well with all the location-based applications including WhatsApp, Pokémon GO, and so on. It allows you to import GPX files for starting a designed route. But iAnyGo has a cool down timer which allows you to not frequently change location.
Pros
Joystick feature to control the speed and movement.

Available for Windows and Mac OS.
Cons
It supports iOS devices only.

The tool is not compatible with older macOS versions.

It charges more for Mac users than Windows users.
Part 3. A Comparison of the 5 Location Spoofers for iPhone
iMoveGo
iTools
Relocate Reborn
3uTools
AnyGo
Compatibility
Android & iOS
iOS
iOS
iOS
iOS
Requirements
Both
Both
Mobile App
Windows
Both
Simulate GPS Movement
Yes
Yes
Yes
No
Yes
Joystick Mode
Yes
No
No
No
Yes
Stable & Secure
100%
Not Guaranteed
No
Not Guaranteed
Not Guaranteed
Price Plan

$9.9/Monthly

$59.9/Lifetime
$34.95 - $69.95
Free
Free download/ in-app purchases
$14.95/month $59.88/ 1-year
Rating
4.8
4.0
3.5
3.8
4.0
The Final Verdict
A powerful location spoofer for iPhone allows you to fake your GPS location with ease. In this article, we have given an in-depth review on 5 top location spoofers for iPhone. All the tools we considered were among the top of their game. Also, listed their pros and cons can help decide what is the option you would prefer.
We would definitely recommend you to try WooTechy iMoveGo as it is the best location changer available for its price range and also incredible in performance; still remaining the top option if you are looking for an easy-to-use program. And it's also the most cost-effective one. Download and have a free trial now!