The vibrant location-based augmented reality mobile game Pokémon GO is still going strong around the world. What started as a nightly news story about droves of players frequenting parks and play areas has grown into a cult-like devoted following that has only gotten more dedicated since the pandemic.
Not everyone has the endless financial resources to travel to a destination that feature rare Pokémon. There are also plenty of players that either cannot or do not want to leave their homes to join a raid battle or find a mystical creature. That is why taking advantage of a Pokémon GO hack download iOS option is valuable to their gameplay.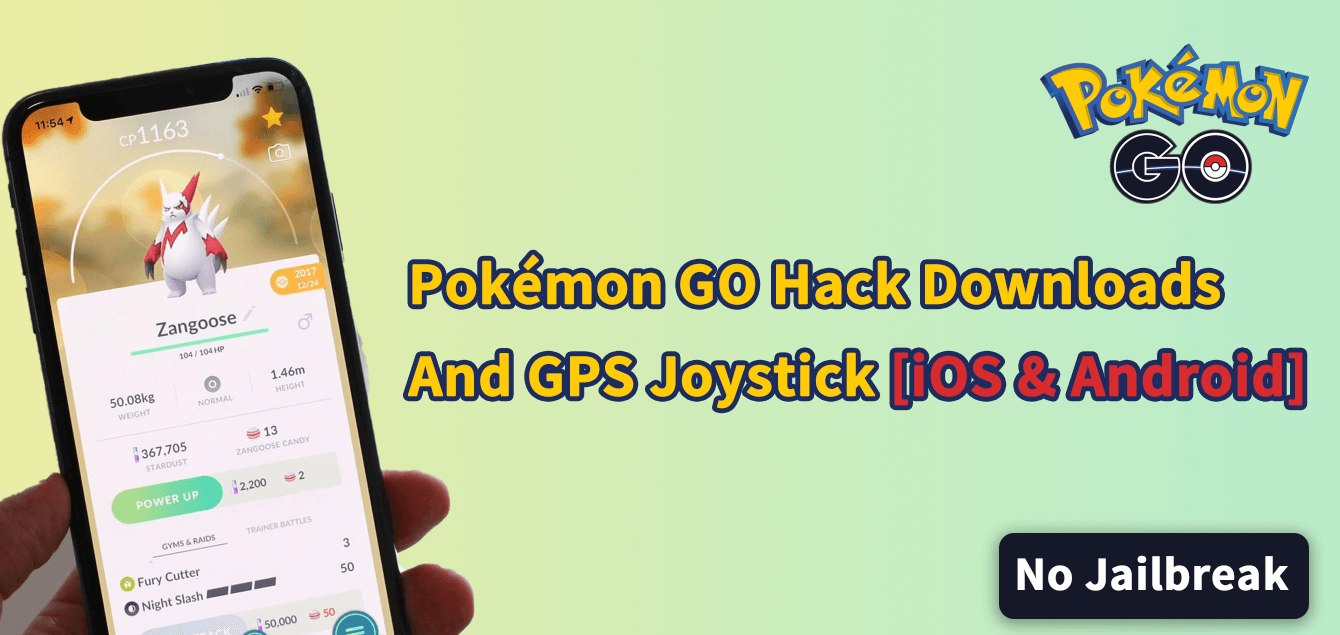 Part 1. [3 Options] Pokémon GO Hack Download on iOS
Niantic, the creator of Pokémon GO, cracked down on different Pokémon GO hack iOS downloads in 2019 that would result in a ban on your game. Since then, a few companies have done their best to work around these intensified guidelines so players who do not want to move through the augmented reality-based world can do so.
1

Use a VPN with tsProtector 8+ [Require Jailbreak]

A VPN is a virtual private network and is used to hide your GPS-based location from servers and ISPs (internet service providers) whenever you are online. You can use a quality VPN, usually along with a Pokémon GO spoofer iOS free app, to confuse the game, so it thinks you are in one location when you are actually in another.

You will have to jailbreak your iPhone so that you can install applications from Cydia which is a third-party providers outside of Apple's strict regulations.

Step 1. Sign up for a VPN service like NordVPN and then install and launch the iOS application.

Step 2. You will then have to jailbreak your iPhone in order to download Cydia.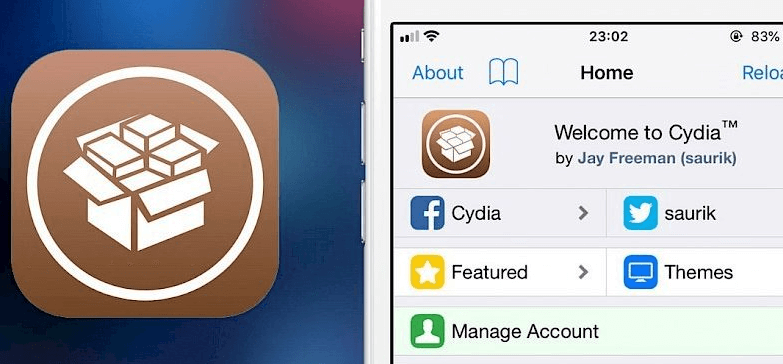 Step 3. Go to Cydia and download tsProtector 8+. This will hide the fact your iPhone is jailbroken, so you can use a GPS spoofer.

Step 4. Open
tsProtector
and the location spoofer of choice. Turn on your VPN and select a location that matches your spoofing app.
Now you should be able to explore the location you are spoofing from your home without having to travel thousands of miles or spend days walking your feet into the ground.
2

Pokémon GO++

In order to use this Pokémon GO hack iOS free application, you'll first have to jailbreak your iPhone. Again, this is a method of removing the preinstalled restrictions on your device's capabilities set by Apple, the manufacturer.

After you have jailbroken your iPhone, you'll be able to download and launch third-party applications from anywhere in the world.

Step 1: Download and install the Tutu application.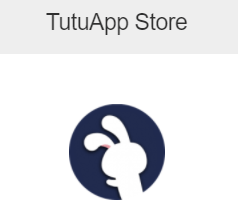 Step 2: Open Tutu and search for Pokémon GO++. Install it on your iPhone and give it permission to operate.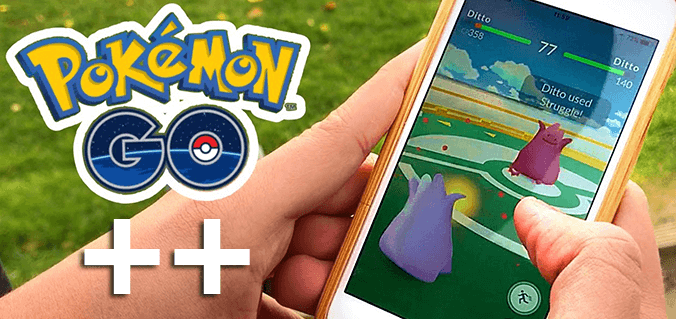 Step 3: Launch the new app and log into Pokémon.
You can now launch the game and turn on the Fake Location setting to pin new locations anywhere on the map for you to visit. This way, you can be in Frankfurt, Germany exploring all the Pokestops in Las Vegas, Nevada, USA.
4

Fake GPS Location App from TweakBox

Another third-party application that allows you to enjoy gameplay with a Pokémon GO spoofer iOS free system is TweakBox. It even includes a GPS joystick that will enable you to fake your location within a few seconds without having to actually physically move anywhere out of your comfortable bed.

Step 1: Visit the TweakBox website and download the latest app.

Step 2: Install the app, then go to the iPhone's home screen and launch.

Step 3: Search for Pokémon GO and install the iSpoofer for POGO.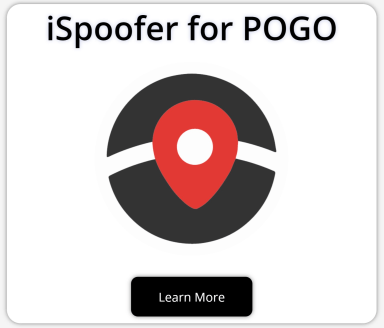 Step 4: A new Pokémon GO app will install onto your iPhone's home screen.
Just launch the new app and enjoy endless hours of gameplay exploring the world from your couch.
Warnings and Risks
As you can probably guess, Niantic is not a big fan of spoofers or Pokémon GO hack iOS free downloads. They work very hard to reduce the amount of these programs, so players do not get an advantage over others that are physically traveling.
Niantic created a three-tiered system warning to anyone they think is abusing their guidelines. This is in addition to getting a Softban (12 hours downtime) or a Shadowban (cannot see rare Pokémon).
Strike 1 - Warning Niantic will alert the user that they suspect cheating on the account, and gameplay will be degraded where you cannot encounter rare Pokémon in the wild. You may also be excluded from receiving new EX raid passes. This will last for 7 days.
Strike 2 - Suspension You will temporarily lose access to your account and instead be met with a message saying you've received a second strike. This will last for 30 days.
Strike 3 - Termination You are permanently banned from gameplay on that account.
Part 2. Play
Pokémon GO

with GPS Joystick [Better Tool]

The best solution to traveling anywhere in Pokémon GO without leaving your house is to get the Pokémon GO spoofer iOS download. The powerful location changer iMoveGo moves your GPS location to anywhere in the world with the aid of a simple joystick or predetermined route. It emulates real-time movement that makes Niantic think you are actually in a different location.

This excellent software does not require you to jailbreak and works with location-based apps like dating, augmented reality, and more.
Key Features of iMoveGo
75.000.000+
Downloads
Simulate GPS movement for your Pokémon GO avatar along customized routes.

Work well on a full range of location-based apps, such as Pokémon GO, Tinder and Facebook.

Free trial is available for every user to get initial experience.

GPS Joystick feature enables you to move freely with a keyboard.

Compatible with iPhones and Androids (including the latest iOS 15).
Play Pokémon GO with Joystick on Your iOS
This tool will allow you to play Pokémon GO while you're staying inside. It changes your location in the game to anywhere without needing to move out of your comfortable bed.
Step 1. Download and install iMoveGo onto your computer and click the Get Started button. Then you'll need to connect your phone that already has Pokémon GO installed to your computer using a USB. Next time, you will be able to connect via Wi-Fi.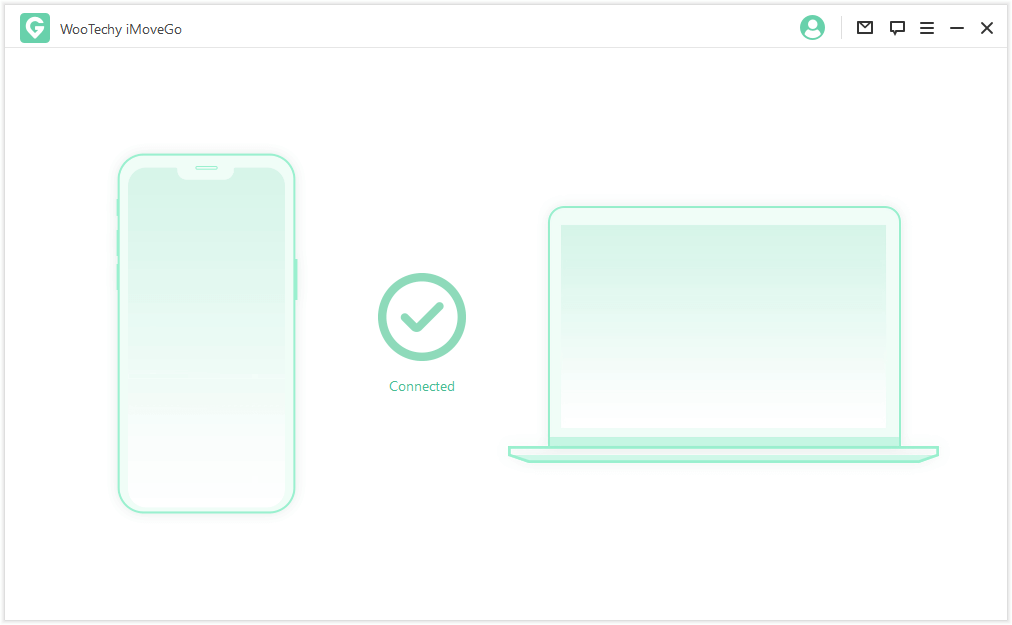 Step 2. Use the iMoveGo map to select a location by clicking on the Teleport Mode in the top-right corner. You can then enter a city or place you desire.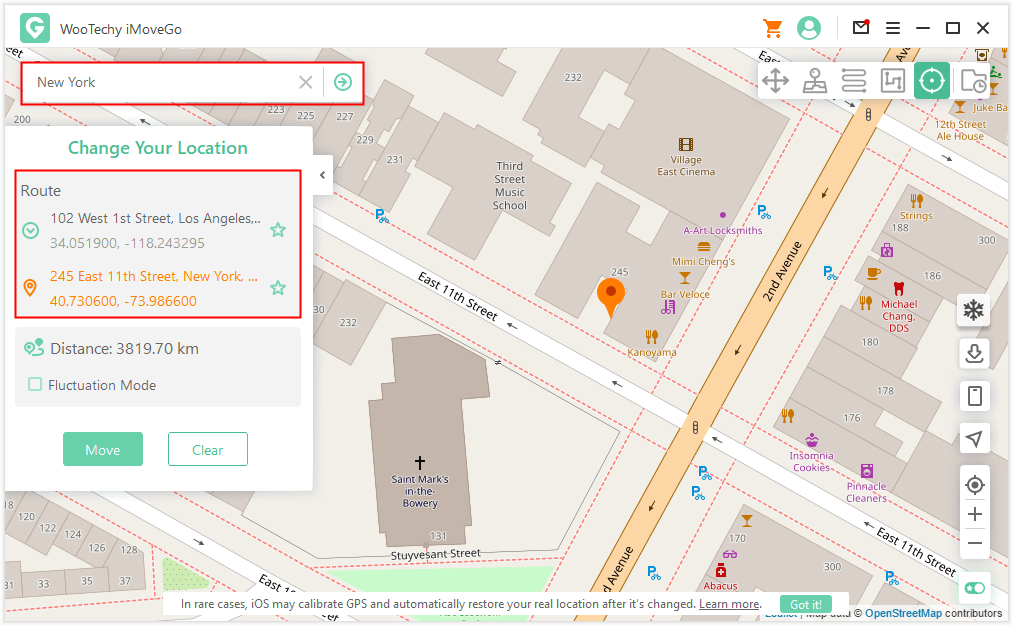 Step 3. Click the Move button, and select the 1st icon on the upper right corner. Your GPS joystick location will appear from the area and not your actual home.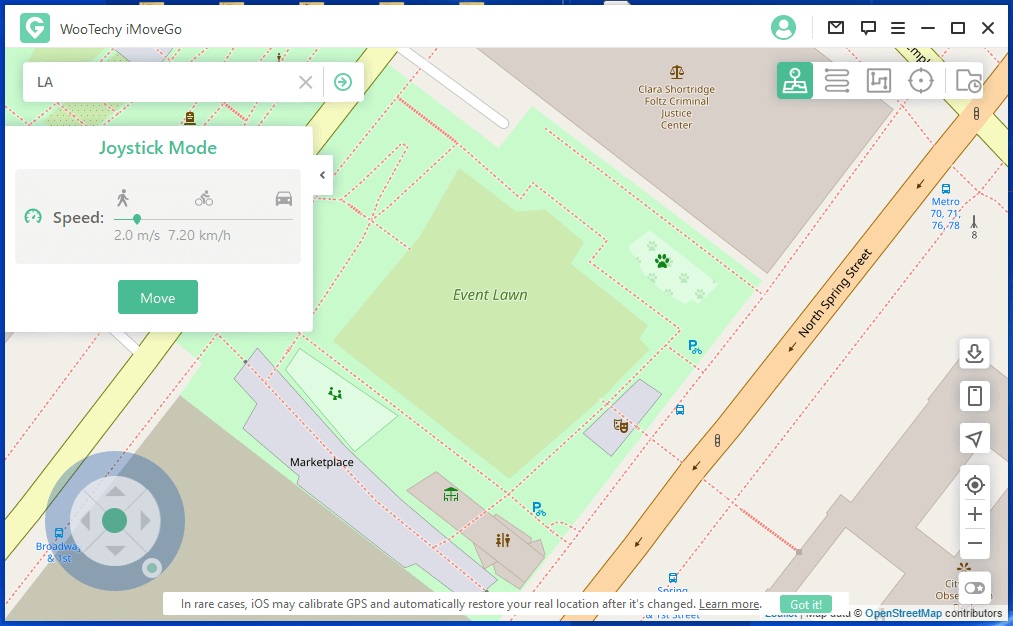 Part 3. Use Pokémon GO Spoofer iOS iTools [Expensive]
iTools is a third-party application that works as a Pokémon GO spoofer iOS program to hide your current location, so your device thinks you are located somewhere other than your physical placement. However, it does require attaching your iPhone to your Mac or PC via a USB cable.
Step 1: Visit the iTools website, download the program, and connect your iPhone to your computer or laptop via a USB cable.
Step 2: Open up an updated version of iTunes and click on Toolbox.
Step 3: Click on Virtual Location and then enter Developer Mode in the next screen.
Step 4: Enter the location you wish to visit in the search bar, click on Enter, then select Move Here.
Step 5: Open Pokémon GO and confirm your location has been changed.
Note
However, the spoofer feature in iTools cannot be purchased alone. You must buy the whole iTools package to use it's virtual location feature which cost about $35-$70 dollars. Here are some common problems and fixes you might encounter while using this tool:
iTools Virtual Location Not Working Issue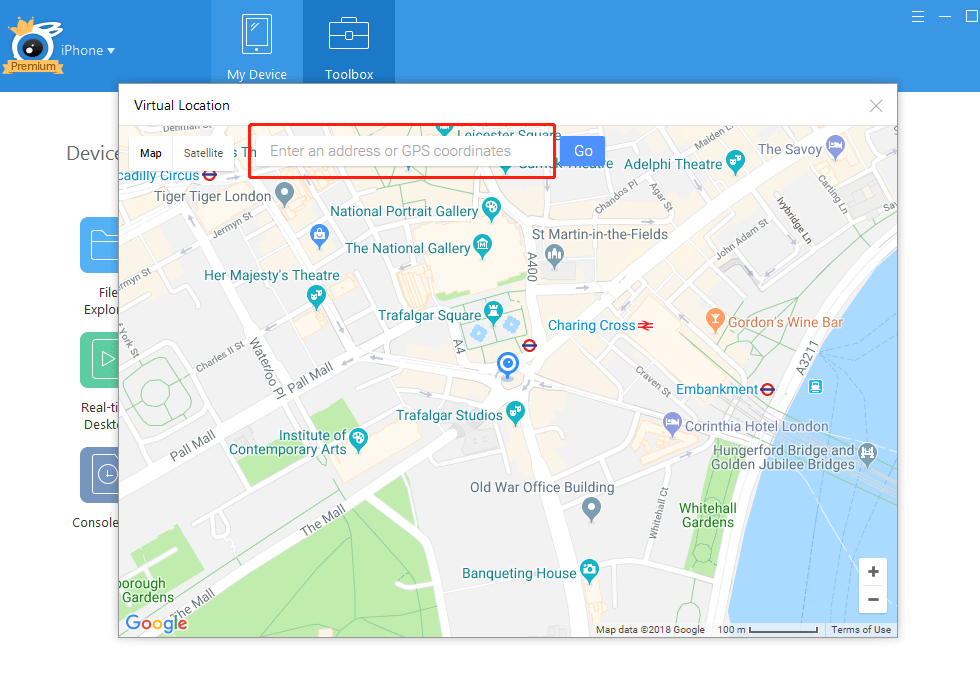 Conclusion
Finding good quality Pokémon GO hack iOS free downloads can be challenging with all the restrictions and safety guards Niantec places on their servers. That is why using an option that has proven results like Location Spoofer iMoveGo is your best option to enjoy gameplay without traveling endlessly around the globe.
Whatever your particular choice, any of these solutions should allow you the space and time to capture all the Pokémon you want while enjoying raids in exotic locations you wouldn't travel to otherwise.