Screens are by far the most important part of a smartphone. Screens enable users to read, scroll, watch, type, and perform about every function on their smartphone. Now, the larger the screen, the more you can see and do. In addition, the clearer the screen, the better you can see and do. These statements are also true for iPhones.
There is no debate that iPhones are the most sophisticated smartphones in the world. However, their screen can suffer anomalies like those of others. For instance, the iPhone screen looks yellow. In this write-up, you will discover the causes and solutions to iPhone yellow screen.
Part 1. Why Does iPhone Screen Look Yellow?
If you are experiencing iPhone 5/6/7/8/X/11/12/13 yellow screen, it could be because of a setting on your iPhone. For instance, if settings like Auto-Brightness, True Tone Display, or Night Shift are wrongly set, you may start noticing iPhone yellow screen or tint. Other than these general causes, an outdated OS or OS bug can lead to iPhone yellow tint.
Part 2. How Do You Fix Yellow Screen on iPhone?
To address the causes listed in the section above, this part of the write-up discusses solutions that will help iPhone users to prevent their iPhone from developing a yellow screen.
1. Turn Auto-Brightness On and Off
Auto-Brightness automatically lightens your screen in the dark and dims or darkens your screen when it is under bright light. As important as this feature is, it may be the cause of the iPhone yellow screen. To turn on Auto-Brightness, you can shine a bright light over the light sensors on your iPhone.
For example, you can use someone else's phone torch or any other light source. Then, turn off Auto-Brightness, and it will return to a default brightness. Below are the steps to turn off Auto-Brightness on your iPhone.
Open your iPhone Settings app. Navigate to Accessibility in the settings app. Now, click on Display & Text Size.
At the bottom of the screen in front of Auto-Brightness, toggle the button from grey to green, and your Auto-Brightness will be turned on.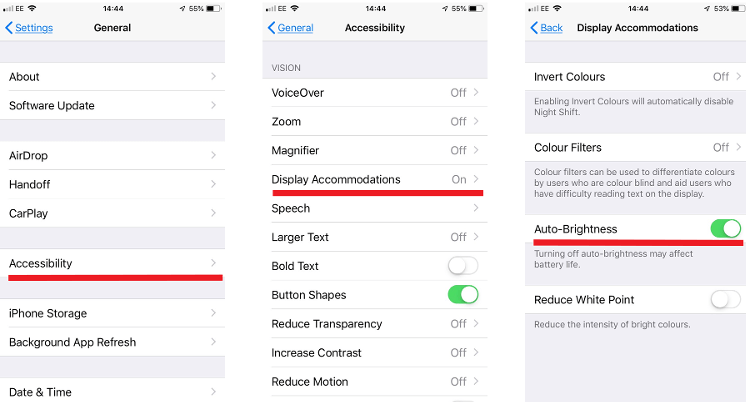 You can also toggle it from green to grey to turn it off.
2. Turn On Reduce White Point
Reduce white point allows users to reduce the brightness level of their iPhone lower than the default lowest level. Sometimes, you can feel that your iPhone's lowest brightness point is still too bright, especially at night. Hence, you can use this feature to lower it further. Adjusting this future may as well help to rectify iPhone yellow tint.
Open your iPhone Settings app. Navigate to Accessibility in the settings app.
Then, click on Display & Text Size. In front of Reduce White Point, toggle the button from grey to green to turn on this feature.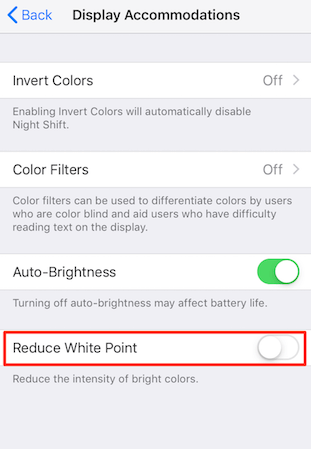 3. Disable Night Shift
In January 2016, Apple introduced the Night Shift feature alongside the iOS 9.3 update. This feature makes the color display easy on the eye of users. It automatically adjusts the colors being displayed to warmer colors. Apple uses this feature to dim blue lights and aid its user's night sleep. However, this feature can cause iPhone 5/6/7/8/X/11/12/13 yellow screen. Here is how to turn off this feature.
Swipe down the top of your screen to open the Control Center.
Press and hold the Screen Brightness slider until a new screen appears.
At the bottom of this screen, click on the Night Shift icon. If it is highlighted in white, it is turned on, but if it is not, then it is off.
Alternatively, you can turn it off in the Display & Brightness screen of your iPhone Settings app. Then, click on Night Shift; once it opens, select Manually Enable Until Tomorrow.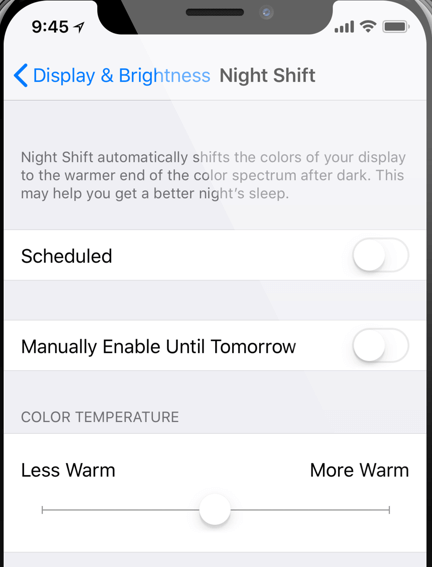 4. Disable True Tone Display
Ture tone does not cause significant change to a screen's appearance. Its function is to adjust the color and brightness of your phone's screen. It automatically adjusts it to the lightning around the iPhone. If it is enabled, it can cause iPhone 11/12/13 yellow tint. Below are the steps to turn it off.
Open your iPhone Settings app. Navigate to Display & Brightness in the settings app.
Click on True Tone, toggle the button from green to grey to turn off this feature.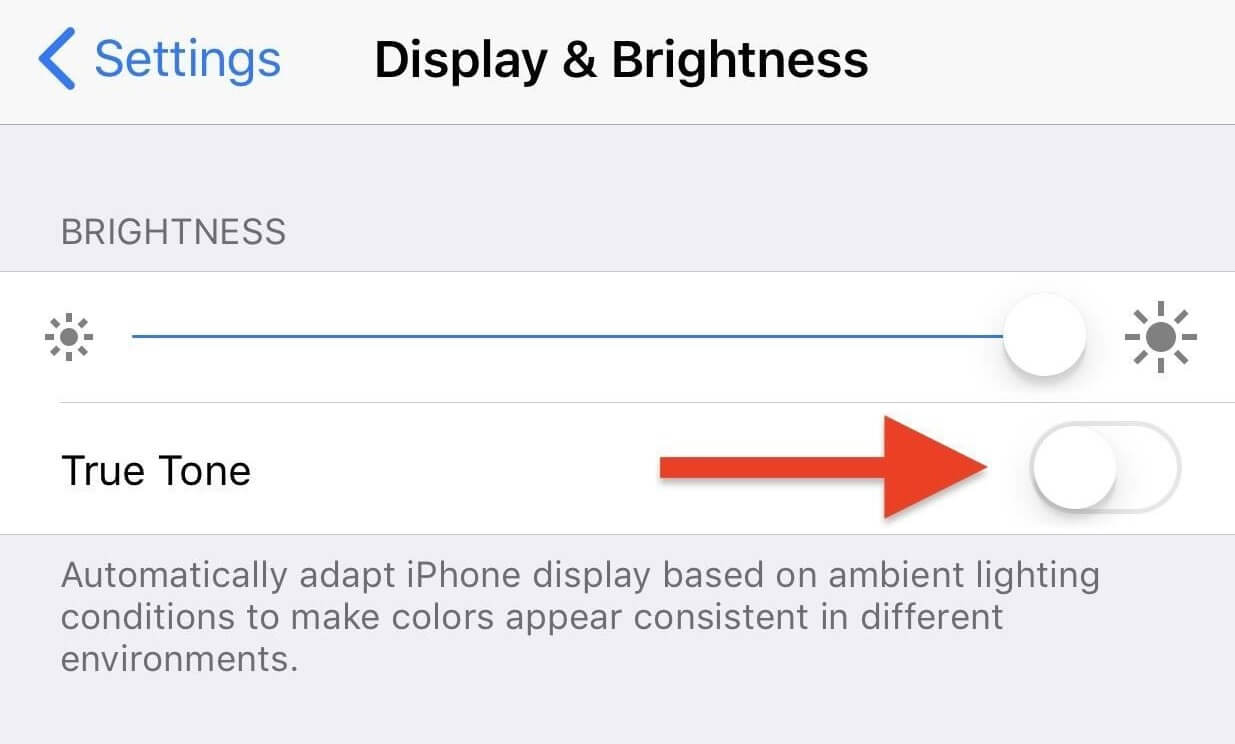 5. Change Color Tint
iPhone allows users to pick a color tint that they will use to display their phone's activities. If your iPhone's tint is set to yellow, you now know why you see the iPhone screen yellow tint. You may have made the change unknowingly, or a third-party user made the change on your phone. While every iPhone comes with a default setting, Apple allows users to change their screen's tint. Check the steps below to change your phone color tint.
Open your iPhone Settings app. Navigate to Accessibility in the settings app.
Click on Display & Text Size. Select the Color Filter option, and it will open its screen.
Turn on the Color Filter feature on the screen by toggling the button from grey to green.
Now, your phone will display more options. Click on Color Tint.
Then, you can change the hue to your desired color.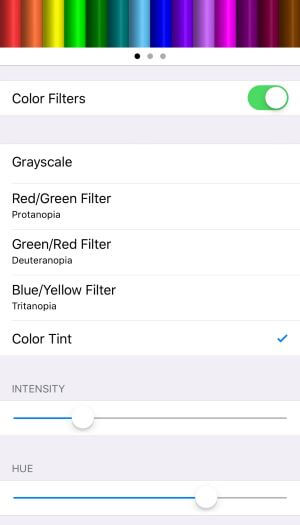 6. Update iPhone OS
If an issue like iPhone yellow screen is recurrent on iPhone, many users will log their complaints. In no time, Apple will include a solution to the issue in their iOS update. Hence, you should update the system software of your iPhone in case the solution is already available.
Open your iPhone Settings app. Launch the General settings option.
Select Software Update. Click on the software option you want and tap on the Install Now option.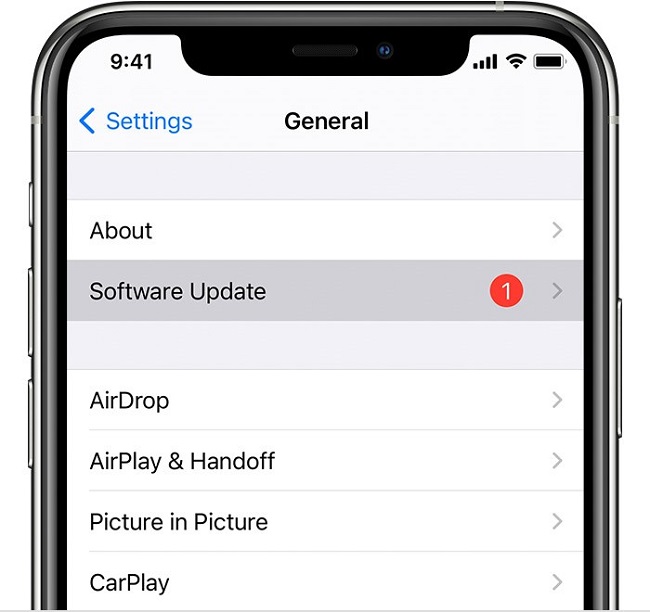 If you see the Download and Install option, click on it to download an update.
Provide your passcode if your phone prompts the menu and click on Install Now.
7. Fix iPhone Yellow Screen Without Data Loss
If you tried the above tips and your iPhone screen still looks yellow, then it could be due to serious software glitches. To rectify them, the last easiest way is by using our third-party tool to fix your iPhone yellow screen. WooTechy iPhixer is a top-tier repair kit for fixing different iPhone systems and screen issues with a 100% success rate.
The tool won't cause you any data loss, and you can use it from the comfort of your home without the help of an expert. You can also use it to upgrade or downgrade the iOS of your phone if there is a system bug that needs to be fixed.
iPhixer – iPhone Yellow Screen Fixer:
75.000.000+
Downloads
Fix all iPhone screen issues like screens stuck on recovery mode, grey screen, white Apple logo, and boot loop, and others.

Available on both Windows and Mac, it also supports all iPhone models and iOS versions including the latest iOS 15.5.

Without using iTunes, it restores your iPhone back to normal without any errors.
Follow these easy-to-operate steps to rectify the iPhone screen yellow tint:
Open the app on your PC and connect your iPhone to the computer. Select the Standard Mode to fix iPhone yellow screen without data loss.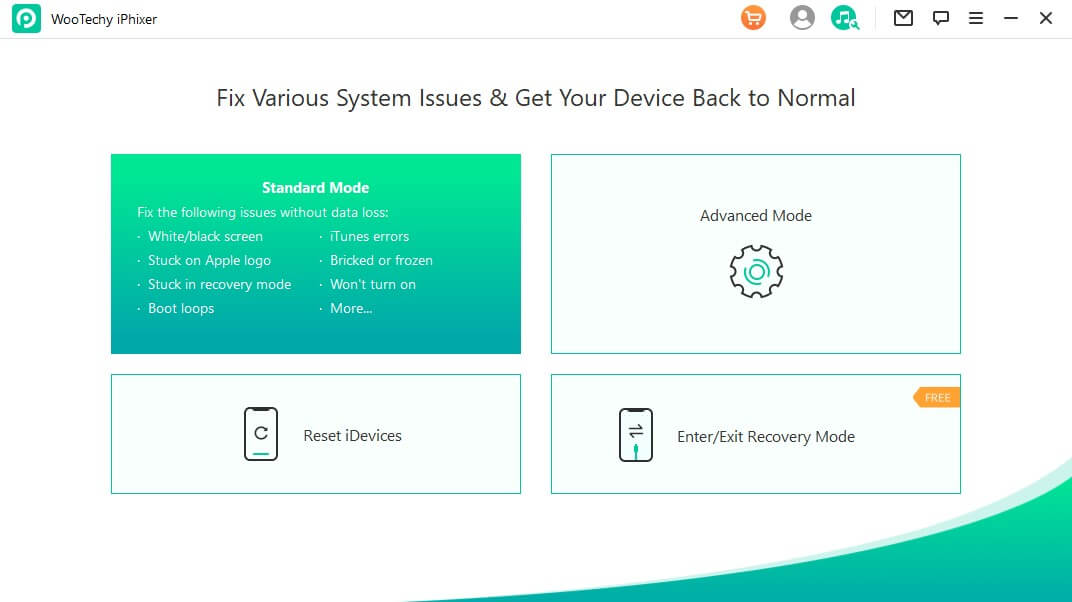 Press the Next button. Once the app recognizes your device download the firmware by clicking Download.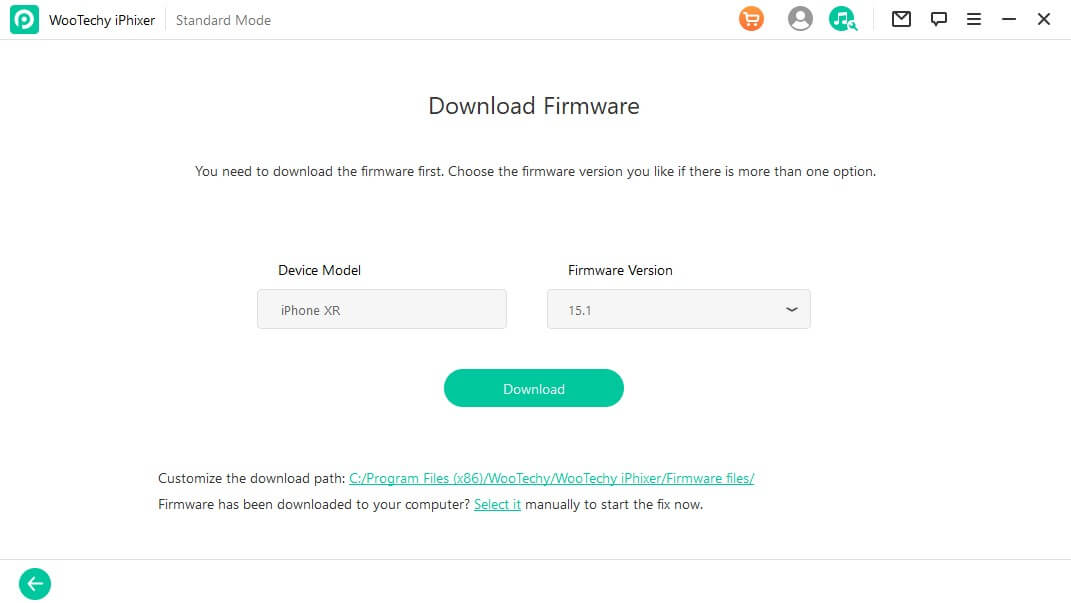 Click the Start button to begin your device repair, and the iPhone yellow tint will disappear.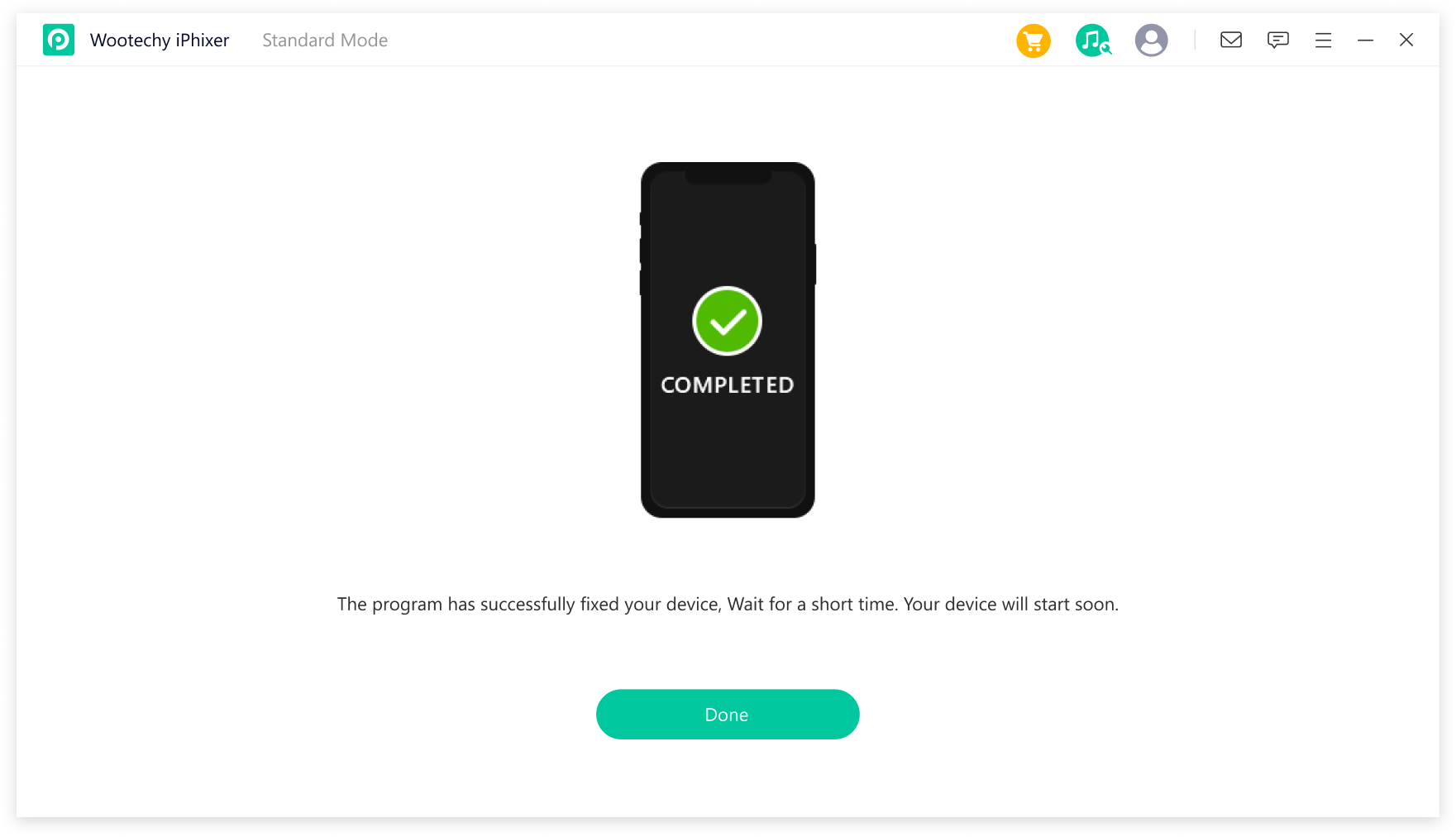 Conclusion
Having an impeccable surfing experience on your iPhone cannot be over-emphasized. However, moments behind your device that ought to be relaxing can be hampered by iPhone yellow screen. The main causes are display settings and features on your phone. Therefore, this article has proffered solutions to rectify all the possible causes.