To wake up early in the morning, you have set an Alarm on your iOS device, but for some unknown reason, your Alarm won't go off, and now you have missed all your meetings. If you are facing the same issue, don't worry because this guide has some easy solutions to make your alarm go off at the right time. Ensure to read this guide until the end to find a solution for why is my Alarm not going off.
Why is My Alarm Not Going Off?
If you are still wondering why does my Alarm not go off on iPhone, here are the reasons why it is happening to you.
Incorrect settings on your iPhone Clock App.
A low-volume alarm tone.
Minor bugs and glitches on your iPhone.
iPhone still connected to your Bluetooth device. 
Outdated version of Clock application.
Outdated iOS version. 
These are the main reasons why your Alarm not going off. Now let's not waste any more time and move to the solutions.
One Click to Fix Alarm Not Going off on iPhone with iPhixer
We all know that iOS system issues can cause many problems on your iPhone, such as alarm not going off. To fix this problem, you need an iOS repair tool which will repair your iOS device and bring it back to normal.
WooTechy iPhixer is an all-in-one iOS repair program that can fix any system error on your iPhone and bring your device back to normal in no time.This program has one of the highest success and safety rates.

Key Features of WooTechy iPhixer: Fix Alarm Not Going off on iPhone with A High Success Rate
75.000.000+
Downloads
Ability to solve any system error on iPhone, including alarm not going off, black screen or battery drain fast after update, etc.

Support the latest iOS device and software including iOS 16.

Fix all iOS problems without data loss.

One-click enter/exit Recovery Mode for free.

One of the best alternatives to iTunes to reset your device.
Now we will show you how to use this tool to solve your iPhone problems.
Download iPhixer on your PC, then launch the program and select Standard Mode from the home screen.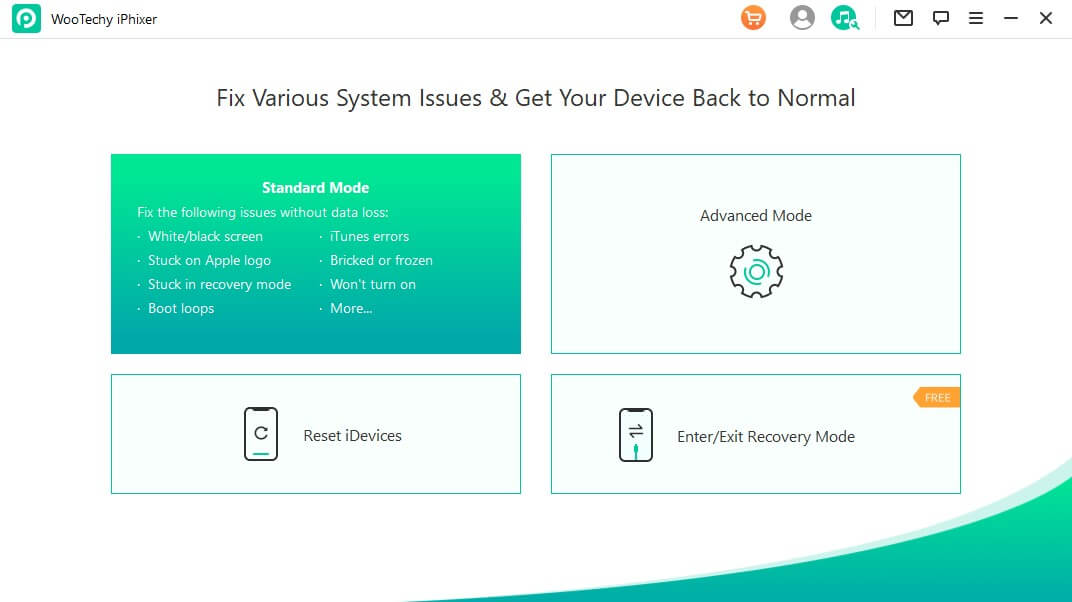 If your device is undetected, the program will ask you to put your device in Recovery or DFU mode.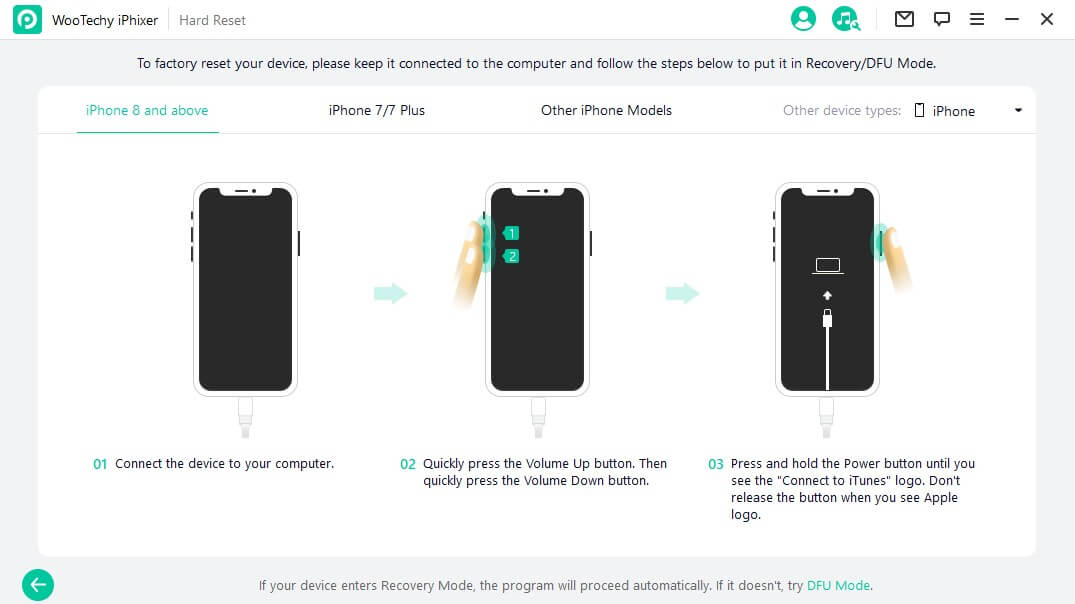 Available Firmware will appear on your screen; click the Download button to start downloading. After the Firmware is downloaded, it will automatically extract on your device.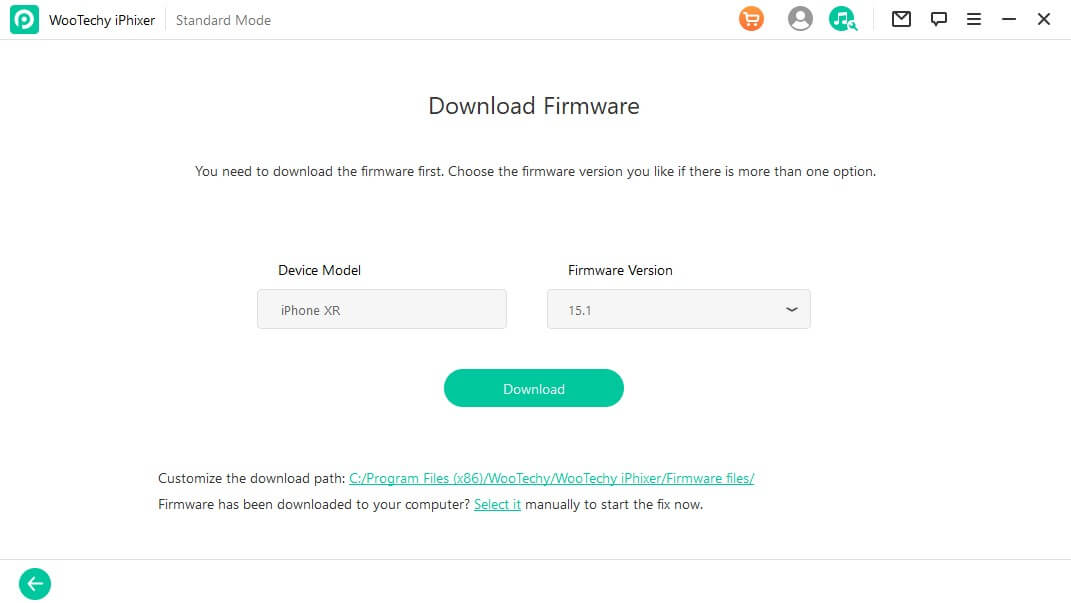 Now click on the Start button to begin the repairing process. When your procedure is completed, your device will restart and work normally.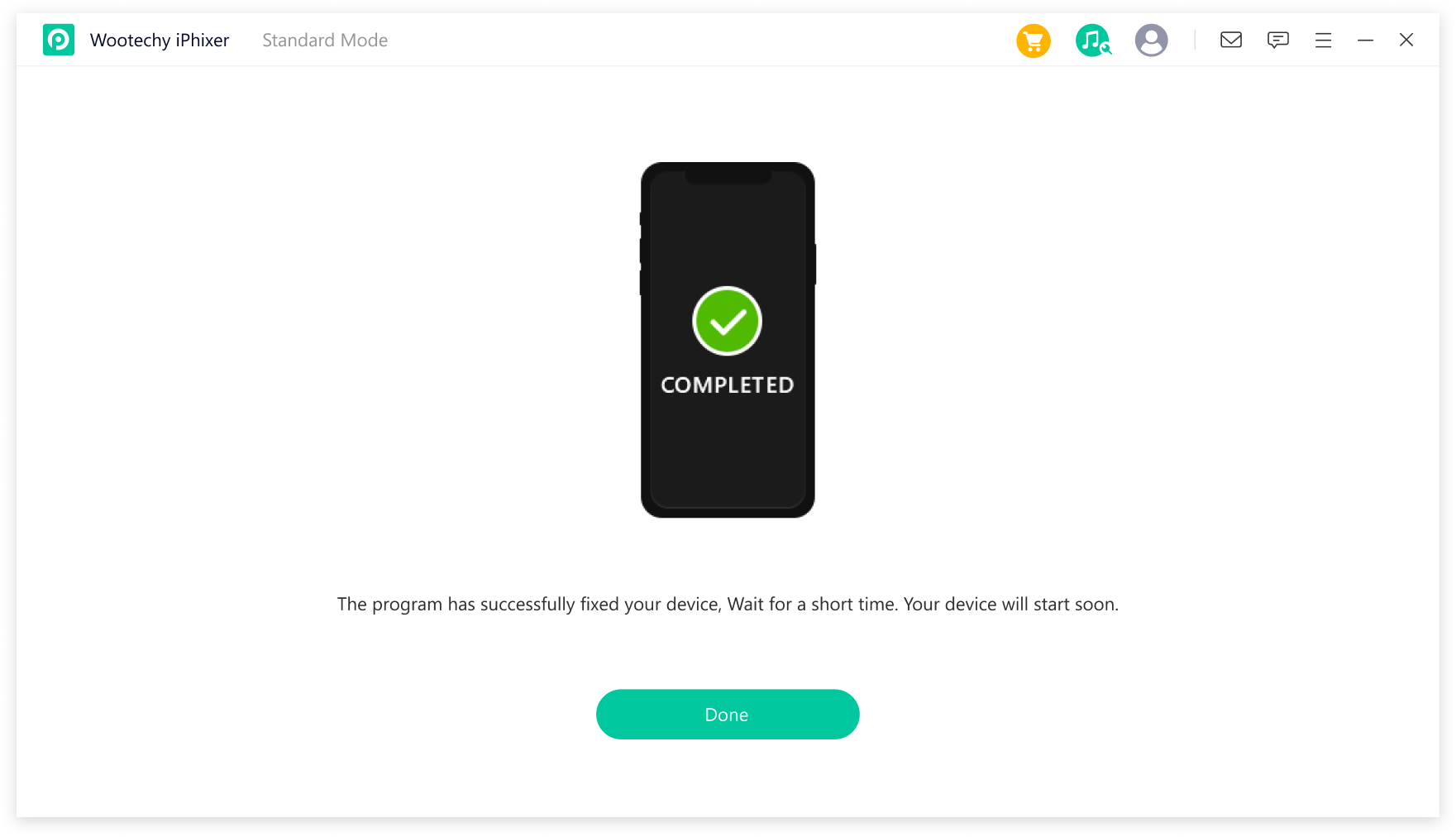 Other 12 Ways to Fix Alarm Not Going Off on iPhone
Here are other ways to fix  why is my Alarm not going off on iPhone. Try them one by one and hopefully your alarm issue will be resolved.
1

Restart your iPhone

Why does my alarm not go off on iPhone? Restarting your iPhone is a great solution to fix minor glitches and problems within your device. If your alarm is not going off, the problem can be solved by restarting your device.

Here is how to do it.
Press one of the volume and power buttons until the power slider appears on your iPhone screen.

Slide the slider to the right side to turn off your iPhone.

Wait for 30 seconds, and then press the side button to turn on your iPhone.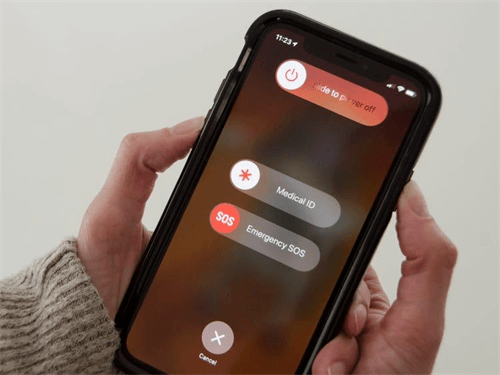 2

Check Alarm Settings

Commonly, you have set your Alarm incorrectly which is why your alarm is not working. For example, you have set the clock on the 12 Hours clock system and the Alarm to PM instead of AM. Or you have accidentally set the Alarm on only once instead of the daily Alarm.

Here is how to set the Alarm on repeat mode.
Open the Clock App on your iPhone and select Alarm.

Choose the Alarm you want to set on repeat mode and then tap the Edit option.

Tap on Repeat and pick the days you want to set the Alarm on.

Then tap on the Back option and press Save.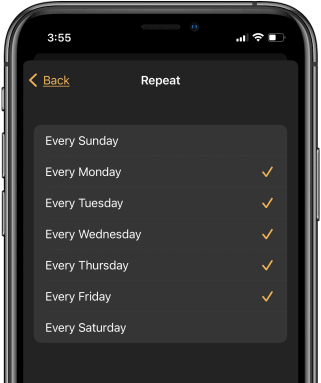 3

Turn up the Volume on iPhone.

There are some cases where volume not working on iPhone, but that's rare. In most cases, the main reason behind the "why is my alarm not going off issue" is that you have forgotten to turn up the volume on your iPhone. If you are an iOS user, you must know that general and alarm volumes are controlled differently.

Here is how to turn up the alarm volume on your iPhone.
Open the Settings App and then Tap on Sounds & Haptics.

Now slide the Ringer and Alerts slider to the right side to set it to loud volume.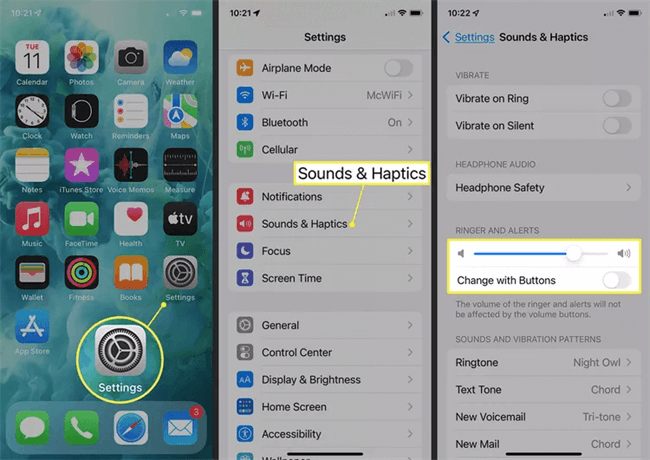 4

Set up A Louder Alarm Tone

As we all know that some Alarm tones are quieter than other tones. These tones are too low to hear, which could be  the reason why you missed your Alarm. That's why it's important to pick a more audible tone.

Follow these steps to select a louder Alarm tone.
Open the Clock App and choose Alarm.

Now tap on Edit and choose your set Alarm.

Tap on the Sound option and choose a louder Alarm tone.

In the end, press the Save button in the upper right corner.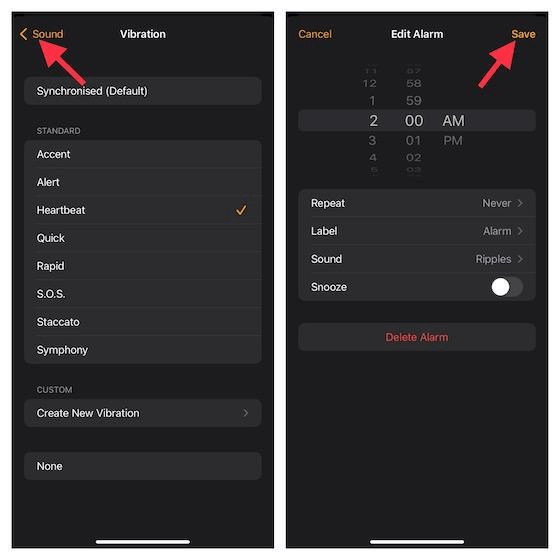 5

Disable or Change the Bedtime Feature

Make sure to change or disable the bedtime feature on your device because sleep mode can also cause this problem when it's enabled on iPhone. This problem will appear when the sleep feature interferes with your active alarm.
Open the Health App on your iPhone.

Then Tap on Sleep.

Now select the Full Schedule & Options and press on Edit.

Press the Delete Schedule option to turn off the Bedtime feature.

Tap on Done to save changes.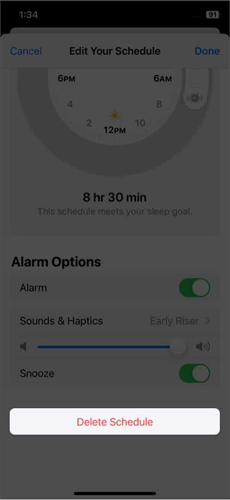 6

Delete the Alarm and Set a New One

If the issue is still there, then it's time to delete the alarm and set a new one. Yes, it is the easiest way to fix this bug.  Follow these steps to do it.
Open the Clock App and choose the Alarm option.

Select the set Alarm, swipe it to the left side, and then hit the Delete option.

Now tap on the plus (+) button to create a new Alarm.

Select the date and time to set a new alarm and tap on save.
7

Disable Bluetooth devices

If your iOS device is connected to headphones or a Bluetooth device, you may not hear the alarm sound. So it's important to disable the connected Bluetooth devices before sleeping. Here is the instruction to do it.
Go to your  iPhone Settings App.

Select Bluetooth and tap the button next to the Bluetooth option to disable it.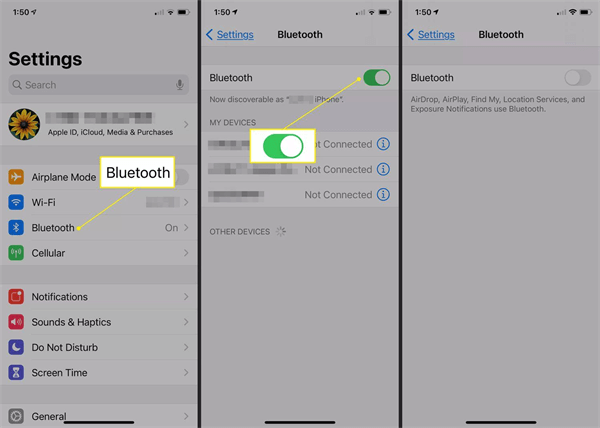 8

Don't Set up Alarm on Apple Watch

Many users have reported that it often doesn't go off whenever they have used their Apple watch to set up the Alarm. If you have done the same, then this could be the main reason behind why my alarms are not going off.  Please try to set up an alarm on your iPhone instead of an Apple Watch to get better results.

Here is how to set an alarm on iPhone.
Open the Clock App on your device and select Alarm Tap.

Now press the Add button.

Set the Alarm's time and date, then press the save option.
Now you have set an alarm on your iPhone instead of your Apple Watch.
9

Turn off Third-party Alarm Clock App

We all know that hundreds of third-party alarm clock Apps are available on the App Store. This app has more features than the normal iPhone Alarm App; however, sometimes, these Apps can lead to the issue. If you have installed such an App on your iPhone, we recommend you turn off the third-party Alarm clock App and try the default App again.
10

Update iPhone

Updating your iPhone to the latest version is the best way to eliminate minor bugs and glitches. Apple released these updates to solve small problems or to introduce new iPhone features. If the latest iOS version is available on your device, then update the device to solve why my alarm does not go off.

Follow these steps:
Open the Settings App on your iPhone and then tap on General.

Choose the Software Update option.

iPhone will start looking for an Update; if an update is available for your device, it will appear on your screen.

Tap on Download and Install to update your device.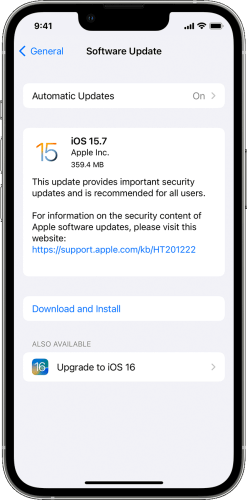 11

Reset All Settings

You still won't be able to track down the real problem; if you are on this solution it means the above methods fail to solve your bug. Now in this method, we are going to reset everything. When you factory reset settings on iPhone, everything available on the Settings App will be set to default.

To reset all Settings on your iPhone, follow the below instructions.
Open the Settings and tap on General.

Navigate down and select the Transfer or Reset iPhone option.

Choose the Reset All Settings option.

Again Tap on the Reset All Settings option to confirm the reset.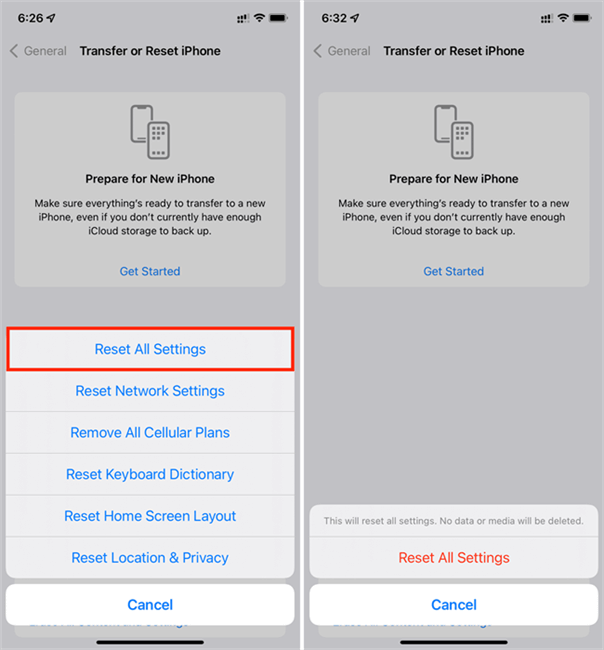 12

DFU Restore iPhone

The last step you can take to solve the alarm not go off issue is to use DFU mode on iPhone. A DFU is the deepest type of iPhone restore; in this mode, all the code gets deleted and restored as new. This will restore your iPhone to factory defaults.
FAQs about Alarm Not Going off on iPhone
Q1. Will my alarm go off in Do Not Disturb?
Yes! Your iPhone alarm will still ring even if your device is set to "Do Not Disturb" mode. This feature is specifically designed to silence calls, notifications, and alerts, but it does not interfere with alarms. So, rest assured that your alarm will pierce through the silence and wake you up on time, regardless of your do not disturb settings.
Q2. Does alarm still go off if iPhone is on silent?
Yes, it does! The silent mode on your iPhone only mutes incoming calls and notifications. However, your alarm is programmed to sound off regardless of the silent setting.
Q3. Why is my alarm so quiet even on full volume?
If you find your iPhone alarm barely audible, even when your volume is cranked up to the max, there might be a simple explanation. Check out these possible causes and solutions:
Bluetooth interference: Ensure that your iPhone is not connected to any Bluetooth devices, as they can sometimes divert audio output.
Custom sound settings: If you've personalized your alarm sound, make sure it's not too soft. Sometimes, custom tones can be set to low volume, causing the alarm to sound quieter than expected.
Speaker blockage: Ensure that the speakers on your iPhone are not obstructed by dirt, debris, or a protective case. A clogged or covered speaker can significantly dampen the sound.
Q4. Is it possible to make my iPhone alarm louder?
Here's how you can make your iPhone alarm even louder:
Go to the "Settings" app on your iPhone, tap on "Sounds & Haptics," and under "Ringer and Alerts," adjust the volume slider to increase the overall volume of your device, including the alarm.
You can also enable the "Change with Buttons" option in the same "Sounds & Haptics" settings menu. This allows you to use the physical volume buttons on the side of your iPhone to control the alarm volume easily.
Q5. Why does my alarm not go off after snoozing?
By default, the snooze duration on iPhones is 9 minutes. However, if you've customized this setting, make sure you haven't accidentally set it to zero minutes. Double-check your snooze duration in the Clock app to ensure it's not preventing your alarm from sounding again.
If you have multiple alarms set on your iPhone and one of them goes off while you're snoozing, it can override the snooze feature. In this case, the subsequent alarms might not sound until the next scheduled time.
Conclusion
In this guide, we have mentioned all the fixes to solve why is my alarm not going off. Moreover, many users have asked whether my alarm will go off in do not disturb mode. The answer is yes, the alarm will go off in Do Not Disturb and Airplane mode.
By far, the most effective way to troubleshoot this issue is using iPhixer. Just give it a chance to impress you.