When you break your Android phone, and you can't remember the password to your device, then you will try to use a effective Android unlock tool to help unlock the device, such as UnlockGo (Android). But Does UnlockGo (Android) really work and is it 100% safe?
If you have this worry, then you are not alone. There are many users doubt UnlockGo (Android) cannot guarantee the security of your phone data.
Don't worry about it too much. This article is right here to tell you the full guide of UnlockGo (Android) Review and the best alternative to this unlock tool.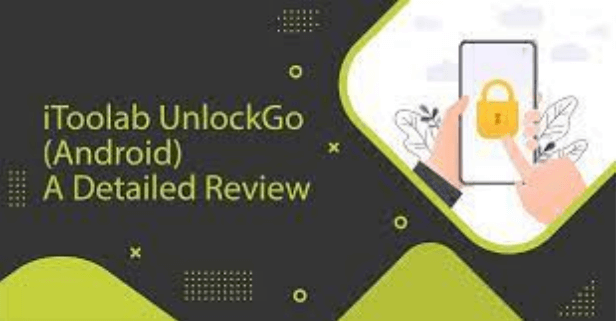 Part 1. What's UnlockGo (Android)?
UnlockGo (Android) is also a alternative Android phone screen removal tool. You may get into any Android device with the help of this tool. If you have locked yourself out of your phone, tablet, or computer and can't remember your password or unlock pattern, here is the tool you need.
The program allows users to unlock devices without resorting to more laborious means. Select the appropriate unlocking method. Simply link your Android device to your computer and start the unlocking process. In a few minutes, you can access your gadget without any lock.
Part 2. Is It UnlockGo (Android) Free?
No, Unlock Android is not free to use. It is a paid software designed to unlock Android devices. Actually. It's a little expensive to use this tool to unlock your Android device if you use this tool for your personal purpose. Unlock Android provides 3 Purchase Plans for users (1-Month plan, 1-Year plan and Lifetime plan) , you can buy a suitable plan following your actual purpose.
Part 3. How to Use UnlockGo (Android) to Unlock Android Locked Screen?
A sophisticated Android screen lock removal and Samsung FRP bypass program, UnlockGo (Android), is available for download now. You may unlock Android devices such as smartphones and tablets with the click of a button by using this incredible technology. Learn more about how it operates by reading the complete guide.
Step 1: Connecting Samsung device to PC
Connect the Android smartphone to the PC via the USB cord after installing the downloadable UnlockGo (Android) FRP bypass tool. Then enter the UnlockGo (Android) and tap on the Remove Google Lock (FRP) option. Select the Start button.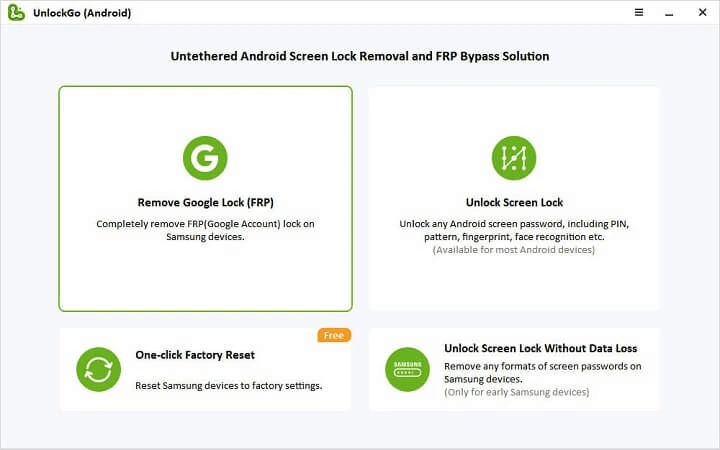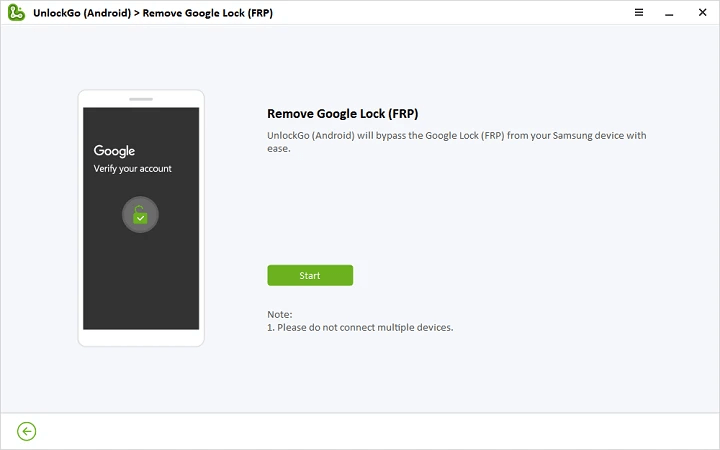 Step 2: Select the Appropriate Android Version to Bypass FRP
From the list, you can choose different unlocking option following your Samsung system. To proceed, please select the Next option.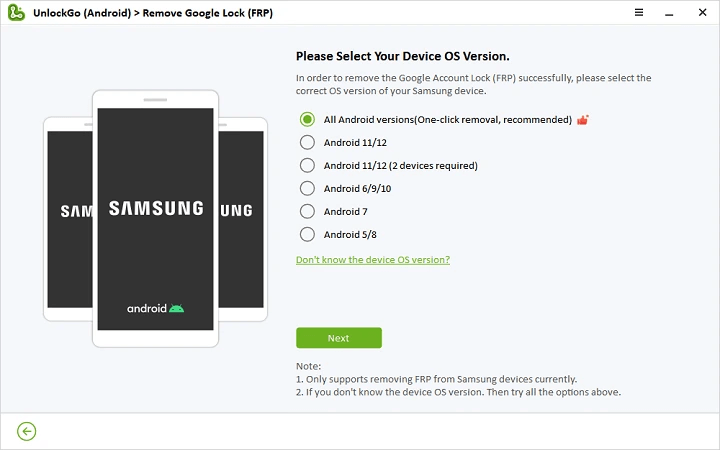 Step 3: Using UnlockGo, alert the Samsung smartphone to a new unlock attempt
Then a pop-up window with instructions will show on the screen. Then use the secret code to access the hidden Samsung Diagnostics Menu.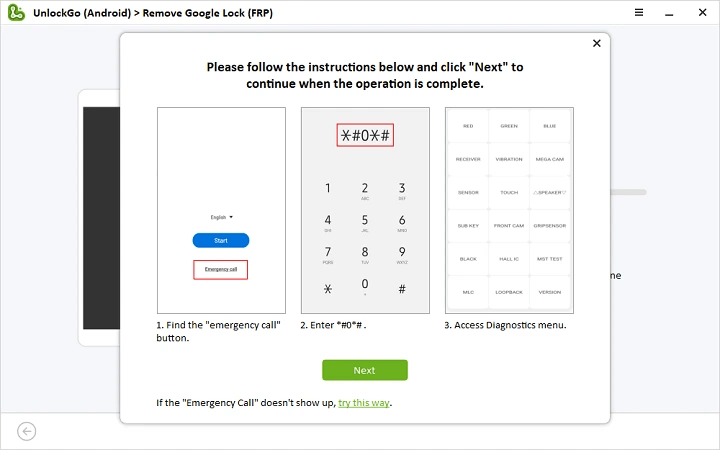 You must leave your Samsung device plugged into the computer until you hear from UnlockGo (Android).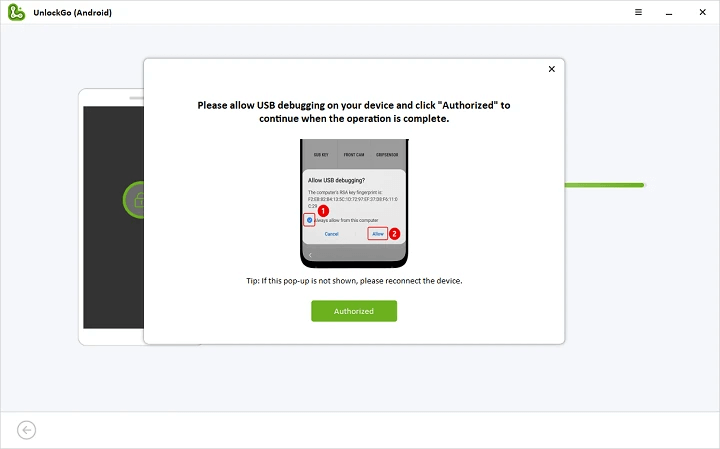 Step 4: Finish Google FRP Lock Removed
After this process is done, the Google account verification screen will be bypassed for a while, then you have succeed in finishing Samsung Google Lock(FRP) Removed.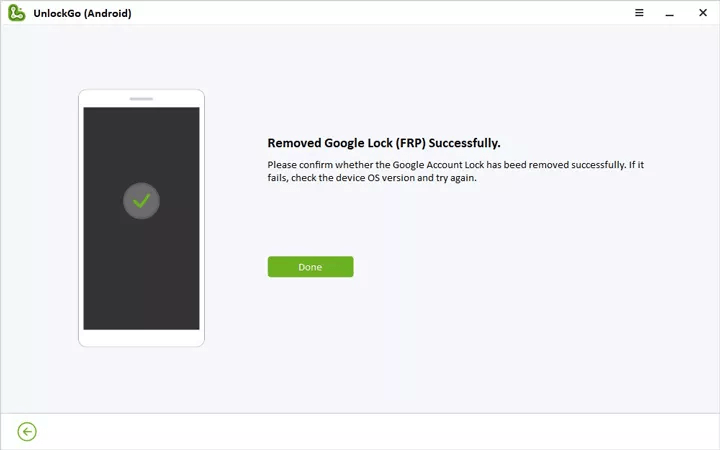 Part 4. Is It UnlockGo (Android) Safe?
Actually, iToolab UnlockGo (Android) can't guarantee the 100% safety. If you use UnlockGo (Android) to unlock your Android device using Remove Google Lock(FRP) mode and one-click Factory Reset, then it may cause some data loss or even all your phone data will be erased.
Therefore, think twice when you want to use UnlockGo (Android) to remove the Google locked screen. And you had better back up all the important data on your Android phone first, then you can use this tool without worries.
Part 5. The Better Alternative to UnlockGo (Android) -- Without Data Loss
Cons of  UnlockGo (Android)
Data Loss Risk,  UnlockGo (Android) can't protect your Android device from data invaded.

Too complex steps, if you use UnlockGo (Android) for thr first time, you will spend lots of time to read the instruction since this tool needs some technical savvy.

Expensive price,  UnlockGo (Android) is a paid tool with an unaffordable price for normal users.
Well, it seems UnlockGo (Android) is not a nice choice to unlock your Android screen.
Do you need a better alternative to UnlockGo without data loss? Then, WooTechy iDelock ( Android) can be the best option for your UnlockGo (Android). This tool is compatible with more than 600 models of Android to unlock various Android locks such as passwords, patterns, custom PINs, and fingerprints.
What's more, iDelock (Android) can guarantee 100% security to unlock your Android device. With user-friendly interface, you can easily handle this tool and achieve your goal.
Shining Features of iDelock (Android)
75.000.000+
Downloads
Removes Screen Lock from Samsung Phones without data loss.

Ensure a high success rate to remove Google lock(FRP) screen.

Operate without a hitch on numerous Android phone models including Samsung, Huawei, Xiaomi, OPPO and so on.

Support 24/7 Customer Service, you may reach out to the support staff at any moment.

Offer a 30-day money-back guarantee at any time you want.
How to Unlock Samsung Locked Screen Without Data Loss?
Step 1: Download and install iDelock ( Android)  from the Download Now button. Open this tool on the computer and select Remove without Data Loss mode.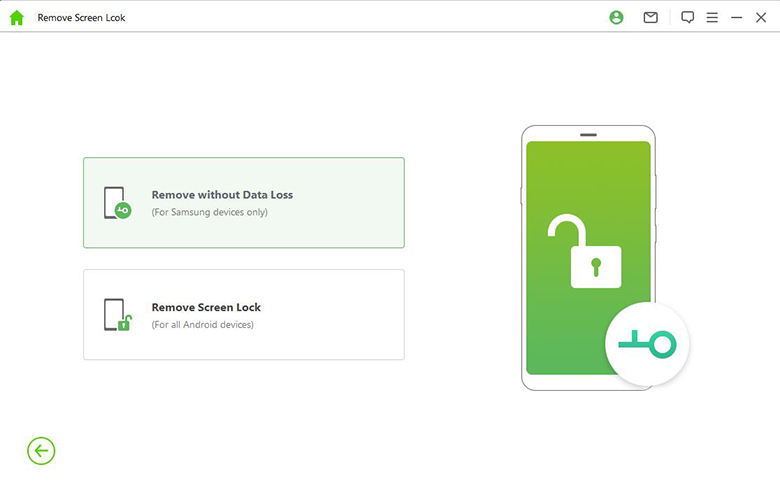 Step 2: Confirm your Samsung device information. Click Start button, this tool will start downloading the data package for your Samsung phone.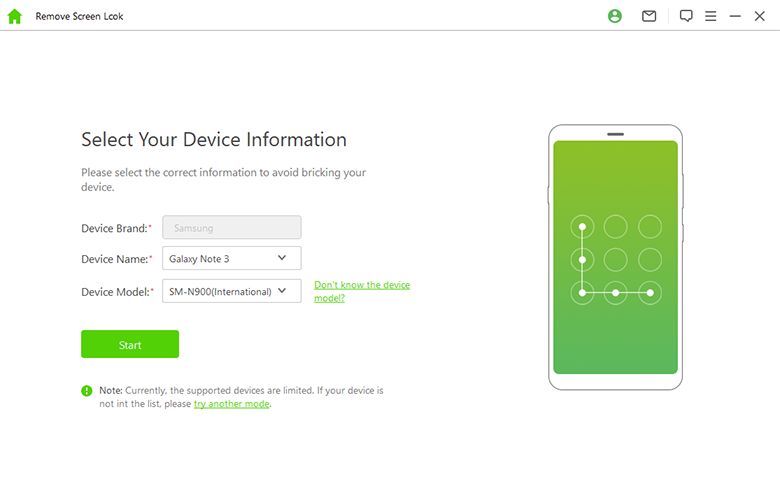 Step 3: Use a working cable to connect your phone to the computer. Then put your Samsung device into Downloading Mode following the instructions. Then tap the Start to Unlock button on the lower-right corner.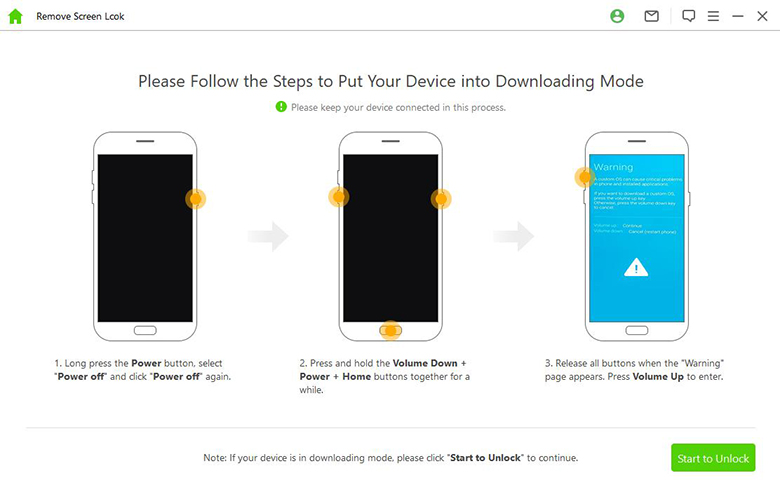 Step 4: Now, iDelock (Android) will begin the unlocking process. Wait for a while, this tool will unlock your Samsung locked screen successfully.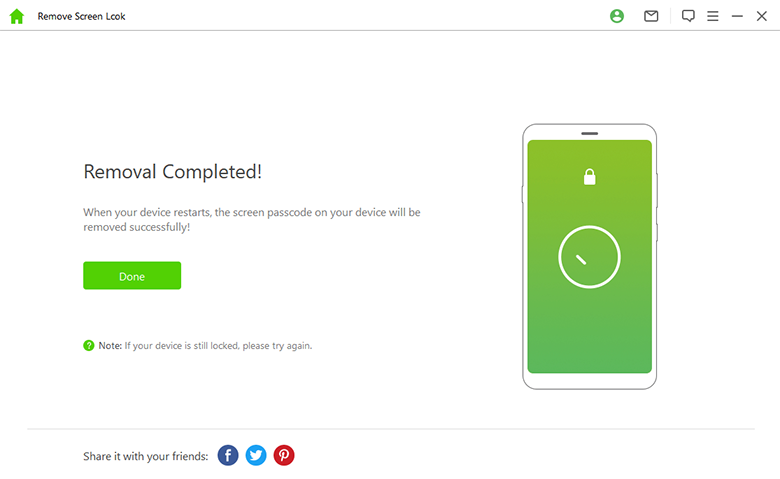 Conclusion
For this UnlockGo (Android) review, you can know which is your better choice to unlock your Android screen without password and with 100% security. That's WooTechy iDelock ( Android). As the best Android FRP bypass tool, iDelock for Android wins a great honor with its high-quality function and service.
Just click the Download Now button, and use this tool to unlock your Android device right now, which will never let you down.