As an iPhone user, someone else's Apple ID may show up on your screen. Firstly, this could be as a result of using a second hand phone whose account hasn't been wiped permanently. Secondly, the sudden message would be because of someone else using your phone to install an app by putting their own Apple ID. When you want to access the App Store therefore, the device will anticipate the last user's details.
Ask Previous Owner to Remove the Apple ID Remotely
This method suits the situation when the previous owner isn't nearby and can only access the device remotely. Since they cannot physically access the device, they will need to follow the following steps to remove the Apple ID:
Step 1. Log into the iCoud account using another device or computer.
Step 2. Click on the All Devices drop-down prompt and tap on the iPhone with issues.
Step 3. Right-click the Erase iPhone/iPad which will proceed to erase the device.
Step 4. Then input Apple ID password and click Next.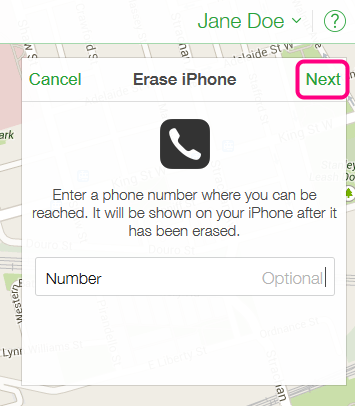 Step 5. Assume the prompt on the next screen to enter a phone number and click Next.
Step 6. Assume the invitation on the subsequent screen to enter an optional message and tap on Done.
Step 7. They should then tap on Remove from Account and confirm the Remove prompt.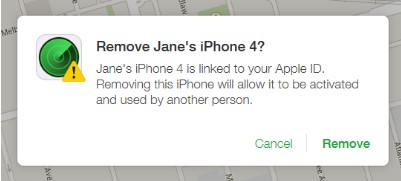 You will now be notified about device's activation and proceed to use it.
Remove Someone Else's Apple ID with WooTechy iDelock(iOS 15 Supported)
If you cannot contact the preivous owner to help you remove his ID. You should consider to do it yourself. When it comes to remove Apple ID, WooTechy iDelock is undoubtedly one of the existing software that you can rely on. Excepte for Apple ID, it can also be used to bypass MDM lock, Screen Time passcode, screen passcode, iTunes backup lock and iTunes backup encryption settings.
Great Features of iDelock:
The app is an all-in-one iOS uncloker and decrypter which means it can bypass all iOS related issues.

It has a high success rate.

It is easy to use and fast.

It's highly reliable and safe to use.

It's compatible with almost all iOS versions including the newest iOS 15.
To use the app to remove the Apple ID, follow these steps:
Step 1: Launch WooTechy iDelock on your computer and select the Unlock Apple ID option.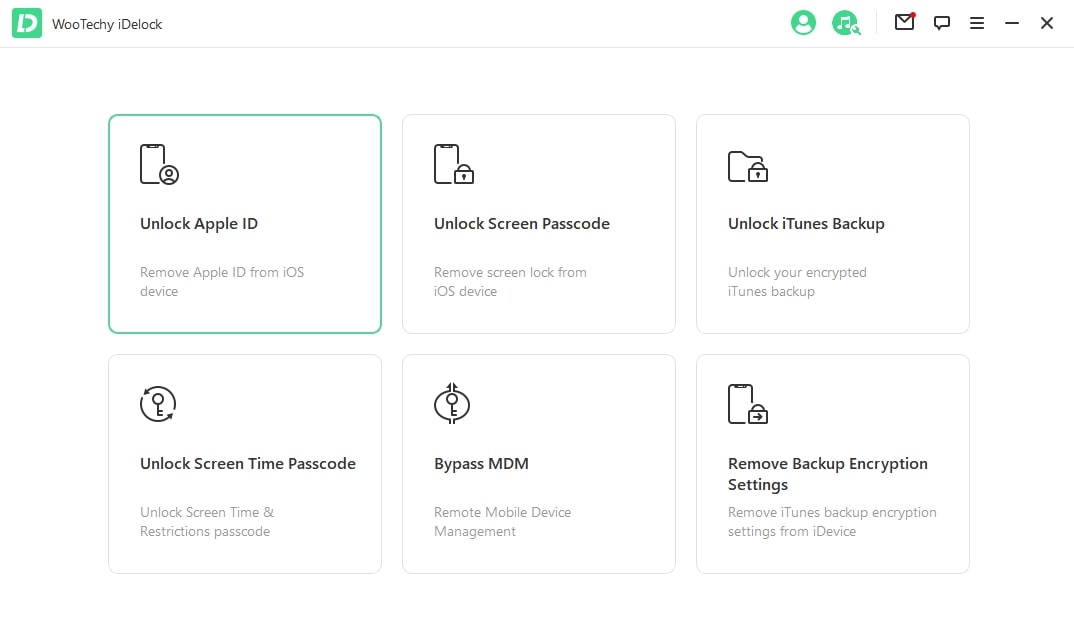 Step 2: Connect your iPhone to the computer, unlock your iPhone screen and tap on Trust if your computer has not been trusted.
Step 3: Select the Start to Unlock prompt which removes the Apple ID and iCloud account linked to your device.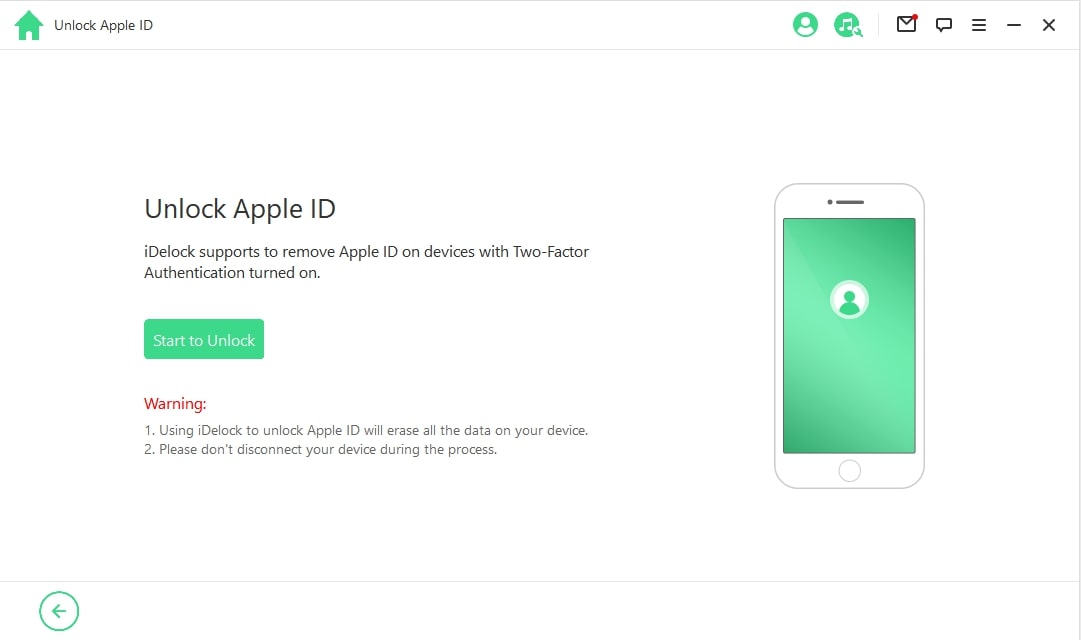 This step may lead you to three situations.
Situation 1: If the Find My iPhone prompt in your device is disabled, the app will promptly start unlocking your iPhone.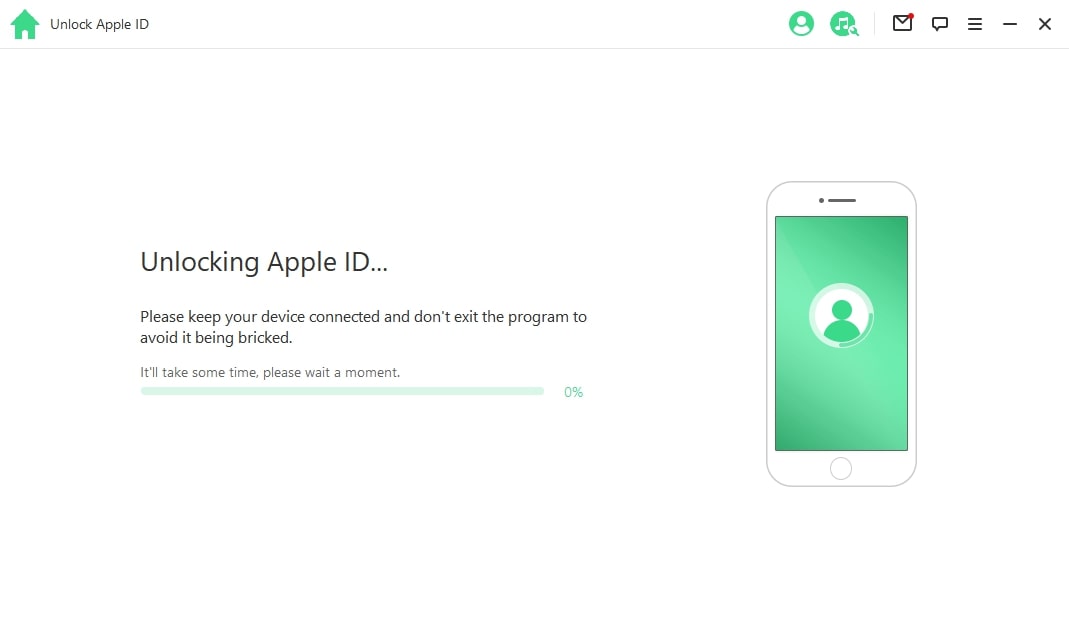 Situation 2: If the Find My iPhone prompt in your device is enabled, reset all settings on your device. To do this; Click on Settings>General>Reset All Settings and your iPhone will restart before the iDelock unlocks the ID.
You can then set up your device anew.
Situation 3: If Two-Factor Authentication is enabled, click on the Yes prompt. To check if it's enabled, click on Settings>Apple ID>Password & Security. Ensure that you have customized your screen lock passcode. Proceed with the below steps: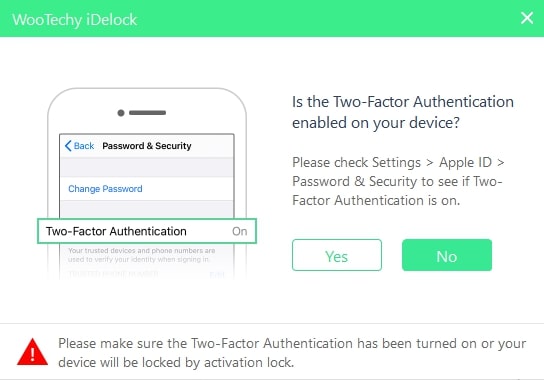 Step 1: As the program auto-detects your iPhone, select the firmware version shown and tap on Download. If you can't, tap on Copy and download it by a browser. If it's downloaded, tap on Select to enable application.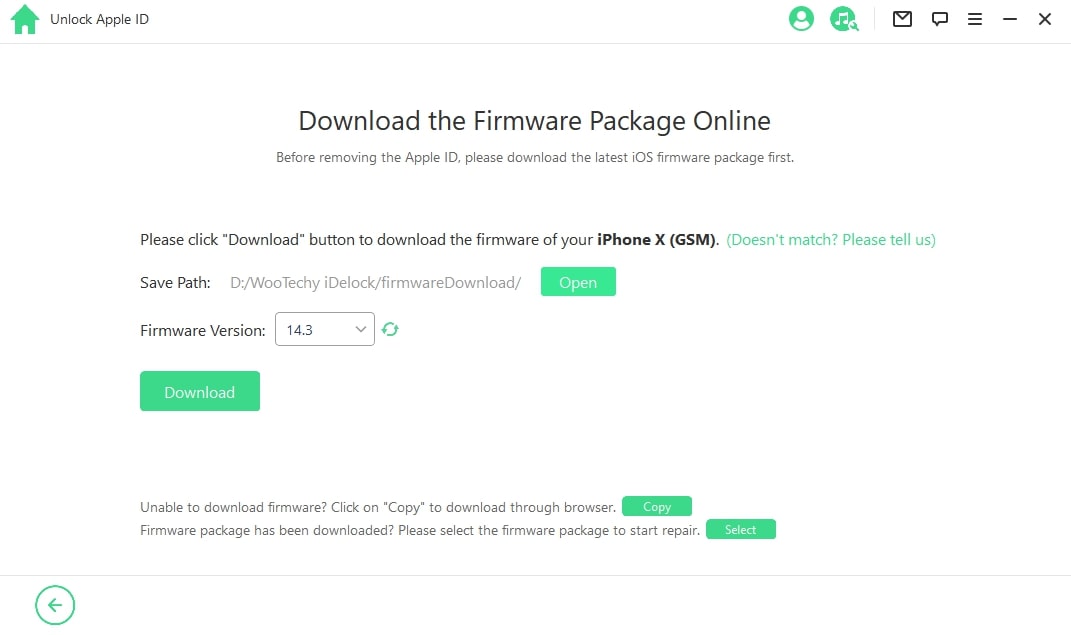 Step 2: Tap on Start Unlock. Ensure iPhone is connected to PC using a cable.
Enter 000000 to reconfirm unlocking the device and click Unlock. Device automatically enters Recovery Mode. If it doesn't, manually put it into Recovery Mode.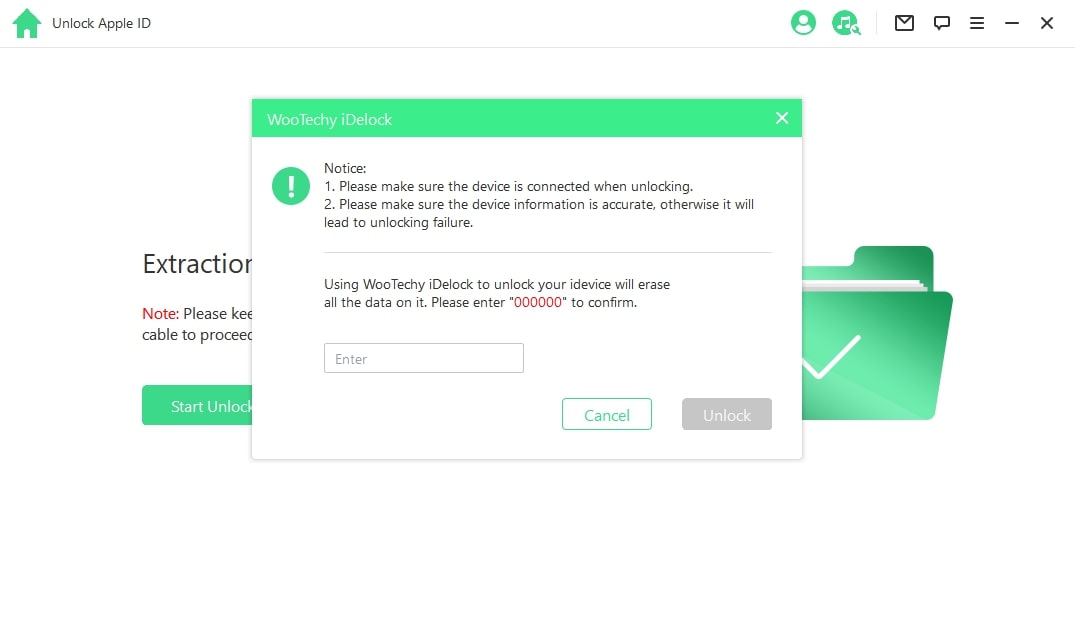 Step 3: Tap on Unlock with Password then select Use Device Passcode and enter your screen passcode. Put your ID and enjoy the services.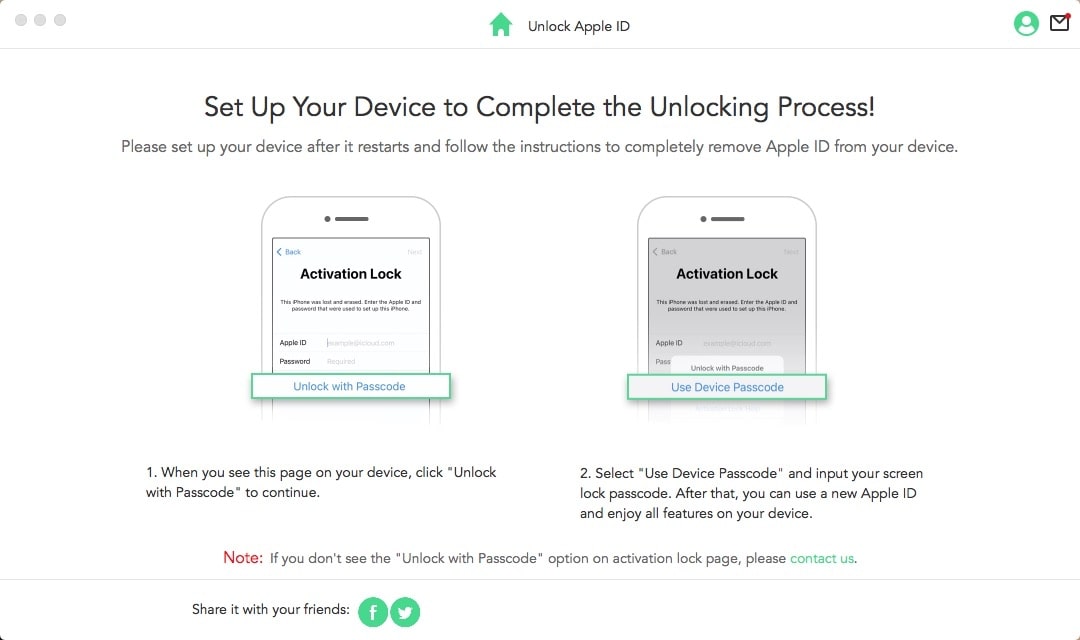 Remove Someone Else's Apple ID on Apple Store
When someone else's Apple ID is in your Apple Store, you are restrained from downloading apps because it asks for their details. This is frustrating and renders your device almost unusable. You can however remove the Apple ID easily.
To remove the ID, follow these steps:
Step 1. Click on Settings and tap on Apple ID.
Step 2. Click on iTumes and App Store and then on Apple ID which is at the top of the screen.
Step 3. Click on Sign Out. The ID is removed from your device.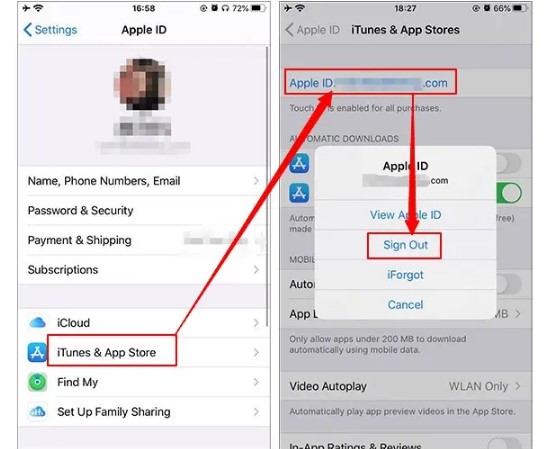 Step 4. Tap on Sign In and log into your Apple ID. You can then proceed to purchase and download apps from App Store.
Tips: Contact Apple to Remove Someone Else's Apple ID
To remove the Apple ID, you can also contact Apple. For them to remove the ID, you must furnish them with the original receipt of the device. If it is a second hand phone, you will have to prove to them that the iPhone's ownership has transferred from the previous to you. On their part, Apple will have to conduct due diligence to ascertain if the phone has been stolen; if it's so, Apple will not remove it. They will also refuse to help out if they even have an iota of doubt about the iPhone's ownership.
FAQs about Restoring iPhone/iPad/iPod from DFU Mode
Q1: How Do You Delete an Apple ID Account on iPhone without Password?
Go to Settings and then iCloud. Erase the Find my iPhone prompt which is responsible for the locks and it turn it off.
Go to Settings and then to iTunes and App Store and log out. You can do this by clicking on Sign Out. You have to also sign out of all accounts.
Delete all files; go to Settings and press General. Select the Reset prompt thereafter.
Q2: Will a Factory Reset Remove my Apple ID?
Yes, a factory reset removes ensures that your iPhone is wiped out and can be used by a new user.
Q3: What Happens If You Change Apple ID on iPhone?
When you change the ID for iCloud, access to some data maybe hampered because it contain calendars, emails, contacts, backups, photos and other things. If you only change the Apple ID without altering the iCloud account, there won't be much change to the iPhone. When you change your Apple ID only, you will be logged out iMessage, App Store and even Face Time.
Q4: Can I Have Two Apple IDs on My iPhone?
Yes, it is possible to have two Apple IDs on the same iPhone. These IDs can be assigned to different services. For instance, while one ID can be used for iCloud, the other one can be used to purchase and download apps from the App Store.
Conclusion:
This article is an invaluable source of information for you who have encountered the problem of having someone else's Apple ID appearing on your screen. When that happens, you can rest easy and use different methods to remove the ID depending on the circumstances of your problem. Apart from contacting the previous owner, you can contact Apple or use App Store.
Even so, you can opt for WooTechy iDelock which is quite efficient, fast, and safe and can be use by all iDevices regardless of their iOS versions, even the latest iOS 15. To boot, the article has FAQ related to iPhone Apple ID and iPhones.