We all can relate to how annoying it can be to forget any of your passcodes. It can prevent you from using your device, which can be very problematic. Passcodes such as restrictions passcode on iPhone and iPad can also prevent users from taking specific actions such as resetting your iPhone. Thus, we will talk about 3 ways to reset iPhone or iPad without putting the restrictions passcode so you can ditch the hassle and fully enjoy your device.
Part 1. How to Recover iPhone Restrictions Passcode [iOS 15 Supported]
Restrictions passcode is a type of password which restricts the user from certain actions on the device. Resetting the device without restrictions passcode is do-able, but it is a lengthier process so, it is advisable to try to recover the restrictions passcode first. Passcodes such as restrictions passcode can be easily bypassed using software like iDelock.
WooTechy iDelock is software that allows you to remove not only your restrictions password but can also remove Apple ID, screen lock without any loss of data or risk to the device. It is fast, simple, safe, and gets the job done just right. It is easily available for download on the website and supports both Mac and Windows. Besides, almost all iDevices and iOS versions are supported, even the iOS 15. It is as simple as connecting your device to a computer with this software and following simple instructions. Let's find out in detail that how you can remove restrictions passcode from your iPhone or iPad using WooTechy iDelock.
Watch the video to remove screen time passcode without losing data
Steps 1: Launch WooTechy iDelock on your computer and choose "Unlock Screen Time Passcode" mode.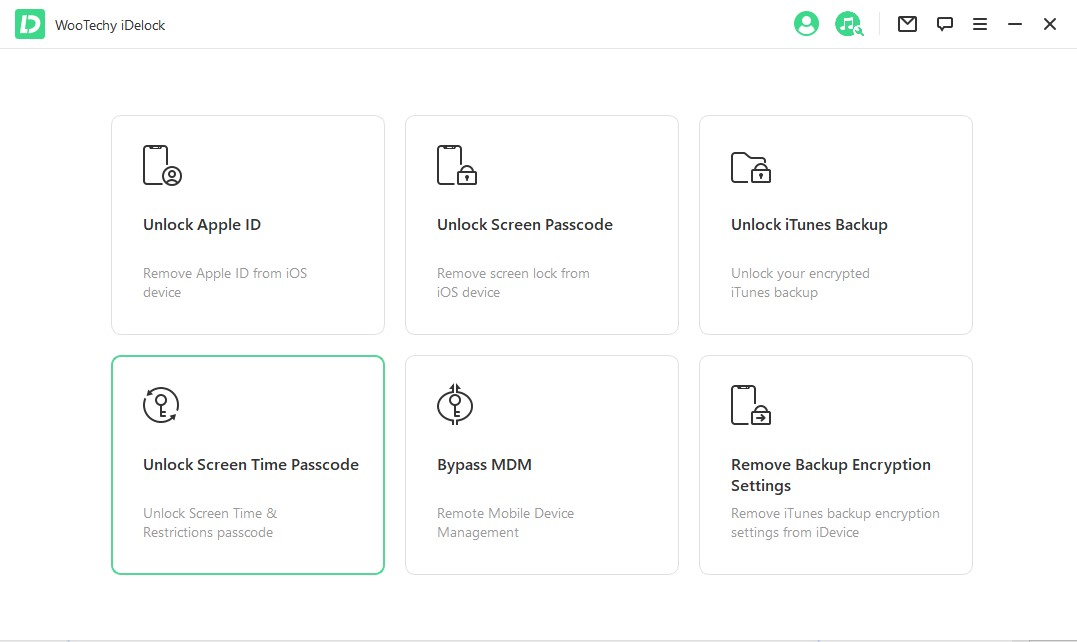 Steps 2: Connect your device via USB cable and wait for it to be recognized. Make sure that your device is unlocked. Select the 'Trust this device' option when it asks so. Otherwise, your device will not let the app perform any actions on it.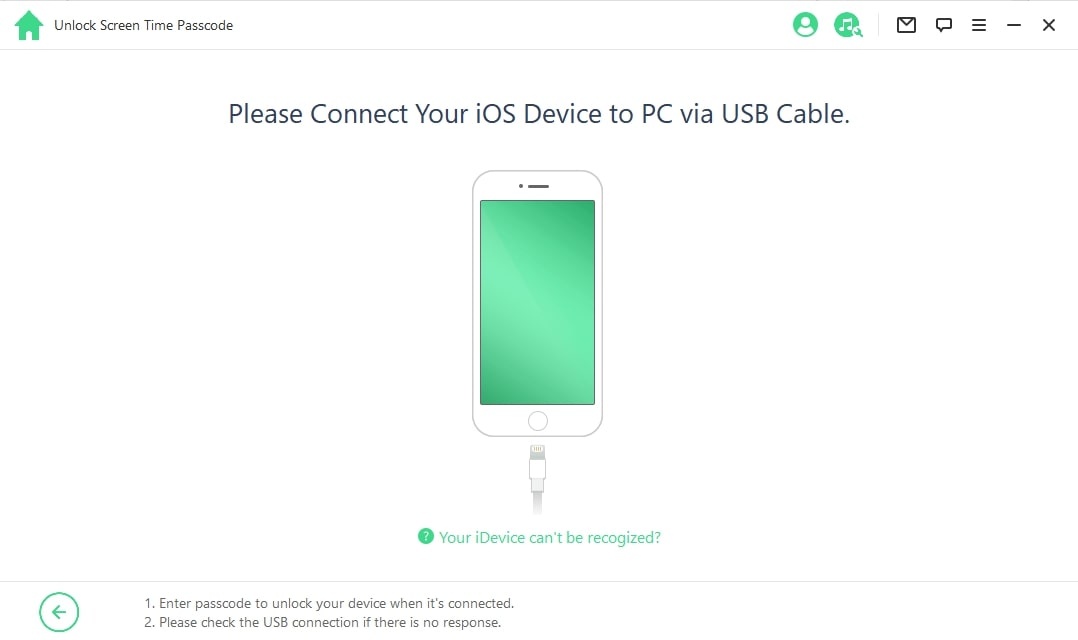 Steps 3: As aforementioned, iDelock does more than removing restrictions passcode. So, make sure to choose the 'Unlock Screen Time Passcode' option if your device is running iOS 12 or above, or see the 'Recover Restrictions Passcode' option if your device is running iOS 11 or earlier versions and proceed. Once you are through, you should choose 'Start to unlock', and the app will start working on removing the restrictions passcode.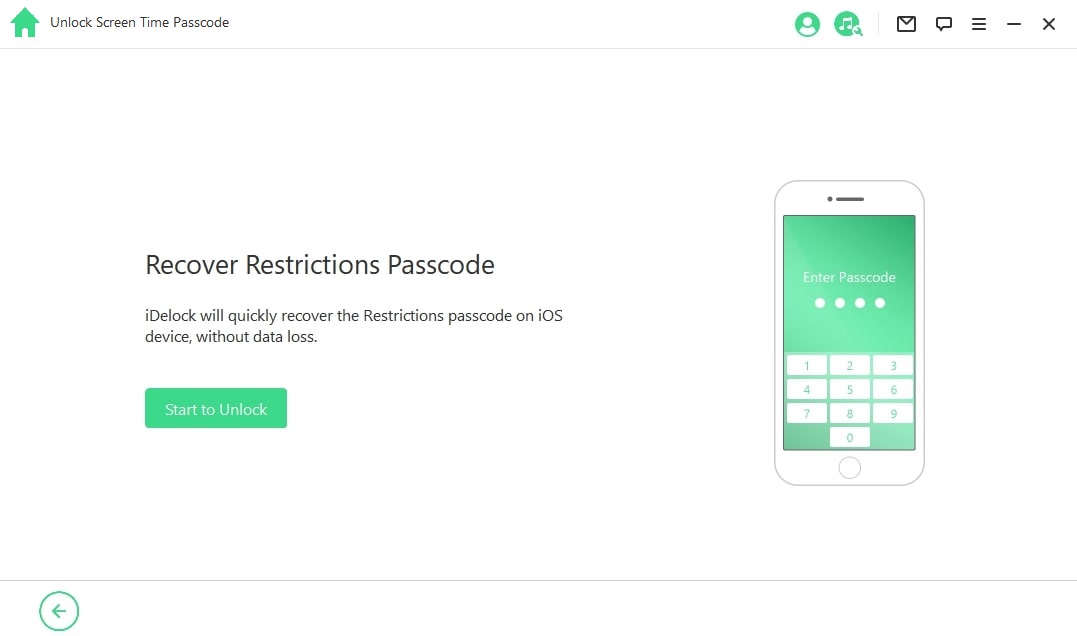 Steps 4: If the 'Find My iPhone' feature on your device is disabled, then unlocking it will be successful shortly. However, if it enabled, you will need to do a few extra steps. Go to settings and navigate to 'Reset all settings'. Once that is complete, you can go back to iDelock and continue removing the restrictions passcode. It will be completed shortly, and you can choose to set it up again if you want.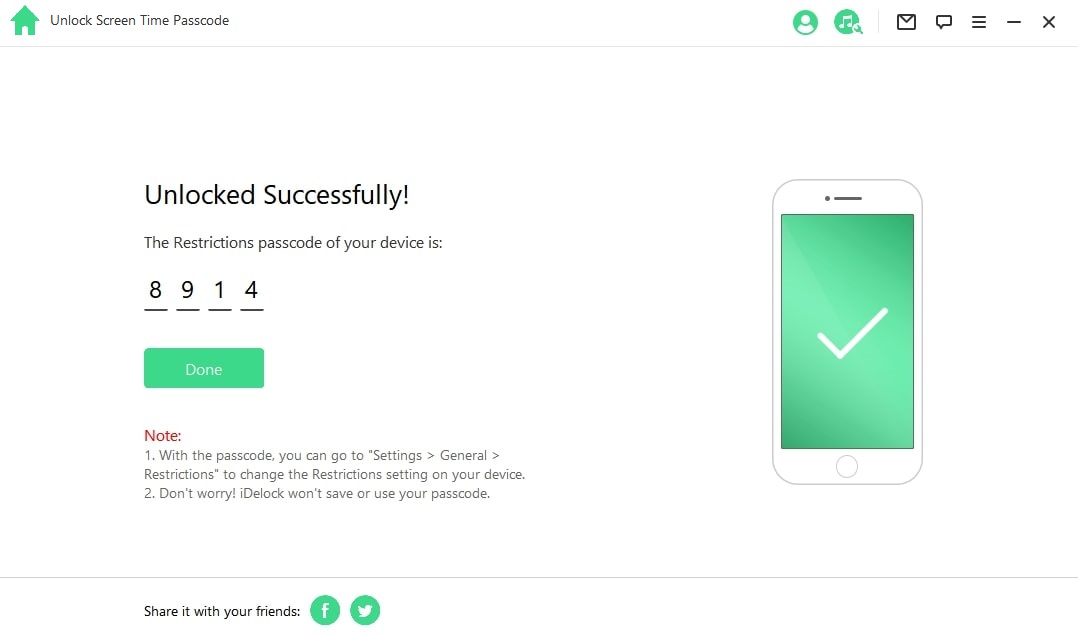 FAQs for using iDelock to recover the restrictions passcode
1. How can I know if my device is supported or not by iDelock?
You can check the tech specifications on iDelock website to check the compatible devices. You can also install and launch the app. Once you connect your device, it will tell you if your device is compatible.
2. What if my device fails to connect with iDelock?
Try to unplug and re-plug the device or restart iDelock

Restart your device

Use another USB cable
3. Will iDelock erase data on iOS devices?
Only iDelock Unlock Screen Passcode Mode and Remove MDM Mode will erase all your data. All the other options keep your data safe and secure.
Part 2: Reset iPhone Without Restrictions Passcode with iTunes
Deleting restrictions code via iTunes can be very simple and easy if you follow simple instructions that are as follows:
Connect your iPhone or any other device to your Mac with the iTunes app.

Open Apple, navigate the device and select it.

Once the device is selected, go in settings.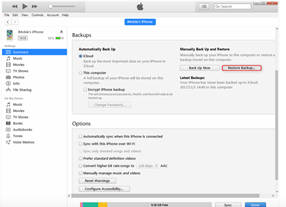 Click 'Restore iPhone'. This will restore the iPhone to factory settings and delete the restrictions passcode.

One key thing to remember is that resetting your iPhone to delete the restrictions code via iTunes will result in a permanent data loss. Thus, it is strongly recommended to make sure that the critical data is backed up and stored in a place from where recovery is easy and possible.

This method seems simple, but the user may face many problems to successfully remove the restrictions code from the iPhone using iTunes:
One such problem that may arise is if you don't remember the password to your iTunes as the account has to be the same that the phone has originally synced up with.

The 'Find My iPhone' feature must be turned off on your device; otherwise, you won't be able to restore the device to factory settings. To turn off the 'Find My iPhone' feature, it requires Apple ID and password; otherwise, it won't allow the user to change the settings.

If your iPhone is running on iOS 11.4 or later versions, the 'USB Accessories' must be turned on.

Improper way or backup not created properly can result in a permanent loss of data when deleting restrictions passcode from the iPhone or iPad using iTunes.
Part 3: Reset iPhone Without Restrictions Passcode via iCloud
You can also reset your iPhone without restrictions passcode via iCloud. To do so, you will have to do the following steps:
Open 'Find my iPhone' on the iCloud website in a browser.

Log in with your credentials.

Tap on the all devices option and select the device which you wish to reset.

Click erase iPhone/iPad, and the system will reset the phone to factory settings.
After completion, your device will be all erased and ready for set up with your Apple ID just as a new device. The reset can also result in a permanent loss of data; thus, it is highly recommended that the user make several backups from where they can be easily and safely restored.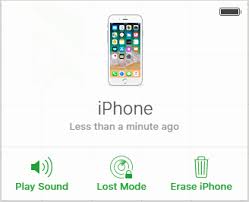 This method seems like a matter of a few steps but can become problematic if the conditions are not met to use this method. Those prerequisites are:
The 'Find My iPhone' feature must be enabled on your iPhone- If the 'Find My iPhone' feature is turned off; iCloud will not be able to gain access to the device hence it won't allow you to reset the device.

This goes without saying, but you should know the Apple ID and password that your iPhone is linked to. iCloud will require you to log in to the same Apple ID, which is set up on your iPhone, so if you don't remember that, either you will have to reset it by recovering it, or you will not be able to reset your iPhone or iPad using iCloud.

Your iPhone must have an active internet connection; otherwise, the iCloud won't be able to connect to it and reset your iPhone or iPad remotely.
Part 4: FAQs about iPhone Restrictions Passcode
1.How do I find my restrictions passcode on iPhone?
You can find your restrictions passcode easily in the settings of your iPhone. Simply open the 'settings' app and scroll down to click on 'General'. Again, scroll down to find the 'Restrictions' option, and here you can set up your restrictions passcode. If you have it already, it will ask you for your existing passcode to change any settings or restrictions.
2.Difference between restrictions passcode and screen time passcode?
Restrictions passcode is what prevents the user from changing the restrictions set on a device. An example of such restriction is accessing a specific app or browser. In contrast, the screen time passcode is the passcode that prevents the user from using the device for more than the allotted screen time. Screen time passcode is specifically just for screen time, but restrictions passcode is a broader level of security which can help control more than just screen time of a device.
3.How do I reset my Restrictions passcode on my iPhone without a computer?
You will need a computer to reset your restrictions passcode on your iPhone. If you don't have one, you can borrow from a friend or visit the nearest Apple Retail Store or Apple Authorized Service Provider. You can walk in, but it is recommended to make an appointment to make sure a representative is available for your service. You can make an appointment at any Apple Retail Store by calling or filling out a small form online.
4.Is there a default restrictions passcode?
There are no restrictions passcode by default. The user can choose to create it and select the restrictions. Make sure to remember this passcode just like your Apple ID, as you will not be able to turn off the restrictions without passcode and will need to reset your phone in case you forget it.
Conclusion
The restrictions feature of the iPhone and iPad is very convenient and safe. It lets you control what the device can and cannot do. This can be effective if your child uses the device, and you have restrictions placed for offensive or inappropriate content. While it is a very secure and effective feature, it can turn into a nightmare if you forget the passcode. It can result in a lot of hassle and a potential loss of data. Thus, it is advisable to regularly backup your data and keeps your password secure at all times. Or you can just use WooTechy iDelock to relieve your worry. It now supports iOS 15. Just download and give it a try!