WhatsApp is without a doubt the best chatting app on all mobile platforms. It provides not only the generic chatting and calling features but also enables users to export important conversations.
For some users, it is necessary to export WhatsApp chat to PDF due to legal or business purposes because PDF is a more formal format and cannot be rectified casually.
So, if you are wondering how to save WhatsApp chats as PDF, this full guide is right for you, let's move ahead and learn the 3 quick methods.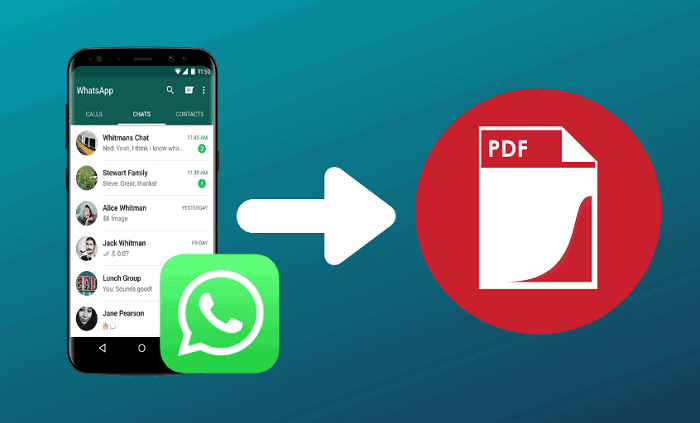 What You Should Know before Saving WhatsApp Chat as PDF
Before we get into all the intricacies of exporting WhatsApp messages to PDF, there are a few details of the process that you might need to know.
First of all, a WhatsApp conversation contains not only texts but also photos and videos. So, when you decided to export those conversations, you will have the option to export them with or without media.
But only the text file can be converted to PDF.
If your target is to save WhatsApp conversations in the form of PDF, then exclusion of media files is recommended during exportation.
It is easy to export all WhatsApp chats to PDF and we have come up with 3 excellent ways to complete the process. Let's check them out.
Way 1. Export All WhatsApp Chat to PDF via WhatsMover [Easiest]
Let's begin with the easiest and most convenient way to save WhatsApp chat as PDF, which is by using WooTechy WhatsMover - WhatApp transfer.
WhatsMover is a complete tool to transfer, back up, restore and even export WhatsApp data. It enables users to back up all WhatsApp data on the computer for security, and export the WhatsApp backups to PDF, Excel, or HTML format as you like, therefore you can view the content easily.
Besides, this program is easy to use even for novice users, you don't have to be tech-savvy.
Advantages of WooTechy WhatsMover Software
750.000+
Downloads
Transfer WhatsApp/WA Business data between iPhone and Android phones directly.

Support extensive WhatsApp data like messages, photos, videos, and other attachments.

Back up WhatsApp without limitation and able to restore the backup to your phone easily.

Export WhatsApp chats with over 40,000 messages at once.
Export WhatsApp Messages to PDF in Simple Steps
Step 1: Connect the Device to the Computer
Launch WhatsMover on your computer and choose Back Up WhatsApp on Devices from the left pane. Then connect your Android or iPhone to the computer.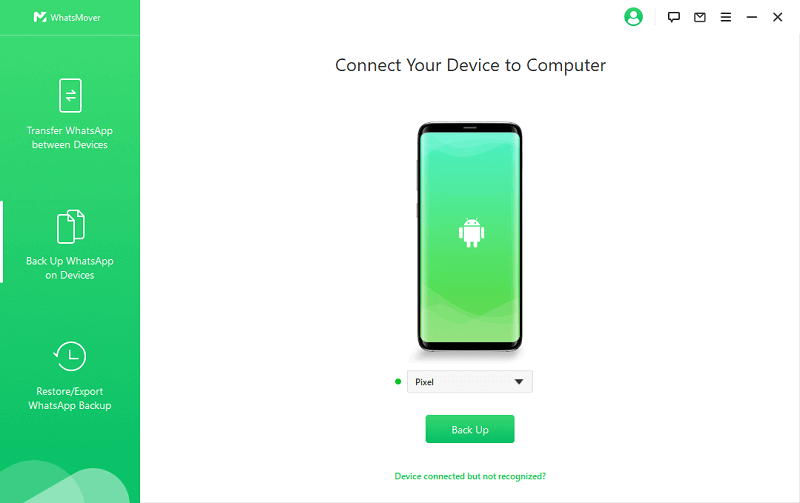 Step 2: Back Up WhatsApp Data
Once the device is detected, click on Back Up. It won't take long for backup to get completed.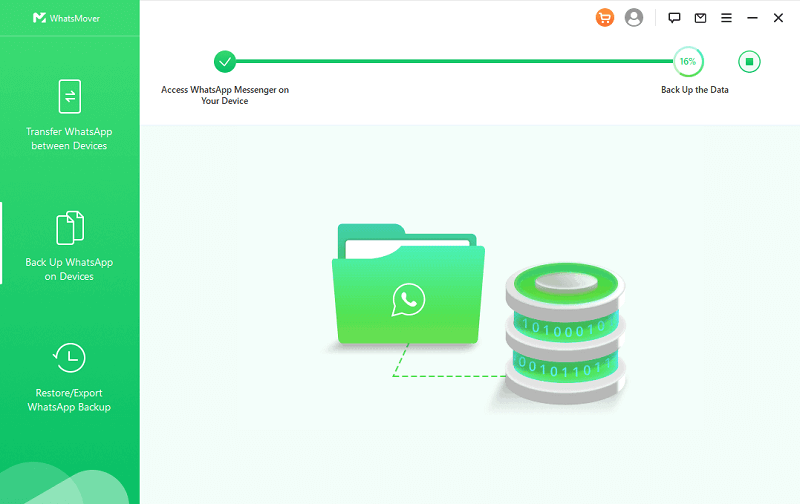 Step 3: Choose the WhatsApp Backup
After successfully backing up WhatsApp data, select Export WhatsApp Backup on WhatsMover panel. Just select the backup you have just created and click on the Export to Computer button below.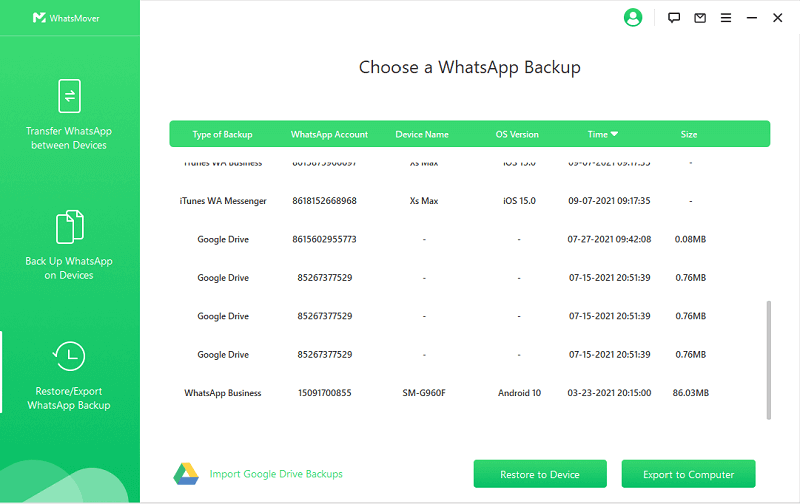 Step 4: Export WhatsApp to PDF Format
You may get a preview of the files and select what you need. Lastly, choose "PDF" in the save as column and click Export. The WhatsApp data will be exported in PDF format immediately.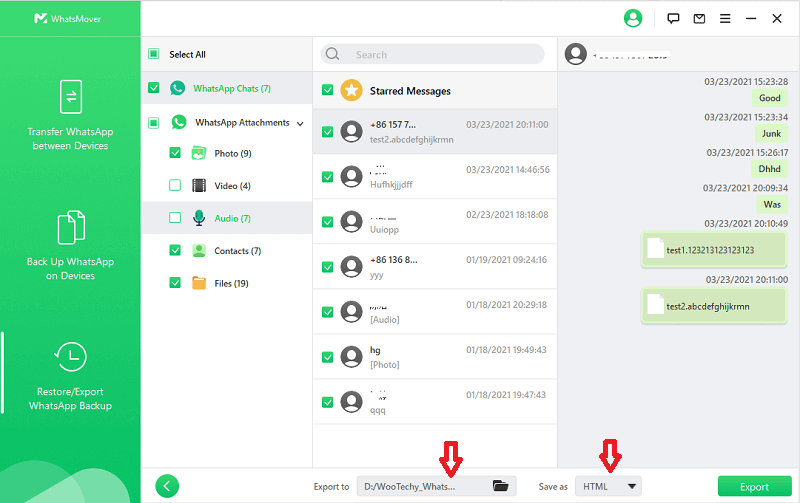 Way 2. Export WhatsApp Chat to PDF via Email
The email method contains two stages to complete the exportation, and you can only export one chat at a time.
1

Export WhatsApp Chat to Email

Step 1: Launch WhatsApp on your phone and find the chat you wish to export.

Step 2: Export WhatsApp chat.

On Android, tap the three vertical dots at the top right corner and select More > Export chat.

On iPhone, just enter the contact info page and choose Export chat.
Step 3: Now, you have to select how you want to attach media files or not. We recommend selecting Without Media and choose the email option, a text file will be attched.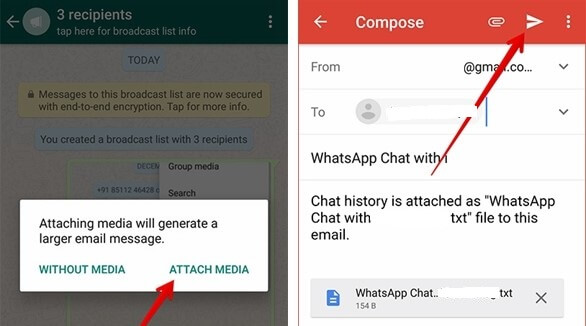 Step 4: Now, enter your email address and hit the Send button.
2

Save the WhatsApp Chat as PDF

Now there are two ways to convert the exported WhatsApp TXT file to PDF. If you are using a computer, then feel free to use MS Word. If you are on a smartphone, use WPS.

Using MS Word on PC

Open the email on your computer and download the attachment.

Right-click on the file and click on Open With. Select MS Word.

Now, on MS Word, go to File and click on Save As

Under Save As Type, select the PDF option. Lastly, click on Save and the TXT file will be converted to a PDF document.

Using WPS Office on Mobile

You will be able to convert WhatsApp chat to PDF via the WPS Office app. Just visit Google Play Store and Install WPS Office.

Now, launch the Email app on your smartphone and download the attachment. Open the downloaded file using WPS Office.

Tap on Tools at the bottom of the screen, select File > Export to PDF. The app will allow you to preview the content.

Once confirmed, select the location and tap Save to store the file on your smartphone.
Way 3. Export WhatsApp Chat to PDF using File Manager [Android Only]
Finally, there is another way to export WhatsApp chat to PDF using File manager. However, this method applies to Android users only and is a bit complicated.
The latest Android devices are equipped with File Manager. Otherwise, you can easily download 3rd party file managers from the Play Store on your mobile. You also need to install "WhatsApp Viewer" on your computer to sort through the conversations inside the WhatsApp backup.
Step 1 Open File Manager app on your Android mobile and tap on Internal Storage (or SD Card if your phone has got one).
Step 2 Navigate to WhatsApp > Databases folder, in which you will find a WhatsApp backup file named "msgstore.db.crypt14". Copy this file to a different location.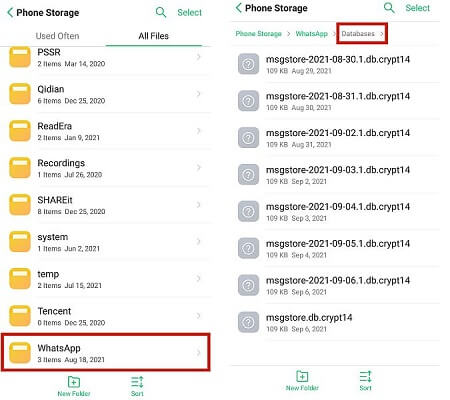 Step 3 Then connect your phone to your computer and transfer the backup file.
Step 4 Now, launch WhatsApp Viewer on your computer. Click on File > Open > Select File and select the backup file. Do not type anything under Account Name, just click Continue.
Step 5 Finally, you have to locate the chat you want to export. It will be exported in the form of a TXT file. However, you can convert the TXT file into a PDF document using MS Word.
As we have said before, this method is only applicable to Android users and you also won't be able to export images using this method.
Final Words
So, if you want to export WhatsApp chats to PDF, we have listed 3 ways in the article. And the easiest method would be to use WooTechy WhatsMover for both Android and iOS users. It can export all WhatsApp chats at once and without storage limitation.
WhatsMover is also highly recommended for users who are seeking to transfer WhatsApp data to a new phone, feel free to give it a try.